I know, all about that farmer's market ish just like every other dang blogger in the world.
SORRY.
It's a thing. Because produce! Because local! Because pictures!
Mainly because holy delicious, amirite? Jay and I are watching Mind of a Chef and Chef's Table right now on Netflix, and all the chefs are all "omg you can't possiblyyyyyyy use out of season produce, it just tastes like nothing," and they kind of whine it all pretentiously. And then I snort because I'm American and if I want kiwi in December I'm going to get it, damn it, and I don't care if it tastes like nothing or not.
Until, of course, I taste fresh, local produce in season that really does taste so much better, and then I apologize to the television, as you do when you're wrong.
So I made a crumble. Or a cobbler. The crust is kind of a mixture of both and the filling is just the sexiest local strawberries, but use any old berries you can find and don't beat yourself up about it, especially if you have no local berries. That doesn't mean you shouldn't have crumble. It doesn't, I promise. Additionally, I made these in individual ramekins because I think they're cute that way, but you could make this all in one dish and every other instruction would be identical. Your choice!
You need fresh strawberries, sugar, flour, butter, oatmeal, baking powder, and chia seeds. The chia is TOTALLY optional, skip it if you don't have any. It just adds the tiniest bit of nutrition to the dish but zero flavor. No worries if you have no clue what chia is. Then for the topping, which we make while the crumble is baking, you'll need mascarpone and ricotta cheeses, powdered sugar, lemon zest, and fresh mint.
First, we'll start on the berries, which need to have the stems cut off and be cut into halves or quarters - not too teeny, we want some good chunks of strawberries after the dish bakes!
Then, sprinkle the strawberries with just a sprinkle of sugar and flour.
The flour will help thicken the juices as the strawberries cook, and the sugar, duh, makes them sweet. Stir everything together, and let the berries sit for a few minutes while you make the topping.
For the crumble, melt the butter in the bottom of a large bowl.
Add the flour, sugar, oats, baking powder, and chia, if you're using it, to the butter.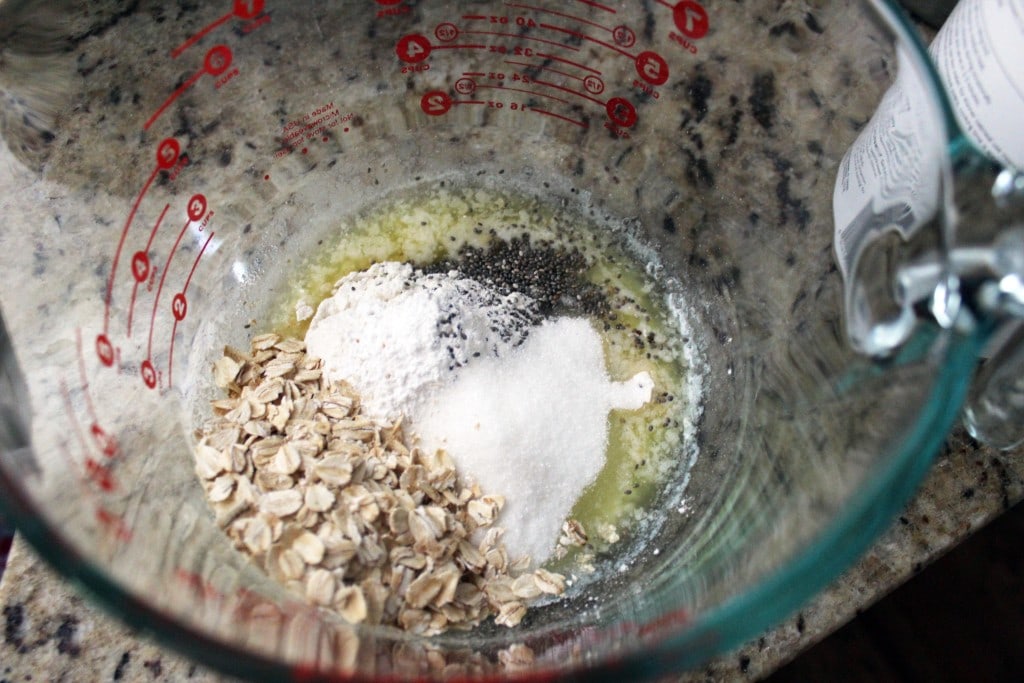 Stir this mixture together - it should be crumbly like....crumble. You get it.
Now, the strawberries should have wilted a bit by now, thanks to the sugar. Time to build our crumble! Whether you're using small dishes or a larger one, place the baking dish on a baking sheet with parchment paper or foil, then fill the ramekins or baking dish with the strawberry mixture. Lining the baking sheet is an important step - the berries WILL bubble over and that's kind of a hot mess in the bottom of your stove.
Now, take the crumble topping and press it onto the strawberries - use as much as you can to make a nice thick crust!
Then, bake! 30 minutes until the top of the crumble is brown and puffy.
Now, the strawberry mixture is SUPER hot here, so while it rests and thickens a bit we'll make the ricotta topping. Add all the ingredients to a blender or food processor.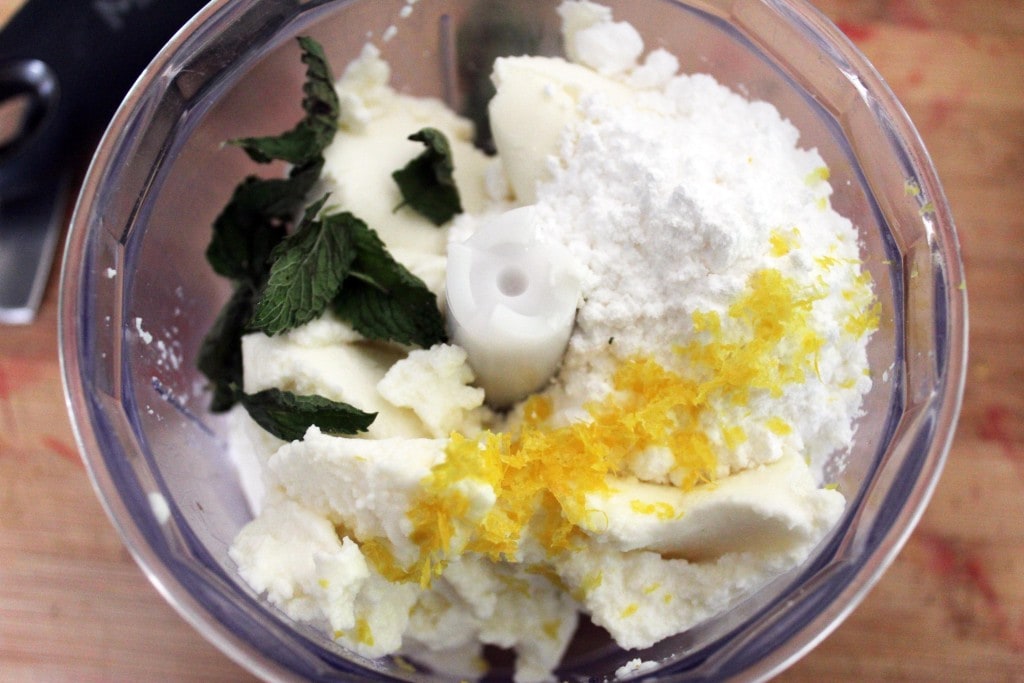 Then, just whir everything up! The fresh mint in this is just RIDICULOUS. It adds a sweetness without being...sweet? I don't know. Anyway, taste this mixture and add a bit more powdered sugar if you like things a little sweeter, totally up to you.
Now, to be fancy you can grate a little extra lemon zest all over everything, but that's only if you looooove the lemony flavor. Other than that, dessert is served.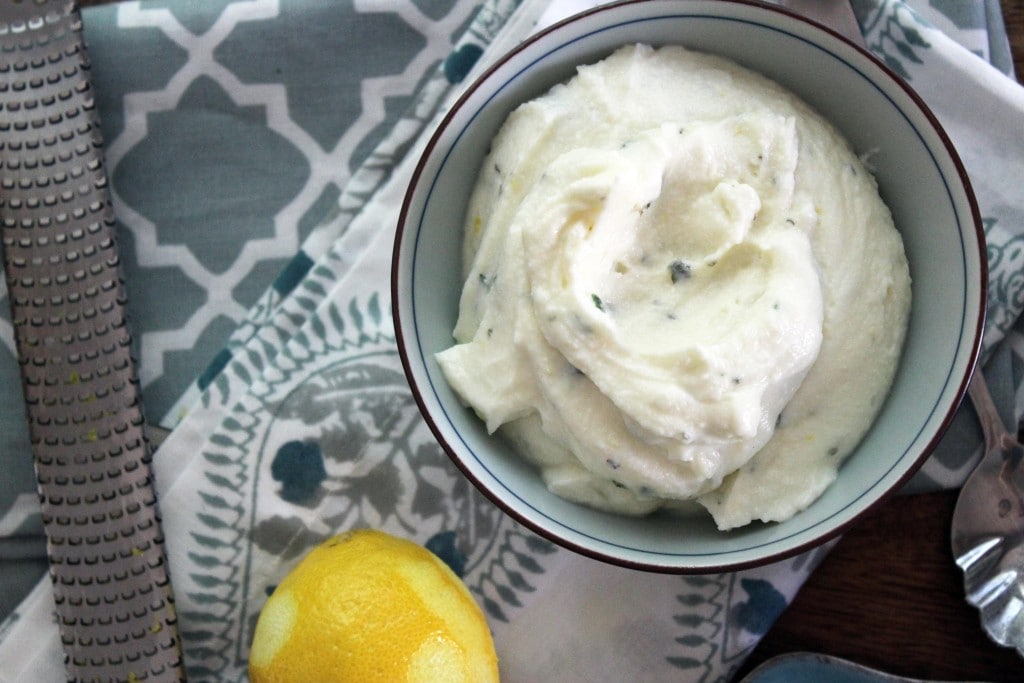 Look how pretty! I know how cliche it is, but individual summery desserts are just the best. These can stay in the fridge and be reheated easily in the fridge, too, so make a bunch even if there are only two of you!
If you don't feel like messing with the ricotta, you could swap out whipped cream or even ice cream. The cold creamy topping + tart steamy berries are epic together, though, so don't skip the topping if you can eat dairy. It's worth it.
THIS is what all those cheap ugly berries at markets are FOR, friends. Take advantage of them the next time you see some and make crumble all summer long! They, like, totally taste better if they're local.
Strawberry Crumble + Whipped Mint Ricotta
Ingredients
FOR THE FILLING
1

quart

fresh strawberries

hulled and quartered

3

tablespoons

sugar

3

tablespoons

flour
FOR THE TOPPING
½

stick melted butter

⅓

cup

flour

1

teaspoon

baking soda

⅓

cup

oats

⅓

cup

sugar

1

tablespoon

chia seeds

optional
FOR THE RICOTTA
½

cup

ricotta cheese

2

tablespoons

mascarpone cheese

1

tablespoon

chopped fresh mint

1

teaspoon

lemon zest

2

tablespoons

powdered sugar

plus more if needed
Instructions
Preheat the oven to 375F. Make the filling. Combine the strawberries, flour, and sugar in a bowl. Distribute evenly into 4 1-cup (give or take) ramekins, or one larger dish. Arrange ramekins on a baking sheet lined with foil or parchment paper.

Make the crumble topping. To the melted butter, add the flour, sugar, oats, baking powder, and chia seeds. Stir to combine, the topping will be crumbly. Evenly arrange the topping on the strawberries, pressing as needed to use it all up.

Bake the crumbles at 375F for 30 minutes until the filling is bubbly and the crumble is golden. Remove from the oven and let rest for 10 minutes.

While the crumble is resting, combine the whipped ricotta ingredients in a blender or food processor until very smooth and light. Taste, and add a bit more powdered sugar if you'd like.

Serve the crumble warm topped with the whipped ricotta. Enjoy!
Nutrition