Southern comfort food time!
That also happens to be pretty healthy, frankly.
We don't eat a lot of beans around here, but I'm trying to change that. I don't have anything against them, but dried beans take 93 days to prepare, and canned beans are salty and there are just always things I'd rather eat, so we keep them around for dips and the odd Mexican meal, and that's kind of it. Mainly we eat beans out in the world at restaurants and that's that.
But! Last week we ended up making dinner for Jay's grandmother at the last minute and she's all about super cozy flavorful comforting things. I mean, who isn't? We had just been to the farmer's market and there were FRESH crowder peas there. Not dried. Not canned. Actually off the stalk which happens for about 30 seconds each year, and then everything gets processed for the winter. So we bought them, we stewed them, and we pickled some glorious little tomatoes to go on top. I used the same pickling liquid I do for chow chow, but these are basically pickled tomatoes with turmeric. The brightness on top of the really earthy beans is PERFECT. I served these alone once and with a piece of salmon on top once, and both are great options depending on how much food you want to imbibe (always go with the max). Here we go!
For the beans you'll need fresh crowder peas, diced onion, a hot red chili pepper (or jalapeno, or skip it, or some crushed red pepper), minced garlic, a can of stewed tomatoes, and chicken broth. Veg broth if you want these to be vegan. The stewed tomatoes give a nice extra oomph with the spices they come packed in, and almost a sweetness which is great with the hot pepper.
First, in a soup pot of some sort, heat the onion, garlic, and pepper over medium heat with some olive oil. Let the veggies cook for about 3 minutes until they start to soften.
Then, add the stock, tomatoes, and peas to the pot. It's that simple. Cover the pot and let the peas simmer for 20-30 minutes until they are tender but not mushy, you might need more or less time depending on the beans you use, the heat of your stove, etc. You'll know when they're done, just keep tasting them.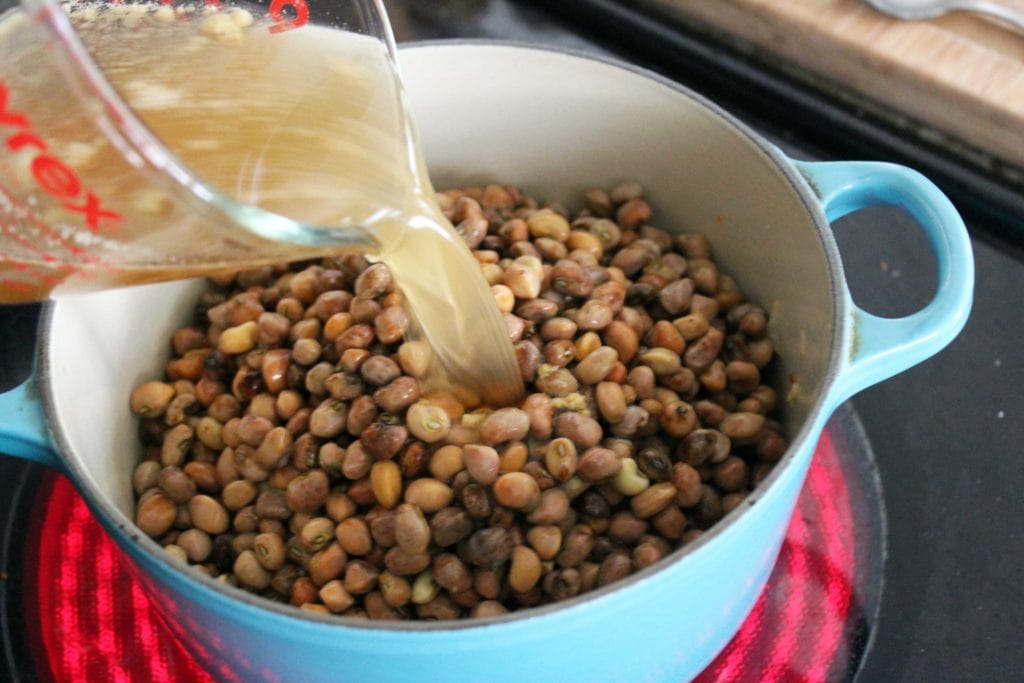 While the crowder peas are simmering, make the tomatoes. This mixture is vinegar, salt, sugar, and turmeric that I MICROWAVED.
Cut the tomatoes in half, drop them in the hot liquid, and let them sit for at least 15 minutes before serving, but the tomatoes can be made a few days in advance and kept in the fridge.
Now, when the beans are done give them a stir and taste them; add more salt if you'd like. At this point assess your liquid situation. If the beans are way soupy, let them simmer uncovered for a few more minutes to evaporate a bit. If they seem try or too thick (and this can happen at any point in the cooking process), add some more stock to thin them out. Beans all behave differently, so just keep an eye on them and adjust as necessary.
Then, serve! So easy, but the flavors here all add a lot to the finished dish, which is key when there aren't a ton of ingredients to begin with.
The tomatoes are the literal cherry (tomato) on top, but you also might find yourself eating these little guys straight from the jar with a spoon, and you'll find no judgement from me there either. It's a vegetable, for crying out loud.
Try these asap - they're a fall gateway drug if there ever was one.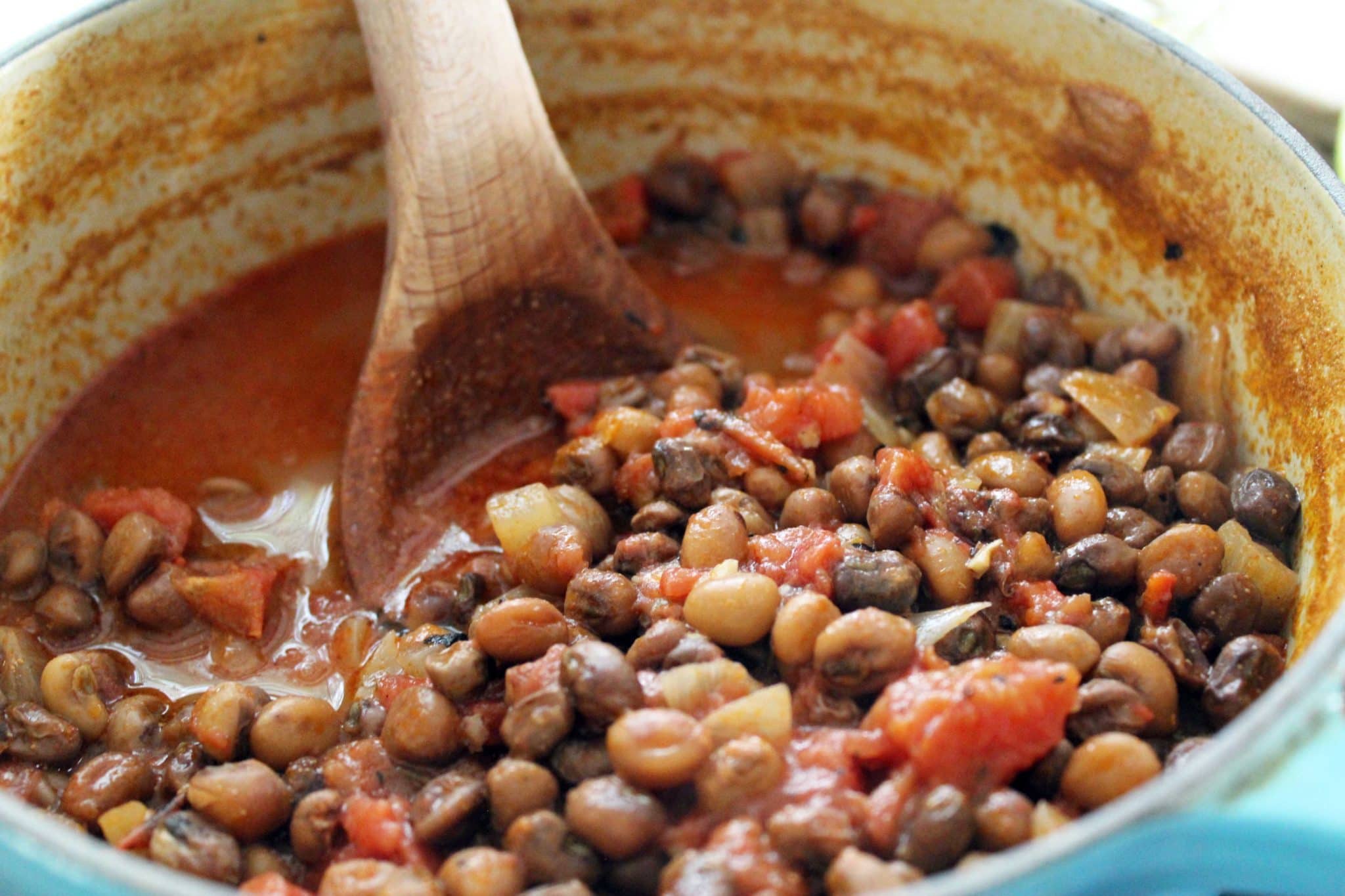 Stewed Crowder Peas + Chow Chow Tomatoes
Ingredients
PEAS

olive oil and salt

1

small onion

diced

1

red jalapeno or other chili

diced

2

cloves

garlic

minced

2

cups

shelled fresh crowder peas

2

cups

chicken stock

2

cups

water

1 15

ounce

can stewed tomatoes in their juices

TOMATOES

¼

cup

rice vinegar

1

tablespoon

sugar

1

teaspoon

salt

½

teaspoon

turmeric

1

cup

cherry tomatoes

the smallest you can find!, halved or quartered
Instructions
In a soup pot, heat a drizzle of olive oil with the onion, garlic, and chili pepper over medium heat. Saute the veggies for about 3 minutes until they are soft. Add the peas, tomatoes, stock, and water. Stir to combine and cover the pot, reduce the heat to medium-low. Simmer the beans for 20-30 minutes (this could be shorter or longer depending on your peas and your pot) until the peas are soft but not mushy and cooked through. Remove the lid and adjust the liquids to your preference; add more water for soupier beans or allow some of the liquid to reduce for a thicker result. Taste, and add as much salt as you'd like to the dish.

For the tomatoes, combine the vinegar, sugar, salt, and turmeric in a small microwave-safe dish. Microwave the mixture for 30 minutes to heat through, then stir. Add the tomatoes to the hot liquid and let sit for 15 minutes or more before serving (you can also make these a few days in advance and keep them in the fridge).

Serve the peas topped with tomatoes. Enjoy!
Notes
If you don't have fresh crowder peas, canned or dried will work well! Just cook to the instructions and add to the sauteed veggies with the tomatoes. You may need a little stock to make the peas soupy, just add little splashes until they look right to you.
Nutrition
Enjoy!