Are you one of those people who always orders a side of braised mushrooms at every steakhouse you go to ever?
I love those mushrooms. They're good almost everywhere, huh?
That's because they're insanely easy to make and you should never EVER pay $9 for a side of them at a restaurant.
Unless you want to.
But, here's an easy way to make them at home!
This is a super fun no-measurement recipe that takes minutes to prepare.
You could also skewer these babies and grill them if you're feeling frisky. Get creative!
Here's what you need:
Mushrooms - white or baby bella
Worcestershire sauce
Balsamic vinegar
Crushed red pepper
Beef Broth
Garlic powder
Ok, the thing with the garlic powder is that I think real garlic burns too easily and we're going to cook these for a decent amount of time. You can use crushed, sliced, or minced garlic though, if you'd like!
So, it's easy. You rinse the mushrooms or wipe them off or whatever makes them not covered in grit.
Then, set them in a bowl. Tough, huh?
Now, sprinkle the mushrooms with garlic powder and as much crushed red pepper as you'd like.
Then drip drip drip lots of Worcestershire sauce over the mushrooms - enough so that each mushroom has a few drops.
Then, drizzle a little balsamic over the mushrooms, and pour over some beef broth....enough to come at least ⅔ up the mushrooms.
Now, stir everything together!
Try not to drink the broth.
Now, I like to marinate these for an hour or so, but you definitely don't have to if you don't have time. When you're ready to cook these, heat a pan to medium-high heat with a little olive oil.
When the pan is hot, add the mushrooms without the broth. Let them sear and get dark on the outside for about 5 minutes.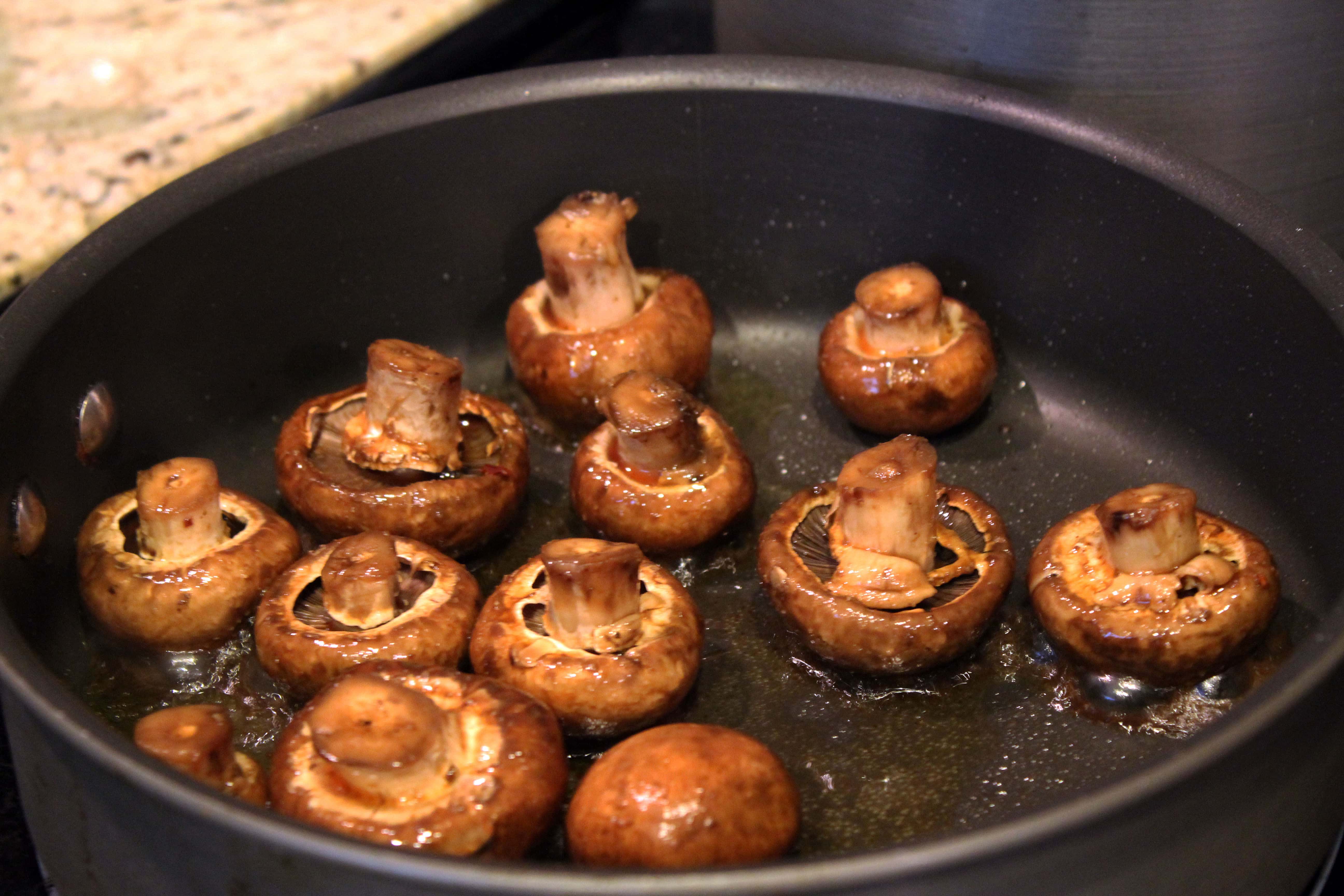 When there is some nice color on the outside of the mushrooms, reduce the heat to medium and add in the broth - you can't waste it! Let the broth reduce until it's nice and syrupy and the mushrooms are cooked through - 5-10 more minutes.
Aaaaaand....done. Taste a 'shroom, and add some salt if you'd like.
Enjoy these! They're perfect with steak and roasted broccoli. YUM.