Delicious, simple steak and pasta with ricotta, lemon, and a delicious white wine sauce. This pasta is done in just half an hour or so and is delicious with seared ribeye or even as a use for leftover steak. Think: Lightened up steak pasta alfredo. Make it a full meal with crusty no-knead bread and my best version of a house salad.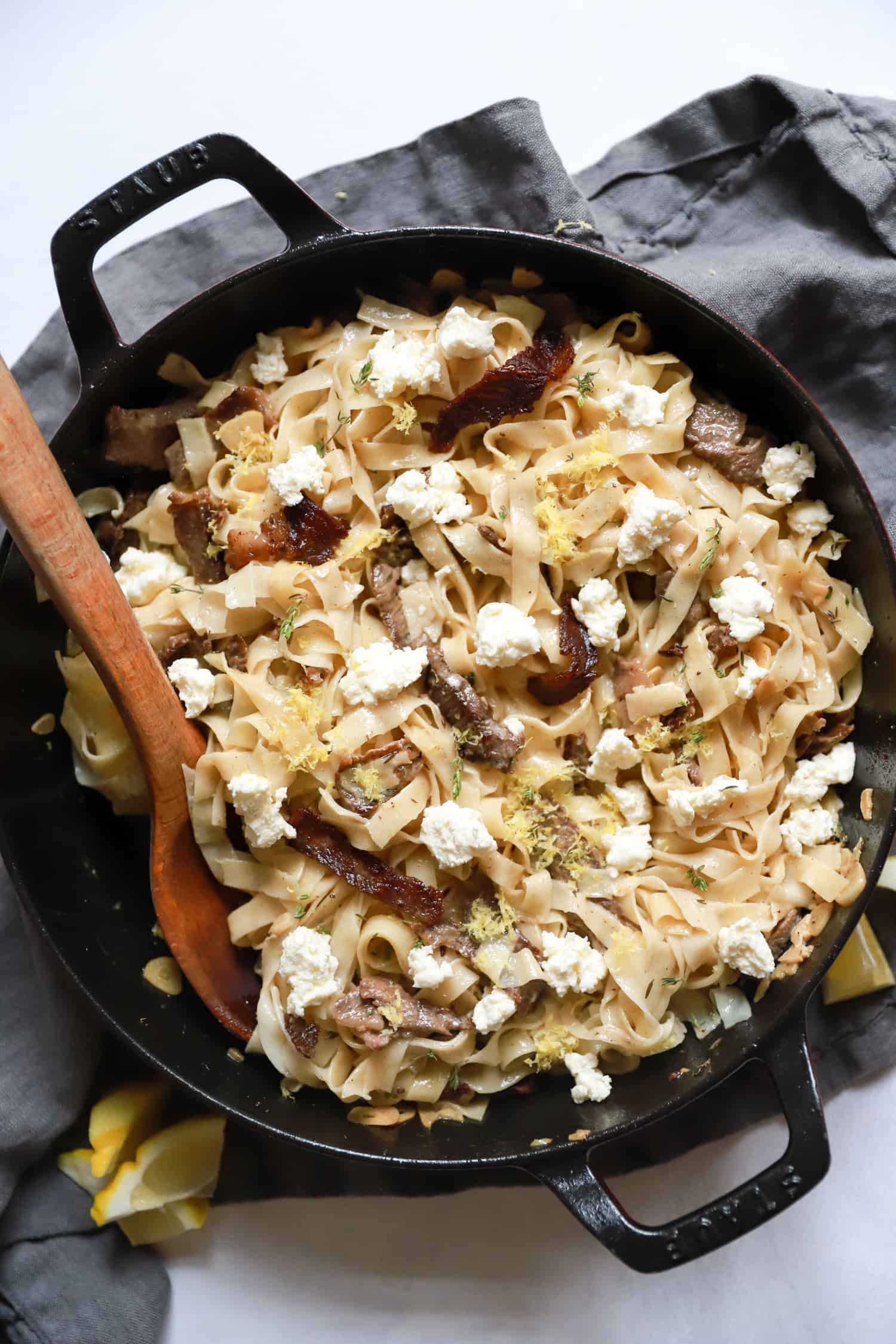 Can pasta be light if it has steak and ricotta on it?
I think yes.
This is REALLY cool and different.
It's pasta, but without a sauce....more like...stuff tossed with pasta and white wine. It sounds weird but TRUST ME. Eggy steak tagliatelle pasta with creamy ricotta is a really really really good combination.
Recipe Notes
This ribeye steak pasta came to being YEARS ago when I was on a kick of making homemade ricotta like, a lot. Now I make it a normal amount - less than quarterly, which feels reasonable.
The first few times I made this I actually used leftover steak which was lovely and a great use-up for leftovers. In this version I thinly sliced the steak and seared it in butter which HELLO, a very good idea.
The layers of the pasta are as follows:
crispy, buttery, salty seared steak - I love ribeye steak for this pasta recipe
garlic cooked in steak drippings
very light sauce of wine, lemon juice, cream, and fresh thyme
ribbons of pasta swirled in all loosey goosey
fresh dollops of creamy ricotta all over everything
It's just really, really good is what I'm saying. The best steak pasta recipe? The best steak pasta recipe!
PS if you're into fancy pasta, I have a list of perfect pasta recipes for Valentine's Day that I pull from year round. Gimme all the noodles!
Ingredients
OK, for this lovely pasta with steak strips we have: sliced steak, butter, pasta, garlic, wine, cream, thyme, lemon, and ricotta. All together for a VERY happy situation.
**steak pro tip: To thinly slice steak, stick it in the freezer for about 20 minutes, then use your sharpest knife to shave very thin pieces. I've also seen shaved steak at some grocery stores and always buy a package when I see it cut that way.
Ingredient Notes and Variations
Steak: I love ribeye for this, it's got nice flavor from the marbling (fat = flavor), but use any steak you like! Because we cut it so thinly we don't need to use as much, so it's a great "it is steak but not $$$" moment, which I love. Leftover pan seared steak also works beautifully in this recipe.
Make this vegetarian by skipping the steak. It's delicious without it!
Make this gluten free with a gluten free pasta that you enjoy.
Wine: If you don't like cooking with wine, sub some of the starchy pasta cooking water or the same amount of chicken or vegetable stock.
Dairy: Please use full fat ricotta and cream. They taste much better and enhance the overall flavor of the dish.
Pasta: I love tagliatelle for this recipe, but any pasta you like, short or long, will work just perfectly. No stress.
Step By Step Instructions
Once the ingredients are measured and prepped (very satisfying to have done in advance imo), the key is to start the water for the pasta FIRST, then boil the pasta during the time you build the sauce.
First, preheat a large skillet to medium-high heat. When the pan is very hot, add the butter.
Sear the steak pieces in one layer sprinkled with salt. The steak should immediately sizzle and crisp at the edges - in a minute or so.
Flip the steak pieces and cook for 30 seconds more, give or take, then remove them to a plate to rest. You may need to repeat this in two or three batches to get the steak nice and crispy. Add more butter or olive oil to the pan between steak batches if needed.
Once the steak is cooked and out of the pan, turn the heat on the skillet down to medium-low. Add the garlic to the skillet and cook it for just a minute while you stir it into the steak drippings (yum, first of all).
Timing note: At this point, drop the pasta to cook and set a timer whenever your very salty pasta water boils. When you drain it, reserve a bit of the cooking liquid if you think of it.
When the garlic is fragrant but not yet brown, add the wine to the pan and stir/scrape the bottom of the pan to get all the browned steak bits up. This flavors the entire dish and is just SO yummy, trust.
Let the wine reduce alllllmost all the way (just a thin layer left in the bottom of the skillet), then add the cream, salt, fresh thyme, and juice from half the lemon.
Stir to combine the sauce and taste it; wowowowowo so yummy, yes? Add soe more salt if needed.
At this point we should have 1. crispy steak pieces, 2. creamy garlic white wine sauce, 3. cooked noodles, 4. some reserved pasta water but if not you're still a good person this is a very forgiving recipe.
All that's left is to toss the pasta into the white wine sauce with the steak and THAT WOULD BE PLENTY BUT WAIT, THERE'S MORE.
Simmer the pasta just for a minute or so to let it absorb some of the white wine sauce. Taste it, and probably a few more pinches of salt, right? Right.
Now. Right in the skillet (or transfer to a fancy pasta bowl, you do you), dollop the fresh ricotta all over the entire dish. Sprinkle the lemon zest over everything, too.
After that, it's just topping however you like!
Serving and Storing Leftovers
Besides the ricotta and lemon zest, the sky's the LIMIT with toppings and YES I do believe more is more when it comes to garnishing pasta.
parmesan cheese
fancy olive oil drizzles
flaky salt
black pepper
red pepper flakes
lemon wedges
fresh thyme leaves
fresh parsley
This is absolutely a dish best served fresh, but is lovely as leftovers too - I just microwave for about a minute to heat it back up.
You will absolutely love this, I promise. It's just different enough that it feels really unique and special, but the ingredients are very familiar, nothing "weird" about this pasta at all. Just very yummy flavors that we all know and love.
Pasta, steak, lemon, ricotta, garlic. Feels like it should be on annoying influencer shirt but would it be that annoying?
Probably.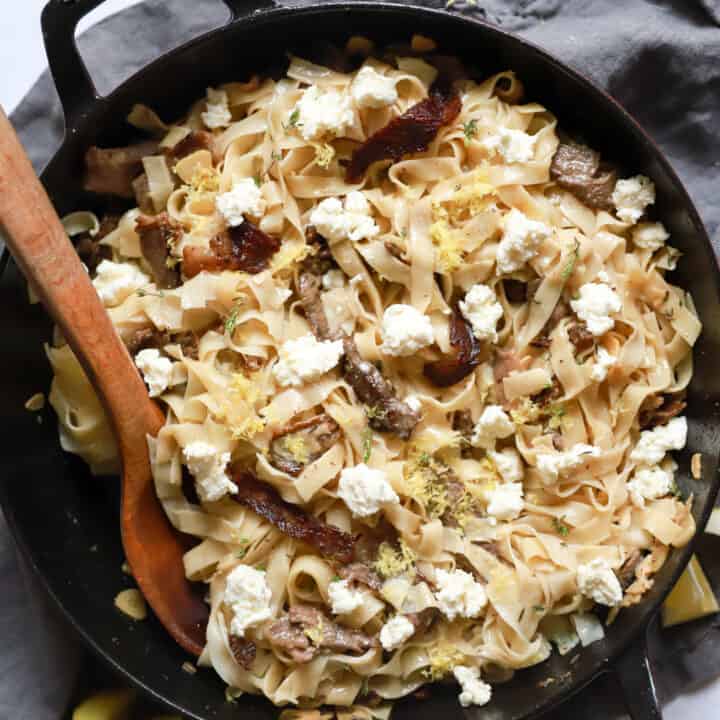 Steak Pasta with Ricotta and Lemon
Hello, gorgeous! Just 45 minutes to crispy/tender steak pieces tossed with creamy lemon garlic pasta. Topped with lemon zest and fresh, cool ricotta dollops, OH YES.
Ingredients
1

ribeye steak

very thinly sliced

2

tablespoons

butter

12

ounces

long pasta

tagliatelle or pappardelle are particularly nice in this dish cooked to al dente in salted water

4

cloves

garlic

thinly sliced

½

cup

dry white wine

½

cup

cream

½

teaspoon

salt

plus more for the steak

1

tablespoon

fresh thyme leaves

optional

1

lemon

zested and half juiced

½

cup

whole milk ricotta

fresh or homemade

Toppings: fresh herbs

lemon wedges, parmesan, crushed red pepper (optional)
Instructions
Preheat a large skillet to medium-high heat.

When the skillet is very hot, add the butter and swirl it around the pan.

Place a single layer of steak pieces in the butter and sprinkle with salt. (you may have to do a few batches of this process)

Sear the steak until very brown for about 2 minutes, then flip and cook for just a minute or so more. The steak will cook quickly so have the skillet very hot to begin is important for browning the meat. Remove the steak from the skillet and repeat until all the steak is seared.

Reduce the heat to low, and add the garlic to the steak drippings. Cook the garlic for one minute.

Add the wine to the pan, scraping the steak bits from the bottom to deglaze. Let the wine reduce until about 3 tablespoons remain, then add the cream, salt, thyme, and juice from half of the lemon.

Let the cream sauce reach a simmer, then add the steak and cooked pasta to the sauce. Stir to combine and taste; add more salt to your preference until the dish is very flavorful.

Serve immediately topped with all of the lemon zest and any other toppings you like. Enjoy!
Notes
Thinly Slicing The Steak: To thinly slice steak, stick it in the freezer for about 20 minutes, then use your sharpest knife to shave very thin pieces. I've also seen shaved steak at some grocery stores and always buy a package when I see it cut that way. Make this vegetarian by skipping the steak. It's delicious without it! Make this gluten free with a gluten free pasta that you enjoy.
This pasta recipe was originally published in March 2013 and has been updated with more clear instructions and images. The original recipe also had a spoonful of roasted tomatoes stirred in, and let me tell you that is NOT a bad thing if you go that route.
More Easy Pasta Recipes