This is just the loveliest, and totally customizeable.
Like...everything else I make, because I don't believe in rules.
No, but seriously. All the farmers markets are opening this time of year, and this is a great way to get lots of veggies into a lovely, creamy risotto!
I believe strongly in shopping and eating locally, when possible, and spring and summer are AFFORDABLE times to do that!
I also believe in using food trash to make homemade vegetable stock, which is featured prominently in this dish!
If you don't have any homemade stock you can of course use chicken or vegetable stock from the store in this recipe - don't worry!
Vegetable Risotto
This makes about 4 servings that you could eat all by yourself in one sitting.
Plan accordingly.
For the risotto:
1 cup risotto or arborio rice
3-6 cups chicken or vegetable stock
1 cup dry white wine
3 cloves garlic
2 cups (or more!) assorted veggies
salt and pepper
2 tablespoons butter
olive oil
¼ cup grated parmesan cheese
¼ cup chopped fresh herbs
For topping:
eggs, for frying
crispy prosciutto or pancetta
chopped toasted nuts
extra herbs
extra parmesan
The toppings are my favorite part, just so we're all clear.
I do this all in one pan to get all the flavors nice and in love, but you can use as many pans as you like! You'll want to prepare your toppings (whatever you're using), saute the veggies, and make the risotto, then everything comes together at the end.
For the prosciutto topping, heat a pan to medium-high heat.
Then, slice the prosciutto (or whatever you're using) into strips.
Put the strips into the pan and try not to obsess. Just like bacon, they'll separate on their own once they get warm!
The prosciutto is fully cooked and cured, so you really just need to cook these bad boys until it's as crisp as you like it. I let it go for about 10 minutes until it's nice and crumbly!
When the prosciutto is done, let it drain on some paper towels until you're ready to use it.
Now, onto the veggies. I used asparagus, green beans, and tomatoes, because that's what was about to go bad.
I really liked the tomato, because I added it very last and it had a great raw flavor, but anything else would work great! Spring onions, fresh spinach, squash....anything that you enjoy!
I cut everything into similar shapes and sizes, trimming as I went and saving little bits for my next batch of vegetable stock!
I minced the garlic, too!
When the veggies are ready, saute anything that needs a bit of cooking time (not spinach, tomatoes, or anything that will just need to cook slightly) in the prosciutto/risotto pan...or any other pan.
Heat the pan to medium, add a drizzle of olive oil, and saute the veggies for 3 minutes with a light sprinkle of salt and pepper. We don't want to cook them to death!
Once the veggies are done, set them aside and leave the pan on, then gather your risotto ingredients!
Look at that gorgeous, cloudy stock! It tastes like all the veggies I ate for 2 months.
Heat 1 tablespoon of the butter in your pan over medium heat - it shouldn't foam or brown. Let the risotto cook slowly for a nice creaminess!
Add the rice to the butter and stir it around for a bit.
When the butter and rice are combined and the rice begins to turn golden in color (1 or 2 minutes), stir in the minced garlic for one minute.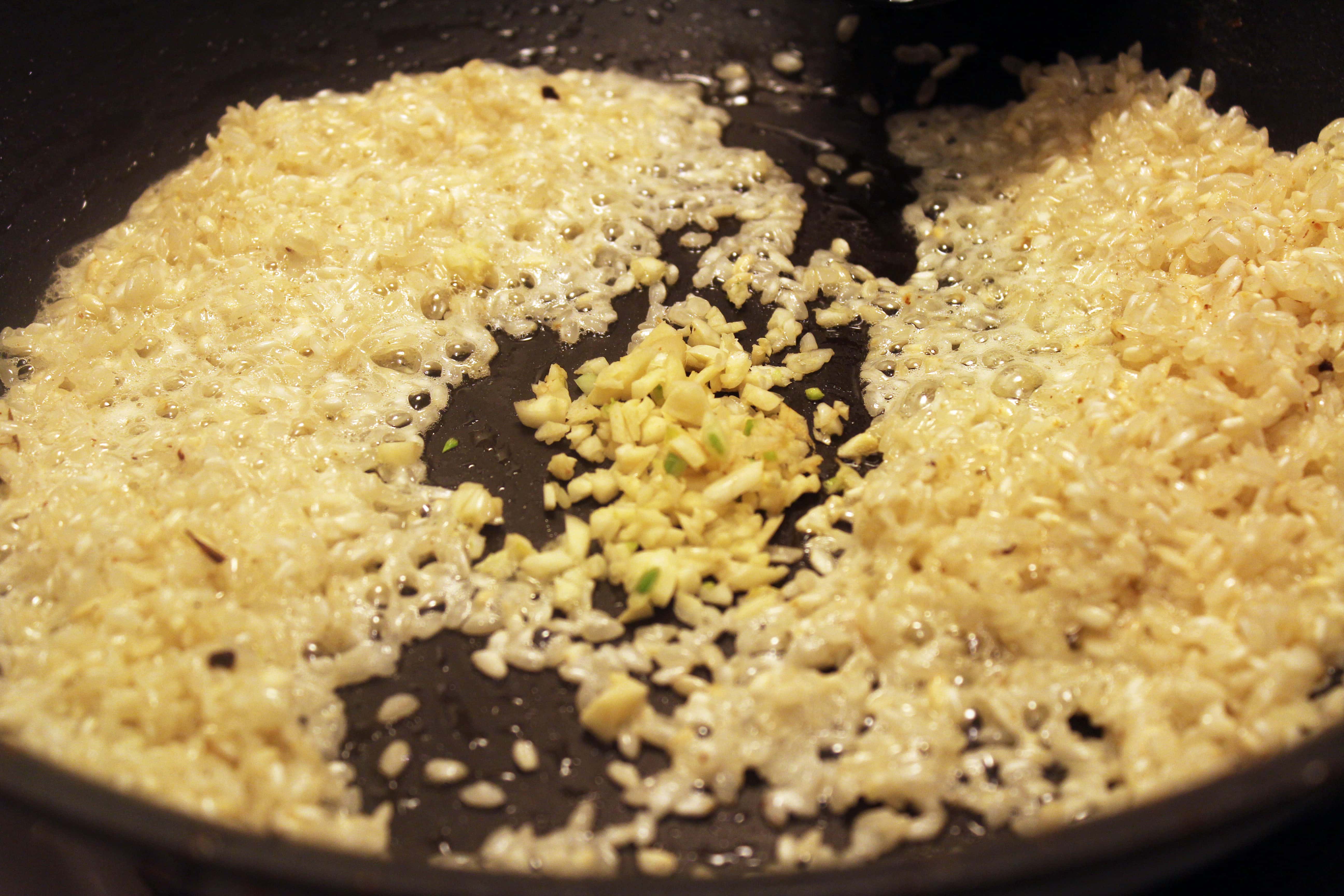 When the garlic is fragrant, pour in the wine and let it bubble and evaporate and be amazing, as wine tends to be.
Now, you know the drill! Let the wine completely evaporate, stirring a lot, then add in stock two ladles at a time until THAT evaporates, lather, rinse, repeat, for about 20 minutes until the rice is cooked!
You don't need to stir the entire time, but I'd say don't leave the risotto standing alone for more than 3 minutes at a time. It should be bubbling and reducing all the time, so add stock, stir, peace out, come back, repeat.
While the risotto is cooking, you can get the rest of the ingredients ready, if they aren't already.
Grate the cheese..
Chop the herbs and nuts....
...and grab and egg if you'd like to top your risotto with a fried egg! I'm not hugely into eggs, so I just fried one for Jay, because I like him.
When the risotto is done, you can fry your egg and add everything else in!
While a pan is heating to medium heat for the egg, stir in the veggies, tablespoon of butter, and half the cheese to heat it all through.
Let the veggies heat through, and then at the last minute stir in the herbs and tomato.
Now, you can fry the egg while you're doing all this, or you can turn the heat off on the risotto while you fry the egg. Either way is fine!
For the risotto, be sure to give it a taste and add some salt and pepper if you'd like.
For the egg, add a bit of oil to a small pan that you have preheated, and gently crack the egg into it.
Nicely done. Now, you can cook the egg as you like. I spoon a bit of oil over the yolk to help it set, then sprinkle on lots of black pepper.
Things are going really well at this point. We have finished risotto, a fried egg, and lots of delicious toppings for the whole mess!
To serve, spoon some risotto into a shallow bowl, and top it with whatever you'd like!
I eat mine plain with all available toppings, salt, and a drizzle of olive oil. It's AMAZING.
Glory. I want to make this for dinner.
For Jay, I slide the fried egg on top of everything, and he goes to town.
This is great, guys! Make this tonight, this weekend, or as soon as you have 45 minutes to spare! You won't regret it - promise!