spicy noodle bowls made with ramen noodles (or any pasta you like!) are the perfect mid-week alternative to spaghetti with meat sauce. this asian noodle bowl is the best!
What do you watch while you eat dinner?
Do not tell me that you talk to other people. I won't hear it.
True life, most nights we put the kids down, finish some exercise or work or house work, and THEN eat dinner on the couch in front of the TV around 9pm. We 100% plan to have family dinners at some point in our lives (when they are 12?) but right now our kids eat and go to bed early and require a lot of effort at the dinner table. So, we find it easier to sit down together and focus on helping them eat like humans, then feed ourselves later.
When we DO sit down to eat, we almost always watch food videos while we eat, and then other TV for whatever awake time we have left. Why? I don't know. Because I like to watch food while I eat my food? Maybe, I am who I am. The benefit, though, of alllll this food TV watching is that it allows me to see amazing recipes that I then can make and share here, like these pork noodles. The Bon Appetit channel/app is one of our absolute favorites right now, and as soon as I saw Chris Morocco make these I was alllllll about it.
I don't even think I waited a week after first watching the video to make these, and they did not disappoint. I adjusted the quantities to make this serve about four, although just three of this ate this one night and there were zero leftovers, even though there was technically enough food for 4-5 people.
The flavors in these pork noodle bowls are Asian-fusion bordering on Korean, I'd say. Sambal Oelek, Sriracha's older, more sexually advanced cousin, is the STAR of this show, and if you've never bought a jar now is your chance! The hot chili paste is mixed with garlic, ginger, sugar, and soy sauce for lots of punch, and noodles + ground pork + tomato paste give kind of a "is this bolognese I recognize it but it tastes EXTRA" vibe.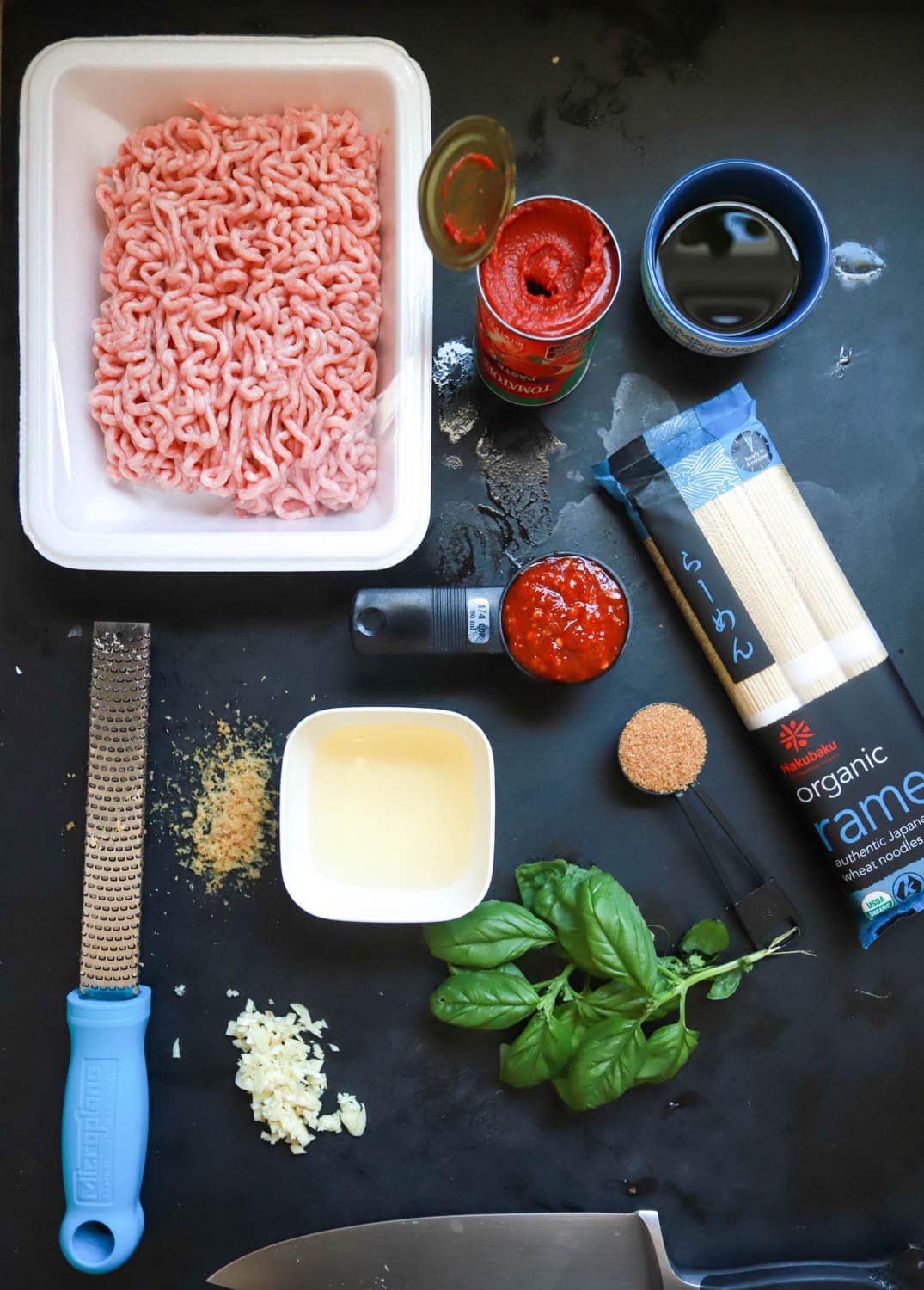 I ordered a box of Organic Ramen noodles online and love having them around for dishes like this. The chew is just so delicious when these are cooked! I will say that some ramen noodles don't hold up super well as leftovers, but see above, that might not matter.
Start by browning the pork in a large skillet (my favorite Staub, always) over medium high heat. Let the pork sit for 3-5 minutes between stirring to get some nice brown color on the pork, breaking it up a little bit with a spoon each time you stir.
Then add the ginger, garlic, sugar, and tomato paste to the pan.
Stir to combine for just a minute to slightly cook the garlic and ginger, then add the rice vinegar, soy sauce, and sambal oelek to the mixture with some water and big sprigs of garlic.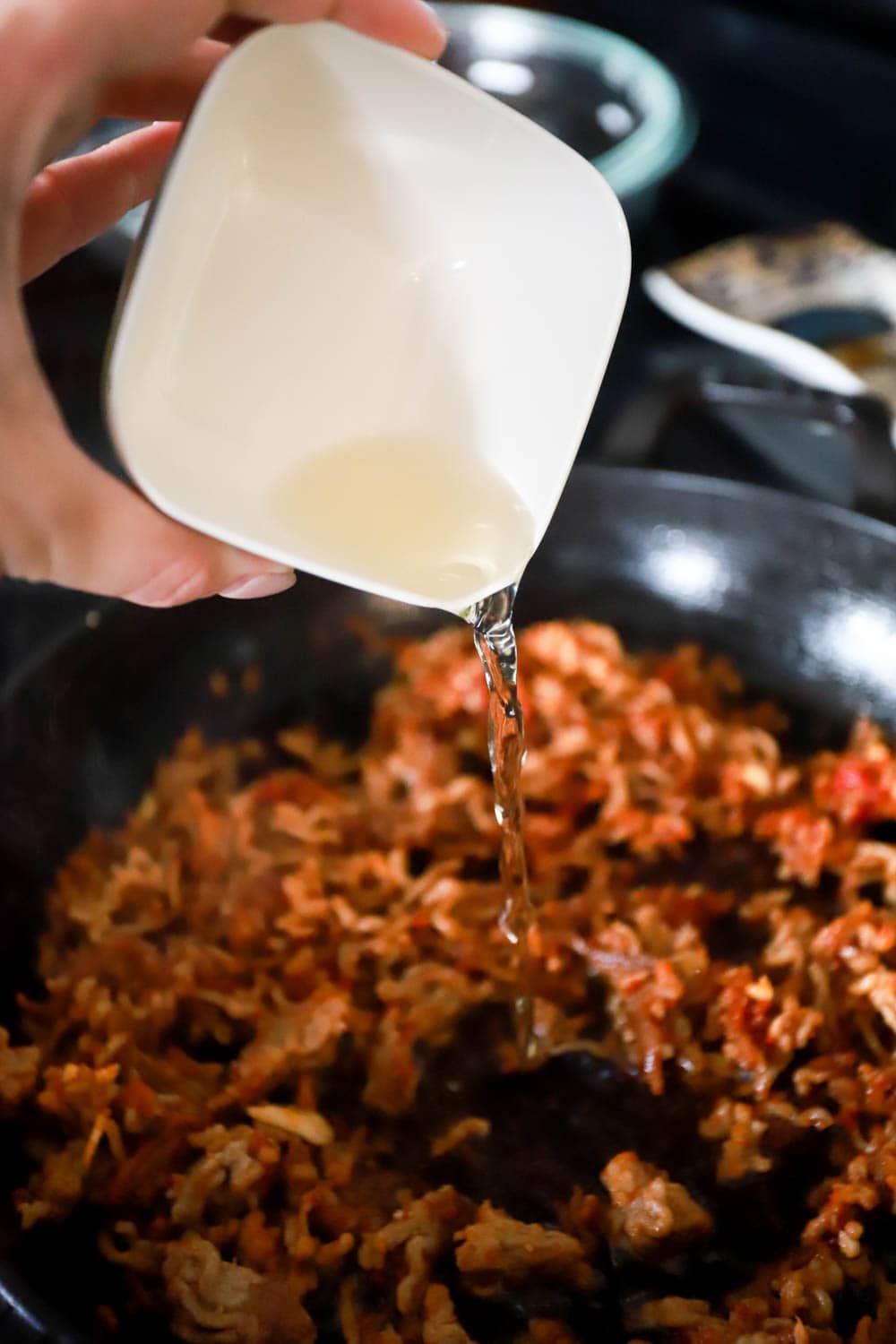 Now, at this point I like to start the noodles and simmer the sauce over low heat for just as long as the noodles take to cook.
The sauce will reduce down just slightly; if it reduces a ton splash in some more water as you wait for the noodles to cook. Taste the sauce and add a bit more soy sauce if you need to for salt. I didn't need to add any, the sauce on it's own was perfectly punchy for me.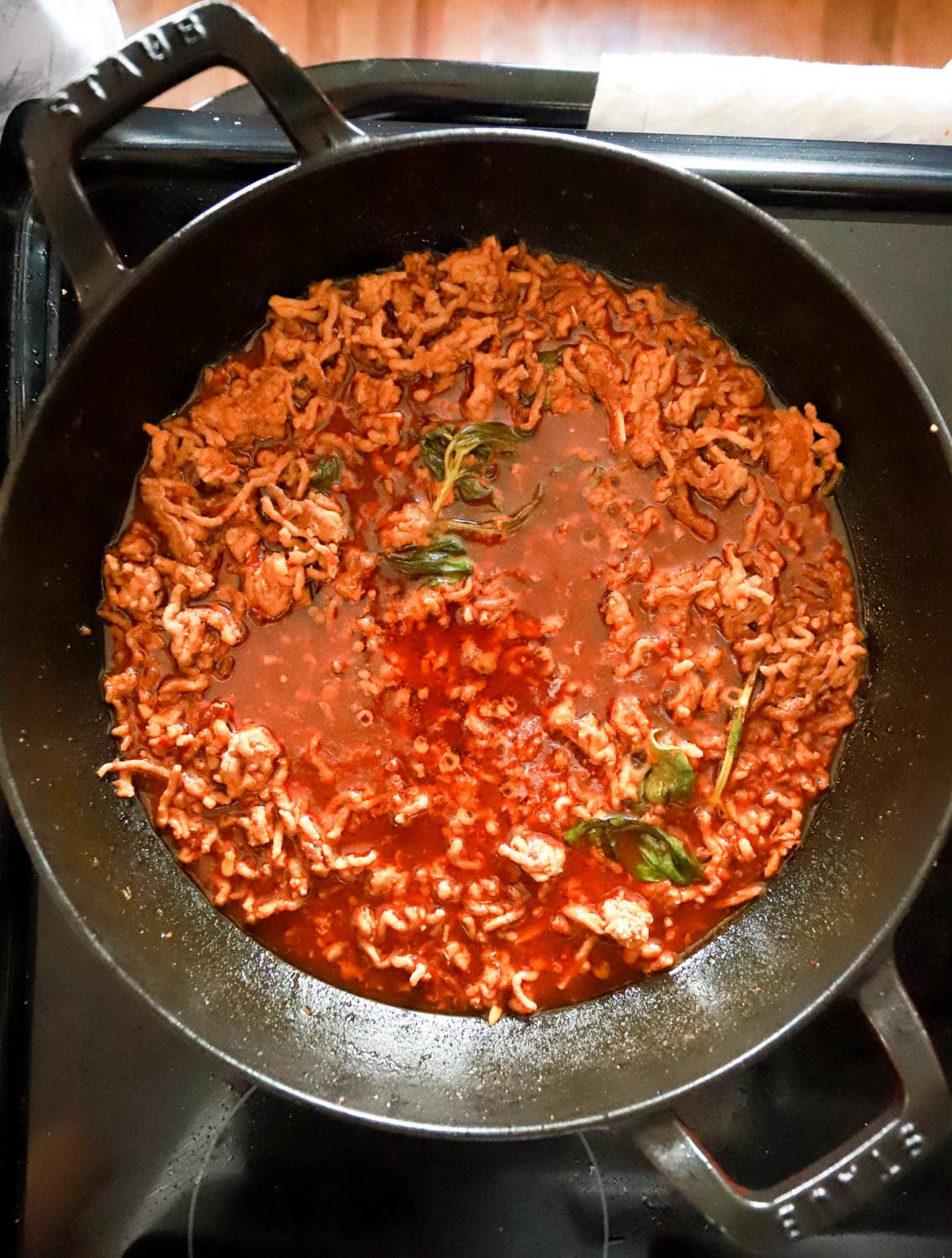 When the spicy pork noodles are done, take the basil sprigs out and discard them, then toss the noodles, sauce, and a pat of butter together for a good minute or two to really coat the noodles in the sauce.
I mean. It looks like bolognese, yes it does. It tastes like Korean happiness, yes it does.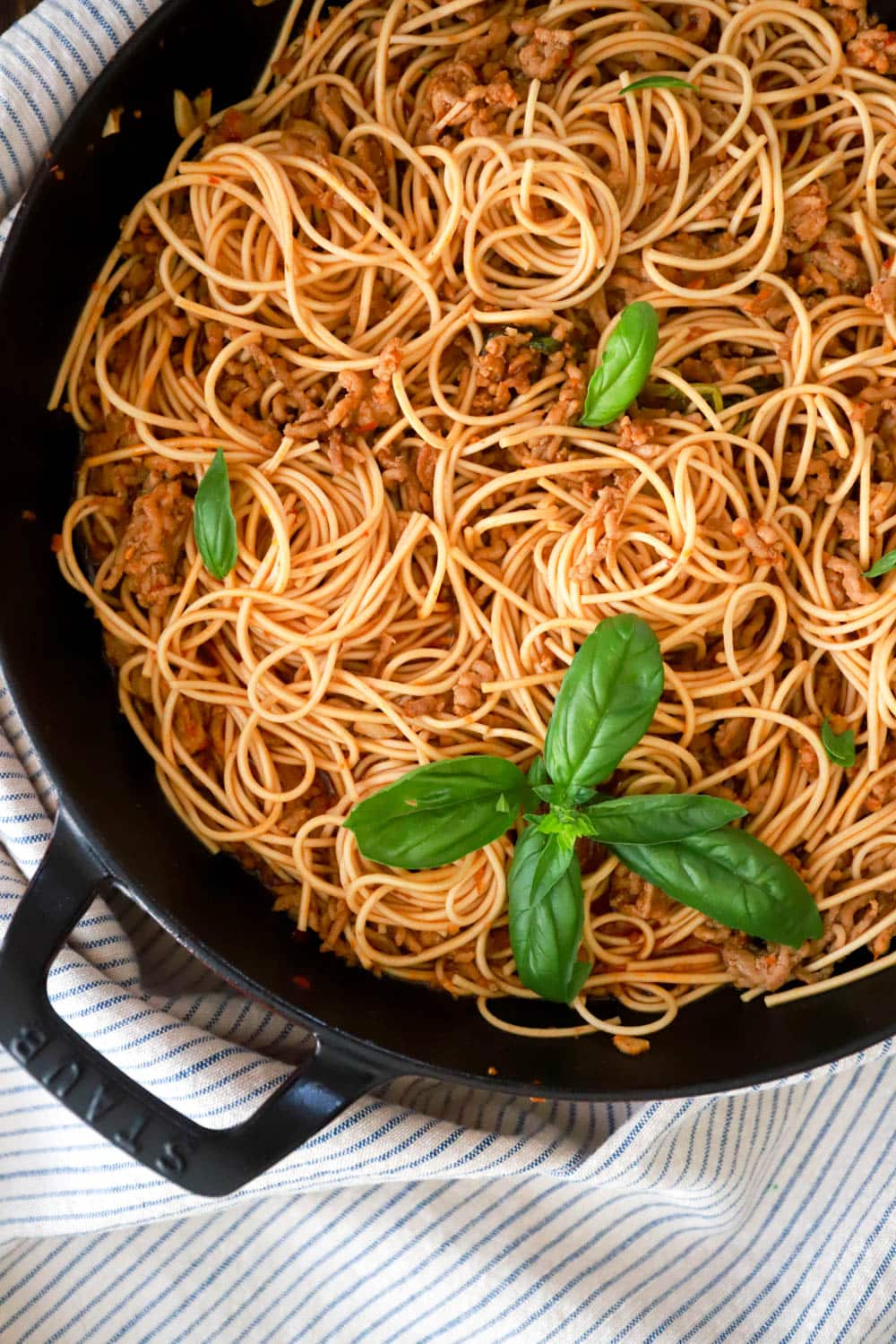 The smell from these noodles alone will have you sneaking tastes before dinner, for sure. They are slightly unusual but have a slight "could be takeout" flair that makes them comforting at the same time.
Enjoy these!
Spicy Sambal Pork Noodles
Ramen noodles, ground pork, and chili garlic paste come together in this delicious Korean fusion bolognese. The sauce is punchy, the noodles are chewy, and this pasta dish is wonderful for a weeknight or weekend dinner.
Ingredients
1

pound

ground pork

1

tablespoon

grated ginger

I use a micrplane a grate it right over the pork

2

cloves

garlic

minced

1

tablespoon

brown sugar

2

tablespoons

tomato paste

2

large sprigs basil

plus more for serving

¼

cup

sambal oelek

¼

cup

plain rice vinegar

¼

cup

soy sauce

10

ounces

dried ramen noodles

1

tablespoon

salted butter
Instructions
In a large skillet over medium-high heat, brown the pork with a drizzle of oil. Let the pork sit for a few minutes at a time to achieve a brown crust on some bits, breaking the meat up with a spoon as you stir.

When the pork is cooked, add in the garlic, ginger, sugar, and tomato paste. Stir to combine for one minute until the tomato paste coats the pork.

Add the sambal oelek, soy sauce, rice vinegar, basil sprigs, and one cup of water to the pork mixture. Reduce the heat to low and simmer the sauce.

Meanwhile, cook the noodles according to the package directions to al dente.

Toss the noodles in the sauce with the butter for 1-2 minutes until well-coated. Taste, and add a bit more soy sauce if you'd like.

Serve immediately with extra basil leaves on top. Enjoy!
Notes
These are the ramen noodles I use. They have the most delicious chew when cooked.
This is the pan I use for large pasta dishes like this one. It's big enough to make the sauce and toss all of the noodles in it, which I love.
Recipe from Bon Appetit.
The sauce for this recipe can be made in advance, but I'd cook the noodles right before if at all possible then toss them hot and fresh with the sauce.