A 10-ingredient pasta dinner that is done in about 30 minutes! This DELICIOUS creamy bacon pasta is so simple to make and has delicious seared mushrooms in a creamy bacon-laced tomato sauce. Delicious for a weeknight, weekend entertaining, or an easy holiday meal! I like this with an easy green salad and focaccia for dipping in extra sauce.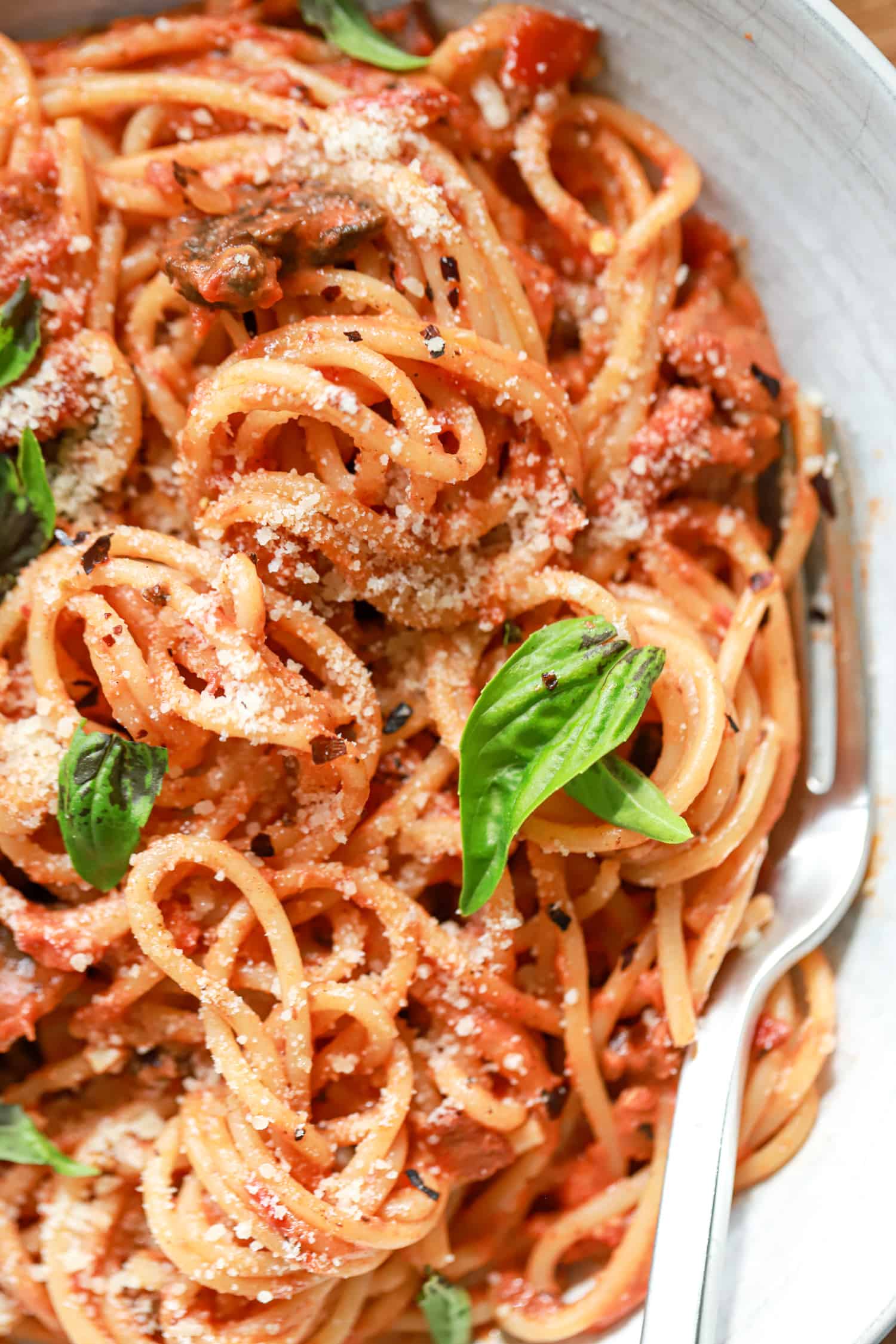 You know how bacon is good on, like, everything?
It's true. Adding even just a little salty, crispy bacon to spaghetti with mushrooms is juuuuust the little nudge into winter dinners we need to get us through the next few cold weeks (or months depending on where you live!)
I love this spaghetti, and I make it all the time. It's a really simple base of seared bacon bits (buy the thick cut kind if you can!), mushrooms browned in the bacon fat (hello), and a creamy tomato sauce that comes together really quickly. The sauce itself is done in just about the time it takes to boil water for pasta, giving us a 30-45 minutes to dinnertime situation.
Ingredients
Basically we're making our own marinara on top of mushrooms and bacon, then finishing with heavy cream and parmesan cheese. Yep, yum, all good things.
The ingredients are super simple: spaghetti noodles, onion, garlic, bacon, mushrooms, crushed red pepper, mushrooms, canned tomatoes, salt, cream, and parmesan cheese. That's it! Very simple, very delicious.
Ingredient Notes/Variations
Use any kind of long pasta you like
For a vegetarian version, skip the bacon
For gluten free, serve the sauce over spaghetti squash or gluten free pasta
I like mini portobello (cremini) mushrooms for this, but any sliced mushrooms you enjoy are great in this dish. They cook down a lot, so feel free to double the quantity of mushrooms if you'd prefer.
If you prefer a lighter version, you can skip the cream, but honestly why.
This isn't very spicy, but skip the crushed red pepper altogether if you prefer.
Step By Step Instructions
Start by filling a large pot with water to boil with some salt (at least a tablespoon, really go for the salted pasta water), and boiling the pasta to al dente while you make the sauce. If the spaghetti (or whatever pasta) gets done before the sauce does that's fine, it can hang out in the colander for a few minutes.
Pro Tip: If you cook your pasta in advance, reserve at least ½ cup of the cooking liquid right before you drain it.
Next, heat a large pan (I use my favorite Staub braiser) to medium heat with a drizzle of oil and add the bacon.
Cook the bacon until it's nearly crispy but not super dark, about 5 minutes, give or take depending on how hot your pan is. Then, add all the mushrooms to the pan with the bacon.
Cook the mushrooms and bacon together for another 5 minutes or so until the mushrooms have released lots of liquid and the liquid starts to evaporate.
Pro Tip: These times are all approximate and will depend on your ingredients and the heat on your stovetop. Take your time, stirring as you go, to let each of the ingredients cook out a good bit!
When the mushrooms have reduced in size and browned a bit at the edges, add the onion and crushed red pepper.
Stir the onion into the mushroom mixture for 3 minutes to soften them just a bit, then add the garlic and salt. Stir THAT into the mixture (we're just layering ingredients, see?) for just one minute to not burn the garlic, then add the canned tomatoes.
At this point, the sauce is ready to simmer just for a little bit. 10-15 minutes is plenty, uncovered, for the sauce to simmer and all the flavors come together. While that's happening, finish boiling the pasta and reserve some starchy cooking water before you drain it.
When the sauce has simmered and the pasta is done, add the spaghetti, parmesan, cream, and ½ cup of pasta cooking water to the pan.
Stir the mixture together, and taste the pasta. Add more salt if you'd like (it should be VERY flavorful, not bland at all), and some more pasta water if needed to thin out the sauce.
Let everything hang out in the skillet for another minute or two, then serve!
YUM. Seriously so, so good. The combination of the chewy bacon and mushrooms with creamy sauce and parm on top is just _chef's kiss_ in its simplicity and deliciousness.
I love this for a weeknight, weekend, just any night that pasta feels like the move, you know? It's one of those winning recipes that everyone loves, that tastes "regular" but slightly special from the bacon and mushrooms.
What to Serve with Spicy Bacon Spaghetti
I adore this pasta on its own since there are veggies and protein right in the dish. But, for entertaining or a larger meal, I love adding a side dish or two to round out the meal!
The sides in that list, to me, make this a super classic family pasta night, church potluck vibes kind of situation, but elevated because, again, bacon.
We absolutely love this and I hope you do too! Try it soon, and report back. Enjoy!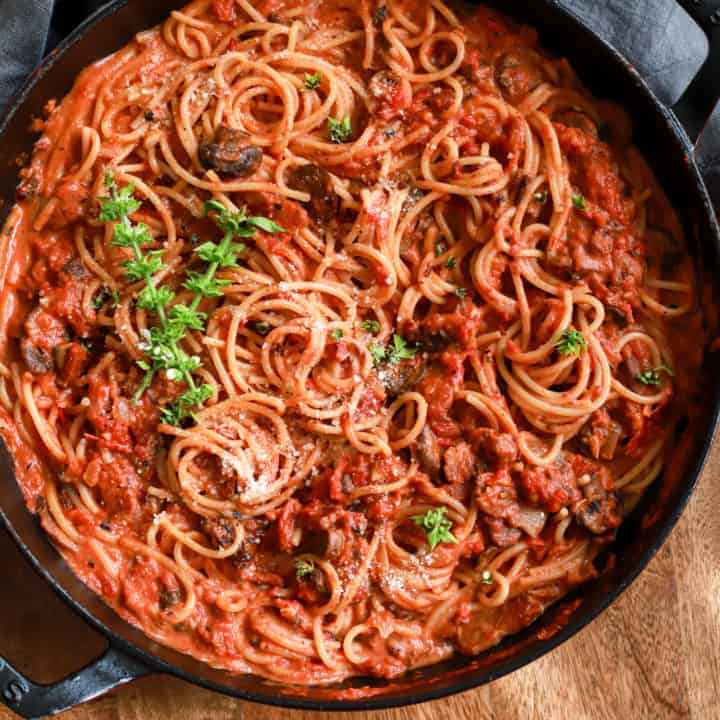 Creamy Bacon and Mushroom Pasta
Crispy bacon, juicy mushrooms, creamy tomato sauce. Gang's all here! Best ever. Promise.
Ingredients
6

slices

bacon

cut into ½ inch bits (lardons if you're fancy)

8

ounces

sliced mushrooms

½

onion

diced

½

teaspoon

crushed red pepper

optional

4

cloves

garlic

minced

1

teaspoon

kosher salt

28

ounces

canned crushed tomatoes

½

cup

heavy cream

2

tablespoons

parmesan cheese

plus more for serving

12

ounces

spaghetti noodles

cooked to al dente with 1 cup pasta water reserved
Instructions
When I make this, I start the water for the pasta first, then boil in heavily salted water it as I'm making the sauce. When the pasta is ready to drain, reserve 1 cup (give or take) of the cooking liquid right before dumping the pasta.

For the sauce, add the bacon to a large cold skillet and turn the heat to medium. Render the fat in the bacon and let it brown slightly - it won't be totally crispy at this point.

When the bacon is about halfway to crispy, add the mushrooms and cook with the bacon for 5-7 minutes or until the mushrooms have released their liquid and browned at the edges.

Add the onion and crushed red pepper flakes (if using) and stir into the skillet for 3 minutes to soften slightly.

Add the garlic and salt and stir for one minute (the garlic should just barely cook), then add the crushed tomatoes.

Reduce the heat to medium-low and let the tomato sauce simmer for 10-15 minutes while you finish the pasta. Taste the sauce and add more salt if you'd like; it should be very flavorful.

Combine the pasta with the sauce and add the cream and parmesan cheese to the skillet. Toss everything together with ½ cup of the reserved cooking liquid and taste again for seasoning; keep adding pinches of salt until it's just right.

Serve. Devour. Enjoy!
Notes
You can use pancetta or another pork product if you'd like! Go for 4-6 ounces or so, whatever the spirit guides you to do.
I like sliced baby bella (cremini) mushrooms in this recipe, but any mushroom you like is delicious! Feel free to double the amount of 'shrooms if you love them.
Take your time with this recipe! Your sauce might take a little less or a little more time to make depending on the heat of your stove. Add the ingredients and let them cook while you stir, don't worry about the time too much.
This sauce is gluten free. Serve it with spaghetti squash or GF pasta for a gluten free dinner!
Leftovers keep in the fridge for at least 3 days, maybe longer if you can stand to not eat them for that long.
This recipe was originally published in November, 2011 and has been updated with more clear instructions and images.