I'm a huge Spanish food person. One of my favorite restaurants ever in the world is this Spanish tapas place in Asheville, and I just think that Spanish food is so accessible and delicious without being difficult or fancy.
I'm difficult (name that movie), but really not fancy at all.
My bff Heather is into Spanish food too, so much so that for my birthday a few weeks ago she had a whole tapas spread for a happy hour she threw for me. It was delicious, and while it was nice to have my friends there, the food was so good that I might have preferred to be alone with the food. It sounds sad, but in my mind its not.
One of the things Heather made that night was this tuna salad, full of veggies and creamy from avocado instead of mayo. It was really delicious, and I made it at home within a week of having it at her house. I've eaten it a few ways now, with bread or crackers, straight from the bowl, over greens for a salad...there is NO wrong way to eat this, and it's definitely worthy of telling everyone else to go away so you can eat in peace.
You need tuna! Something that looks moderately sustainable, if you can manage it. Then you need red bell pepper, tomato, avocado, fresh parsley, capers, and sherry vinegar. You could add anything you like, really, olives, chopped onion, other herbs....tons of ways to customize this with what you have. Also, I made a small version of this because it was just me eating, so I only used half the avocado and half the pepper. To use your whole veggies just add another can of tuna, duh.
I love recipes like this, that you just prep, mix, season, EAT. That's seriously the entire recipe. Chop the parsley, dice the tomato and pepper, halve the avocado and dice that.
See how I do the avocado? Cut it around the pit then split it in half. Cut little lines right in the avocado, then scoop it out of the shell with a spoon and boom! Cubes. Don't do a weird peeling and slicing thing, it gets everywhere and really doesn't work.
Toss everything in a bowl and sprinkle it with the sherry vinegar. I don't use a ton because it's a strong flavor, and you can add more if you'd like. You can also use lemon juice, which is really delicious as well.
Stir the salad together and taste it - I added a pinch of salt, but you don't need much because the tuna is so salty.
NOW. How to serve? Crackers are great.
Plain from the bowl is awesome. Maybe for dinner with a baked potato?
And then there's this salad I made with some raw bok choy, crackers, feta, and extra avocado. I sprinkled salt and pepper over everything and drizzled with olive oil, and it. was. awesome.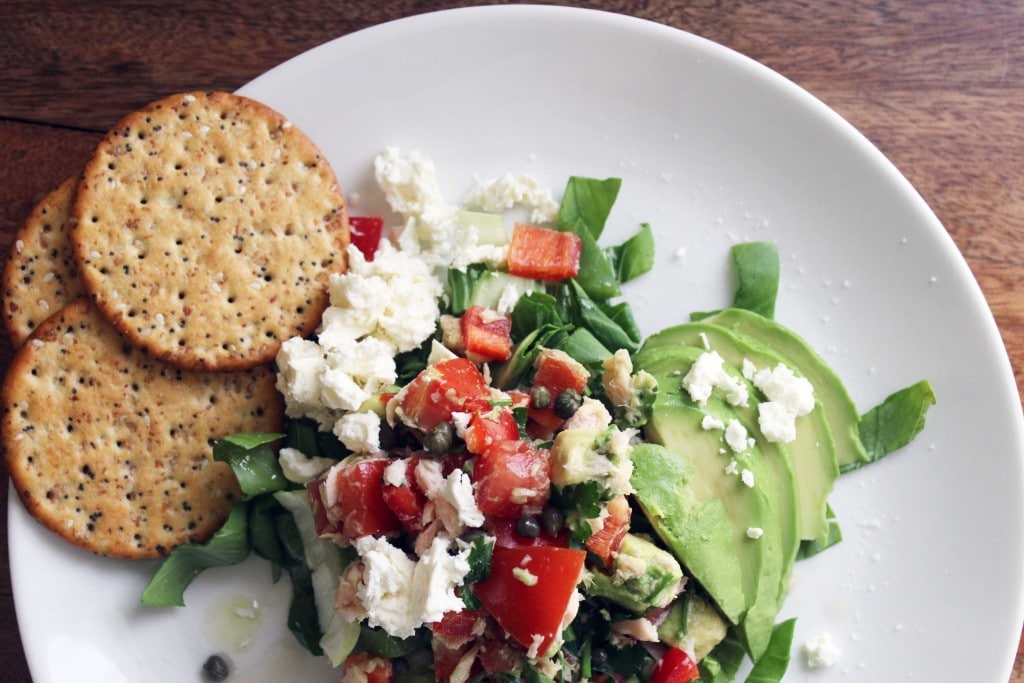 Try this soon, it's the perfect warm-weather food.
Enjoy!
Spanish Tuna Salad + Avocado
Ingredients
1

can tuna packed in water

drained

1

tablespoon

capers

drained

¼

cup

fresh parsley

chopped

1

medium tomato

seeded and chopped

½

avocado

diced

½

red bell pepper

diced

1

teaspoon

sherry vinegar

plus more to taste

salt and pepper

if needed, to taste
Instructions
Combine all the ingredients in a bowl, stirring very gently. Taste, and add more vinegar or salt and pepper to your taste.

To serve: serve over crackers, plain with a baked potato for dinner, or over greens drizzled with olive oil and sprinkled with feta for a main dish salad.

Enjoy!
Nutrition