For SANTA! I KNOW HIM!
I love that movie so much. It's my favorite. Smiling is my favorite.
I don't usually do a ton with Christmas cookies, because we aren't huge dessert people and my mom usually takes care of that, but this year I was teaching a cooking class on desserts, so I made these because they're light-ish and small and cute and DELICIOUS!
And then no one showed up to the class.
Whomp.
That's ok! More cookies for us. I like that they're pretty easy, too. You need butter, sugar, flour, cream of tartar, baking soda, an egg, corn syrup, vanilla, and cinnamon. The cinnamon is obviously what makes this a snickerdoodle instead of a regular sugar cookie, but the cream of tartar and the corn syrup really add a lot to the soft, chewy texture of the final product.
First, preheat the oven and mix the flour, baking soda, and cream of tartar together in a bowl.
Then, add the sugar and butter to the bowl of a mixer, and cream them together until they're light and fluffy.
With the mixer running (or off if you're using a handheld mixer), add the vanilla and the egg.
Then, add the flour! In a few batches to prevent flour from going everywhere.
When everything is combined, the dough will start to pull away from the sides a little bit, and we're ready to form the cookies! While you prep everything else, stick the dough in the fridge for a few minutes.
While the dough is cooling, combine the remaining sugar and cinnamon together with your fingers in a bowl, and do whatever you do to get ready to bake cookies. In my case, silicone liners go on baking sheets and I consume some kind of alcohol before I get my hands all messy. You get it.
AND NOW. Let's get to it. Take little bits of the chilled dough and roll them into balls.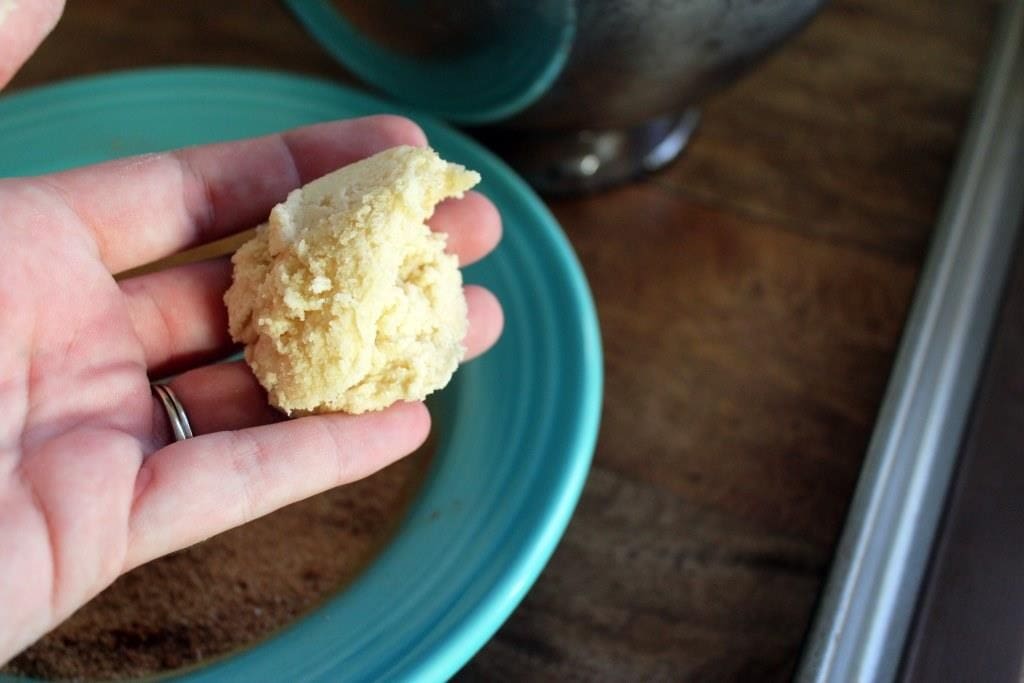 Roll the balls (never stops being silly) in the cinnamon sugar mixture, and place them on the baking sheet about 2 inches apart.
Use a glass to gently flatten the cookies. I love this step because it makes the cookies nice and uniform.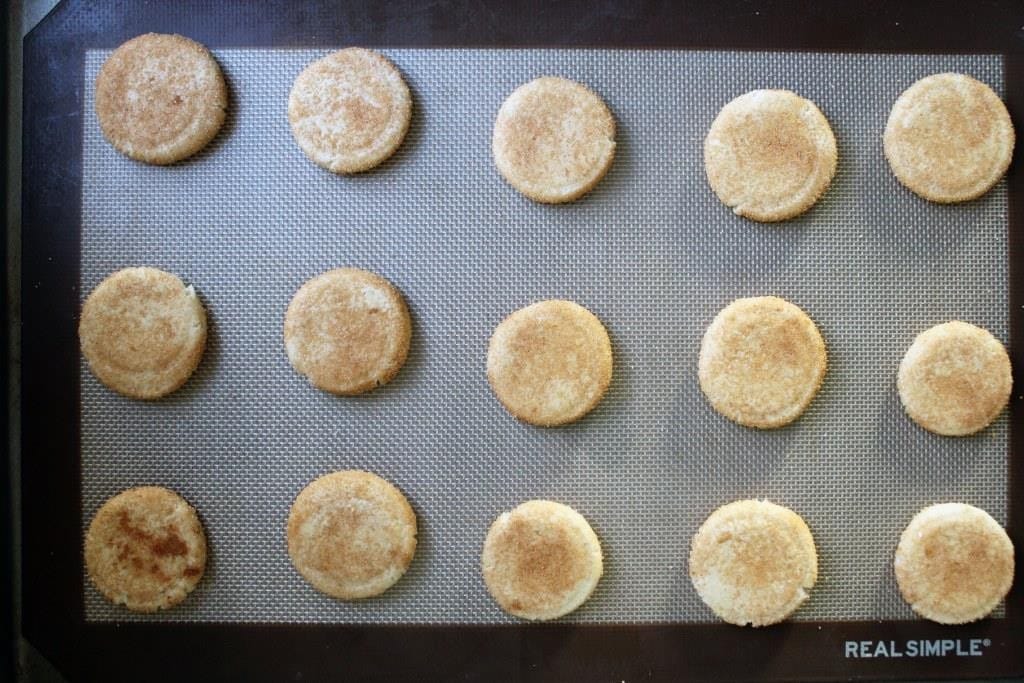 Now we bake! Just for 5 minutes, then the cookies come out of the oven and will be a little puffy and very soft.
Let the cookies cool on the pan for 2 minutes or a little more, then move them to a baking rack. They'll deflate and look a little sad, but that's part of the yummy chewy action happening.
Snickerdoodles! Easy, really delicious, and not terrible for you if you don't eat too many.
But of course, as we know, the rule is that a serving size is the number that you can stack on top of each other.
Right?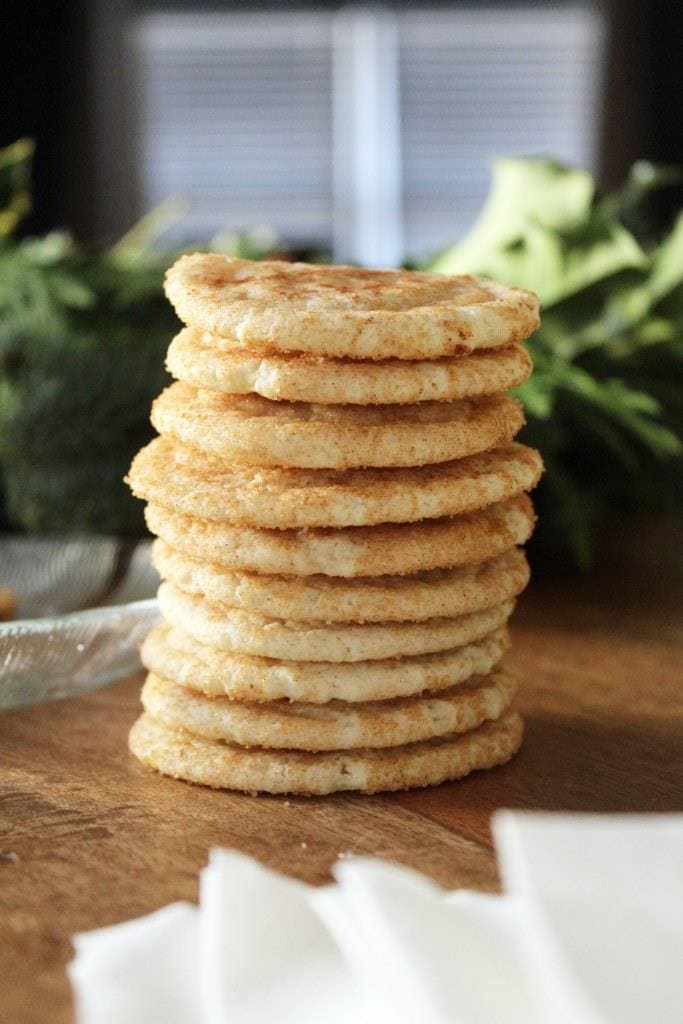 Right.
Print
1.

1 ¾ cups all-purpose flour

2. ½ teaspoon

baking soda

3. ½ teaspoon

cream of tartar

4.

1 cup sugar

5. ¼ cup

butter, softened

6.

1 tablespoon corn syrup

7.

1 teaspoon vanilla

8.

1 large egg

9.

3 tablespoons sugar

10.

2 teaspoons ground cinnamon

11.

Cooking spray
---
Instructions
1. Preheat oven to 375°.
2. Lightly spoon flour into a dry measuring cup; level with a knife. Combine flour, baking soda, and cream of tartar, stirring with a whisk.
3. Combine 1 cup of sugar and butter in a large bowl, and beat with a mixer at medium speed until well blended. Add the corn syrup, vanilla, and egg; beat well. Gradually add the flour mixture to the sugar mixture, beating just until combined. Cover and chill for 10 minutes.
4. Combine 3 tablespoons sugar and cinnamon, stirring with a whisk.
5. With moist hands, shape dough into 1-inch balls. Roll balls in sugar mixture. Place balls 2 inches apart onto baking sheets coated with cooking spray. Flatten balls with the bottom of a glass. Bake at 375° for 5 minutes (cookies will be very soft). Cool on baking sheets for 2 minutes. Remove cookies from pans; cool completely on wire racks.
Notes
Nutrition Information (per cookie): Calories 54; Total Fat 1.3 g, Saturated Fat 0.7 g; Total Carbohydrates 10.1 g; Fiber 0.2 g; Protein 0.7 g; Sodium 28 mg
Prep Time:

20

Cook Time:

5