This flavor-bomb Mexican shredded beef recipe is made right in the slow cooker for no-fuss, super tender beef that is ready whenever you are. Pair it with Mexican red rice and pepita salsa for an easy Mexican feast!
aka your new favorite meat aka IT'S ALMOST CINCO DE MAYO!
I have a few other new things on deck for you this holiday (deck = what Beck calls herself these days), but this is probably my favorite new Mexican-inspired dish this year. Mainly for the ease + big flavors it creates. Beer, tomato sauce, and tons of spices make the best drippings, and we toss them with the beef at the end once we shred it.
I also go against my own rule of SLOW COOKER MUST ONLY INCLUDE SLOW COOKER and sear this to almost burnt in a cast iron skillet. It's not always necessary, but for this application I do think it adds some great crusty bits to the finished shredded beef dish.
Do you Cinco? I honestly can't tell you what we've done the last few years besides make fun new Mexican recipes for the blog or for parties. Going out for the holiday, if you can even call it that, feels exhausting just to plan, but staying in with an entire Crock Pot of beef and case of Corona? Satisfying.
I didn't photograph this Mexican shredded beef as any one dish intentionally. I made it for a family gathering a few weeks ago and served it with rice, beans, and tortillas with all of the toppings you could possibly think of. Some people made rice bowls, some people made salads or tacos, but the point of this is that the beef was GONE. The only thing on the spread that was totally eaten by the end of the meal was this, which is saying something because we tend to make about a thousand times what we usually need for family gatherings, and none of us eat much red meat.
This beef, though, we eat.
Slow Cooker Shredded Beef Ingredients
For the beef to use here, honestly grab any kind of shoulder/roast cut that you like. This is top roast, but sirloin roast or rump or anything similar works great. Boneless is my preference, but bone-in is fine considering how long we're cooking this.
Seasonings + Beer
In addition to the beef, we have garlic powder, onion powder, Adobo seasoning (or sub kosher salt or seasoned salt), chili powder, cumin, allspice, a beer, and tomato sauce. I got Dos Equis to be fancy (ha), but any kind of medium-to-light beer you have is just fine.
What Is A Good Replacement For Beer In A Recipe?
For this and almost all slow cooker meat recipes that call for beer, you can swap the beer for water or beef stock if you happen to not have beer or prefer not to cook with alcohol.
How To Make Mexican Shredded Beef
First, we prep the slow cooker with the tomato sauce and half the beer. Dump it in! I have a super basic Crock Pot like this one and love it - it's simple!
Next, we season and sear the meat. I mix all of the spices together, then rub them all over the meat while a big skillet preheats with some olive oil to HAWT. Medium-high, preheated for 7-10 minutes is my preference. The oil should be almost or just barely smoking.
Sear the meat on all sides for maybe 5 minutes/side. This all depends on how hot your skillet is, but the meat shouldn't stick to the skillet on it's seared. If it does, it's not ready to flip. If the skillet gets dry, drizzle in oil about a tablespoon at a time to prevent the bottom of the skillet from getting a ton of char on it.
When the meat is browned on all sides, use tongs and friends and a spear of some sort to transfer it to the slow cooker on top of the tomato sauce mixture.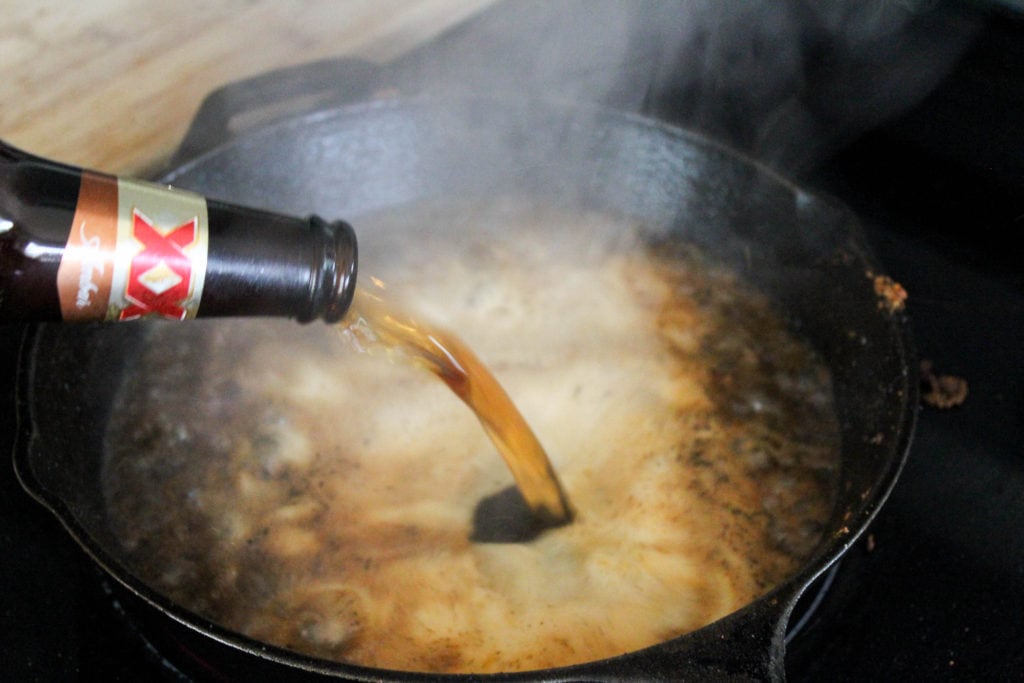 Turn the heat off the skillet and add the other half of the beer. Swirl it around, then pour it into the slow cooker with any beef bits and spices from the bottom of the skillet.
Now, the rest of the time is down time. I actually cooked this overnight because I was making this for a lunch, but cook time will be 8-10 hours on low, 6 hours on high (maybe 4 depending on the size of your meat). Using low heat will yield more juicy tender meat, so I'd go for that if you have the time.
When the meat is cooked, it'll have released most of its liquid and shrunk considerably.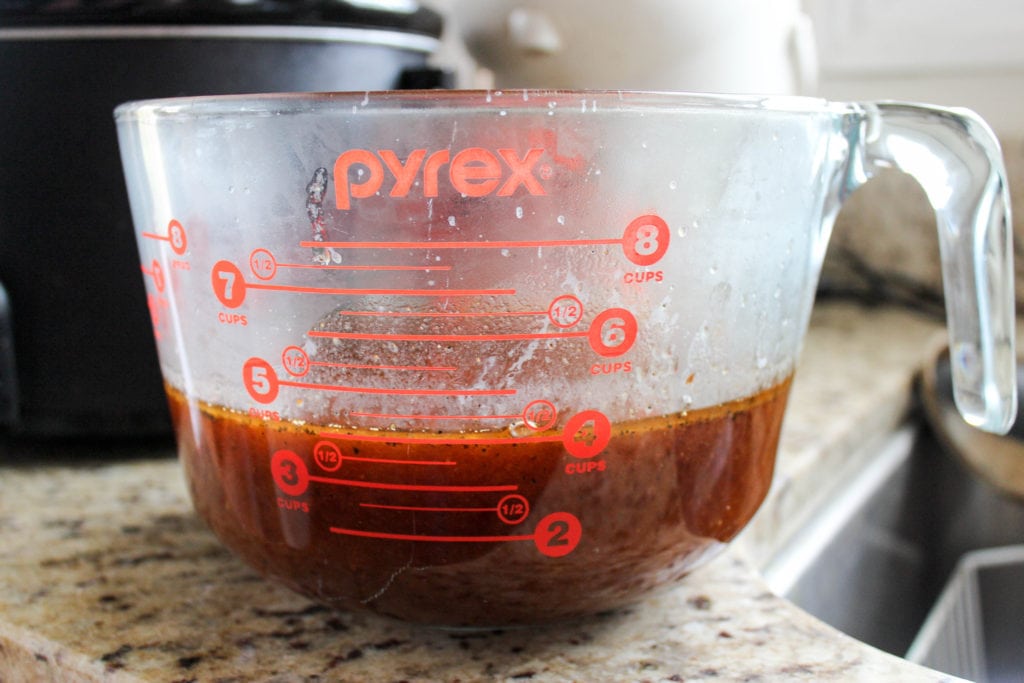 Now, the rest of the prep is reducing the cooking liquid and shredding the meat, plus any other prep for your meal. Which you already had 10 hours to do so.
Here are the drippings. Mine didn't have much fat at all, so I put them in a skillet over medium-low heat, reduced them by about ⅓, added more salt, and was done with it. If you had a fattier piece of meat you might choose to skim some of the fat off the drippings.
Use your fingers or forks to shred the meat into bite-sized pieces. The meat should be fall-apart tender.
Now, this can be made way in advance, even a day or 2. To store, put the meat back in the slow cooker with ⅓ of the juices that you've reduced. Taste the meat, and add more salt if you'd like. Store the rest of the juices separately.
When you're ready to eat, reheat the drippings in a skillet, small pot, or even in the microwave, and warm the beef in the slow cooker on Low or Warm setting.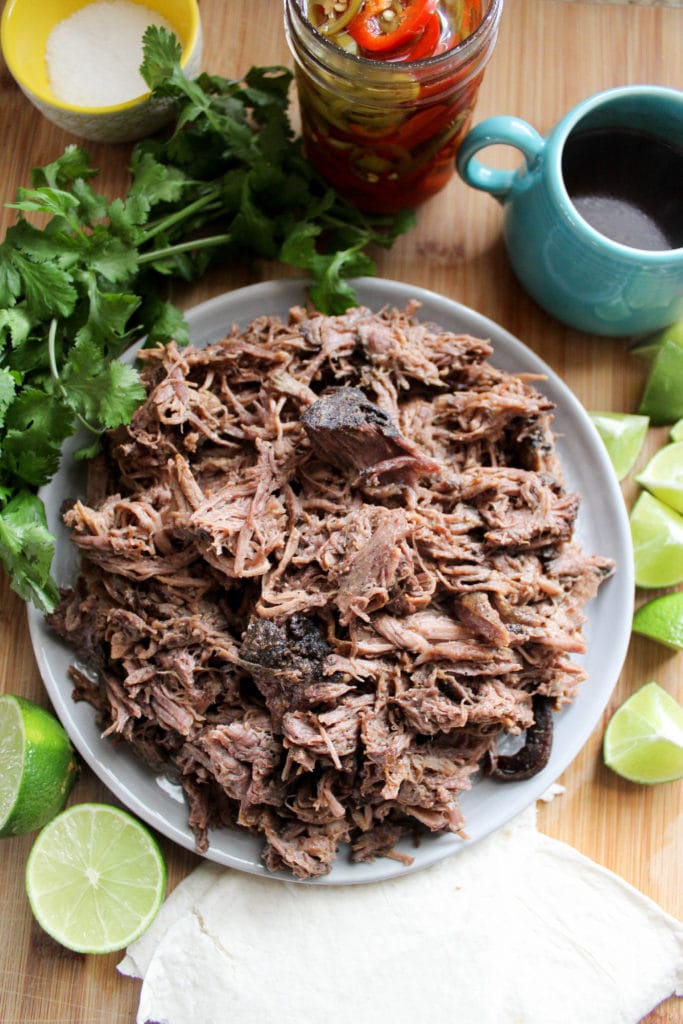 Then eat! Extra reserved beef drippings (we basically made a Mexican au jus, thank you very much) for drizzling, tortillas or rice (this is my favorite Mexican red rice), lime and cilantro for sure. We added salsa and guacamole, but honestly the beef alone with some lime juice is fantastic, no extras necessary.
Enjoy this! It is SO good, freezes beautifully, leftovers are even better, just really all around an excellent crockpot shredded beef recipe. I hope you love this!
Mexican Crockpot Shredded Beef
Delicious, tender beef slow cooked with beer and Mexican spices for the absolute best shredded beef.
Ingredients
8

ounces

tomato sauce

12

ounces

beer

medium-to-light

2.5-3

pounds

boneless beef roast

any kind you like

1

tablespoon

Adobo or other salt blend

1

teaspoon

onion powder

1

teaspoon

garlic powder

1

tablespoon

chili powder

1

teaspoon

cumin

½

teaspoon

allspice

lime

cilantro, tortillas or any other accompaniments for serving
Instructions
Preheat a large skillet to medium-high heat with olive oil. Pour half the beer and all of the tomato sauce into the bottom of a slow cooker.

Combine all the spices together and rub them all over the meat. When the skillet is very hot (preheat for 7-10 minutes), add the roast and sear on all sides until brown and crusty, about 5 minutes per side.

When the roast is brown all over, move it to the slow cooker. Turn the heat off the skillet. Add the rest of the beer and swirl to deglaze, then pour the beer and drippings into the slow cooker.

Cook the beef on low for 8-10 hours (I do this overnight), then remove the beef to a plate and the drippings to a small skillet. Shred the beef with forks, removing any large fatty pieces. Heat the drippings over medium heat and let them simmer and reduce for about 15 minutes.

To serve, return the beef to the slow cooker on Low or Warm. Drizzle with some of the drippings, then taste the meat and add salt if needed - mine needed about a teaspoon extra.

Serve the beef with your favorite Mexican meal with extra drippings for dunking and drizzling. Enjoy!
Notes
For Gluten Free (or simply to avoid cooking with beer), skip the beer and sub beef stock or water.
More Favorite Mexican Recipes