#tbt! Bringing this one to the front of the lineup because it was dang good and also perfect for Halloween or a weekend or ANYTIME you want something cozy and easy for dinner. Have at it!
You asked for it, and now I'm delivering it.
Our very first slow cooker recipe!
This is so exciting, guys. Thanks for talking me into this one.
So, we talked about how I had a Crock Pot but it was still in the box and I didn't know if I'd want it, and a VAST majority of you pretty much told me I was dumb.
It's ok, I can take it.
You were right, as it turns out. Frankly, I don't know if this is one of those life changing things. I LIKE the process of dumping things in, wandering to work, and dinner being ready 8 hours later. As I was contemplating this, though, I was given the chance to work with Campbell's new line of slow cooker sauces, which seemed kind of fortuitous, so I figured....all you lovely readers and friends can't be wrong, right? That's legit how it worked, no lie. I thought in my brain about whether or not slow cookering (yep) needed to be for me, and then got asked to do this. Weird world, this is.
You weren't wrong. It was handy, the meat turned out perfectly, and I didn't have to do much.
As a general rule, I think I'm going to make most of my slow cooker recipes from now on without searing or extra steps. That's my major beef (heh) with it - if I'm going to dirty a pan to sear something, I'd rather just braise meat in that same pot instead of dirtying another. So, this is NON-SEARED meat. And it tasted great!
These Campbell's sauces are meant to be used alone, and I strongly believe that they'd be delicious that way. BUT you know me. Gotta go my own way, right? My official advice here is that you could 1. follow the instructions or 2. add fun stuff to your dish, no matter which sauce you use. Then it's a LITTLE more like cooking than just dumping stuff into a slow cooker, if you're into that kind of thing.
I went with The Hawaiian Luau flavored sauce because THAT IS WHAT MY STORE HAD. There are tons of other flavors! I want to try them all.
Pork was recommended for use, and I already had some so....that's what I went with. Insanely, I also had green beans from my produce basket I get each week, so my plates ended up looking strangely like the package, which was kind of unintentional. In addition to the sauce, pork, green beans (or another green veggie like broccoli would be yummy!), you need low or no-sodium stock (mine was homemade), an onion, garlic, cilantro, sriracha, and soy sauce. Hawaiian flavors sometimes are too sweet for my taste, so adding some savory (soy sauce) and no-salt stock was a good choice for me.
So, you know the drill. Let's get it all in the pot! First, crush the garlic lightly with the side of your knife.
Peel the garlic cloves and cut the onion into big wedges.
Add the pork with the garlic and onion to the crock pot.
Then, add the other seasonings! Pour in the Campbell's sauce...
....then the sriracha and soy sauce....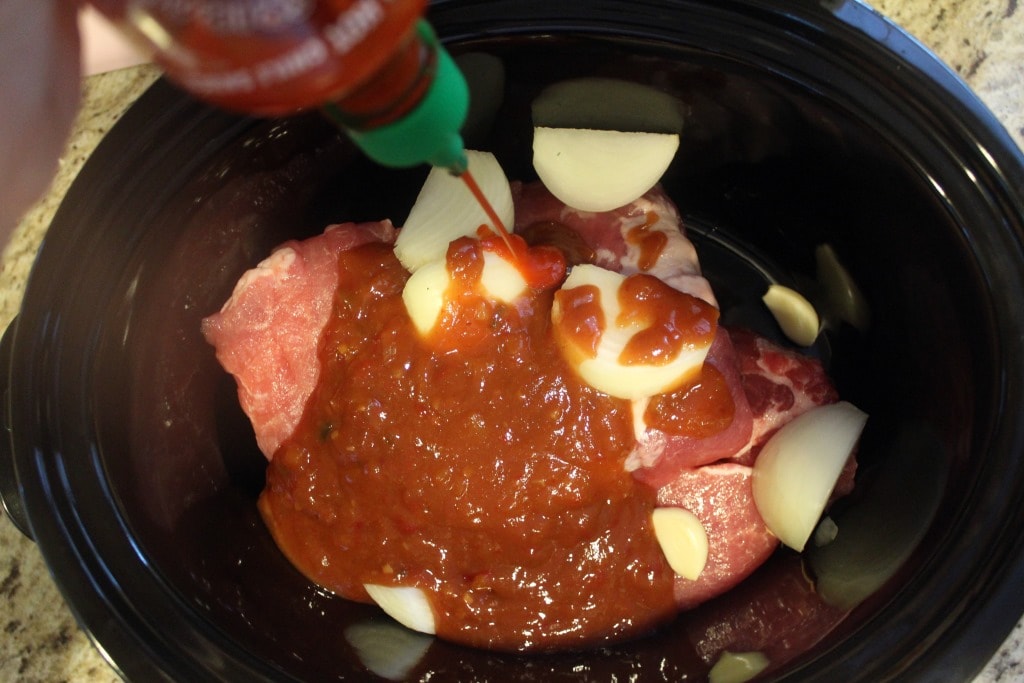 ....then the stock. Just enough so the meat is a little more than half covered.
Then, we go to work. Like, your job. Or wherever you go during the day. Cover the slow cooker and cook on low for 6-8 hours. I checked the meat after about 7.5 hours and it was PERFECTLY tender. Probably could have enjoyed it after 6 hours, but that's the beauty of these things! Eat whenever.
When the meat is very tender, and right before you'd like to eat, trim the green beans or another green veggie of your choice.
Add the green beans to the crock pot, right on top. Sort of a Bring Me to Life maneuver in the "is this stuff dead?" department. Slow cooked things sort of don't always look vibrant after they're cooked. Green food is good!
Cover the pot again, turn the heat to high, and let the veg steam for 10 - 20 minutes until soft but still with a bit of crunch. The time for veg cooking will depend on what green veg you're using and how crunchy/soft you like your vegetables.
While the green beans were cooking, I steamed a couscous/lentil blend for serving. White rice or pasta would be great here too!
Now, we're ready! Make pretty plates with rice, pork, and beans. Top with some cilantro leaves for extra freshness - it's a great offset to the slow-cooked pork.
That's it, friends! SO simple, and a really delicious final product. The pork had a really nice texture, and Jay and I fought over the whole garlic cloves. THE FLAVOR. Don't skip that step, please. I daresay that onions/garlic/pork/green beans would go with almost ANY of these slow cooker sauces, so try a few out and let me know how it goes!
BONUS. Don't you think that a whole (smallish) ham covered in just this sauce in a slow cooker for a few hours would be delightful? I think it would make a delicious glaze. Just a thought.
Thanks, Campbell's for the fun assignment! Can't wait to try out more of these sauces. OHANDALSO. Found this online. Head to Facebook, Like 'Em, and you can get a coupon to try one of the sauces for yourself!
Slow Cooker Luau Pork with Green Beans and Cilantro
Ingredients
1

package Campbell's Slow Cooker Sauces

Hawaiian Luau flavor

1.5

pounds

country style pork ribs or other pork roast

cut into large chunks

1

large onion

cut into wedges

8

garlic cloves

peeled

½

cup

no-sodium chicken stock

1

teaspoon

sriracha

plus more to taste

1

tablespoon

soy sauce

2

cups

trimmed green beans

or more if you like a lot of veg!

¼

cup

cilantro leaves

for serving
Instructions
Arrange the pork, onion, and garlic in the bottom of a slow cooker. Top with Luau sauce, stock, sriracha, and soy sauce. Cover, and cook on low for 7-8 hours.

Before serving, add the green beans to the pot. Turn the heat to high and cook for 15 minutes more to soften the green beans slightly.

Serve with cilantro leaves over couscous, rice, or pasta.
Nutrition
This post brought to you by Campbell's Dinner Sauces. Weekend-worthy dinners with only weekday-level effort needed! Learn more at http://www.campbellsauces.com/.
Shared with Weekend Potluck – the best time suck start to a weekend!