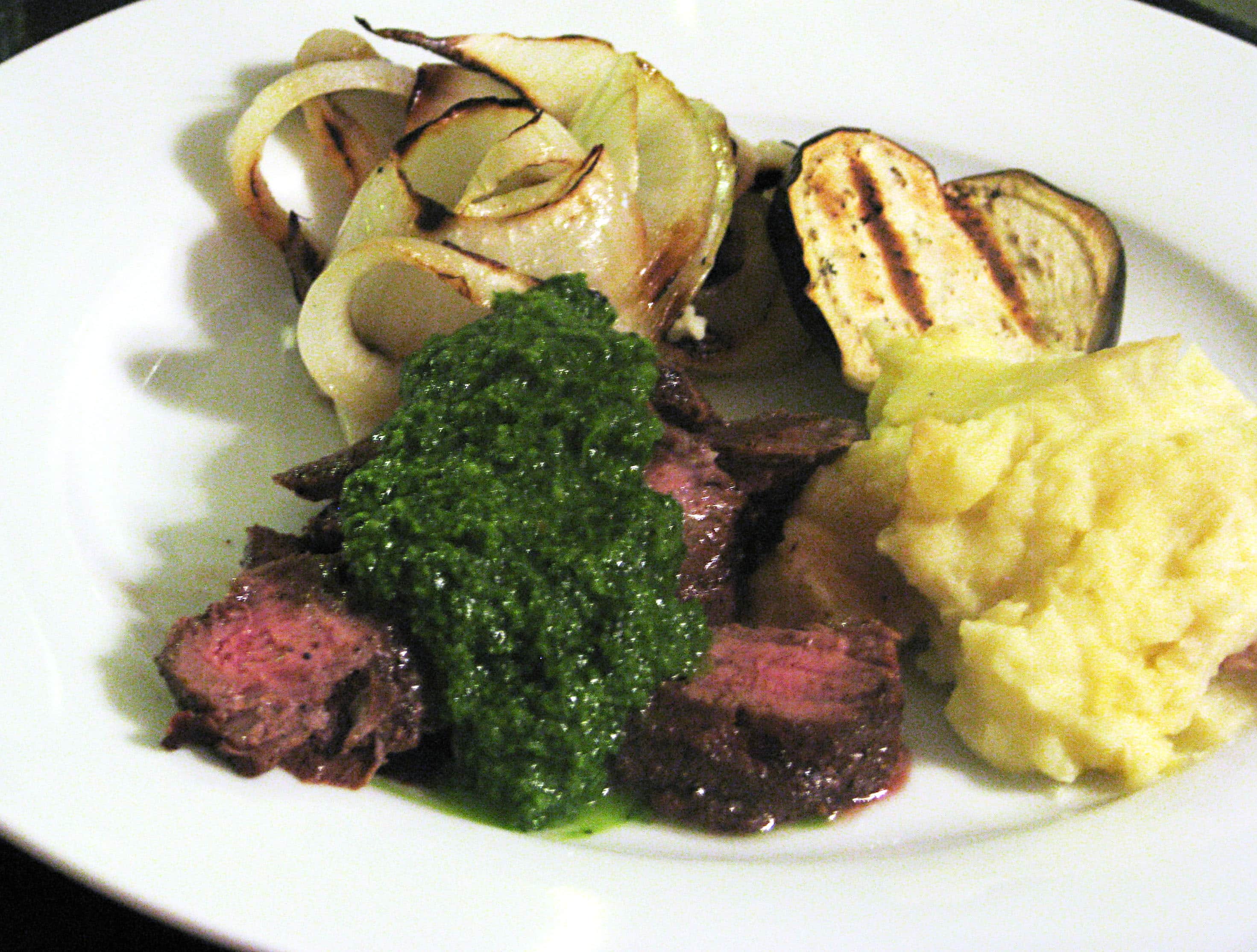 If that title doesn't make your mouth water then you are just dead on the inside - no two ways about it.
I made this for Jay's friends Donna and Henry and Jay's mom a few weeks ago and it was GOOD. Also, it was easy - what's better for a fancy weekend meal than something that is super special tasting but doesn't take a lot of time and effort? This is DEFINITELY meal to keep around for watching football at home on a cold night - it's perfect!
Parsley-Sage Chimichurri
We've made chimichurri sauce before with just parsley when we made Argentinian food - remember? I added sage to this version because I thought the deeper flavor would be good for fall, AND I had some in the fridge - it was a very complicated decision-making process.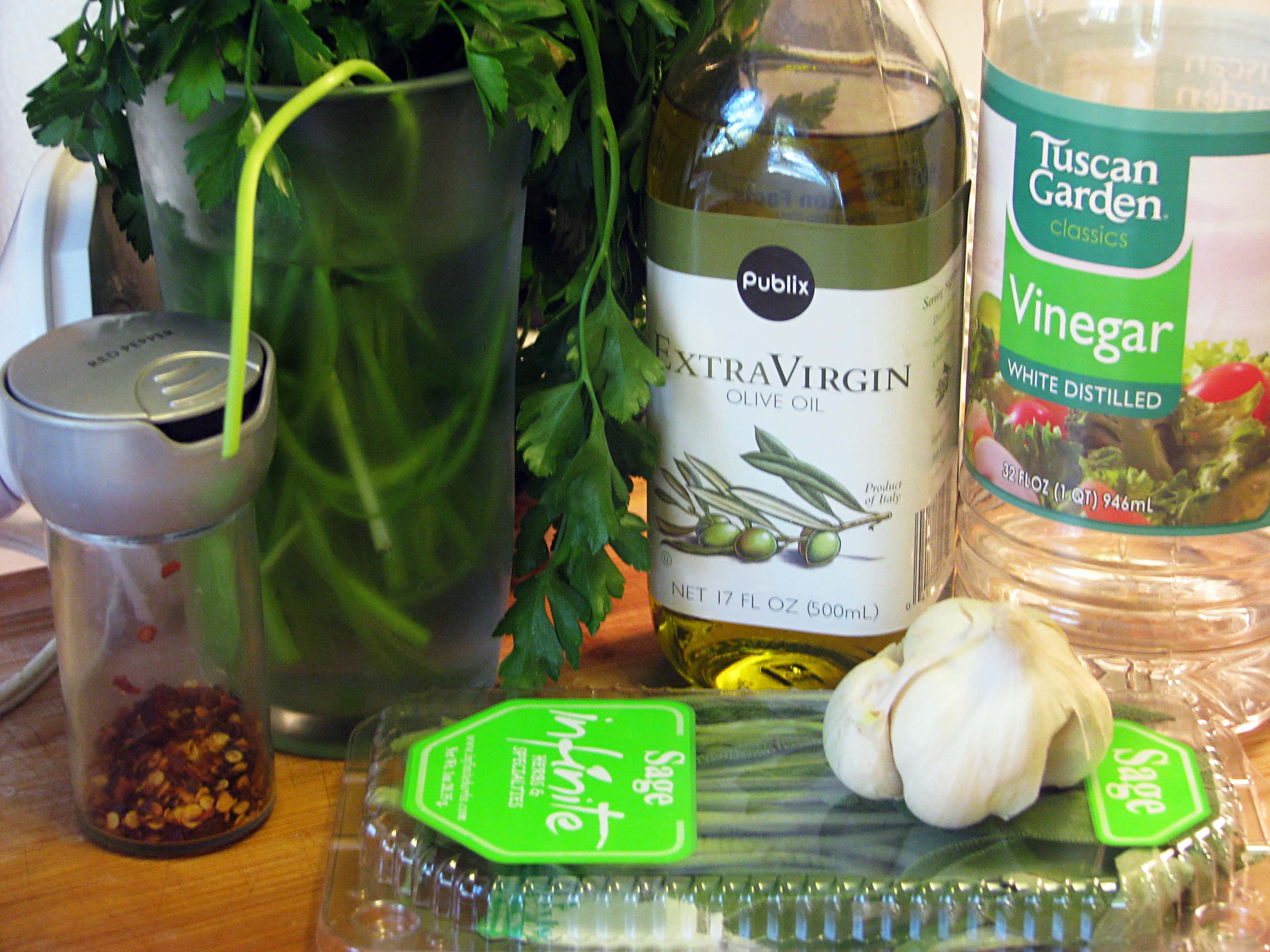 For the chimichurri, you'll need crushed red pepper, parsley, sage, garlic, olive oil, vinegar, water and salt. That's it! You can mix up the herbs any way you'd like - play around with this and make lots of different versions!
In a food processor or blender, mix 1 cup parsley leaves and stems (they're getting pulverized...why not use them?) with ¼ cup sage leaves and stems, ¼ teaspoon red pepper flakes, ½ teaspoon salt, 1 clove peeled garlic, 1 tablespoon vinegar, 2 tablespoons water, and 2 tablespoons oil.
Pulse the ingredients until combined until very finely chopped, then taste the mixture! I usually add more red pepper and vinegar because I like things spicy and tangy, but add whatever extra ingredients and liquids you need, then re-pulse. The sauce should be thin and spoonable, like Elmer's glue that's drizzled all over new carpet - not thick like it'll get after it dries a little. Or something.
When the chimichurri sauce is done, store it until you're ready to serve - you can make this up to a few days in advance. Make lots - it goes great with everything!
Grilled Flank Steak
For the steak, I use flank, skirt, or any thin, lean, well-priced beef. You slice it against the grain, so don't freak out about getting the most expensive, tender thing you can find. Your money is better spent elsewhere! For the marinade, I use salt, pepper, olive oil, and worcestershire sauce. That's it!
Since we slice the steak, people think they're eating more than they really are - half a pound per person will give you leftovers! First, liberally salt and pepper each side of the steak.
Then, put the steak into a large storage bag and add equal parts olive oil and worcestershire sauce - just enough to coat the meat.
Then, squish the bag so all the air is removed and seal tightly, then mush the steak around so the marinade is covering it completely.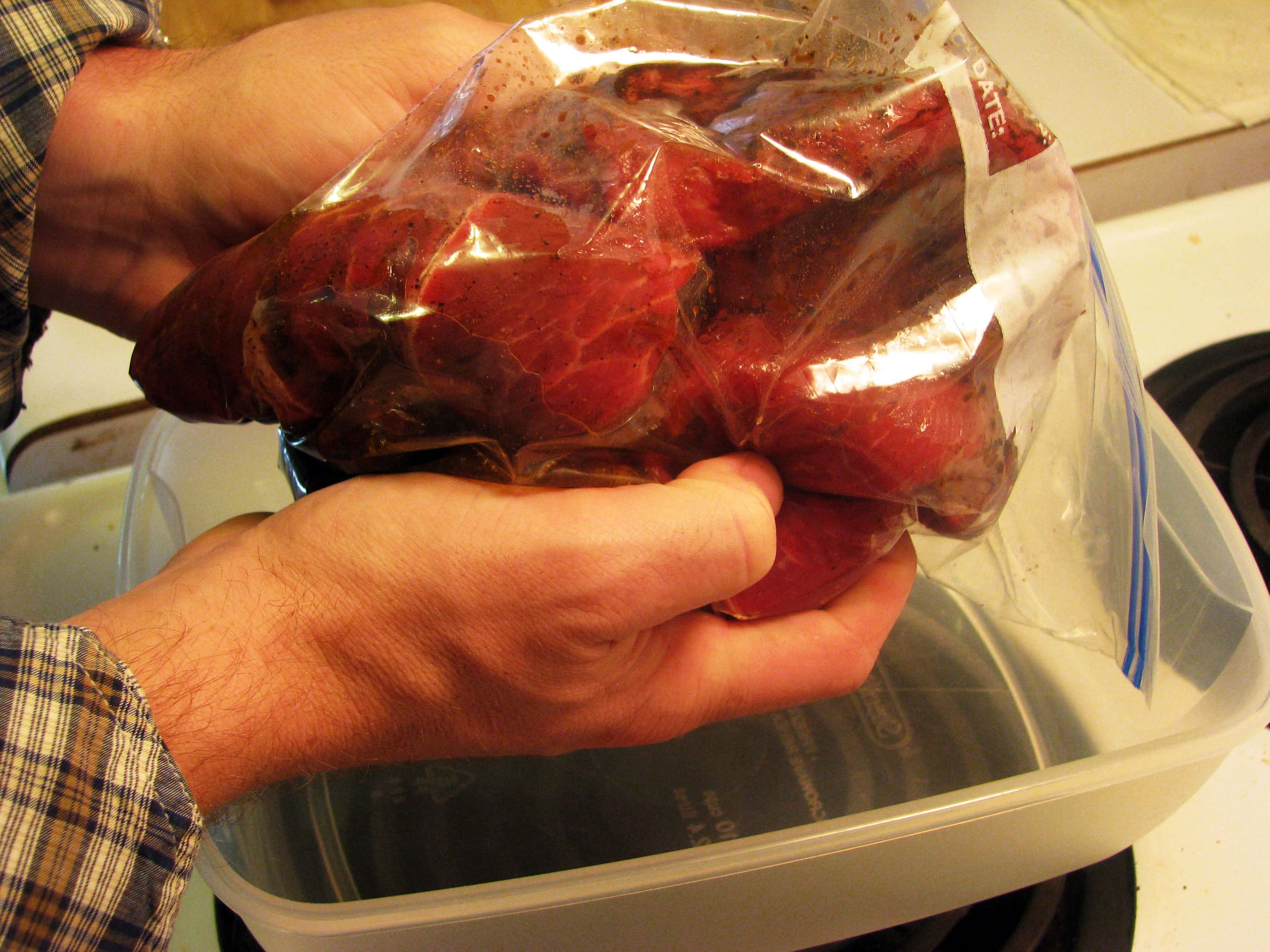 Let the steak marinate in the fridge or a cooler for 1-5 hours depending on how much time you have. One hour before grilling, remove the meat from the fridge and let it come to room temperature while you preheat the grill to high.
Grill the steak for about 5 minutes on each side for medium-rare, allowing time for the steak to rest for 15 minutes before you slice it. When it has rested, slice it against the grain very thinly.
Sliced steak is just SO GOOD. Seriously. Serve the steak drizzled with the chimichurri sauce and roasted garlic mashed potatoes and broccoli or some grilled veggies for a meal that's totally restaurant-worthy but that you made all by yourself! You could even get super fancy and make garlic bread and Caesar salad too - why the heck not?