Hey hey, fall sheet pan dinner recipe! This sheet pan sausage and root veggies comes with its very own warm spinach salad made right.on.the.freaking.pan. The ingredients are simple, the method is foolproof, and the salad dressing is seriously, drinkably delicious.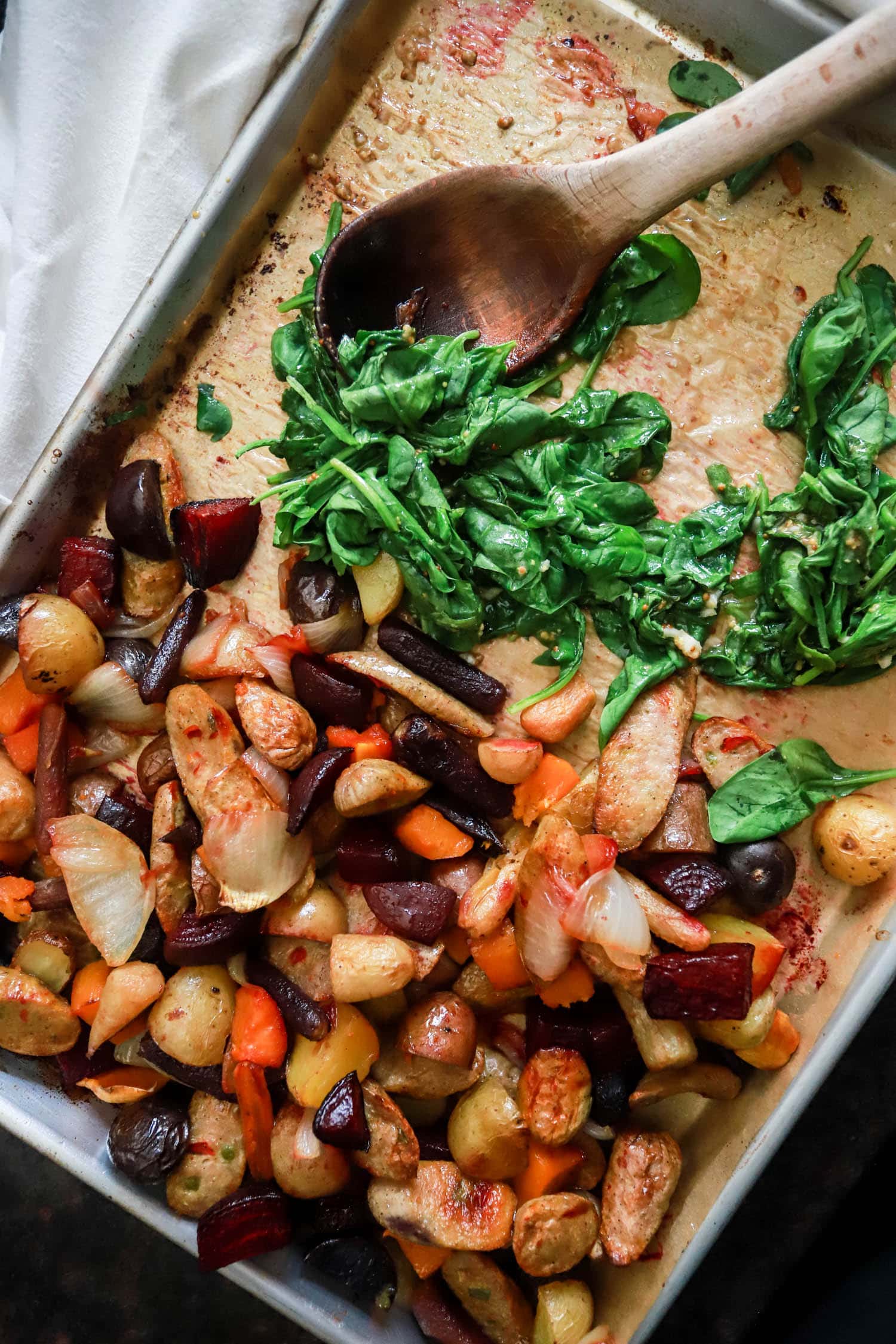 Omg how is it Halloween week. Like seriously.
We are in the throes of some kind of insanely busy season, so much to do and no time to do it, craving fun and relaxation but HELLO PANDEMIC, and also we have no time for fun so...again, how is it Halloween.
THE GOOD NEWS IS, this season has given me reason to try out all kinds of sheet pan dinner recipes. They've been trendy on the interwebs for awhile, but honestly I don't mind cooking at the end of the day so am not usually searching for quick/foolproof/hands off types of recipes.
Until this year, when we foolishly decided that we should eat dinner with our kids after 4 years of eating at 9pm once everyone is in bed. Old Life, I miss you so much.
BUT, yes, the merits of family dinner are great and wide and well-researched, so now we need to get our dinner act together by 6 instead of 9 while tolerating "dinner ready yet, Mama?" every 5 seconds after 4:45pm.
Parenting is such a dream.
So this sheet pan sausage dinner and veggies dinner!
I decided some stuff early on in my sheet pan dinner recipes research. (god what a boring way to write about my own life)
First: sheet pan chicken dinners are not my favorite. I tried a lot and never found they turned out as "oh wow this is really yum" as when I used sausage. This is likely because processed meats are way more forgiving, and I want all my recipes to be forgiving. In the end, already-cooked chicken sausages of all flavors have been my favorites.
I also wanted to use all root vegetables and similar (IE the butternut), all things that can handle a good long time in the oven, don't need a ton of attention, and would cook evenly. There are lots of other options for veggies that fit this description: any potatoes, squashes, and root vegetables are fabulous here.
THEN, I went totally bonkers and added a warm spinach salad to the sheet pan because I wanted something green but no other dishes. The heat from the pan and oven wilts the spinach in just 30 seconds or so, and the dressing can be made in advance as meal prep or while the veggies and sausage roast together.
OK LET'S DO IT. Veggies and sausage!
Chop. Also can be done for meal prep. PS for quantities - I listed what I used below, but we're looking for 1 package of chicken sausages and enough veggies to cover an entire baking sheet, give or take.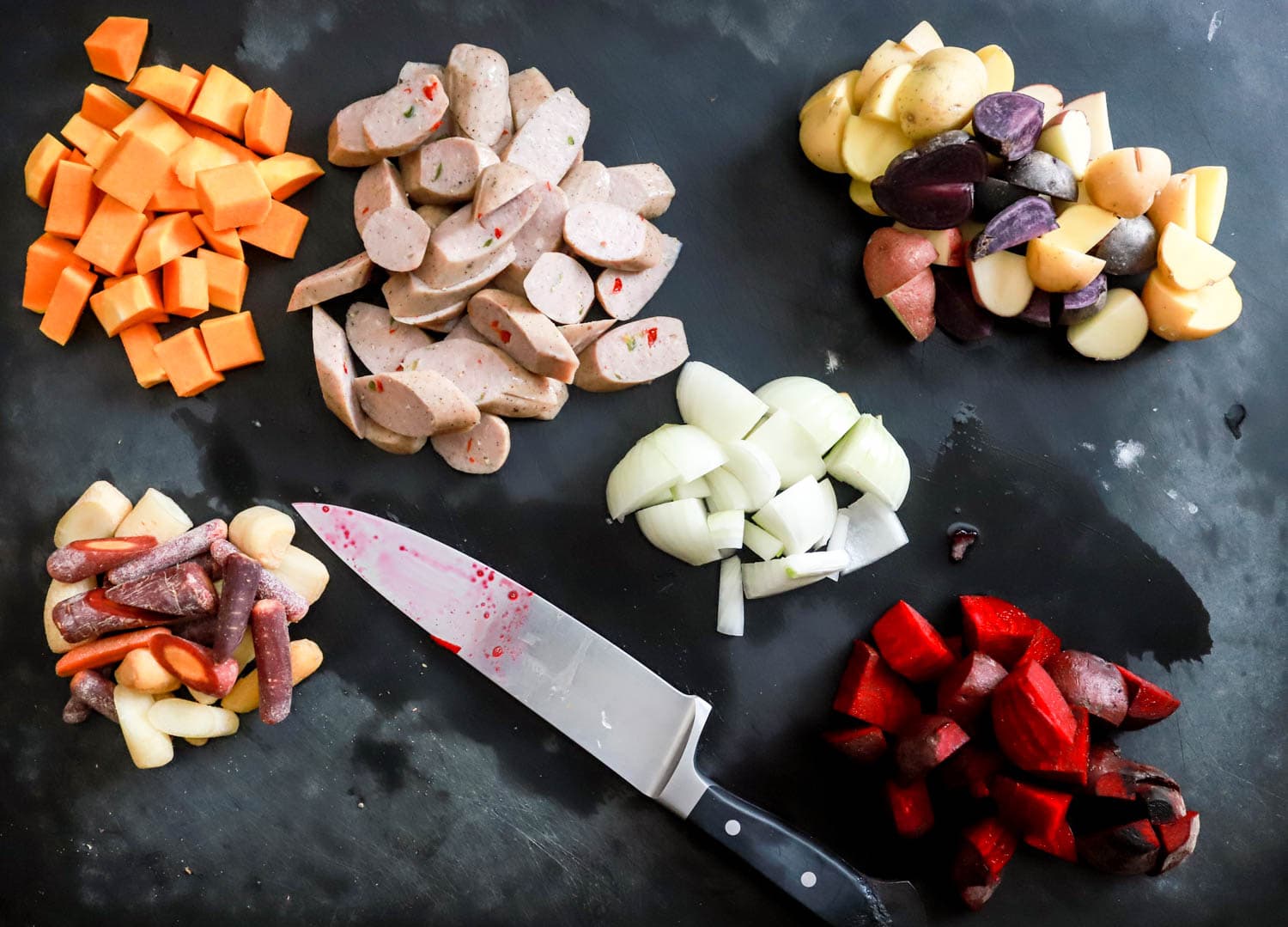 On the pan. Oil and salt.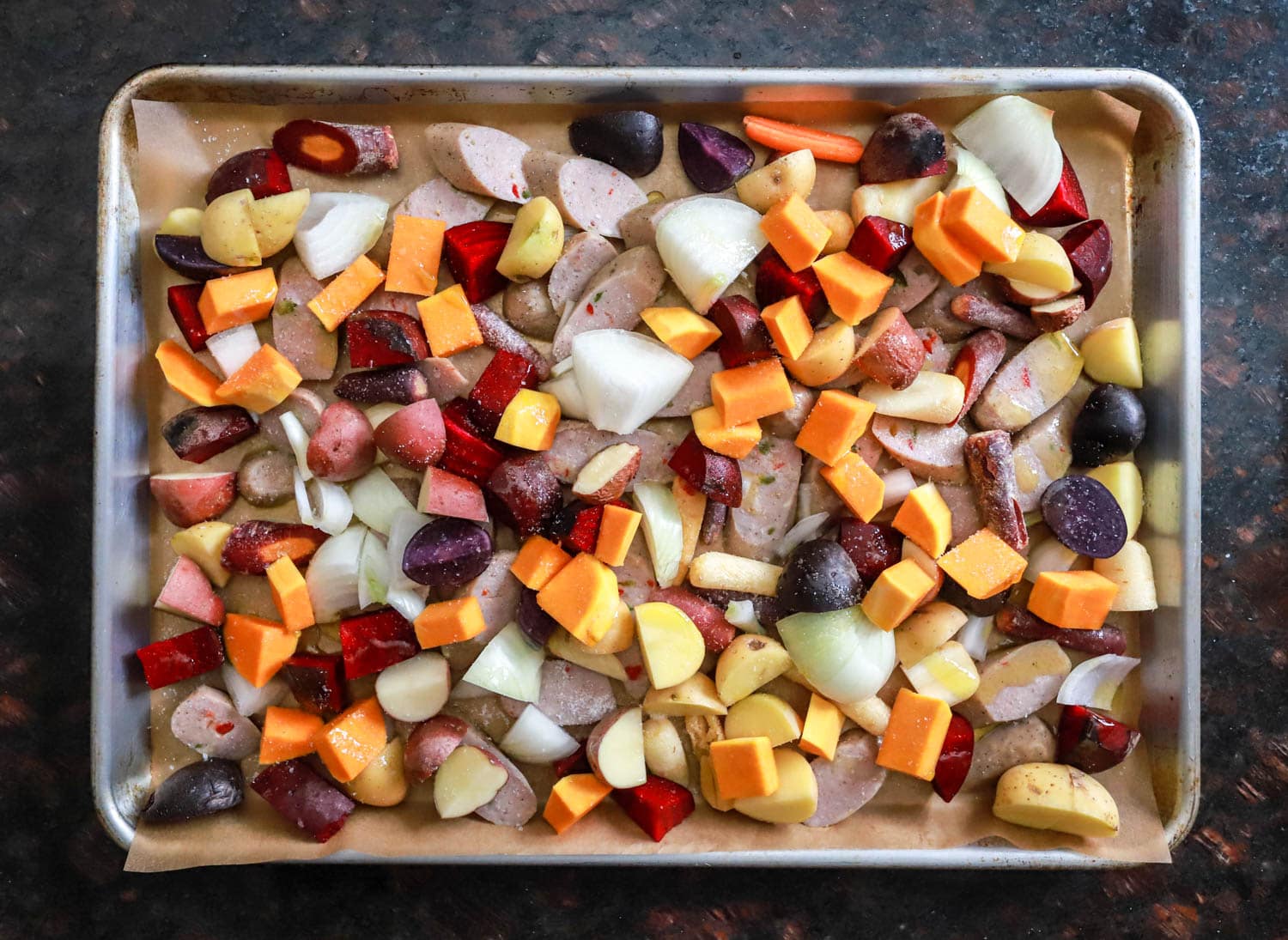 Roast! 425F for about 40 minutes total. Toss the veggies and sausage around every 10-15 minutes, so two or three times, and then spread everything back out into one even layer.
While the sheet pan sausage is working, I make the dressing. It's lemon juice, olive oil, mustard, salt, sugar, and fresh garlic. This is delicious as a chicken marinade or on any salad you like, so highly recommend making a double batch as meal prep if you're into that sort of thing!
When the veggies are done, turn the oven OFF and take the pan out of the oven. Scoot all of the veggies and sausage to one side of the pan, then heap all of the spinach on the now-empty side of the baking sheet and drizzle with about half of the dressing.
Back into the oven for...literally just the tiniest minute. 60 seconds or so.
Look how pretty this is!
Give the spinach a tiny toss to coat it evenly with the dressing, then serve immediately.
The spinach will release some liquid, so if you happened to make some easy bread to go with this dinner it wouldn't be the worst thing in the world.
And that's it! Is it your Halloween dinner? Is it what gets you through the next weird 8 weeks of "what day is it what holiday is next pls let's not get sick?"
It's probably both, to be honest. This is SUCH a good dinner, and, if I do say so myself, takes care of some of the issues I have with sheet pan dinner recipes in general. The tang and fresh garlicky goodness of the spinach and dressing with the roasted, caramelized veggies is just out of this world, and thank you to whoever invented precooked sausages, a true hero.
I hope you love this! You could swap out lots of the ingredients for other veggies you have on hand, other sausage you like, even kale or other greens for the warm spinach salad side of things.
Enjoy!
Print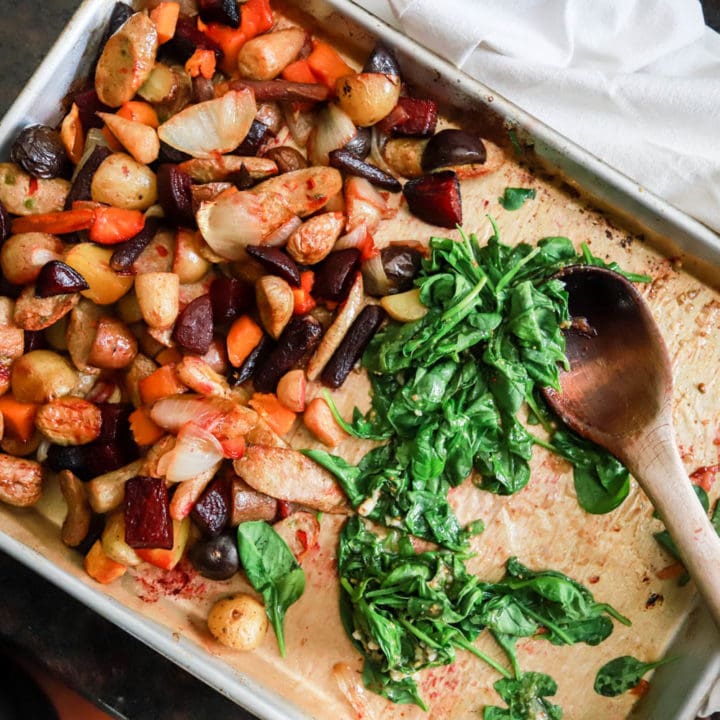 Sheet Pan Sausage and Veggies
---
Prep Time:

15

Cook Time:

45

Total Time:

1 hour
Description
The sheet pan dinner of our dreams! This sheet pan sausage recipe has a warm spinach salad made right on the pan for a main dish and side dish in one. The whole thing is done in one hour or less if you prep the veggies and salad dressing in advance.
---
Sheet Pan Sausage and Veggies
½

pound small potatoes, halved and cut to bite-sized

½

pound beets, halved, trimmed, and cut to bite-sized

1

medium carrot, cut into chunks

1

onion, cut into chunks

2 cups

cubed butternut squash (about half of

1

small butternut)

12 ounces

cooked chicken sausages, sliced

3 tablespoons

olive oil

½ teaspoon

kosher salt
Warm Spinach Salad
½

lemon, juiced

1 tablespoon

olive oil

1 tablespoon

dijon or brown mustard

½ teaspoon

salt

½ teaspoon

sugar

1

clove garlic, minced

5 ounces

baby spinach
---
Instructions
Preheat the oven to 425F. Arrange the prepped veggies and sausage on a large baking sheet in one even layer. Drizzle with the olive oil and sprinkle with the salt.
Place the pan in the oven and roast for about 40 minutes total, stirring every 10 minutes or so (2-3 times during the roasting).
While the veggies are roasting, make the dressing by whisking or shaking the lemon juice, olive oil, mustard, salt, sugar, and garlic together.
When the veggies are tender and the sausage is crispy at the edges, scoot them to one half of the baking sheet and pile all of the spinach onto the other side of the baking sheet. Turn the heat on the oven OFF. Drizzle about half of the dressing over the spinach.
Place the sheet pan back in the oven for about 2 minutes, just to barely wilt the spinach. Toss the spinach to evenly coat in the dressing, then divide the spinach, sausage, and veggies onto plates. Drizzle with extra dressing if you'd like. Enjoy!
Notes
For Meal Prep, you can chop all of the veggies and make the salad dressing. I like this as leftovers but it's definitely better right out of the oven - eat it freshly cooked once if you can!
You can swap out any root vegetables, potatoes, or squashes you'd like! Choose hearty veggies that will hold up to the heat.
I cut everything into about 1-inch chunks, but as long as things are relatively similar in size they'll cook evenly.
I used quantities for the veggies in this recipe, but you really want enough sausage and veggies to evenly coat one large sheet pan. Add more or less based on what you have and how big your pan is!
Keywords: sheet pan sausage, sheet pan sausage and veggies, sheet pan sausage and peppers, sheet pan dinner, sheet pan dinners, sheet pan dinner recipes, sheet pan dinners sausage, sheet pan dinner sausage, easy warm spinach salad, how to make warm spinach salad