Oh man.
This is one of my favorite things ever to eat.
When we lived in Japan, there was this tiny lunch place right near my dad's office. It served something similar to this dish: rice topped with a nearly-rare piece of salmon topped with a delicious miso-based sauce.
Kill me now. Why don't we have lunch options like that in this town?
Anyway. This is simple, flavorful, and so simple for a weeknight when spaghetti or chicken fingers just won't do. It's delicious enough that you could use it for entertaining, but can be done start to finish in 15 minutes or so.
You'll love it!
Here's what you need, for 4 people. I was cooking for 2, so my pictures look slightly different. Work it out in your head, please.
4 salmon filets - 5 - 7 oz each

salt
3 tablespoons miso paste
½ teaspoon dashi flavoring or fish sauce
1 tablespoon honey
1 tablespoon sesame oil
1 teaspoon vineger (sherry, red wine, or rice - whatever you have)
2 tablespoons white wine, plus more for thinning
sriracha or other hot sauce, optional
How simple! Miso paste is pretty readily available these days. Use whatever flavor you can find or prefer - they're all delicious!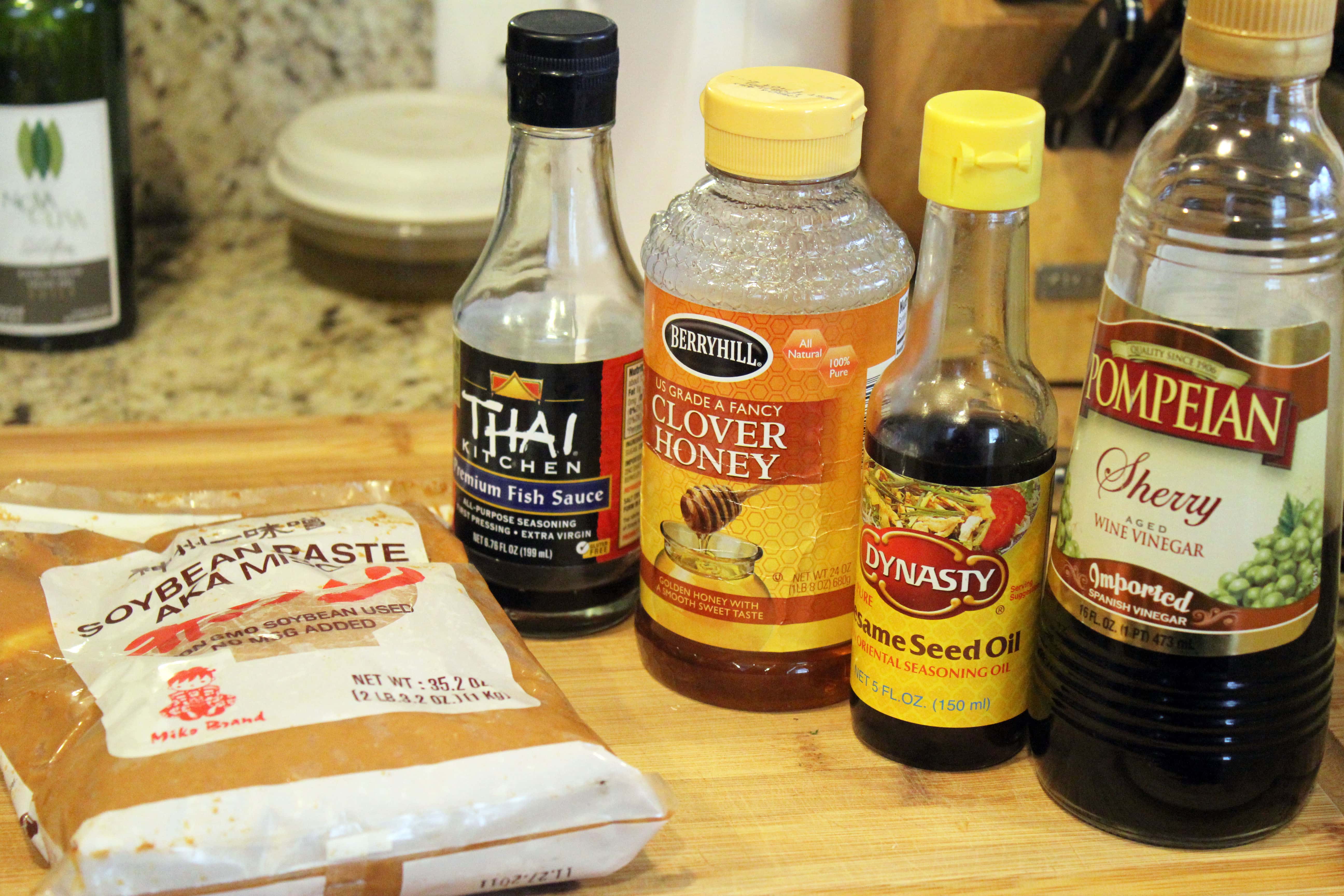 On the wine, feel free to use water if you don't like cooking with wine or sake if you have any! The sake adds a nice flavor - just be sure whatever you use, wine or sake, the kind you have isn't too sweet.
For the sauce, mix the miso, dashi, honey, sesame oil, vinegar, and wine together in a bowl.
Stir to combine, and taste it! If you like things sweeter, add more honey. Tangier, more vinegar. You get the picture! If the sauce is very thick, add a few more drops of wine or sake. We're going for a thick salad dressing consistency - like Caesar or ranch.
Now, I had some lovely salmon with the skin on. Skin on fish adds to the moisture level when you cook it, and you can peel it off right before serving. Skinless filet are just fine too!
When you're ready to cook the fish, preheat a pan to medium heat - not too hot! Spray the pan with cooking spray and sprinkle the fish very lightly on both sides with salt. Place the salmon skin side (if using) UP in the pan for 2 minutes, just to start cooking the top of the fish. If the salmon appears to be cooking very quickly, flip the fish after 1 minute.
When the salmon is flipped to the skin side, turn the heat down to medium low. We want the skin to crisp very slowly while the inside of the fish cooks through. If you stove isn't very hot you might want to keep the heat on medium. You want the skin to be sizzling but the fish to not be cooking too quickly.
While the skin is crisping, spread the miso sauce evenly on top of the salmon.
Let the fish continue to cook for 5 - 7 minutes until the salmon is done to your liking. We like ours cooked medium, but you can go longer for well-done fish. Just don't overcook it! Salmon is great not quite cooked through, and it'll keep cooking after you take it off the stove, too.
I served this with this Asian salad, and that's IT. It was so perfect and light - you should definitely try this soon.
But what about that hot sauce, you ask? Well, I doused Jay's salmon with it and he said it wasn't quite spicy enough. The butt. You might not want to use quite this much if you aren't terribly into spicy foods.
Enjoy this! It's so lovely and easy. Perfect for a Monday!