Delicious, easy salmon rice bowls in less than 30 minutes. Perfect for an easy dinner or fast lunch, use your favorite green veg (this 5-minute asparagus is great!) and rice or rice substitute. Creamy maple mustard sauce has just 4 ingredients and can be made in advance for an even faster preparation for this yummy rice bowl!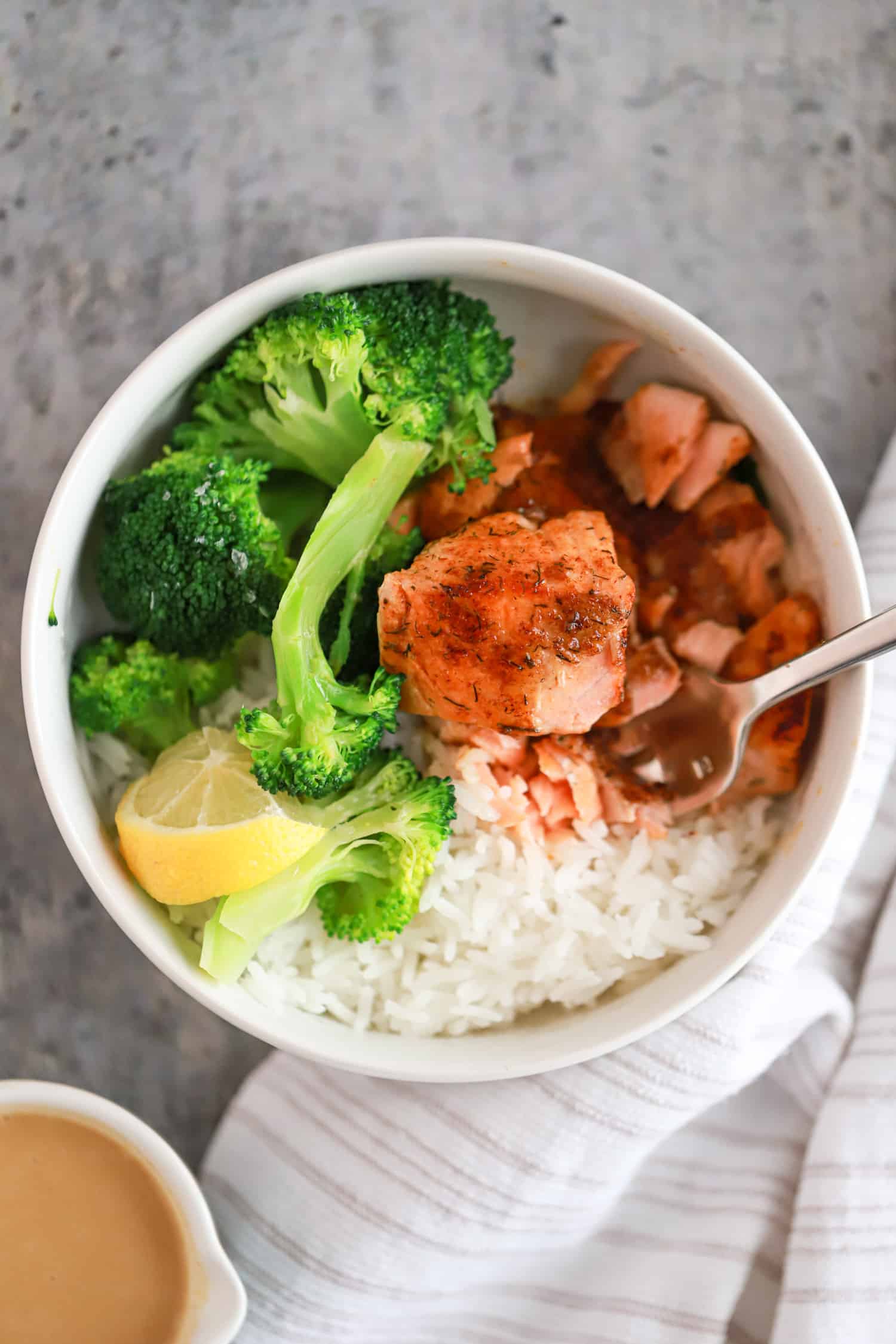 Hello and welcome to "this is a dinner that is very easy to make in half an hour, trust." Aka my favorite kind of recipe.
When it comes to dinner, a salmon rice bowl (or any kind of salmon with rice dinner tbh) is something that we eat AT LEAST once per week. I buy salmon, we always have rice, and then we think on what we want the bowl to taste like - Asian sticky soy sauce, sundried tomatoes over everything, or lemon butter because lemon butter is pretty much always the answer.
Recipe Notes
I didn't intend for this to be gluten free, but a rice bowl with a little thought put into it (no soy sauce, etc) is usually gluten free, and this one is! Winning for folks that can't eat gluten.
This version of salmon rice bowl has a FAST maple mustard sauce that I make early in the week for meal prep. Then, the salmon gets a little spice blend (similar to this cast iron skillet salmon) and a quick sear in a skillet.
At the same time, I simmer rice and make a quick green veg: spinach salad, steamed broccoli, something simple that goes well with the creamy maple mustard sauce.
Honestly? That's it. Just a few simple steps, a DELICIOUS, nourishing salmon dinner that is really versatile and can be made a little differently each time based on what you want to eat, what you need to use up, and what your family loves.
Ingredients
Super simple stuff here! I use salmon filet cut into chunks, with the skin removed. A green veg to serve, a few spices for the salmon, then dijon mustard, maple syrup, and heavy cream make the simple sauce.
Ingredient Notes and Variations
You can of course serve this with any veggie or rice substitute you like! Green beans and brussels sprouts both are really yummy with the sauce, and I love this with rice, but quinoa and farro are also delicious.
If you don't enjoy salmon, any thick white fish such as cod or grouper works well with this method.
If you're into a spicy rice bowl situation, adding some sriracha to the maple sauce (start with a teaspoon and add more if you want!) is a really, really nice idea.
Side note, but the maple mustard dipping sauce is NOT BAD with homemade baked chicken tenders later in the week.
Step By Step Instructions
Sauce: Start by whisking together the ingredients for the maple mustard sauce: heavy cream, maple syrup, and dijon mustard. Add a pinch of salt, then taste the sauce and add a bit more salt if you'd like.
This sauce makes enough for 3-4 people, so feel free to double or triple the amount if you like a lot of sauce or want to use it a few times. The maple sauce can be made several days in advance and stored in the fridge.
Salmon: Once the sauce is prepped, measure the ingredients for the salmon seasoning and cut the salmon into chunks - about 3 inches or so. Sprinkle the salmon pieces on all sides with the spice blend. Use all of the seasonings!
Rice: Start the rice and set a timer, then start the green veggie you are making and preheat a skillet to medium heat for the salmon. Doing this in this order will ensure the entire dinner is done in about half an hour.
Finish: At this point, the rice should be simmering, veggie cooking (turn it off when it's done!), skillet hot for the salmon (lol hot for salmon like...teacher...nevermind, gross). Sear the salmon chunks on all sides for about 2 minute per side until the spices are browned at the edges and the salmon is hot all the way through. Salmon can be cooked to medium or even medium rare if you prefer; don't overcook it.
Assemble the bowls with rice, broccoli (or whatever you're using), salmon, lemon wedges, and a heavy-handed drizzle of maple mustard sauce.
I MEAN SERIOUSLY. Look at that. So good, fresh, healthy, light but filling, all very good adjectives to describe a dinner drowning in a seriously delicious sauce drizzle situation.
Storage and Make-Ahead
Honestly, I'm not huge on leftover cooked salmon. BUT, you can store leftover salmon in the fridge for a few days and it's totally fine to eat. This meal, though, is definitely best served fresh.
The things that are nice to do in advance to speed this meal up even more are 1. whisk together and store the maple mustard sauce, 2. measure the spices for the salmon into a little bowl.
Serving Suggestions
I love this as-is as a pretty plain/lightly flavored dinner, but fresh herbs, lemon wedges, flaky salt, and some chili crisp as extra toppings are really, really good.
THAT SAID, this exact salmon + sauce recipe flaked into a pita with some shredded cabbage? Very, VERY good.
I hope you love this salmon rice bowl! It's an excellent, easy weeknight meal on the rotation, and pro tip for kids: sometimes referring to salmon as pink fish can cause them to eat one tiny fleck of a bite, which counts as a win.
(Or, you have a kid that loves this dinner more than anything because they only eat plain white rice for 90% of dinners and this, in fact, includes plain white rice. It's fine.)
Enjoy!
Salmon Rice Bowl with Maple Mustard Sauce
All the best words: quick, delicious, healthy, salmon dinner. Our favorite weeknight salmon situation!
Ingredients
2

tablespoons

heavy cream

2

tablespoons

maple syrup

4

teaspoons

dijon mustard

10

ounces

boneless salmon filet

cut into chunks

½

teaspoon

kosher salt

½

teaspoon

sugar

¼

teaspoon

onion powder

¼

teaspoon

garlic powder

¼

teaspoon

paprika

¼

teaspoon

dried dill

1

cup

white rice

cooked to package directions

broccoli with lemon wedges

for serving
Instructions
Sauce: Combine the cream, maple syrup, and mustard with a pinch of salt in a small bowl. Whisk to combine, and taste for seasoning. Add another pinch of salt if you prefer, then set aside.

Salmon Seasoning: Using your fingertips, mix together the salt, sugar, onion powder, garlic powder, paprika and dill. Sprinkle all over the salmon chunks.

Cook: Get the rice simmering, preheat a large skillet for the salmon, and start cooking the green veg you are using. Set timers, and keep each component warm as it finishes.

Salmon: While the rice and broccoli are cooking, add a drizzle of oil to the preheated skillet and add the salmon in an even layer. Sear the salmon for about 2-minutes on each side (all sides!) until golden and mostly cooked through.

Assemble: Build salmon rice bowls with salmon, broccoli, and white rice. Drizzle with the maple mustard cream sauce and add a lemon wedge for brightness. Enjoy!
Notes
Leftovers can be kept in the fridge for up to 3 days. Prep this meal by whisking together the sauce and measuring the salmon spices in advance to speed up the cooking even more. Gluten free as written.
More Healthy Rice Bowls and Grain Bowls