I'm like a damn broken record with the "it's finally cold, need cozy food" repetition, but heartier foods all of a sudden taste so much more satisfying, comforting, necessary. Speaking of comforting, this dish finds a way to cram potatoes, naan, and rice into a single meal without it feeling terribly indulgent (Jay is like, yes it does please stop), and I'm not mad about it one little bit.
This curry is a total knockoff of my brother in law Joe's mother Ruby's standard, this-is-what-we-always-eat curry. Jay's sister Elizabeth and Joe have been together since long before I was around and got married just a few months before we did, so I've been lucky enough to eat Ruby's curry on several occasions. I'm not going to talk about what type of curry this is, because Ruby is Indian (but I don't know where in India she is from and there are a gazillion regions of cuisine to factor in here) AND has lived many places in her life, so I'm calling this a fusion curry. For the purpose of using actual words to describe food, it is a Madras curry, very mild but very flavorful, stewed for several hours with tomato paste until beef chunks fall apart like any good stewed beef does.
So, you'll imagine my disappointment when I made the plan to cook this and discovered that I had used all of my Madras curry powder but also the time to cook was NOW because of nap time and daylight. So I improvised, making this an even more fusiony curry than the usual fusion Ruby rocks. The spice blend that I used is an equal combination of garam masala and yellow curry powder, and I alllllmost couldn't tell a difference besides obviously that I'm not an Indian mom and my curry will never be as good as one.
But, I've learned a few tips and tricks from my sister in law and Joe, who blessedly texted me through this whole process, and the approximation we're left with here is still damn good. So let's curry!
You need beef! Any kind you like, really. One text said "I've seen her cut up a ribeye and throw it in there." We are going to stew this meat for a long time, though, so expensive cuts of steak would be a waste here. This is a cut from the shoulder labeled literally as pot roast, but any kind of chuck or stew meat is great. You'll also need potatoes, peeled and cubed, onion, garlic, tomato paste, and water. The seasoning is Madras curry powder OR a blend of yellow curry and garam masala, and lots of salt. Lots. Do not skimp.
What I love about this dish is that there aren't a ton of browning or prep steps. You start with a good amount of oil in a pan (a braiser would be great for this, but anything with a lid that fits all of your ingredients works) over medium heat, and throw in the onion.
After just a few minutes, when the onion has started to brown and soften, add the garlic and tomato paste. I use a little more than a quarter of a cup of tomato paste, but up to half a cup tastes great if you like a little more tang to the curry. Because of the beef and tomatoes it doesn't end up tasting like a tomato sauce at all.
Stir the tomato paste into the onions and garlic for just a minute, then add the beef and the curry seasoning with a good sprinkle of salt. Stir the beef into the vegetables to coat evenly and let it sizzle and brown for about 5 minutes, stirring once or twice. If the pan seems dry, splash in a bit more oil.
Now, here's where the waiting + adjusting starts. Pour in two cups of water, then stir to deglaze the pan and combine the spices with the water. Turn the heat to medium-low, and cover the pan. The beef will take longer than the potatoes to cook, and this ends up working somewhat like a risotto. Stir the curry every 15 minutes or so to scrap the bottom of the pot, and add more water to keep a sauce formed around the beef chunks. After 45 minutes, the beef should be cooked through but pretty tough. Add some more water so the curry is very thin, and add the potato chunks to the pot.
Then, the method repeats. Stir the potatoes into the curry, cover the pan, and adjust the temperature so the curry is simmering but not boiling very hard. Stir and taste the curry every 15 minutes or so; add more water and salt anytime you think it needs it. Once the potatoes are added in you'll need to add water more frequently since they'll absorb and help thicken the curry liquid.
For this amount of potatoes and meat, I cooked the curry for about 2 hours, maybe slightly more. It's a lot like a beef stew; it goes until the meat is fork-tender. If at a point your potatoes get overcooked or start falling apart, just fish them out and put them back end right near the end of cooking. Once the beef is perfectly tender, add a bit more water OR reduce the sauce a little bit with the lid uncovered to get a nice curry consistency, then taste and add more salt AGAIN until the dish is super flavorful.
What I love about this "recipe" is that the ingredients are simple, the flavor is huge, and the cooking method depends on your pan/pot, your meat, how small you cut everything up, and the heat on your stove. It's not difficult at all, but you do need to watch and trust your own intuition re: what constitutes too dry or too watery, and how much salt is necessary to actually season potatoes (a lot). Beyond that, though, this couldn't be more simple, so it's a fun dish to use to practice cooking with a quasi-recipe.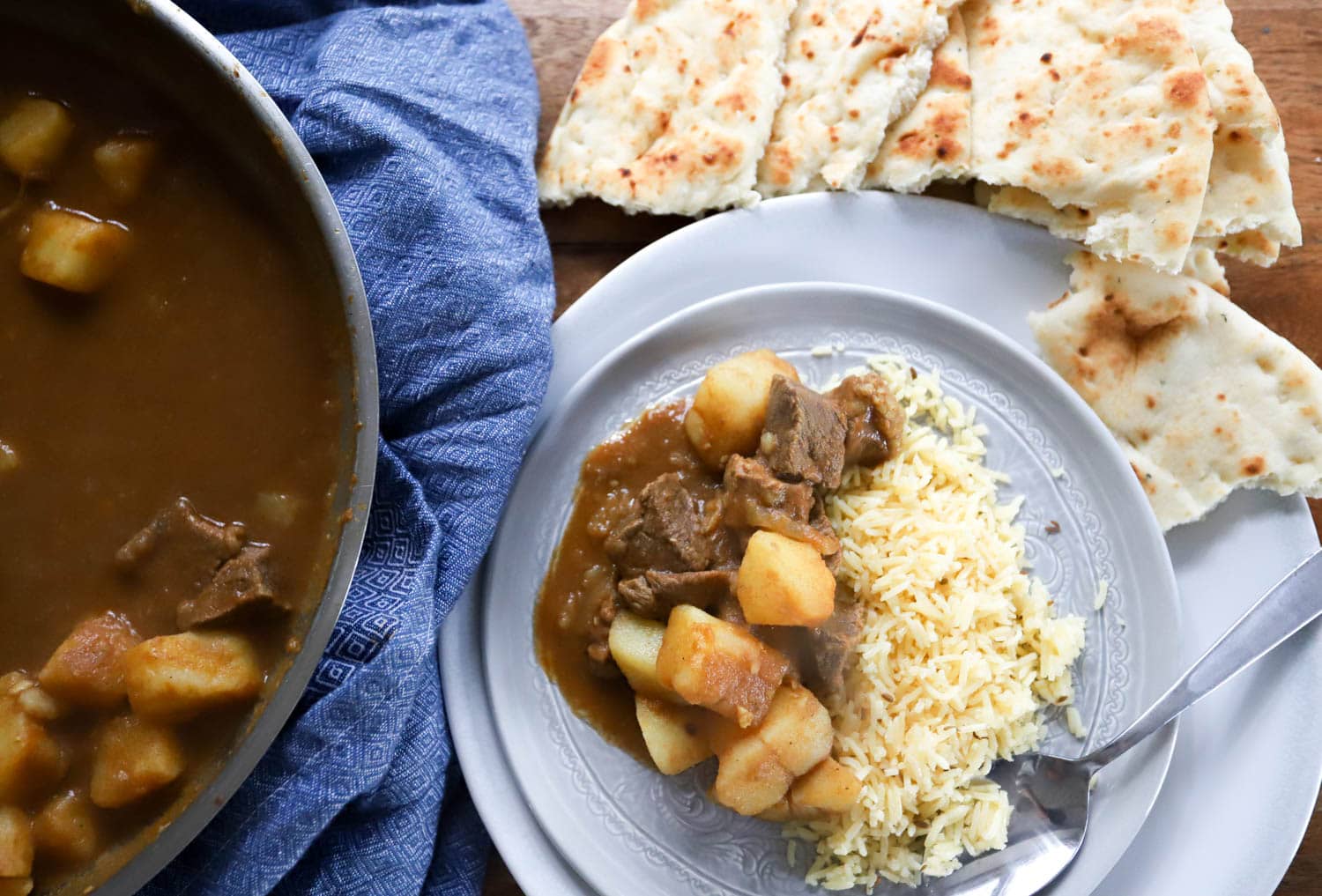 Just like an Indian mom. It's a method, not an exact science. When you've gotten it right, though, you'll know.
Use this at every turn over the next several months. It's the most perfect for cold. Enjoy!
Ruby's Potato and Beef Curry
Ingredients
1

medium onion

sliced

2

cloves

garlic

minced

⅓

cup

tomato paste

2

pounds

beef roast such as shoulder or chuck

cut into 1-inch or so cubes

1

tablespoon

yellow curry powder

1

tablespoon

garam masala

OR sub 2 tablespoons Madras curry powder for the other two spices

2

large baking potatoes

peeled and cubed to slightly larger than the beef chunks

water

salt

olive or other cooking oil

Naan and/or rice

for serving, optional
Instructions
This dish needs a skillet or pot with a lid large enough to hold all of the ingredients.

Preheat a skillet with a few tablespoons of olive oil to medium-high heat. Add the onion and cook for three minutes to soften and brown slightly, stirring as you go.

Add the garlic and tomato paste and stir for one minute.

Add the beef and the curry powder(s) and stir for five minutes, letting the meat brown and get coated in the spices. If the mixture seems dry, drizzle in some more oil.

Pour one cup of water into the skillet and stir to form a curry sauce. Cover the curry with the lid and let cook for 15 minutes, then remove the lid, stir the curry, and add more water if it seems dry, about a half cup at a time.

After about an hour, taste the curry sauce and add salt to your preference; at least a teaspoon at this point. Add the potatoes and a cup more water, stir to combine.

Repeat the process once the potatoes are in the curry. Stir, taste, add salt + water to maintain a consistent curry sauce. After about two hours TOTAL, the meat should be very tender and the potatoes cooked through.

When the meat is fork tender, adjust the sauce consistency with water one more time, and add a few more sprinkles of salt if needed.

Serve over rice or with naan for dipping. Enjoy!