Great news! I made this 3 times in the last 2 weeks.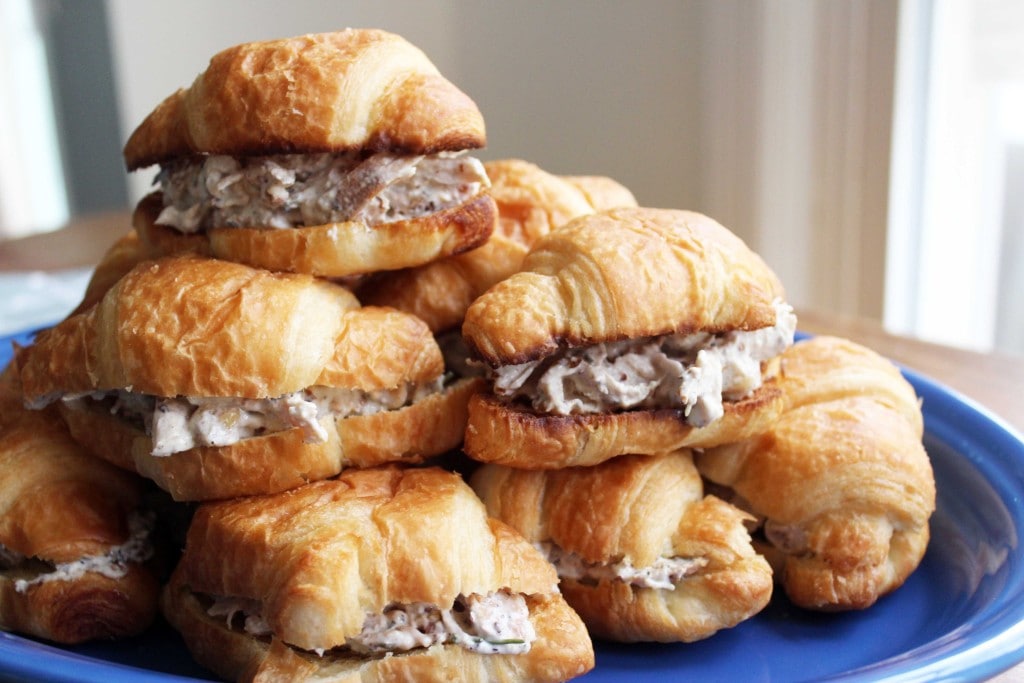 No joke, and there are no leftovers. Half of Greenville has tried this ish and I haven't gotten a bad review yet.
So that tells you something, right? It's a chicken salad with no celery but with deeeeelicious flavors of walnuts and fresh rosemary. Not too much mayo. Some onion and garlic powders for flavor. Pan-seared chicken for that brown meat flavor that just can't be replicated. Trust me. You need this ASAP.
It's just chicken, mayo, sour cream, mustard (go spicy!), onion powder, garlic powder, walnuts, and rosemary. Olive oil, salt, pepper for the chicken. Easy stuff!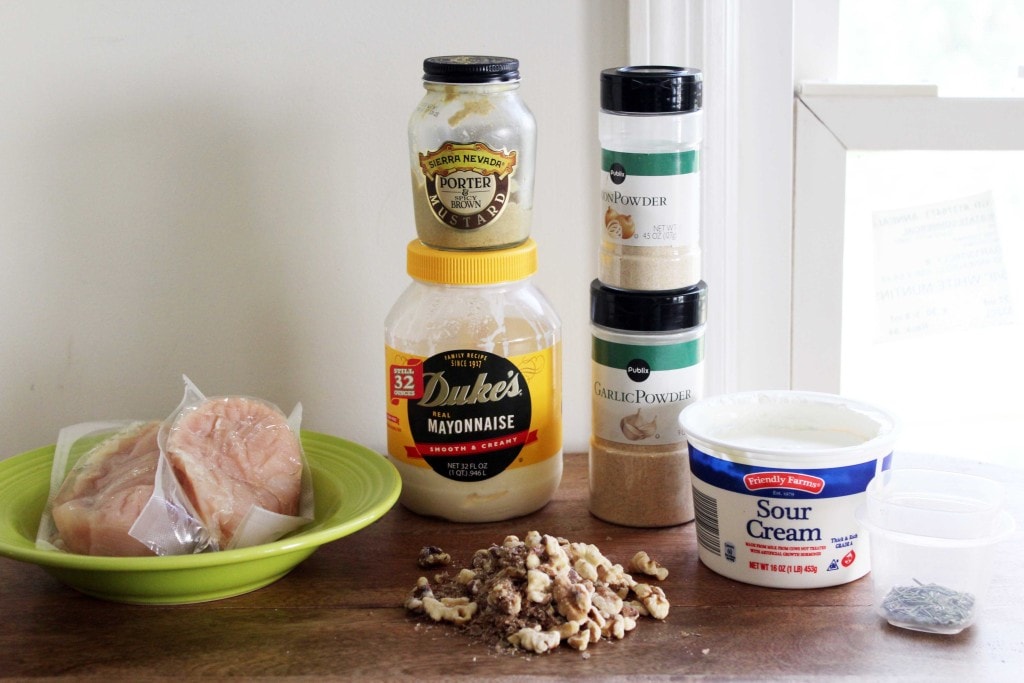 Start by chopping and toasting the walnuts in a dry skillet over medium heat for 3 minutes or so. Shake the pan, don't let the nuts burn! Then remove them from the skillet and set them aside.
To the same skillet, add a drizzle of oil, the chicken, and a sprinkle of salt and pepper. Be liberal with the seasoning, we want FLAVOR in this chicken.
Let the chicken cook for 5 minutes or so on the first side, then flip it when it's super brown. Let the chicken finish cooking through, maybe 5-7 more minutes, then remove it from the skillet to cool.
When the chicken is cool enough that you can handle it, use your fingers to shred it into small bits. You could chop or dice the chicken, but I think that you get more flavor when you shred it - it seems like there's more surface area for the chicken to absorb the sour cream/mayo and other flavors.
When the chicken is shredded, add the walnuts, rosemary, sour cream, mayo, mustard, and onion and garlic powders.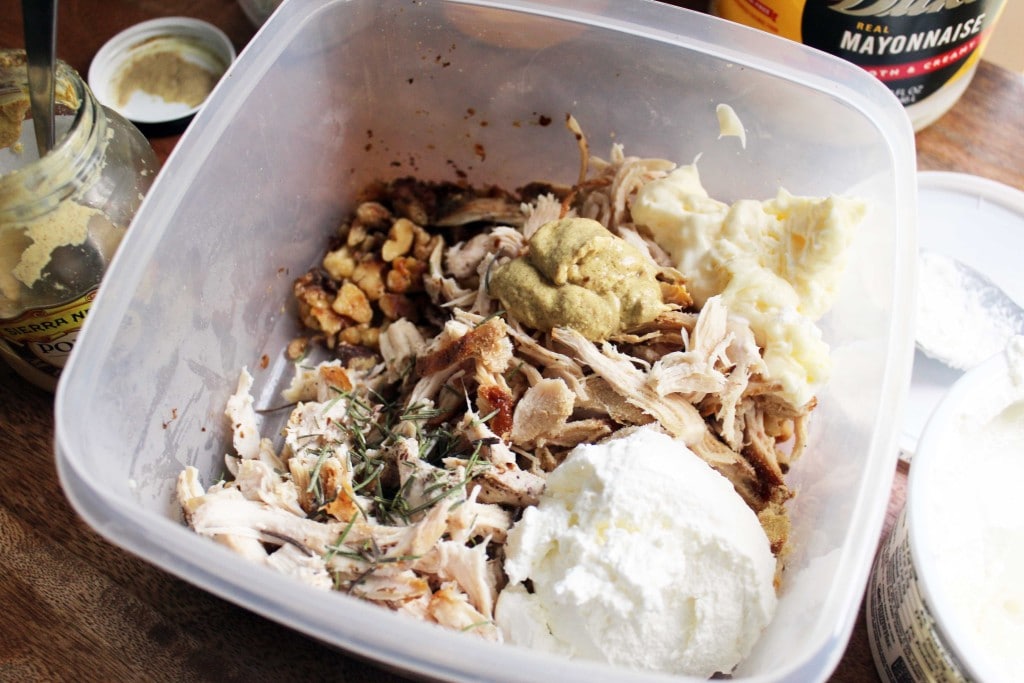 Stir everything together, taste, add more salt and pepper! Or more mayo if you like a creamier deal, you know. I had fresh rosemary that I dried at home from my sister's yard, but a sprig of chopped fresh rosemary would work wonderfully here, OR dried works just as well!
Wowowowow on flavor, friends. Since chicken salad is super ugly, I put this on croissants for your viewing pleasure. I've also served this with bread and crackers, over greens for a meal, there's just NO wrong way to do this. PS the croissants last in the fridge for a few days, which I didn't really think would work but it totally did. Cold chicken salad croissants right out of the fridge fo life, yo.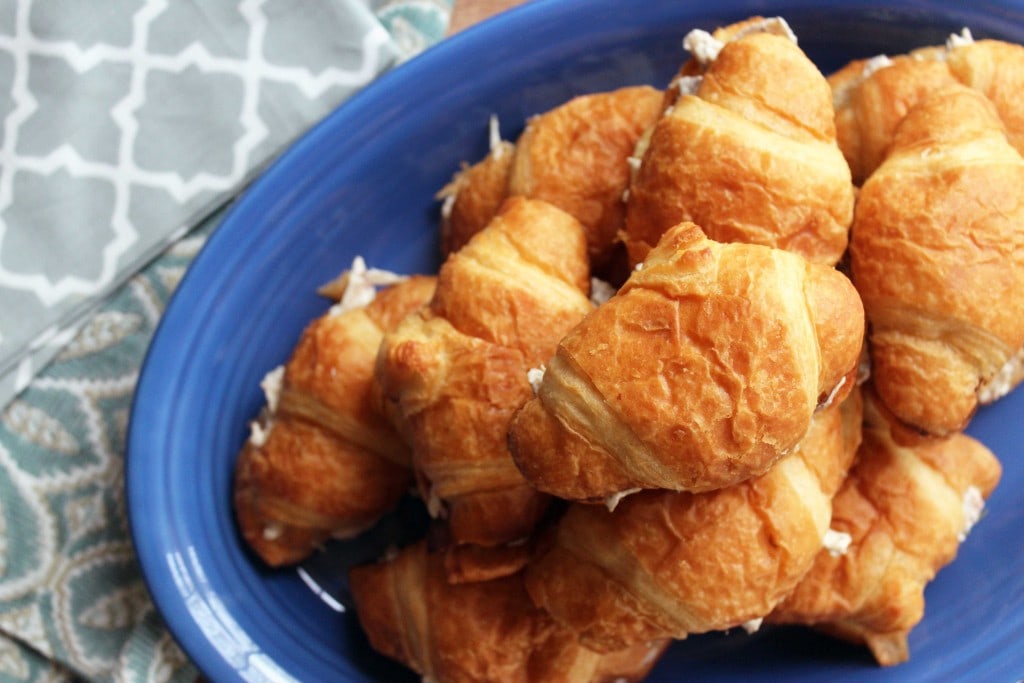 Happy Monday. Make this tonight and start your week off right!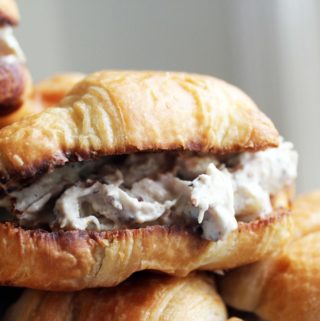 Rosemary Walnut Chicken Salad
Ingredients
2

boneless

skinless chicken breasts, about 7 ounces each

olive oil

salt, and pepper

¼

cup

chopped toasted walnuts

¼

cup

sour cream

¼

cup

mayonnaise

1

tablespoon

dijon mustard

1

teaspoon

garlic powder

1

teaspoon

onion powder

1

teaspoon

fresh or dried chopped rosemary
Instructions
Preheat a large skillet to medium heat with a drizzle of olive oil. When the oil is hot, add the chicken. Sprinkle liberally with salt and pepper. Cook the chicken for about 5 minutes on each side until very brown and cooked through. Remove to a plate to cool.

When the chicken is cool enough to touch, shred it with your fingers or two forks. Add the remaining ingredients and stir to combine. Taste, and add more salt and pepper if needed, or more mayonnaise for extra creaminess.

Serve immediately or chilled. Enjoy!
Nutrition