They're vegetarian tacos!
FILLING tacos, if we're being honest.
I know it's cliche to start the new year with an obviously healthy recipe, but it wasn't intentional - really just something I made and photographed and wanted to show you because Jay's all wahhhhhh I don't eat meaaatttt and I'm all wahhhhhh I hate you.
#marriage
So, we compromise. I make more vegetarian meals, but they have to include vinegary pickly things like chimichurri and cheese. All the cheese!
What would even be the point of a taco without cheese?
These are ACTUALLY good enough that you won't miss the meat, I promise. Promise! You can really use any veggies you like, but the combination of shiitake mushrooms, kale, and butternut squash is great for me here. We of course use tortillas and feta to garnish, and salt and chili powder to season. Then the chimichurri is garlic, parsley, cilantro, red wine vinegar, and olive oil. On the squash, you could of course grab a whole one and cut it up yourself, but I love how easy the prepackaged stuff is. Same with the kale - you can prep your own, we just want it in big chunks.
So, let's get to it! I start the veggies, then make the chimichurri, then finish the veggies, then we're done. Ok? Great. Preheat the oven to 425F, and prep the mushrooms. We take the stems off and slice them thinly.
Then, the mushrooms and butternut squash go on a sheet pan - as close to one layer as you can manage so we get that really nice crispy edges that come from roasting.
Drizzle the vegetables with olive oil, and sprinkle them with salt and chili powder. Then we just stick them in the oven to roast!
While that's happening, make the chimichurri. All ingredients in a little food processor or blender....
...blend. Boom. Done.
Now, after 20 minutes or so the butternut squash should be nearly roasted.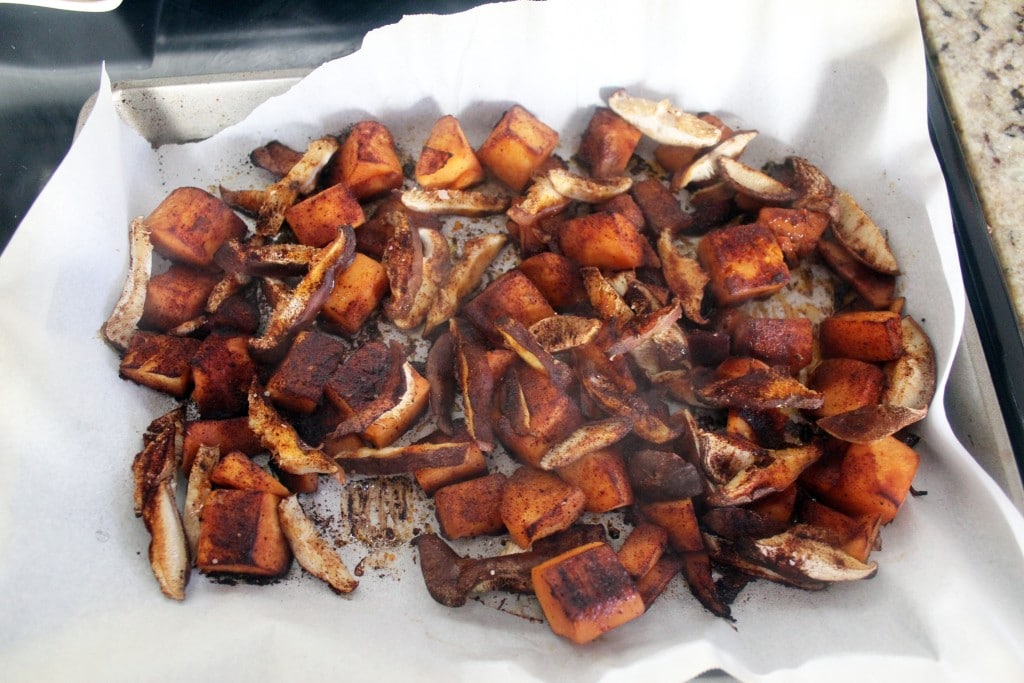 At that point, add the kale to the mixture and stir it just a time or two to combine everything.
Now, we stick it back in the oven!
Just five more minutes with the kale to wilt it slightly, and we're good to go!
I like to make a big platter of all the stuff we're using so that everyone can make their own.
You could also serve some shredded chicken on the side for meat-eaters, but it's really not necessary. The texture of the veggies with the cheese and chimichurri are plenty of flavor, and even just one taco is FILLING.
Make these soon, and enjoy! You'll be on a health kick for at least a few more weeks, so we may as well enjoy the motivation while it lasts, right?
Roasted Winter Vegetable Tacos + Chimichurri
Ingredients
FOR THE TACOS

2

cups

cubed butternut squash

1

cup

sliced shiitake mushrooms

4

cups

torn kale leaves

olive oil

1

teaspoon

chili powder

1

teaspoon

salt

soft flour tortillas

for serving

crumbled feta

for serving

cilantro leaves

for serving

FOR THE CHIMICHURRI

½

cup

cilantro leaves

½

cup

parsley leaves

2

cloves

garlic

2

tablespoons

red wine vinegar

¼

cup

olive oil

salt

to taste

water

as needed
Instructions
Preheat the oven to 425F. Arrange the squash and mushrooms on a baking sheet in a single layer. Drizzle with olive oil and sprinkle with the salt and chili powder. Roast for 20 minutes or until the butternut squash is nearly tender. Add the kale and roast for 5 more minutes to wilt slightly.

Serve the vegetables in tortillas with the feta and chimichurri.

For the chimichurri, combine all ingredients in a blender or small food processor. Add water 1 tablespoon at a time to achieve a thin sauce. Taste, and add as much salt as you'd like.
Nutrition