I told you. I really warned you.
That after all of my roasted garlic blue at Poe's while we were at the beach, there would be more and more of the flavor combination.
I wasn't lying, and here I paired it with SEVERAL other cheeses so.... let's get right to it. Ingredients. Pasta! And yes, I'm using THREE kinds of pasta because I had little weird remnants of short pastas that all had the same cooking time so....in it went. You can be normal if you only want to use one kind of pasta. Then you'll need garlic, butter, flour, half and half or milk, hot paprika, salt and pepper, fresh mozzarella, sharp cheddar, and blue cheese. ALL THE DAIRY.
First, we roast our garlic! Wrap the whole bulbs in foil, oven, 425F, 45 minutes, boom. Roasted. Let it cool!
Then, cook the pasta to the package directions MINUS 2 MINUTES. We want the pasta not cooked since it'll finish cooking when we bake the mac all together. This blend cracks me up.
Now, grate the cheddar....
...and cube the fresh mozz. You can use one big ball or these little guys, whatever works.
Now that we have pasta and roasted garlic all prep, we just make the mac and cheese sauce as usual. Melt the butter with the flour in a large pot over medium-high heat.
When the flour melts into the butter, use a whisk and slowly pour in the milk to combine with the flour mixture and thicken slightly.
Then sprinkle in the hot paprika. You can leave this out if you don't have any!
Let the milk mixture come to a bubble, then sprinkle in the sharp cheddar and stir it into the milk sauce.
Now, add the pasta and cut the garlic in half so you can squish in the cloves.
Add the blue cheese and mozzarella pieces, too.
Gently stir everything together and taste: salt and pepper to your little heart's desire. Then, pour the mac into a pretty baking dish and top with some extra cheese if you have any, because clearly we don't have enough in there already.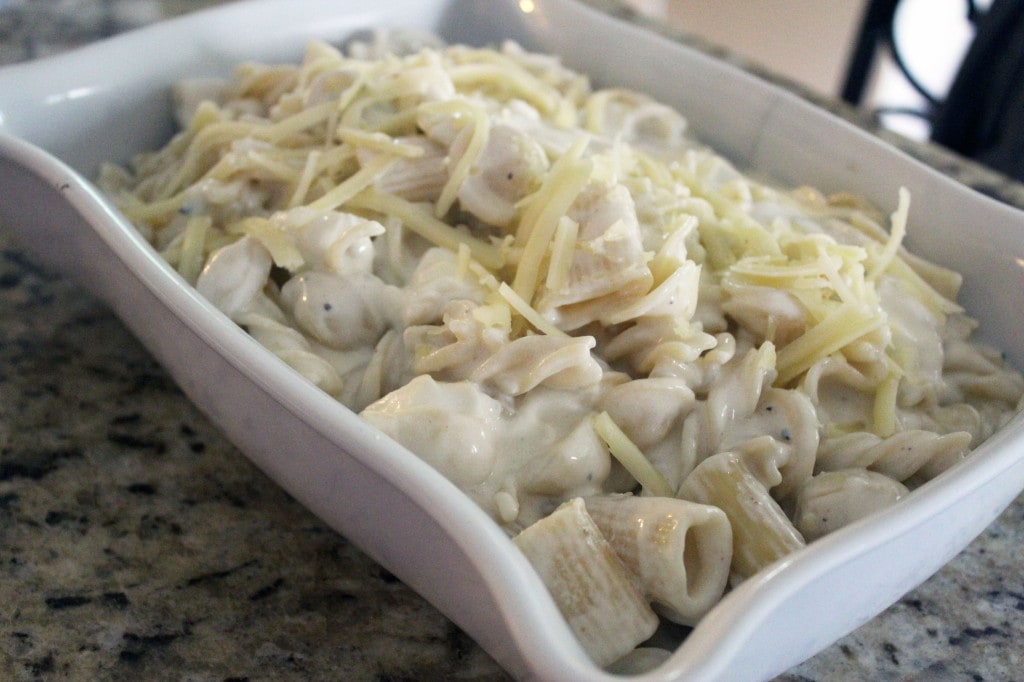 Broil the mac until it's brown, or if you've made it in advance bake until hot and bubbly at 400F or so.
Whoa. The flavors here are insane, the cheeses are some kind of wonderful, and THE GARLIC.
Roasted garlic with blue cheese for president.
Print
Roasted Garlic Blue Mac and Cheese
---
Total Time:

1 hour 25 minutes
12 ounces

short cut pasta, cooked to 2 minutes under al dente and drained

2

bulbs garlic

2 tablespoons

butter

1 tablespoon

flour

2 cups

half and half or milk

½ teaspoon

hot paprika
salt and pepper, to taste

1 cup

shredded sharp white cheddar

4 ounces

fresh mozzarella, cubed

2 ounces

blue cheese, crumbled
---
Instructions
Wrap the garlic whole in foil and roast at 425F for 45 minutes until very soft. Remove from the foil to let cool while you make the sauce.
In a large pot over medium-high heat, add the butter and flour. When the butter melts, whisk the mixture together to form a paste, then pour in the half and half, whisking as you go. Add the melted cheddar and stir in to form a cheese sauce.
Cut the garlic in half crosswise and squish in the roasted cloves. Add the pasta, blue cheese, and mozzarella as well. Gently stir the mac together, and taste: add salt and pepper to your preference.
Turn the mac and cheese into a baking dish broil for 5 minutes until golden, or bake for 45 minutes until hot and bubbly if you've made the mac and cheese in advance.
Enjoy!
Prep Time:

10

Cook Time:

75