Oh hey seasonal eating that is healthy and feels decadent all at once.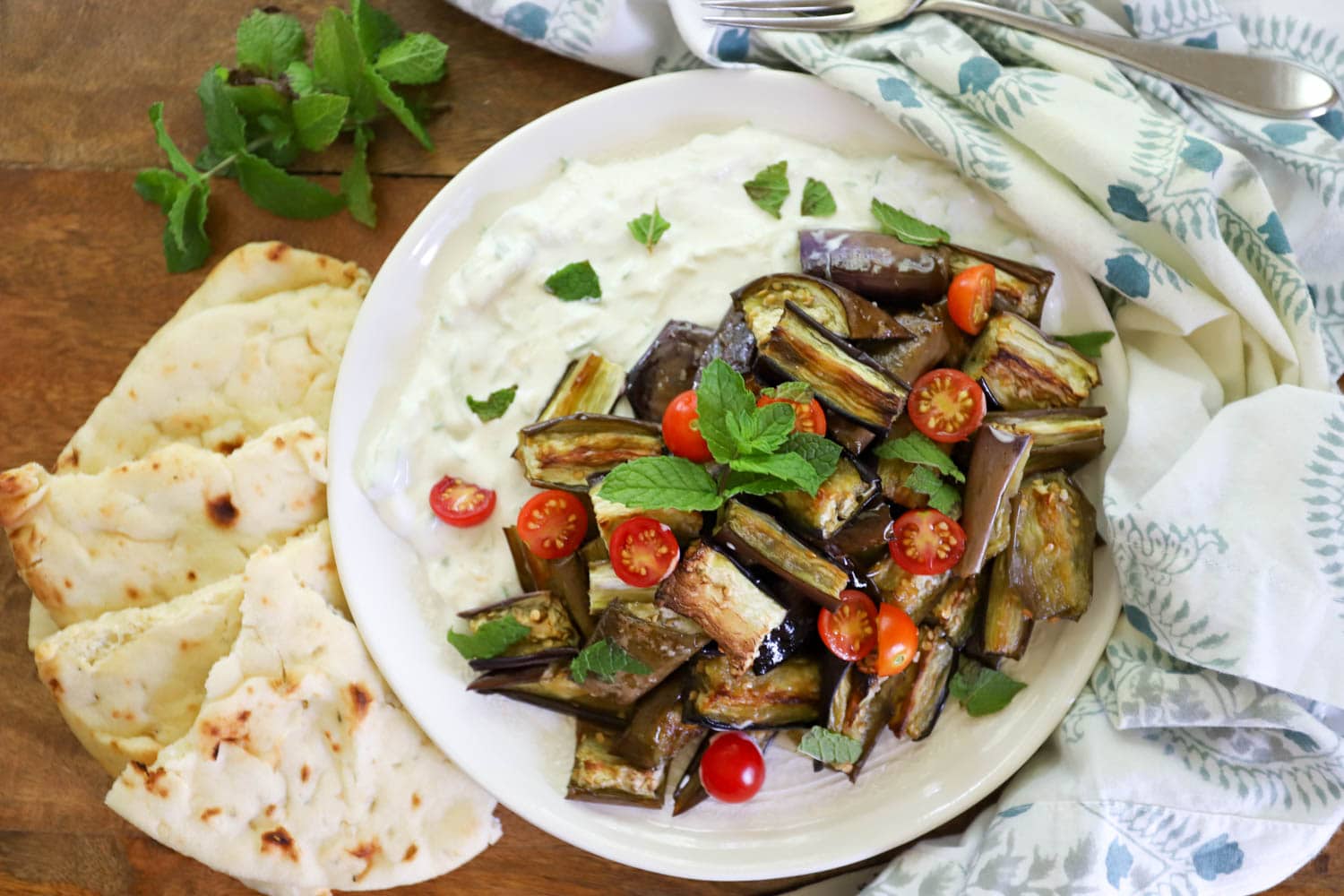 We can thank the internet for this one. I don't have a great story here except that I read an article with a recipe similar to this and couldn't get it out of my mind. This happens a lot. My favorite Persian restaurant in Greenville has an appetizer that involved eggplant and yogurt drizzled over top, so the combination wasn't terribly foreign to me.
This, however, was roasted chunks of eggplant over a raita/tzatziki combination with fresh tomatoes and something green on top for good measure. The original recipe had crispy kale, there was a version with microgreens, and I went with just fresh mint because 1. it grows on my porch and 2. eggplant and yogurt with mint is a really wonderful flavor combination.
The story here is that I made this last week as Jay and Beck were about to head out for an outing. We hadn't had lunch and it was getting late so I was like "here, have this before you leave!" Jay had a few bites and then left, and I ate the entire thing by myself. Rest assured, I was plenty full when it was gone (and omg garlicky), but this is a dish that doesn't weigh you down even when you fill up on it, if that makes sense. The eggplant makes up the bulk of the dish, and if you use a fork instead of ONLY naan for shoveling into your mouth this becomes a pretty nicely balanced dish.
See also: fresh mint can't stop with it.
You need! Eggplant. 1 medium or 2 small, just whatever is in your life. Salt and oil for roasting, fresh mint and fresh tomatoes for topping. The sauce is yogurt (2% or full fat unless you're really watching fat intake), a bit of cucumber, sugar, cumin, salt, and a garlic clove. Naan and forks for serving, and probably some super cold white wine.
First, preheat the oven to 400F and cut the eggplant into chunks. Drizzle it with olive oil, sprinkle it with salt, and roast!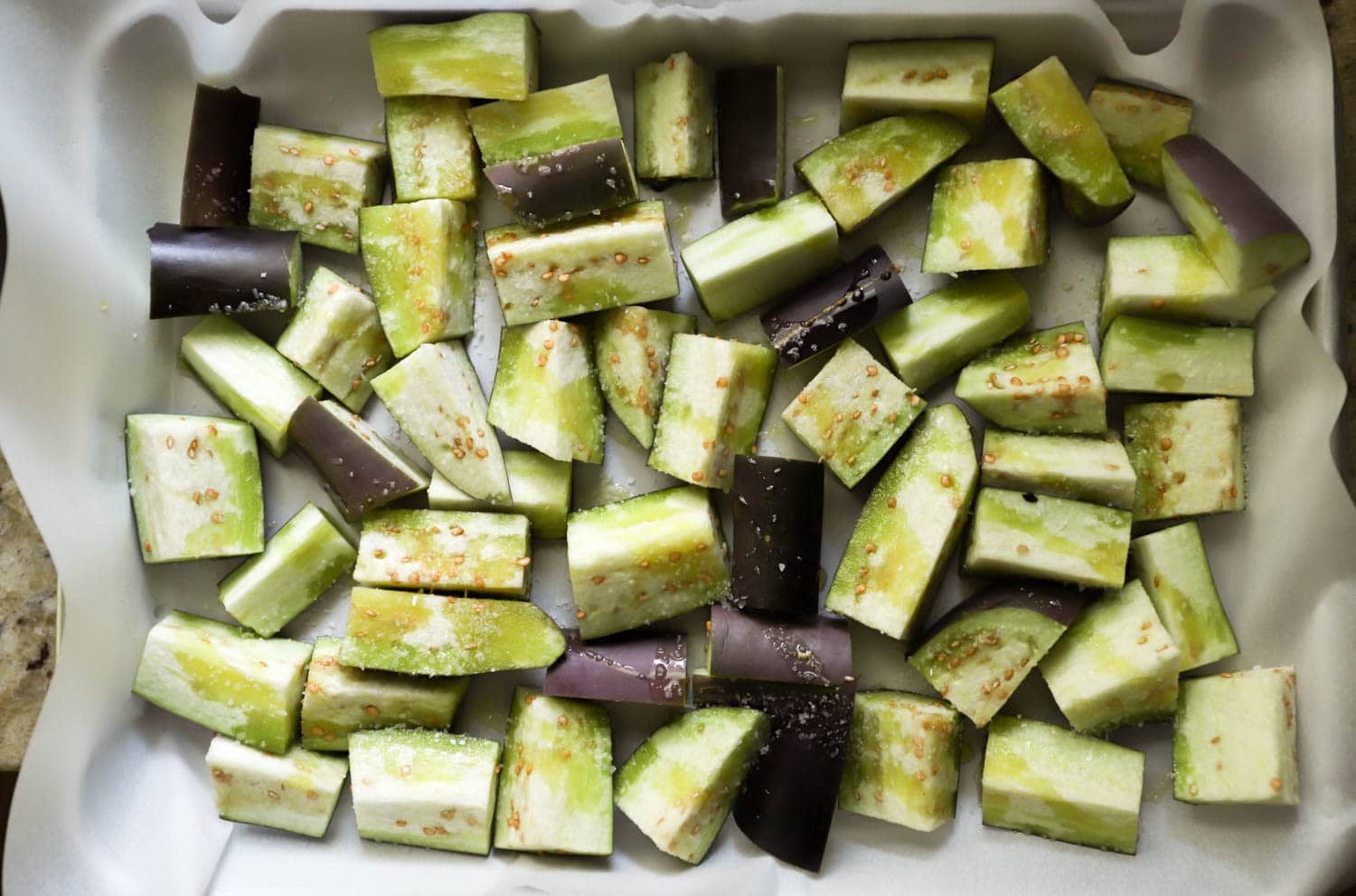 The eggplant will roast for 40 minutes or so until it's very soft, wilted, and dark at the edges.
While the eggplant is working, halve the cherry tomatoes and make the yogurt sauce. I grate the cucumber directly into the yogurt along with the garlic and the other ingredients. Stir the sauce together and taste it - add a pinch more salt or sugar if you'd like. Keep the yogurt sauce in the fridge while you wait for the eggplant, or even make it a day or two in advance.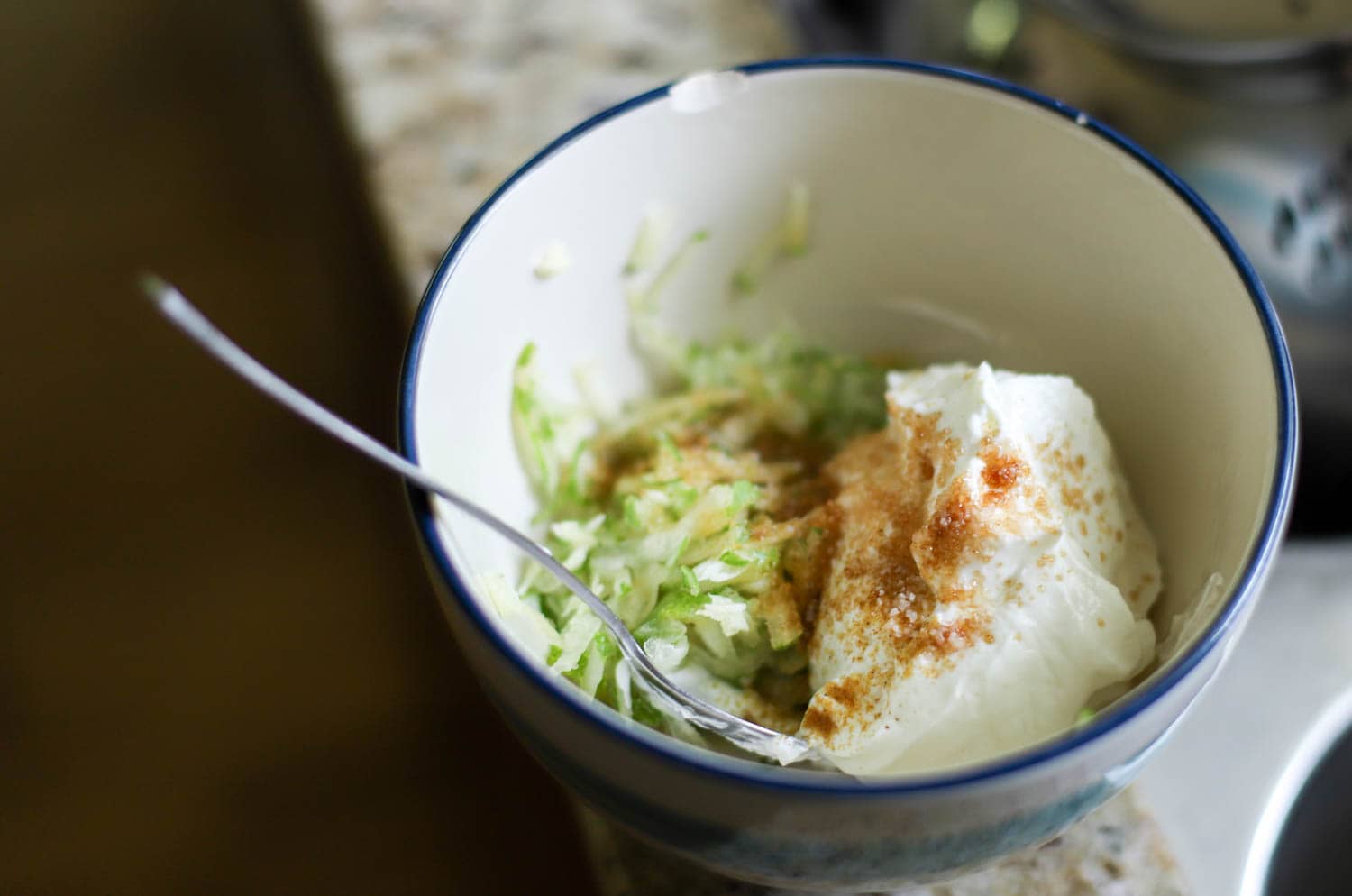 Now, I build this in layers, but you can assemble this however you'd like!
I make a layer of the yogurt sauce, top it with the eggplant, then sprinkle mint and cherry tomatoes over everything.
Naan or crackers or bread complete the look, and omg.
Simple, fresh, light but hearty at the same time. I don't have a ton of words to describe this, but it somehow feels earthy and comforting yet summery at the same time.
Not to mention, you can literally serve this for any meal as any part of a meal, including...the meal.
See also: fresh mint (I already said that).
Enjoy!
Print
Roasted Eggplant with Raita and Mint
---
2

small eggplants, cut into bite-sized chunks
salt and olive oil

½ cup

Greek yogurt

¼ cup

grated cucumber (about a 3-inch piece of cucumber)

¼ teaspoon

cumin

1

clove garlic, grated or minced

½ teaspoon

sugar

½ teaspoon

salt
fresh mint

½ cup

cherry tomatoes, halved
naan, pita, or bread for serving
---
Instructions
Preheat the oven to 400F. Arrange the eggplant in one layer on a baking sheet. Drizzle it with olive oil and sprinkle all over with salt. Roast the eggplant for 40-50 minutes until very soft and dark on the bottom (the edge that touches the pan).
Meanwhile, make the raita. Combine the yogurt, cucumber, cumin, garlic, sugar, and salt in a bowl. Taste, and add more sugar or salt a pinch at a time to enhance the flavor.
To assemble, spread the yogurt mixture on the bottom of a plate or shallow bowl. Top with a heap of the eggplant. Scatter mint leaves and cherry tomatoes on top.
Serve with naan or pita for dipping and forks for scooping. Enjoy!