Perfectly seasonal, this delicious layered eggplant appetizer comes together quickly and will get gobbled up fast! Creamy yogurt raita, roasted eggplant, and fresh tomatoes + mint round out this yummy vegetarian small plate.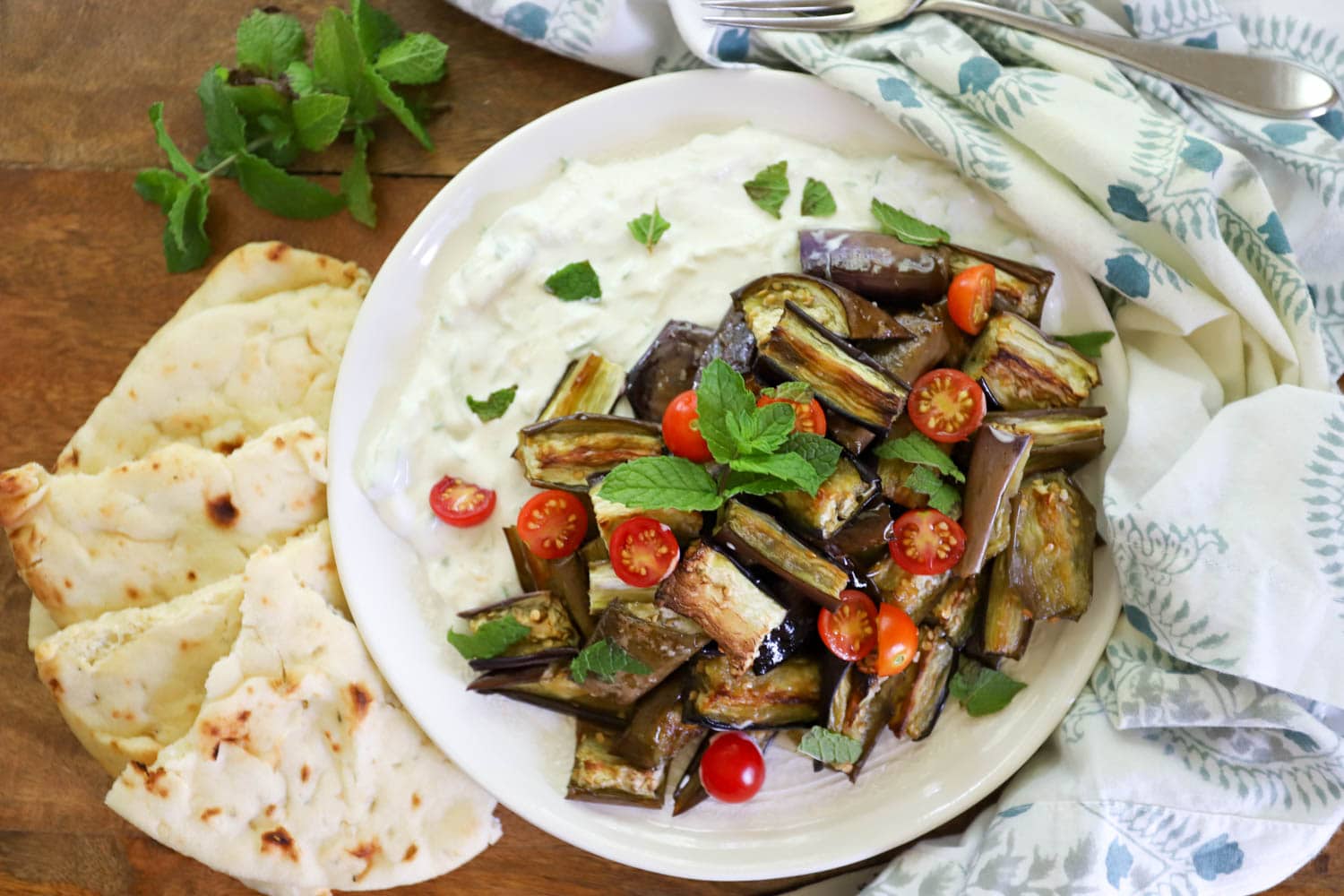 Oh hey seasonal eating that is healthy and feels decadent all at once.
We can thank the internet for this one. I don't have a great story here except that I read an article with a recipe similar to this and couldn't get it out of my mind. And then promptly couldn't find the link.
This eggplant appetizer features roasted chunks of eggplant over a raita/tzatziki sauce with fresh tomatoes and something green on top for good measure. The original recipe had crispy kale and there was a version with microgreens, but I went with just fresh mint because 1. it grows on my porch and 2. eggplant and yogurt with mint is a really wonderful flavor combination.
This is one of those recipes that can be served as an appetizer, as a lunch plate, or as an eggplant side dish recipe. No matter how you serve this, it's a dish that doesn't weigh you down even when you fill up on it, if that makes sense. The eggplant makes up the bulk of the dish, and if you use a fork instead of ONLY naan for shoveling into your mouth this becomes a pretty nicely balanced dish.
See also: fresh mint can't stop with it.
Ingredients
You need! Eggplant. 1 medium or 2 small, just whatever is in your life. Salt and oil for roasting, fresh mint and fresh tomatoes for topping. The sauce is yogurt (2% or full fat unless you're really watching fat intake), a bit of cucumber, sugar, cumin, salt, and a garlic clove.
Ingredient Variations
Use any eggplant you like! Sometimes I like more eggplant or more raita for dipping - totally your preference if you want to add more of any one ingredient.
I serve this with storebought naan, flatbread, or pita - whatever you have on hand is great. It's also delicious with no-knead bread or fakeout focaccia if you have time to make some bread of your own.
Mint is a great classic pairing with the garlicky yogurt. Any fresh herbs you like will be delicious with this dish, though! Parsley and oregano are particularly delicious.
To save time, you can swap out the raita with plain yogurt, storebought tzatziki, or labneh sprinkled with a little bit of salt. Anything yogurty and creamy will work great.
Recipe Instructions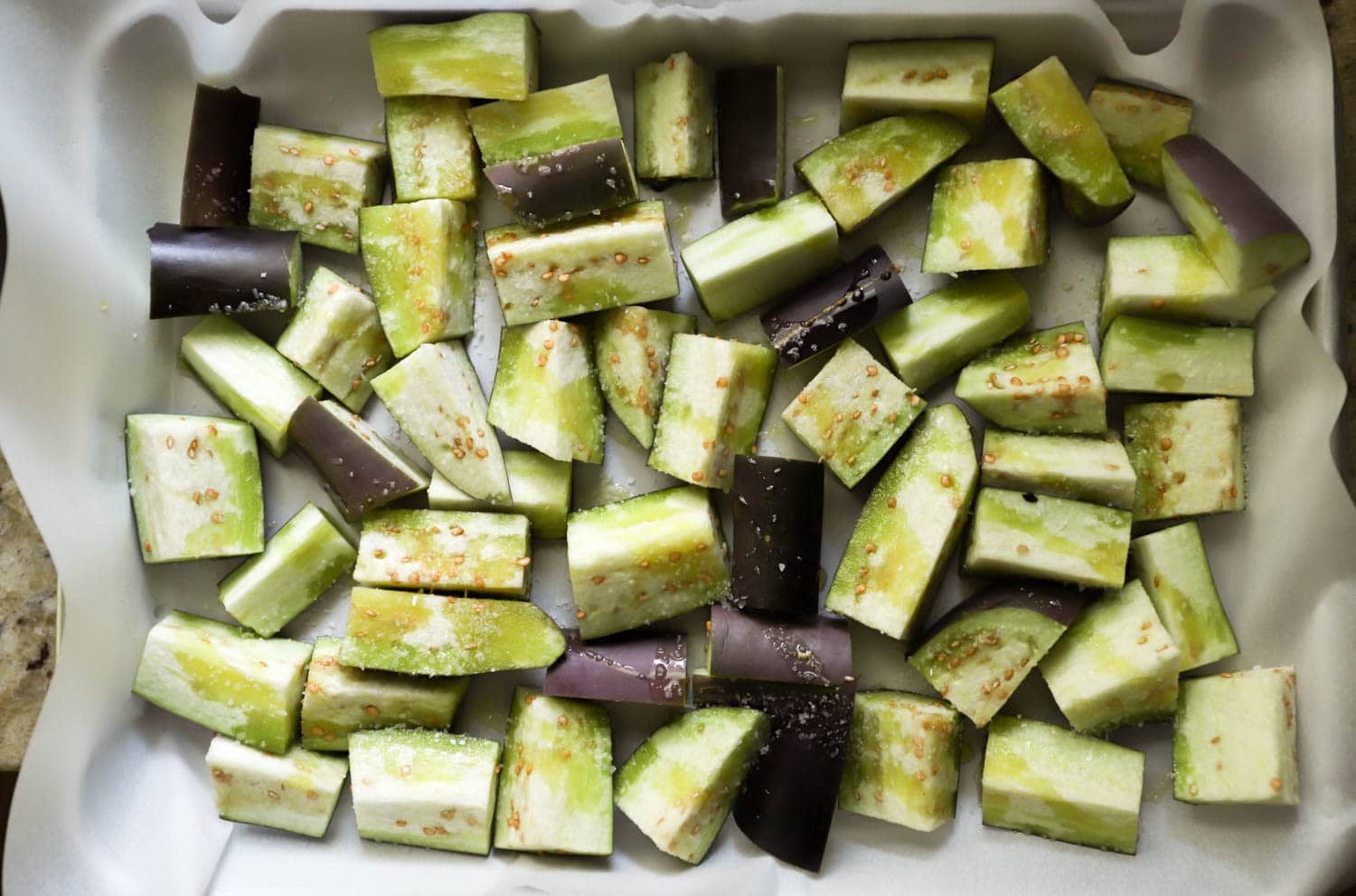 First, preheat the oven to 400F and cut the eggplant into chunks. Drizzle it with olive oil, sprinkle it with salt, and roast!
The eggplant will roast for 40 minutes or so until it's very soft, wilted, and dark at the edges.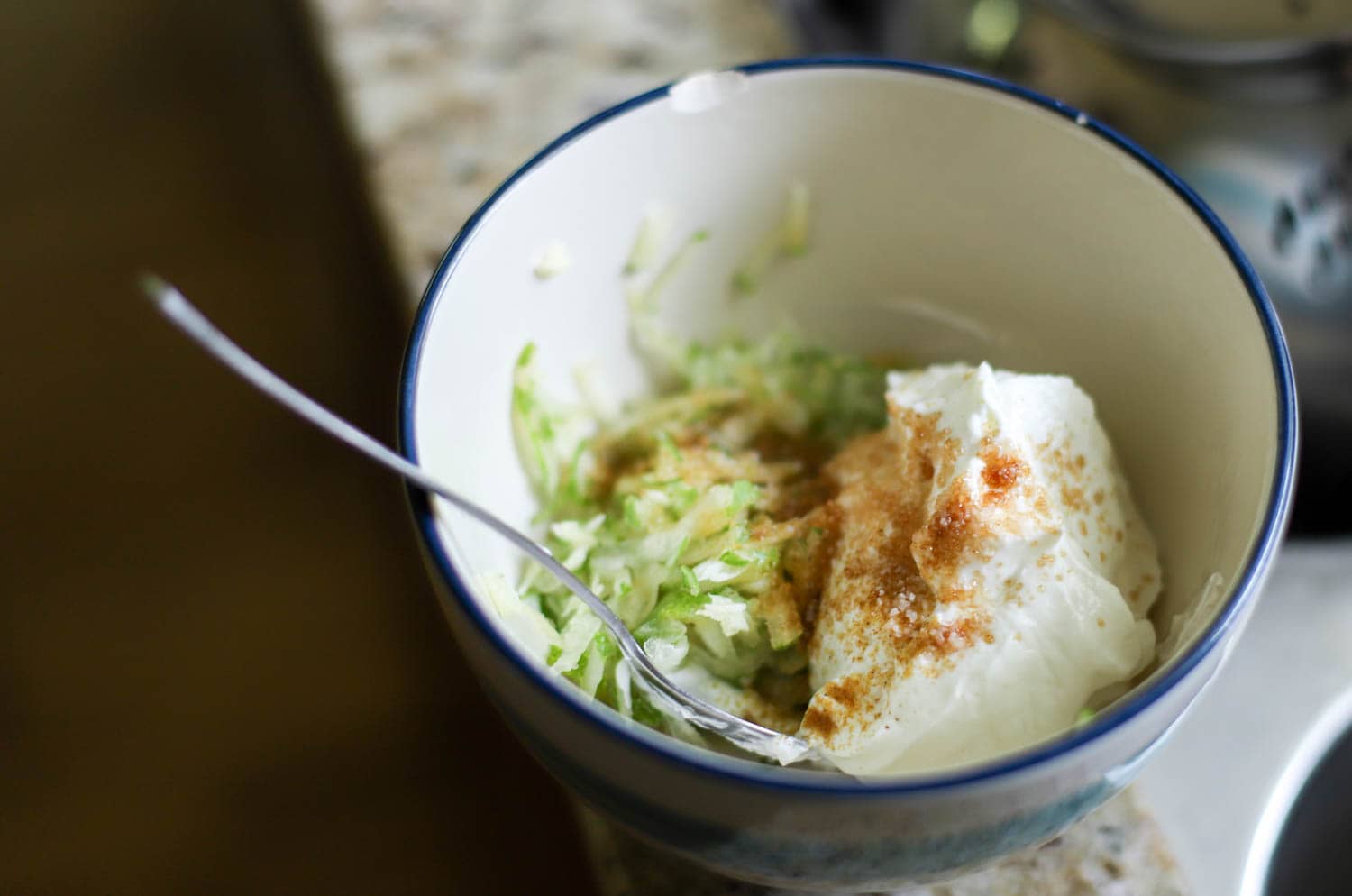 While the eggplant is working, halve the cherry tomatoes (set them aside) and make the yogurt sauce. I grate the cucumber directly into the yogurt along with the garlic and the other ingredients. Stir the sauce together and taste it - add a pinch more salt or sugar if you'd like. Keep the yogurt sauce in the fridge while you wait for the eggplant, or even make it a day or two in advance as part of meal prep.
Now, I build this in layers, but you can assemble this however you'd like!
Recipe Assembly
Raita
Roasted Eggplant
Cherry Tomatoes
Mint Leaves
Flaky Salt/Olive Oil (extra credit)
Naan or crackers or bread complete the look, and omg.
Simple, fresh, light but hearty at the same time. I don't have a ton of words to describe this, but it somehow feels earthy and comforting yet summery at the same time.
I love this on its own for a snack before dinner, but as a meal it would be really delicious alongside roasted pork and a green veg of some sort.
Try this soon the next time you need some eggplant recipe inspiration. I hope you love it!
Roasted Eggplant Appetizer with Yogurt and Mint
Creamy greek yogurt raita, roasted eggplant, and fresh tomatoes with mint come together for this delicious layered appetizer.
Ingredients
2

small eggplants

cut into bite-sized chunks

kosher salt and olive oil

½

cup

Greek yogurt

¼

cup

grated cucumber

about a 3-inch piece of cucumber

¼

teaspoon

cumin

1

clove

garlic

grated or minced

½

teaspoon

sugar

½

teaspoon

salt

fresh mint

½

cup

cherry tomatoes

halved

naan

pita, or bread for serving
Instructions
Preheat the oven to 400F. Arrange the eggplant in one layer on a baking sheet. Drizzle it with olive oil and sprinkle all over with salt. Roast the eggplant for 40-50 minutes until very soft and dark on the bottom (the edge that touches the pan).

Meanwhile, make the raita. Combine the yogurt, cucumber, cumin, garlic, sugar, and salt in a bowl. Taste, and add more sugar or salt a pinch at a time to enhance the flavor.

To assemble, spread the yogurt mixture on the bottom of a plate or shallow bowl. Top with a heap of the eggplant. Scatter mint leaves and cherry tomatoes on top. If you'd like, finish with a drizzle of olive oil and another sprinkle of salt.

Serve with naan or pita for dipping and forks for scooping. Enjoy!
Notes
To save time, the raita can be made up to 3 days in advance. Or, swap it out with plain greek yogurt or labneh.
Can be served as an appetizer or vegetable side dish with the yogurt as a sauce.