I know I know I know, you get it. Red white and blue. LET ME HAVE THIS LITTLE BIT OF JOY.
But I know that secretly we're all happy it's almost effing Friday so we can get back to all the colors in our food.
Sorry.
This, though. It's amazing! Really really yummy! I had a caprese salad at a fancy restaurant on Saturday night (Frank's, if you're interested), and DAYUM was it good! I'm usually not one to order things that I know are going to be overpriced and that I can so easily make at home, but for some reason it really struck us and we ordered it to share and were NOT disappointed. I think my thing with caprese is this: I don't really like balsamic vinegar that much. I know, kill me, it's delicious, how could you NOT like that, blah blah blah. I just....find it too strong a lot of the time. BUT, if reduced a little bit and sweetened and used sparingly, I really like it, and the flavor combo of tomatoes and balsamic and mozz and basil is really a totally legit thing. Hence, I loved the salad due to not too much balsamic, and now have added the flavors to some red quinoa and blueberries because FLAG COLORS, and so there you go.
Let's make it! You can make it even if you aren't trying to match a country.
You obviously need tomatoes, basil, and cheese. I strayed from mozz and did super sharp cheddar, which was still white but has a really sharp flavor that I thought would be nice with the sweet berries. Use any white cheese you like, though! You also need blueberries, quinoa (red because flag, duh), olive oil, garlic, balsamic, and honey.
To get all special, we're going to roast the tomatoes. They and the quinoa take about the same amount of time, so we let them both cook separately. Halve the tomatoes.
Then put them on a baking sheet with parchment paper or olive oil. Sprinkle them with salt. Place them in the oven at 400F and roast them for 20-30 minutes until slightly darkened at the edges. You don't need to preheat the oven; the tomatoes can go in before it hits 400F.
While the tomatoes are working, measure the quinoa and water as the instructions say, then cook it to the package directions.
So now we have tomatoes and quinoa both working! Now, let's make the dressing. First, mince the garlic.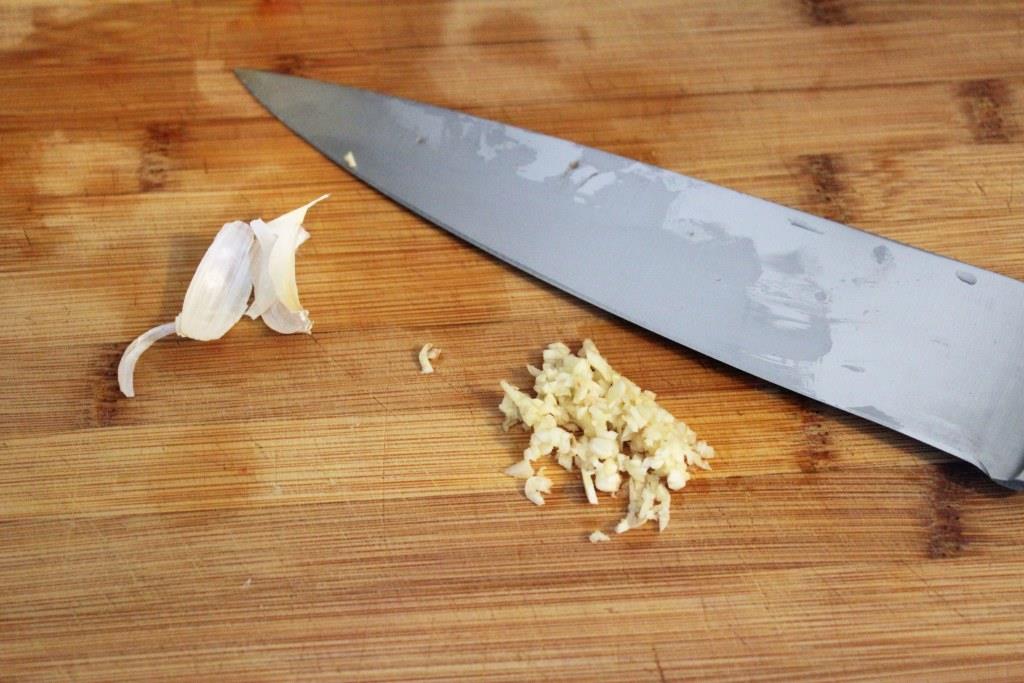 Add the garlic to a teeny pan with a drizzle of oil.
Let the garlic cook over medium heat for about a minute until you can smell it, then add the balsamic and honey. Stir to combine everything, and let the balsamic vinegar come to a boil and boil to reduce for 2 minutes.
Then, turn off the heat and add the olive oil, whisking as you go, to form a dressing. Nice! Taste this, and add a pinch of salt if you'd like.
Check the tomatoes and quinoa. Done!
Now, we have cooling quinoa, tomatoes, and dressing. Cube the cheese next, and gather the basil and blueberries.
Time to assemble! Add the tomatoes and blueberries to a large bowl with the quinoa.
Then, drizzle over just a little bit of the balsamic drizzle. Stir these ingredients together, then taste and add salt if you'd like.
Very last, fold in the cheese and basil. Leave the leaves whole or tear them - whatever works for you.
Now, stir everything one last time, then serve with extra basil leaves and the rest of the dressing for drizzling.
How pretty!
I promise PROMISE you will love this. The blueberries and balsamic are really nice, and the step of roasting the tomatoes is SO worth it.
You can of course leave out the blueberries if you're not into fruit with your quinoa, but WHY would you? They add a ton of cool flavor and texture, and I promise you'll love them.
New favorite summer side dish? Check.
Caprese Quinoa with Blueberries
Ingredients
1

cup

red quinoa

1

cup

cherry tomatoes

halved

salt

to taste

1

clove

garlic

minced

¼

cup

balsamic vinegar

1

tablespoon

honey

¼

cup

olive oil

3

ounces

sharp white cheddar

cubed

½

cup

fresh blueberries

¼

cup

basil leaves

torn or whole if small
Instructions
Place the cherry tomatoes on a baking sheet with parchment paper or cooking spray. Sprinkle with salt, then roast at 400F for 20-30 minutes until slightly browned at the edges. While the tomatoes are cooking, cook the quinoa in water per package directions. Let the tomatoes and quinoa cool while you prepare the rest of the salad.

For the dressing, add the garlic and just a drizzle of the olive oil to a small skillet over medium heat for 2 minutes until the garlic is fragrant. Add the balsamic and honey and bring to a boil. Boil the balsamic mixture for 2 minutes until just slightly reduced. Turn the heat off and whisk in the remaining olive oil. Taste the dressing, and add a pinch of salt if you'd like.

When the components are prepared, combine the cooked quinoa, roasted tomatoes, cheese cubes, blueberries, and basil in a bowl. Drizzle with just a bit of the balsamic dressing. Taste, and add salt to the dish if you'd like.

Garnish with extra basil leaves and serve with the remaining balsamic dressing for drizzling.
Nutrition