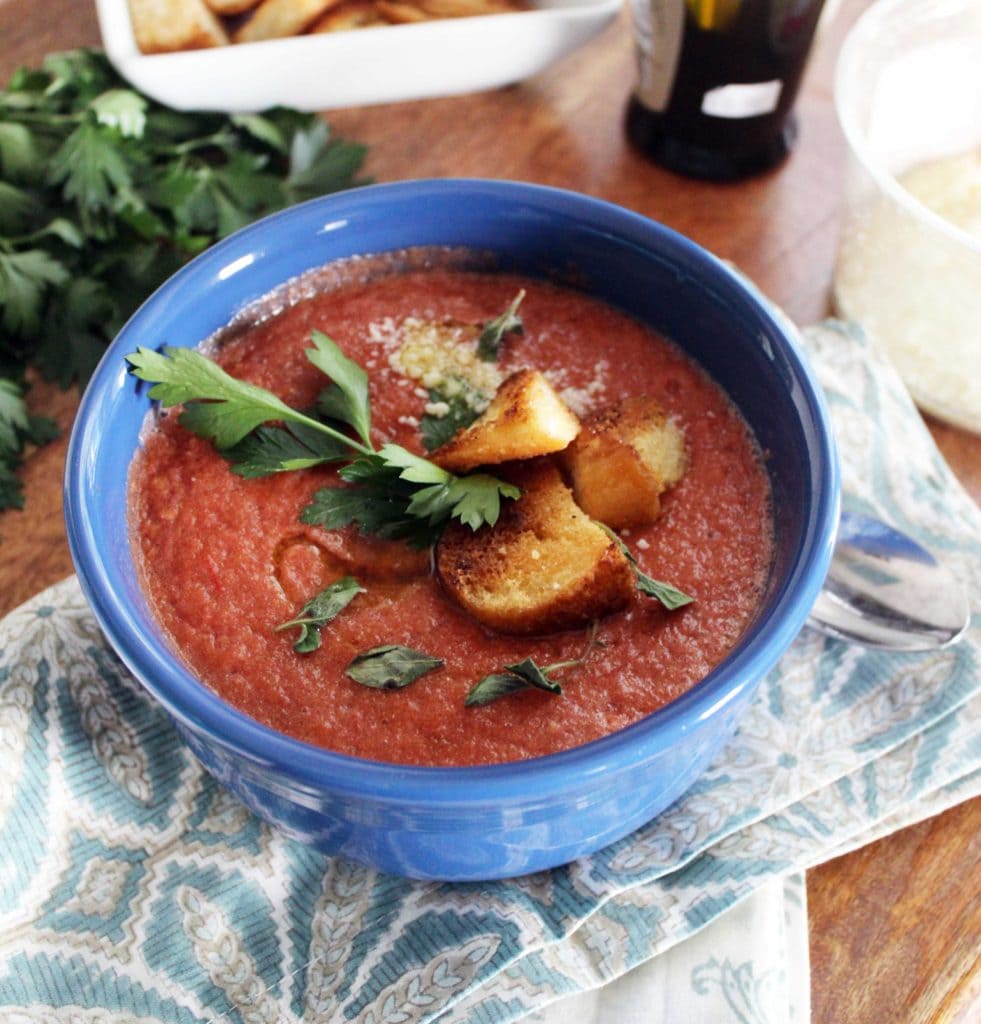 Ok, here's the other MUST EAT NOW NO TIME TO COOK HUNGRY FOOD recipe for the week! I'm not sure if it's easier than the skillet scampi from Tuesday; you figure that one out on your own.
A few weeks ago when Hurricane Matthew hit our state, our farmer's market was cancelled due to wind. We only got a little bit of rain, but the wind was strong enough that the tents might fly away and be dangerous, so the market was cancelled. This was upsetting to me because I didn't look online before walking 35 minutes to said cancelled market. So I spent $140 at LuluLemon to make myself feel better.
Anyway. Because of this cancellation a grocery store that stocks local produce took in extra from their farmers to help make up the deficit and then put all of their produce on sale that weekend. So the farmers got help, we got a sale, and I bought over 20 heirloom tomatoes because it's still warm here and tomatoes are still available! We've been having at least one per day with bread, olive oil, and salt, but I wanted to use them in something a little more fall-ish, too. Enter this soup! You roughly chop ingredients, throw them in a blender, puree, then simmer. I made some garlic bread croutons to seal the deal, but they're unnecessary if you're really in a hurry.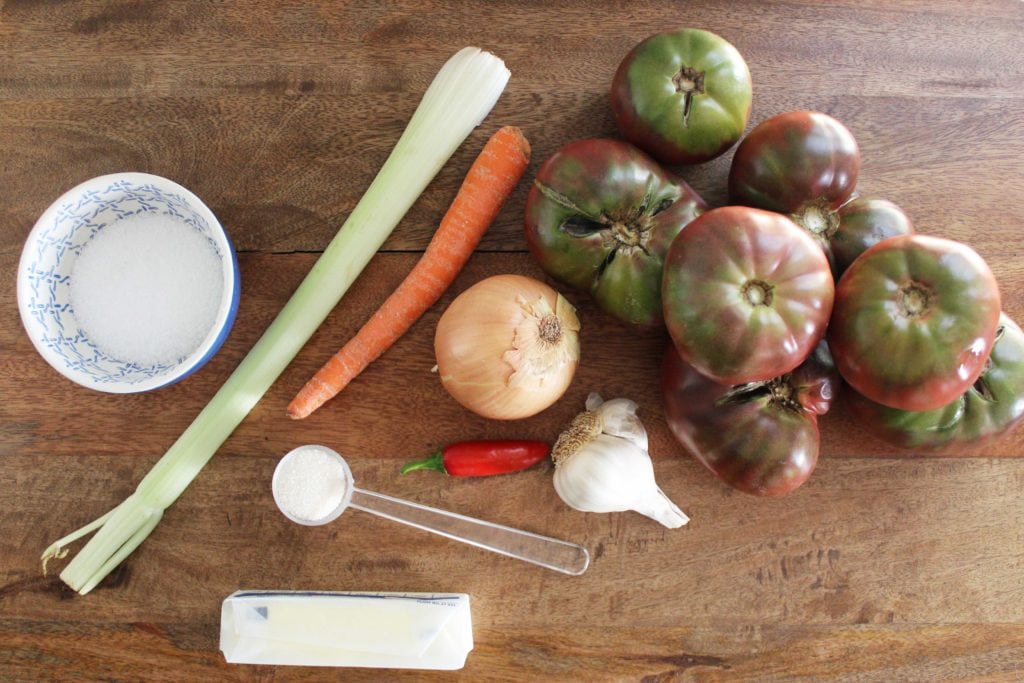 You need fresh tomatoes (any kind, seriously), a stalk of celery, a small carrot, half an onion, garlic, a little jalapeno (or sub crushed red pepper), salt, sugar, and butter. If you omit the butter this is a vegan dish!
So. Simple. Roughly chop everything and stick it in a blender. All the ingredients but the butter go here. I even left on the cores of the tomatoes - why not if you're blending, right?
Blend everything until it's super smooth, then taste it. It'll taste super fresh - like gazpacho. You could 100% eat this cold as is, no judgement from me! Add some more salt and pepper if you think it needs it.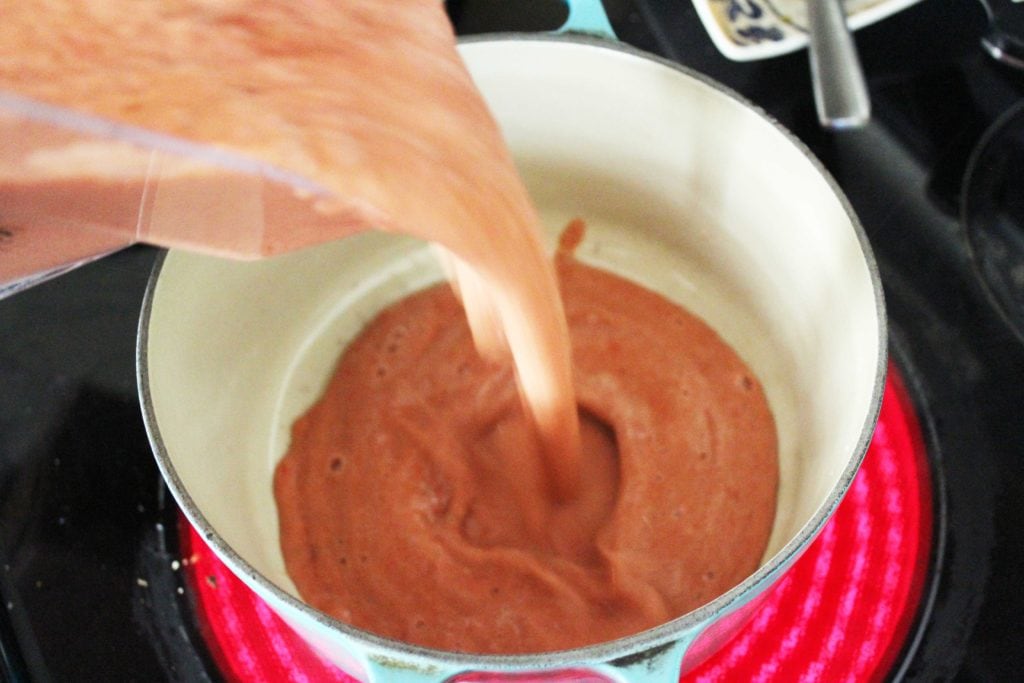 Now it gets super easy. Pour the soup into a pot, turn the heat to medium, and let the soup gently warm and come to a bubble.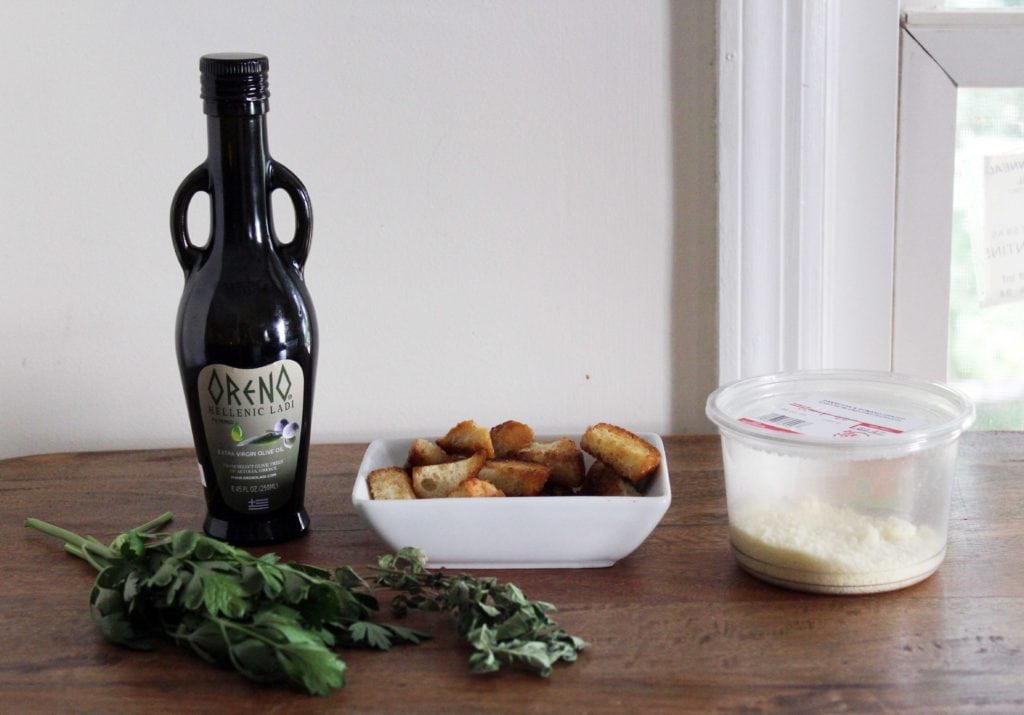 Stir every few minutes to be sure the soup doesn't stick to the bottom of the pan. Now, if you'd like to eat this right away you can; just turn the heat up a little, let the soup cook for 15-20 minutes. If you'd like a thicker more cooked soup, simmer for a little bit longer - 40 minutes or so. The results will be delicious either way, you'll just get a more cooked flavor if you let the soup cook for a longer time. While the soup is simmering, prepare any toppings you'd like. I did garlic bread croutons, fresh oregano and parsley, fancy olive oil, and parmesan. You could ditch all of this, though, and just go with bread or a grilled cheese for dunking - the soup is simple enough that you can dress it up any way you like.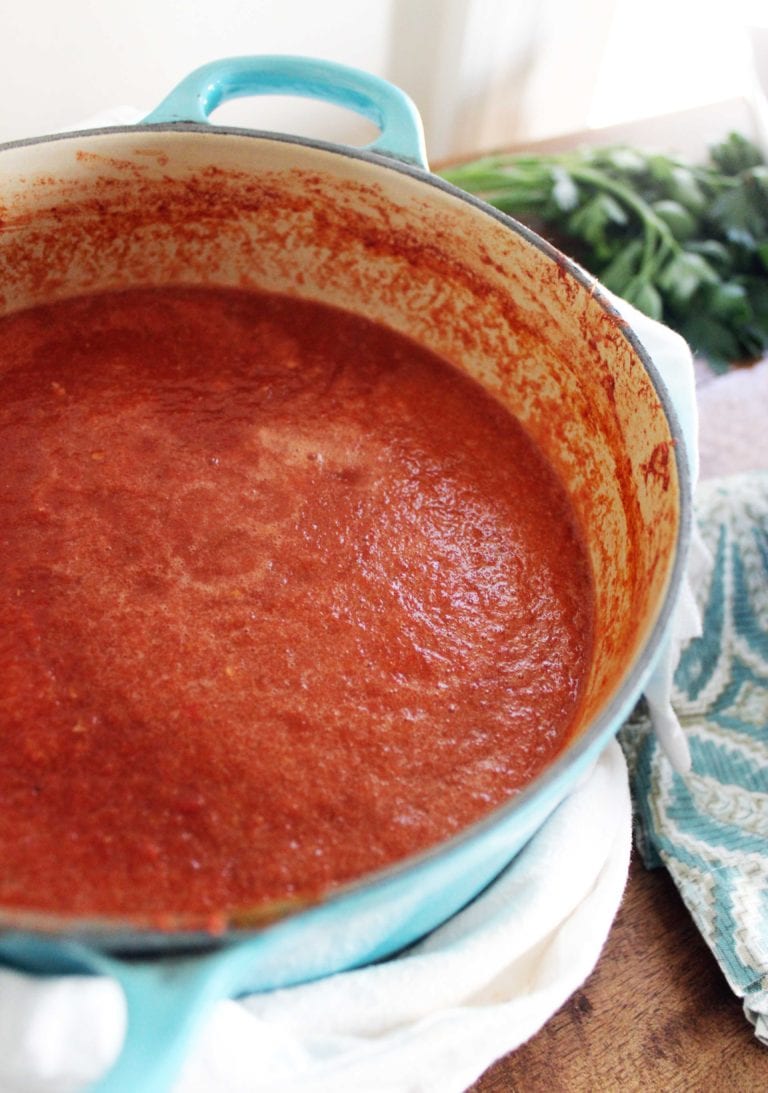 When you're ready to serve the soup, taste it and add salt and pepper; enough to make the flavors really stand out. I found that a small jalapeno made the soup just barely spicy, but not in an overwhelming way at all. If you don't like spice you can skip the pepper or just add a pinch of crushed red pepper.
Right before you serve, swirl in the butter and dive in.
Top with fun stuff. Grab anything you can find for dunking.
This is so simple, but the flavor from the fresh tomatoes makes it really delicious. You can feel free to sub canned tomatoes if that's all you have; it'll make the process even easier and taste great.
Fall is here! Give me all the soup.
Quickest Tomato Soup + Garlic Bread Croutons
Quick tomato soup comes together in a blender for a super quick summer dinner. Bonus points for making your own croutons! 
Ingredients
SOUP

1

stalk celery

1

small carrot

1

small red jalapeno

½

small onion

8

fresh tomatoes

1

teaspoon

salt

2

teaspoons

sugar

3

cloves

peeled garlic

2

tablespoons

butter

CROUTONS

3

tablespoons

butter

2

cups

bread cubes

½

teaspoon

garlic powder

½

teaspoon

salt

TOPPINGS

olive oil

fresh parsley leaves

fresh oregano leaves

grated parmesan
Instructions
For the soup, put the celery, carrot, jalapeno, onion, and tomatoes into large chunks. Place them in a blender with the garlic cloves, salt, and sugar. Puree the mixture until very smooth, then transfer to a soup pot. Turn the heat to medium and bring the soup to a boil, stirring every few minutes to prevent the soup from sticking. Simmer the soup for 20-30 minutes, uncovered, until you're ready to eat. Right before serving, taste and add more salt or pepper to your preference. Swirl the butter into the soup.

For the croutons, melt the butter in a large skillet over medium heat. When the butter melts, add the bread cubes, garlic powder, and salt. Toss the bread cubes in the butter and seasonings and cook for 7 minutes, stirring and tossing around in the skillet, until browned on all sides.

When the soup and the croutons are done, serve with any toppings that you'd like. Or grilled cheese!
Notes
If you don't like much spice, you can scrape the seeds and ribs out of the jalapeno, or just use half of it, or skip it all together! You can also sub ½ teaspoon crushed red pepper.
Any fresh tomatoes work well here, or 3 15-ounce cans of tomatoes in a pinch.
For the croutons, stale or leftover bread works really well for crunchy croutons.
This is my favorite blender! It's WONDERFUL and I've had mine for years with no issues.