Yummy, EASY mini puff pastry cinnamon rolls made in a mini-muffin tin! These shortcut cinnamon rolls are perfect for a small dessert or snack for a baby shower or Mother's Day brunch. They have all the flavor of cinnamon rolls in flaky crust with no yeast, rising, or kneading.
What's it called when it's definitely baking in that we turn the oven on, but very low effort?
That's what I think of every time I use frozen puff pastry.
I'll just never stop singing its praises, but frozen puff pastry is such a good ingredient.
The inspiration for these mini cinnamon rolls came from 1. the cronut and 2. the fact that I wanted a new "delicious but fast but foolproof" brunch item or dessert to have for some family gatherings we were (finally) planning. Honestly, frozen puff pastry usually comes to mind FIRST when I'm working with those criteria.
I've seen larger puff pastry cinnamon rolls (more like a cronut), but honestly those for me are almost too big for most people when paired with another brunch item or two. Making these in a mini muffin pan worked perfectly for the size of the puff pastry as well as to have a bite sized dessert that goes nicely with other breakfast or brunch items.
Let's make them!
Ingredients
Grab some puff pastry, butter, brown sugar, and that's it.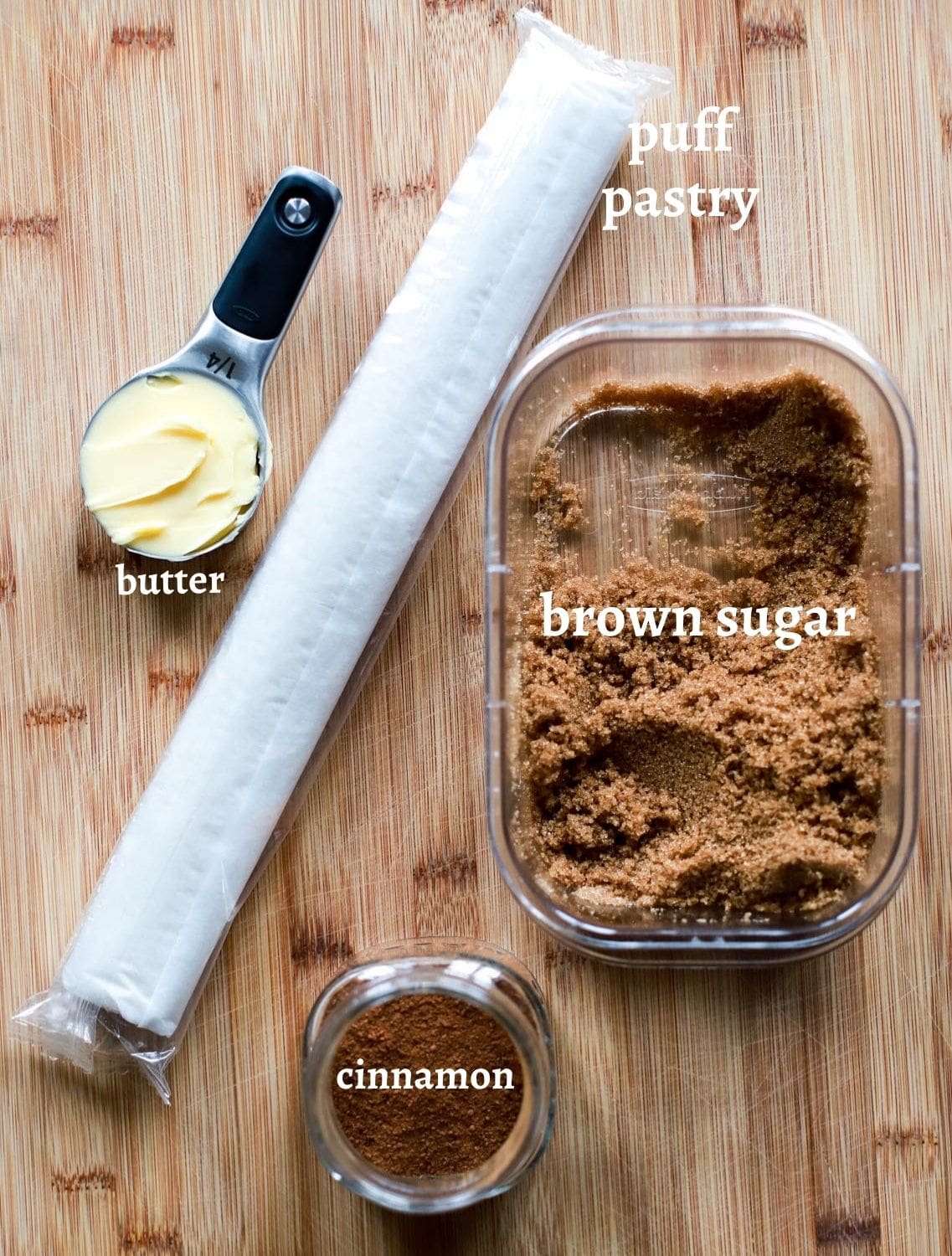 This is puff pastry from Trader Joe's, and honestly almost every store has a national brand or store brand of puff pastry available. The only real "prep" here is that the puff pastry dough needs to be soft enough to work with, so let it thaw on the counter for at least 45 minutes, maybe more, until it's cold but soft.
Right before you start working on these puff pastry cinnamon rolls, melt the butter in a small dish and grab a baking brush (or a spoon works fine for spreading the butter).
Method
When you're ready to bake, preheat the oven to 400F and sprinkle some flour on a large board.
Unroll the puff pastry and flatten it into an even layer - no need to roll it out or anything like that.
Brush the melted butter all over the entire sheet of puff pastry, and sprinkle the brown sugar and cinnamon all over to form a magical cinnamon roll Paste of Happiness (ew sorry).
Now, very carefully roll the puff pastry back up to about its original size - keeping the size of your mini muffin pan in mind as you do this. Tug at the ends of the puff pastry if needed to keep the shape mostly uniform - the log may not be perfect, but it'll work itself out in the oven.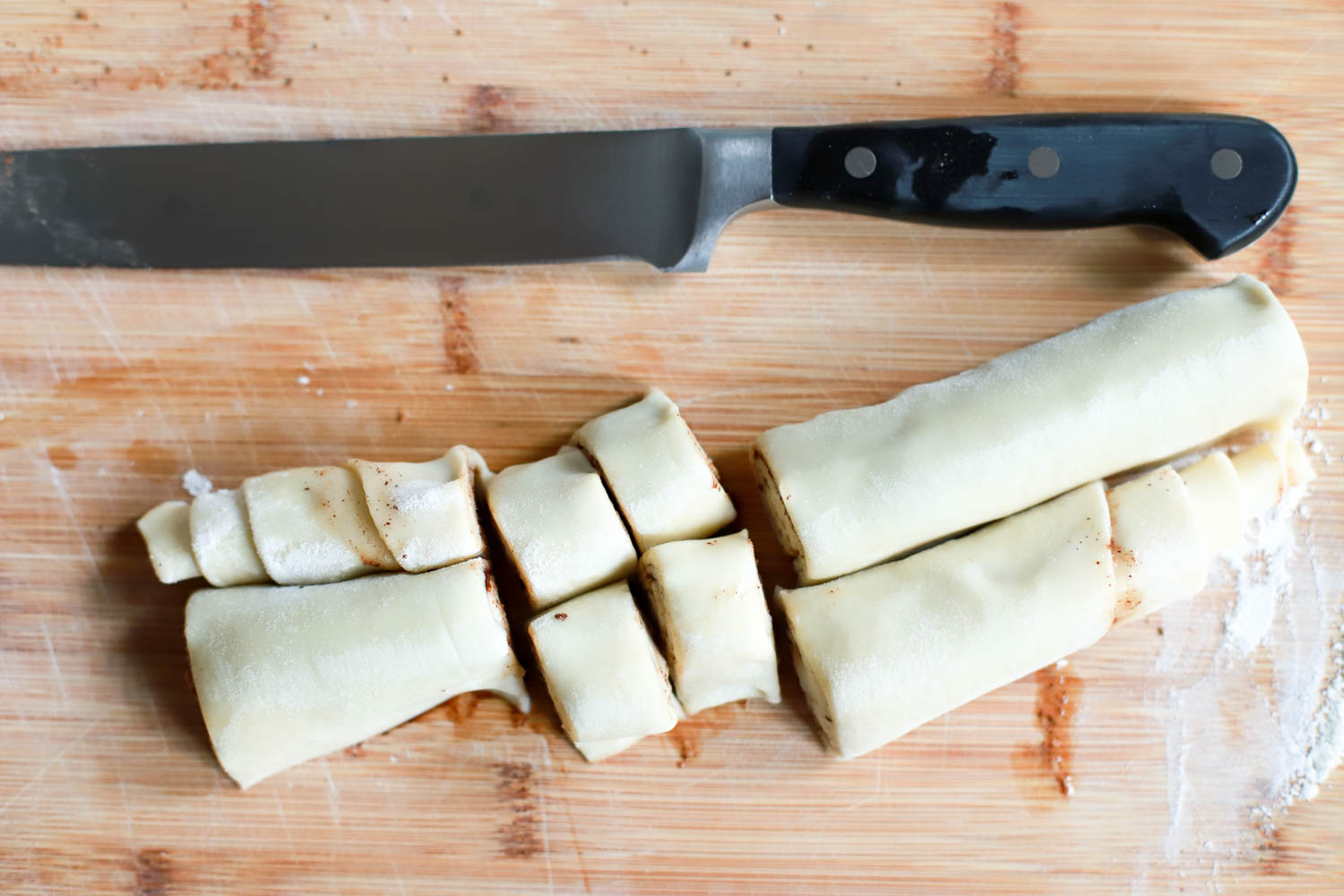 Once the pastry is rolled up with the cinnamon filling, use your sharpest knife to cut the cinnamon rolls. There are ways to do this with unflavored dental floss that look very cool and efficient, but I find that cutting the pastry quickly and with one or two quick slices works fine.
1-inch pieces, about 16 mini cinnamon rolls total. Spray the mini muffin pan with some cooking spray, and arrange the puff pastry in the pan.
Now, bake! 12-16 minutes until the pastry is juuuuuust puffed (this will depend on your oven and how cold or warm the puff pastry was) and golden. It may seem slightly underbaked but that's ok; it gives us a chewy inside of the cinnamon roll AND prevents the sugar from seeping out and burning all over the pan.
YUM.
Other Tips and Tricks
Make Ahead: These work great made in advance, OR they're so easy to make that you could prep them in advance, keep them in the fridge, and stick the pan in the oven right before you'd like to serve them. Once baked, they last on the counter in a container for a few days no problem.
I Don't Have Puff Pastry! I mean, these are puff pastry cinnamon rolls, BUT I think you could for sure try this with a roll of premade pie crust and the results would be delicious. If you try that, let me know!
I Don't Have A Mini Muffin Pan! NO WORRIES. You can make these in a regular baking dish, placed close together like regular cinnamon rolls, and bake them in a more pull-apart cinnamon roll style. OR you can make larger versions by sticking two or three of the little rounds in one section of a muffin pan for a clover-style cinnamon roll effect. OR you could still go the mini cinnamon roll route and place one cinnamon roll in each section of a muffin pan. They'll still bake just fine.
MAINLY, though, these puff pastry cinnamon rolls are the most delicious little bite with so little effort on your part. The flaky pastry gives that perfect combo between cinnamon roll and croissant.
These are great for any brunch, but particularly lovely for a shower of some sort or maybe Mother's Day? For snacking all day as you tell a mother-figure how wonderful they are?
Absolutely you should make these and do that. Enjoy!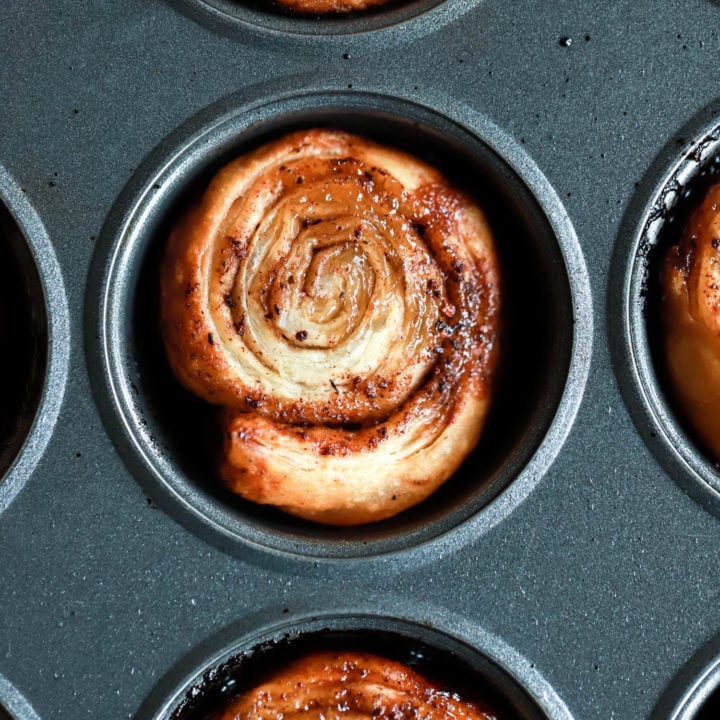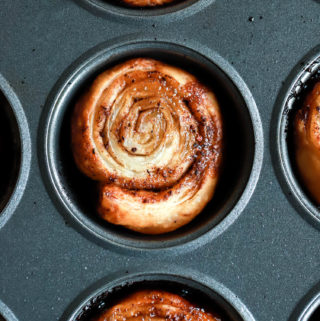 Puff Pastry Cinnamon Rolls
Puff pastry, cinnamon roll filling, and 15 minutes to a super delicious pastry dessert. TRUST.
Ingredients
1

sheet puff pastry

thawed but still cold (about an hour on the counter_

¼

cup

½ stick melted butter

2

teaspoons

ground cinnamon

⅓

cup

sugar
Instructions
Preheat the oven to 400F. Flour a large surface (I use a big cutting board for this). Prepare a mini-muffin tin with baking spray.

Unroll the puff pastry and remove any wrapping or parchment paper. Flatten the pastry, keeping it in one even rectangle.

Use a pastry brush (or the back of a spoon) to drizzle and spread the melted butter all over the puff pastry sheet, leaving a small edge so that none runs out of the cinnamon rolls. Sprinkle the sugar and cinnamon evenly over the butter.

Carefully roll the puff pastry into a tight log, tucking in any stray edges as you go.

Use a sharp knife to cut the puff pastry cinnamon roll log into 1-inch pieces; about 16 total depending on the brand of puff pastry you use. Place one cinnamon roll in each of the mini-muffin spaces.

Bake the cinnamon bites at 400F for 12-15 minutes until light golden and puffy. Remove to a rack for cooling, and devour. YUM.
Notes
I love salted butter for this and almost all baked goods because it gives a tiny flavor boost to whatever you're making. Use any butter or sugar that you have, though, and call it good!
No mini-muffin tin? No problem! These can be baked in a round pie plate or cake pan similar to regular cinnamon rolls. Arrange the pastry wheels close together starting from the center of the dish you're using. Alternatively, these can be made in a regular muffin tin by squeezing 3 or 4 cinnamon rolls into one muffin section. Adjust the baking time by keeping an eye out and removing the cinnamon rolls from the oven when they're golden brown so the sugar doesn't burn on the bottom of the pan.