THE BEST slaw for fish tacos recipe ever! Just 6 ingredients make this creamy, tangy, no mayo coleslaw one that you'll make again and again. I love this over fish tacos with peach salsa and sour cream guacamole, or with a grilled chicken dinner!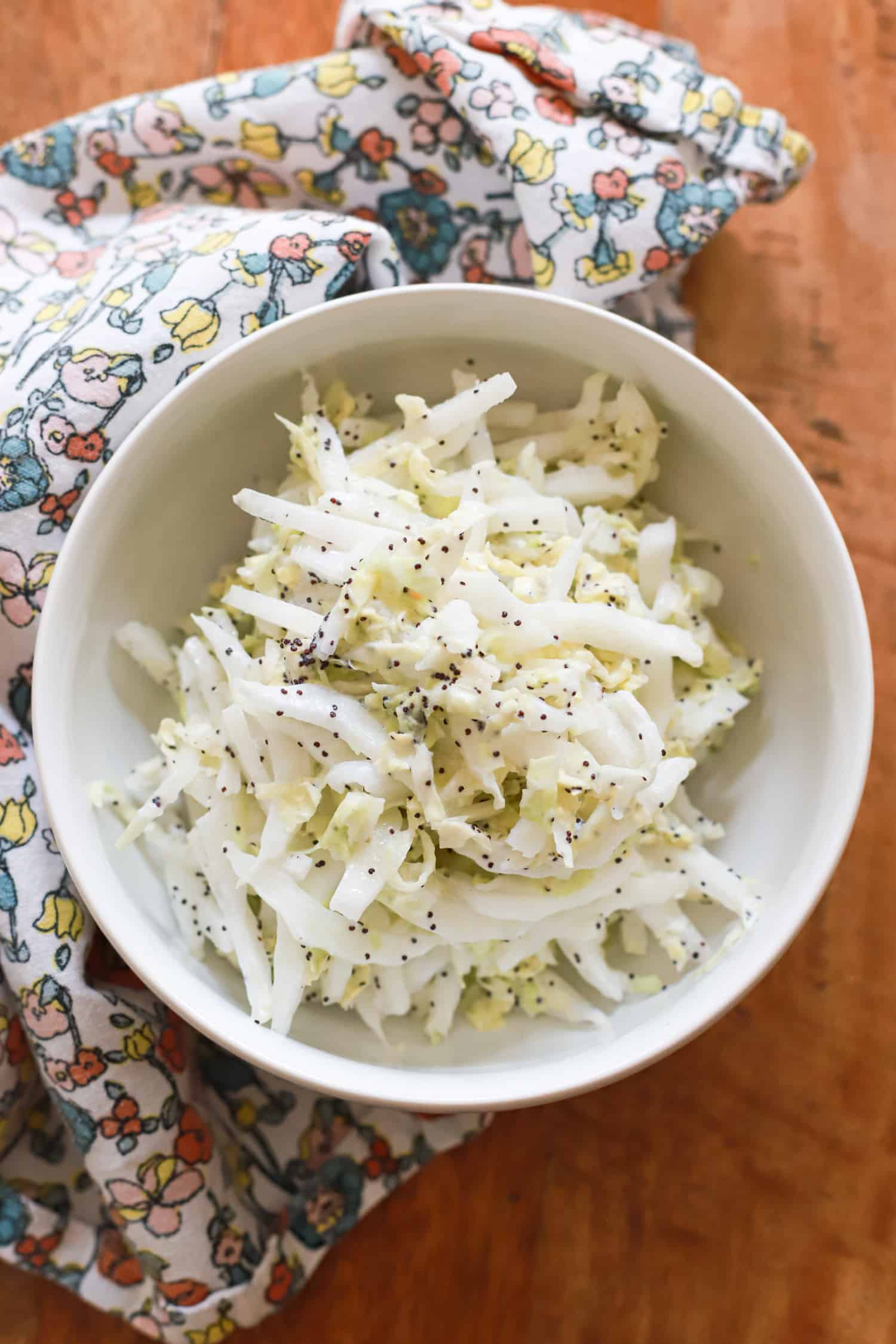 Will has started to do this thing where if he is unsatisfied with something I offer for a snack he gives me a texture clue as to what he really wants. So if he wants yogurt it's "I want something smushy," pretzels "I'm thinking of a cwunchy snack," and so on. It's hilarious, and I have no clue where he came up with it.
BUT, what I'm thrilled he's figured out is this: foods need different textures. So if we're talking about a soft fish taco, some crunchy slaw to top it is exactly the key to wake it up a little bit.
This particular slaw goes with just about anything: on top of BBQ sandwiches, in fish tacos, as a side dish to grilled chicken with corn on the cob. It's great with any cabbage you like, and the dressing is also delicious on green salads!
Poppyseed Dressing Ingredients
Here's what you need for the slaw and yogurt coleslaw dressing:
½ small cabbage - about 3 cups when it's shredded
2 tablespoons plain Greek yogurt (not vanilla!)
2 teaspoons white vinegar
2 teaspoons sugar
½ teaspoon salt
½ teaspoon poppyseeds
Ingredient Notes and Variations
Cabbage: I have made this with all types of cabbage and they're all delicious in their own ways. Napa and Savoy cabbages are a little softer and I only let them sit in the dressing for 15 minutes or so. Red and green cabbages can stand up to a longer marinating time and are nice for making this slaw in advance. I also REALLY like the shredded bagged cabbage from Trader Joe's for making this even quicker.
Creamy Greek Yogurt: I prefer to use full fat plain Greek yogurt in this dressing. Fat free works as well, but the dressing won't be quite as creamy.
You can use mayo or sour cream in place of the Greek yogurt if you like!
If you don't have white vinegar, another neutral vinegar would work: rice vinegar (unseasoned), apple cider vinegar, etc. I'd avoid balsamic or anything with a strong flavor since it will overpower the rest of the dressing.
Spicy Greek Yogurt Coleslaw: To make this spicy, add ½ chopped jalapeno and/or ½ teaspoon cayenne pepper. I love both together for a big kick!
Step By Step Instructions
Super simple! Here's how she goes:
Thinly slice the cabbage (or buy it pre-shredded!).
Whisk together all the other ingredients for the dressing.
Toss, let the slaw sit for a few minutes, serve!
Seriously, that's it. To make this in advance, I like to whisk together the dressing and slice the cabbage, then store them separately in the fridge. Then, I toss the dressing with the cabbage right before I want to serve the slaw.
Meal Prep Pro Tip: When I'm planning my weekly menu, if I know I'm making this slaw I might also use some leftover cabbage to make easy Stewed Cabbage during the same week to use up all the cabbage.
I serve this slaw with so many things, but it's really good as a topping for slow cooker BBQ chicken sandwiches or a side dish for seared salmon. Standing ovation, for me, though, goes to green chicken enchiladas topped with this slaw - it is SO good.
You will seriously LOVE this. It's light, crispy, refreshing, and so simple to make and throw together quickly.
Try this soon the next time you're looking for a no-mayo coleslaw recipe! It's so, so good.
Greek Yogurt Coleslaw with Poppyseed Dressing
Creamy, delicious poppyseed slaw with a Greek yogurt dressing. The crunchy, tangy, sweet slaw that makes just about anything better!
Ingredients
3

cups

cabbage

shredded or very thinly sliced

2

tablespoons

Greek yogurt

2

teaspoons

white vinegar

2

teaspoons

sugar

½

teaspoon

salt

½

teaspoon

poppyseeds
Instructions
In a medium bowl, whisk together the Greek yogurt, vinegar, sugar, salt, and poppyseeds.

Add the cabbage and stir to combine. Let sit for about 10 minutes or so while you prepare the rest of the meal.

If the cabbage releases a lot of liquid, use a small strainer to drain before serving. Serve as desired.
Notes
Cabbage: I use napa or savoy cabbage for this if I have it. Those softer cabbage varieties tend to wilt quickly, so I make this right before serving. To make this slaw in advance, use regular red or green cabbage.
Storage: Leftovers keep well in the fridge for 3-5 days depending on the type of cabbage you are using.
This recipe is gluten free and vegetarian as written.
This recipe was originally published in November 2011 and has been updated with better images and instructions.