Easy pesto rice is the perfect weeknight side dish for summer! Gluten free, buttery, and absolutely delicious. I love making this with store-bought or homemade pesto for a fun addition to plain white rice that is delicious with cast iron skillet salmon and broiled asparagus!
Let us say hello to our favorite 30 minute summer side dish for dinner! Pesto rice. Which is, in fact, exactly what it sounds like: steamy white rice flavored with basil pesto, aka SUMMER RICE.
Let's make summer rice a thing. With butter.
I love rice as a side dish for dinner because it cooks quickly and goes so well with so many flavors. It's also gluten free, which is nice for folks that can't eat gluten - skipping the carb is no fun way to enjoy a dinner, you know?
Adding leftover pesto to rice is a quick and easy way to use up leftover pesto AND add tons of flavor to rice. I love this side dish with summery recipes like this skillet corn and tomatoes or even grilled chicken and veggies.
Pesto rice is delicious for all the dinners, basically.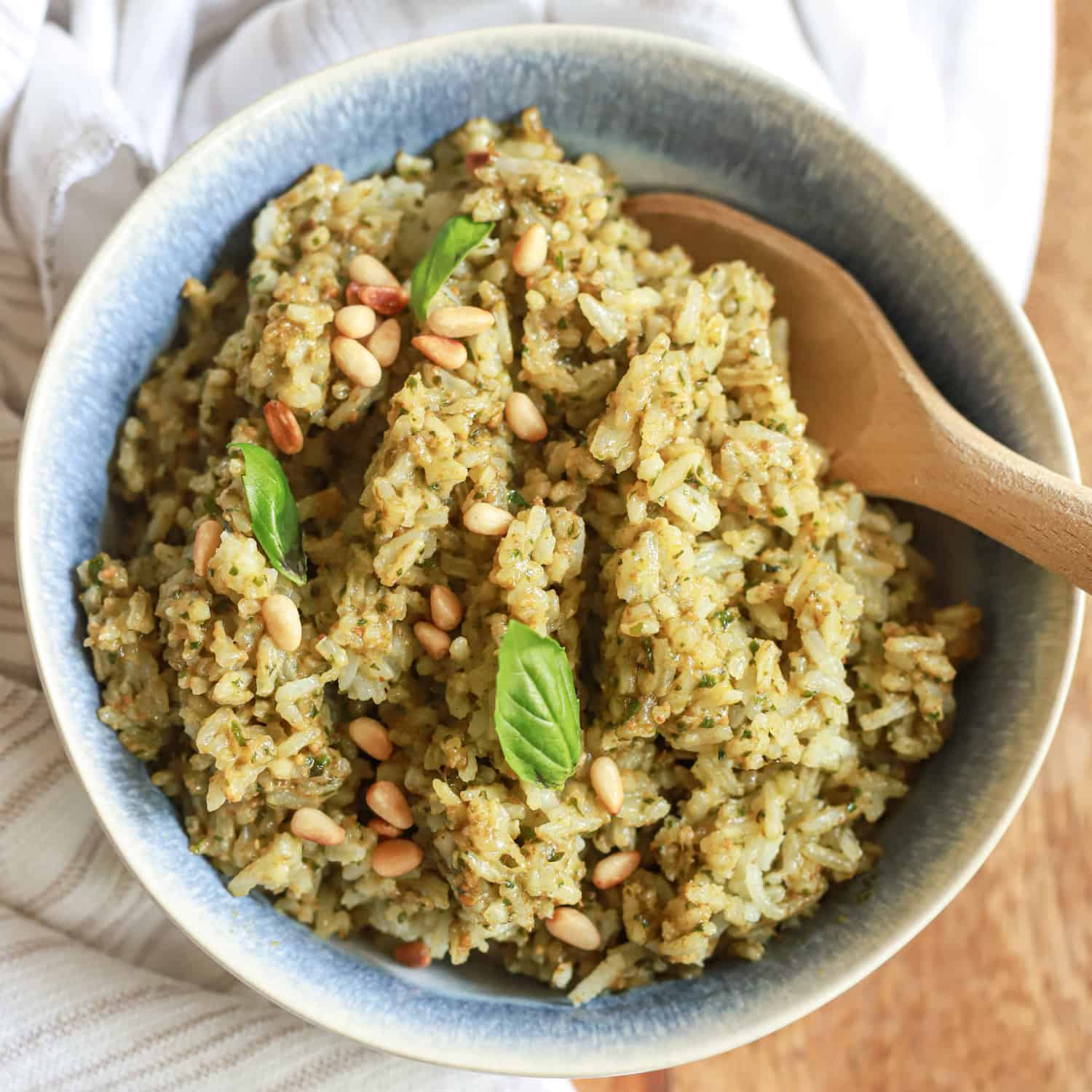 What Pesto is Best for Pesto Rice?
In the summer, I love this with classic basil pesto, but honestly any pesto you have on hand (even sundried tomato pesto!) would be delicious. In the winter, kale pesto would be delicious stirred into rice, and I make this with store-bought pesto all.the.time. No need to make your own unless you really want to!

PS my current favorite store-bought pesto is from Delallo, but lots of stores have their own that are really delicious as well.
Ingredients
For this summery side, you'll need cooked rice, butter, and pesto. I cook the rice with ½ teaspoon of kosher salt for extra flavor, and reheated leftover rice would be perfect for this - a great use-up for old rice, just microwave it to warm it up a bit. That would make this a 5 minute side dish in which case....more and more and more winning.
To the hot rice, add the pesto and give it a stir to incorporate all of the pesto into the rice. Taste the pesto rice at this point and add more salt if needed. I do this when the rice is hot, so work quickly to avoid cold rice.
When the rice is seasoned to your liking, stir in the butter to melt and make the whole dish luscious and unctuous and other -ous words.
And that's it! Extra pine nuts, basil, or parm on top - sure, if you're an overachiever. Mainly, this pesto rice is absolutely delicious on its own with any other dinner components you love.
Variations/Storage/Prep
Use any rice or pesto you like! Brown rice is lovely with the extra chew it adds.
I think this is great as leftovers, kept covered in the fridge for up to 4 days (after that it'll be fine but probably a bit dry).
You can make all or some of this in advance: the rice in advance, the pesto in advance, or the entire dish in advance. It all depends on how much time you have when you're cooking!
For timing, I like to have the pesto done in advance, then cook the rice while I'm making the rest of dinner. Right before serving, I stir in the pesto and the butter and everything is ready almost all at once!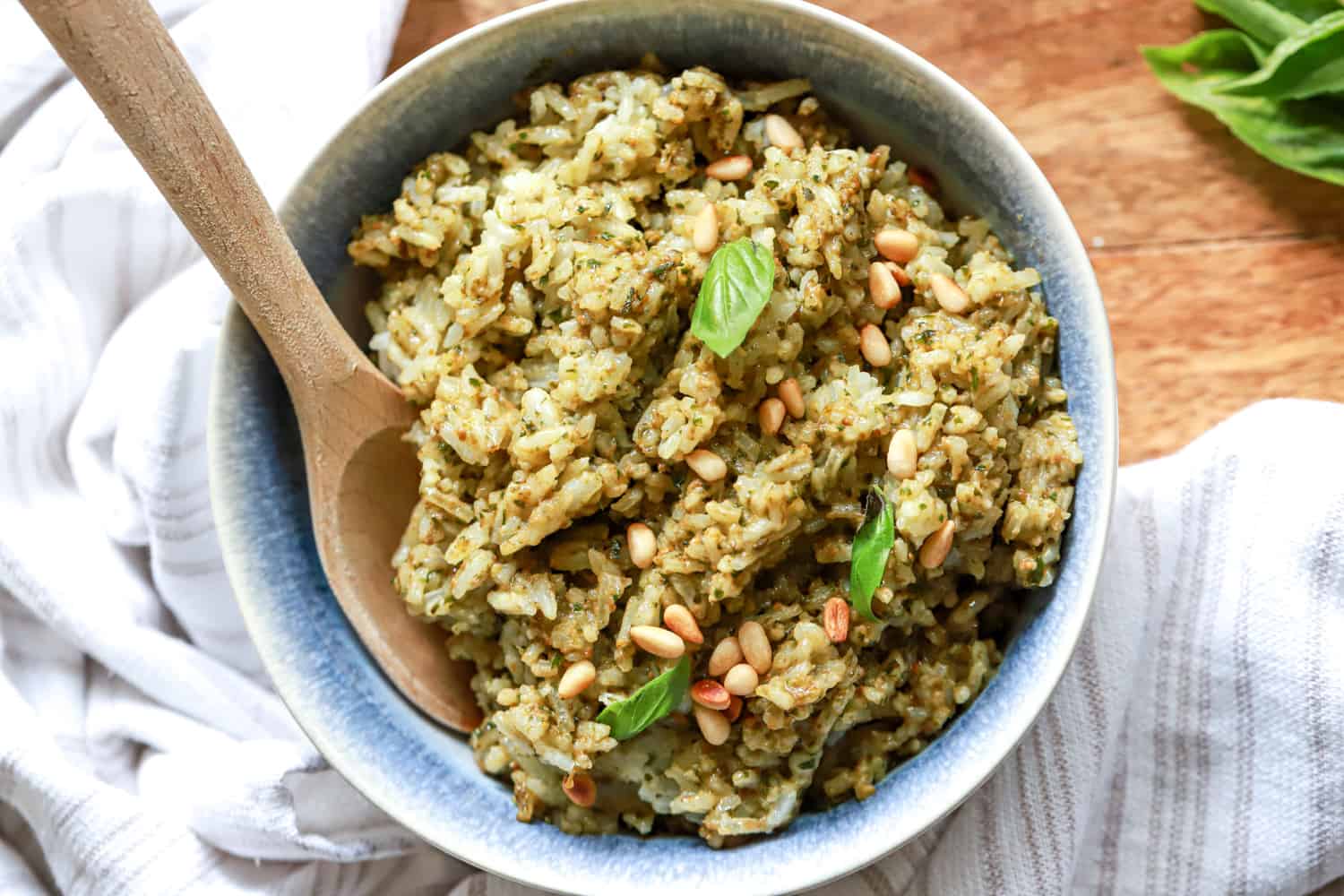 I love this last round of ultra-hot summer days, reminding us "you'll miss me when I'm gone" while some of are more like "don't let the door hitcha..." My basil plant is still going nuts, so my plan for the next few weeks is to make another big batch of pesto and keep it in the freezer for pesto rice all winter long.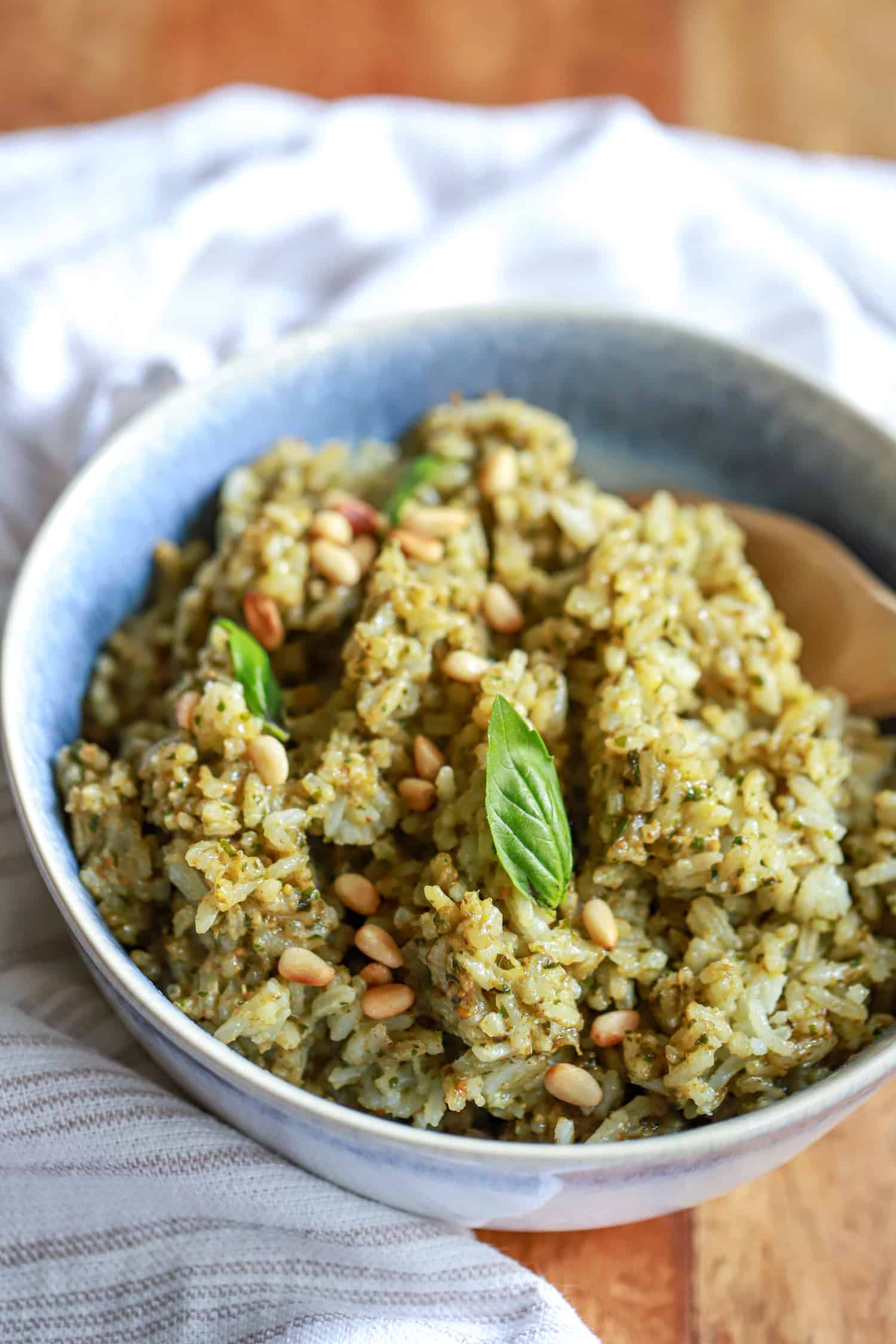 Gluten free, vegetarian, tons of flavor, and super easy to make. I hope you love this!
Pesto Rice
Deeeeelicious pesto rice is the best weeknight side dish! It's gluten free, full of flavor, and done in under half an hour.
Ingredients
3

cups

hot cooked rice

great use for leftovers!

⅓

cup

prepared pesto

2

tablespoons

butter

kosher salt

as needed
Instructions
To prep, cook the rice to package directions or reheat leftover rice.

Stir the pesto into the rice and taste; add salt as needed until the rice is very flavorful.

Stir in the butter and serve with your favorite dinner. YUM.
Notes
Rice: I use 1 cup jasmine rice, cooked to package directions with ½ teaspoon kosher salt for the 3 cups of rice noted in the recipe. Leftover reheated rice also works great!
Pesto: Any pesto including store-bought is delicious with this recipe! In the winter or if you don't have a ton of fresh herbs, I love using kale walnut pesto.