How was your weekend? Did you have a good Easter?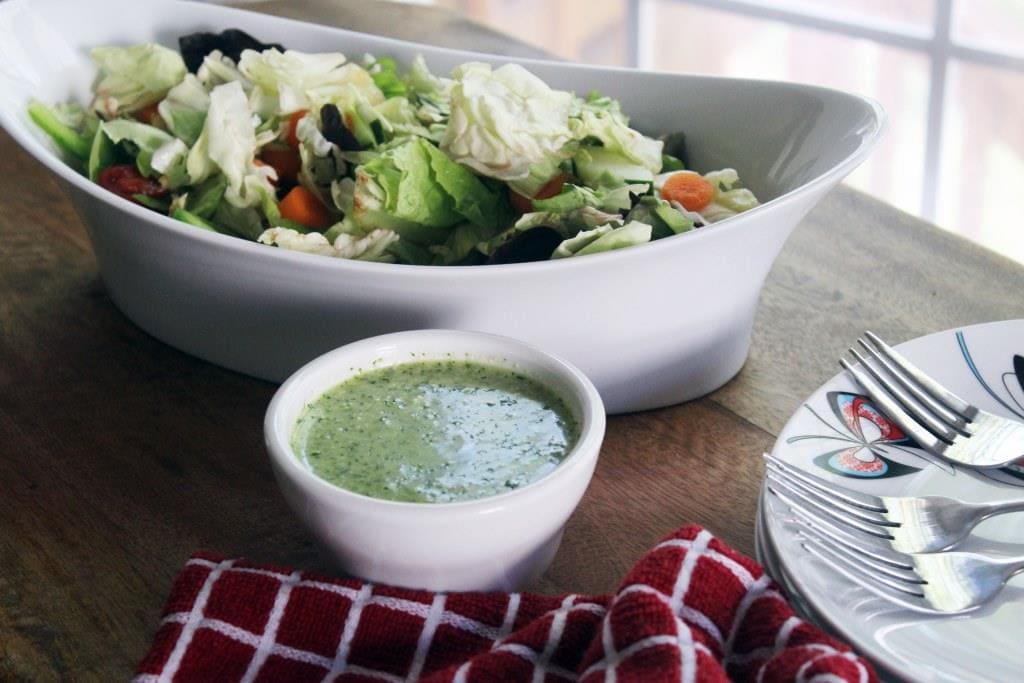 We did all kinds of family stuff, which of course included big meals, so today we're moving to salad. I made this dressing on Saturday for my family, and it was a hit! I made another batch yesterday to have for lunches this week, and YES. Dill and parmesan should always ALWAYS go together.
In other news, my dogs ate 2 vac-sealed bags of Trader Joe's brown rice on Friday, and we payed for that to the tune of 3 three THREE accidents on the floor over the weekend. Kill me.
But this dressing. It's a cinch to make, has great fresh flavor, and is perfect on ANY salad. You've got to try it!
You just need parsley, dill, vinegar, onion powder, garlic powder, olive oil, lemon juice, dijon mustard, and honey.
Add the ingredients to a small food processor, then drizzle in enough olive oil to get a dressing started.
And hey, you can use the stems of the herbs too! They have great flavor and will get all pulverized with the dressing anyway, so don't waste them.
Puree the dressing, and then realize that you forgot the parmesan. Duh. Hence the name of the dressing.
Add some of that in, too.
Whir the dressing around for another few seconds, then taste it. Add more of whatever you think it needs!
Now, serve.
I love making my own dressings because you can make them super flavorful and herby and you can make small batches so that you're always having a new dressing.
Serve this with your favorite salad to lighten up the first part of your week, and enjoy! This one is just delicious.
Parmesan Dill Vinaigrette
Ingredients
½

cup

fresh dill

¼

cup

fresh parsley

½

teaspoon

onion powder

½

teaspoon

garlic powder

1

tablespoon

white vinegar

1

tablespoon

fresh lemon juice

2

tablespoons

grated parmesan cheese

½

cup

olive oil

1

teaspoon

dijon mustard

1

teaspoon

honey
Instructions
Combine all ingredients in a small food processor or blender until pureed. Taste, and adjust seasonings to your preference. Add more olive oil or a splash of water if the dressing is too thick.

Serve with your favorite salad!
Notes
Use the herb stems - they taste great and will get pureed with the rest of the dressing.
Nutrition