One of our absolute favorite weeknight family dinner recipes, this 5-ingredient one pot chicken parmesan pasta is done in about half an hour. If you're looking for easy chicken recipes for dinner with few ingredients, you've come to the right place! For a low carb version of chicken parmesan, my one skillet chicken parm is a forever-favorite with super easy no-knead bread.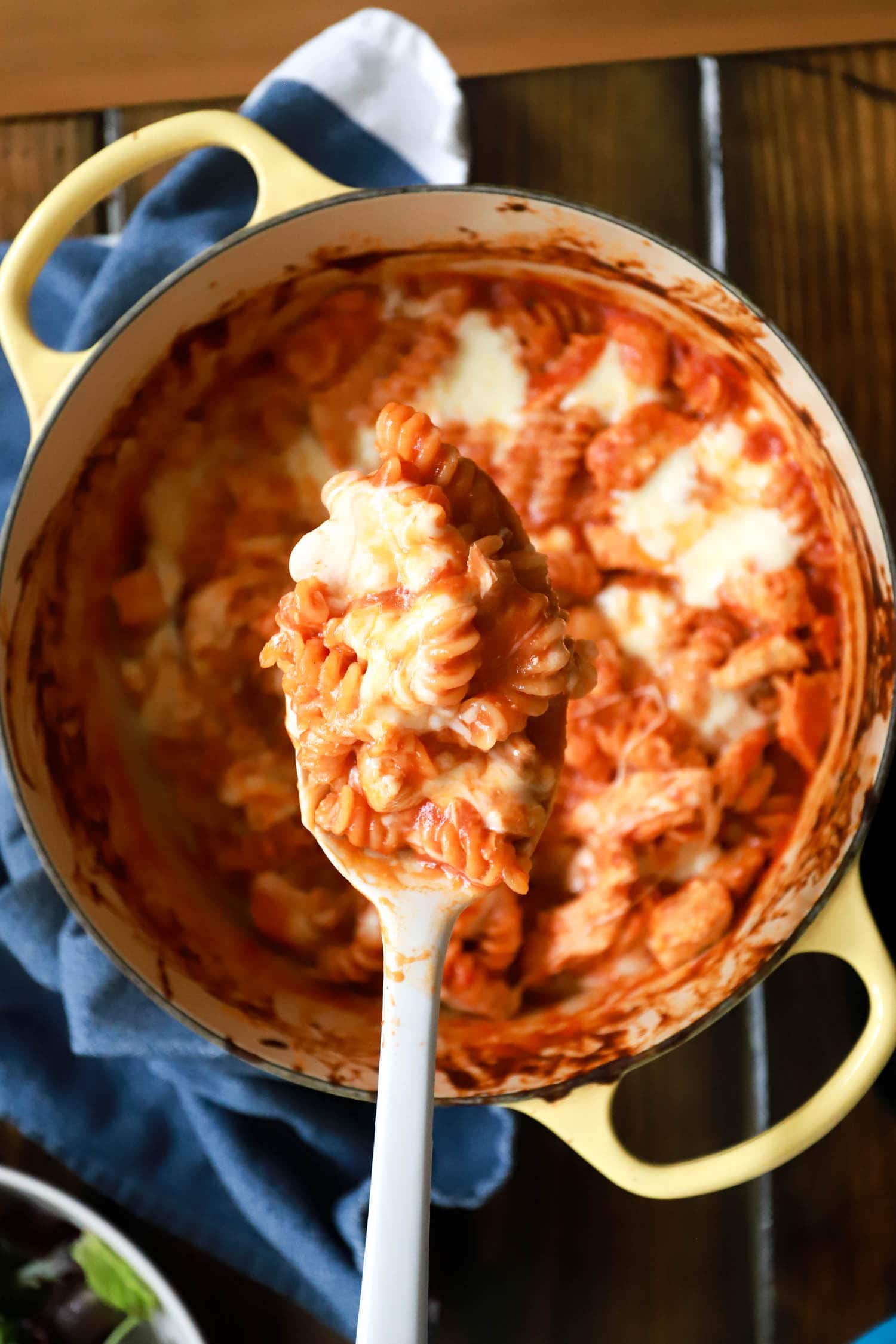 Happy 2021! Don't say it too loudly.
WELL. I was all set with a fun new salad (is it fun, though?) for this week and then...I don't know, pandemic? Storming of the capitol? It seemed like one of those "we need Kate, and we need Leo, and we need them now" moments but with, like, carbs and cheese.
I definitely realize that my LAST recipe was, in fact, a pasta-adjacent recipe in the form of my favorite easy Bolognese, but this is a completely different pasta recipe.
FIRST, we're talking 5 ingredients. Five! One of them is marinara, and I have a great basic homemade marinara that I make all the time and keep in the fridge. However, this is an excellent opportunity for your favorite jarred marinara to really shine in a recipe, so use legit whatever tomato sauce you like.
This is a take on the classic one pot pasta recipes made famous first by Martha, and there are so many yummy ways to make an easy weeknight one pot pasta. FOR ME, one pot is all the better with some protein and cheese thrown in there, and you can absolutely leave the chicken out of this recipe for a vegetarian version.
If you've never made one pot pasta before, it's pretty much....throw in some ingredients with dried pasta and water and cook everything together. Stir. Season. Done.
Healthy Chicken Parm
Here we have! Pasta, a whole pound because we are GOING FOR IT. Chicken, parmesan, mozzarella, marinara, done. I like the block mozzarella in this rather than fresh mozzarella because I think it holds up a little bit better. Sometimes fresh mozz can REALLY melt into a dish like this that is stirred a lot, and that's fine. I just like the big gooey bites of THIS WAS A CUBE OF CHEESE, if that makes sense.
But use any cheese you like and don't think about it too much. Provolone would be delicious.
Let's Make One Pot Chicken Parmesan Pasta!
We're going to cook this in a big pot - likely a dutch oven or anything you'd use to make a whole box of pasta with some room leftover. Add some oil to the skillet, heat to medium-high, cube the chicken, sear.
We want the chicken to get a little brown on each side but it doesn't need to be cooked all the way though since it'll have time to cook while the pasta cooks.
When the chicken is lightly browned, turn the heat DOWN on the pot to medium-low or even low if your stovetop runs hot. While we cook this we want things to be simmering but not scorching the bottom of our pot, right?
No one likes a scorched bottom.
Now. We add pasta, water, marinara. A sprinkle of salt. Stir everything together, close the lid, and let the pasta cook.
NOW, at this point we're going to do the tiniest bit of trial-and-error, only because all pasta is different and I'm lazy and didn't test this with every single brand and shape of pasta in the world.
Sorry.
All we do is cover the chicken/pasta/sauce/water, let it simmer, and stir it every 5 minutes. Just a big stir to scrape the bottom of the pan and not let anything stick, takes 10 seconds.
The pasta will take about 15 minutes total to cook, so stirring twice will be fine. During this time, if the entire pot looks super dry, add another ½ cup of water or even more to keep things saucy.
After 15 minutes taste your pasta. It should be cooked through. If it's not, do the ½ cup water addition again, cover for just 2 minutes, stir, repeat until the pasta is cooked all the way through.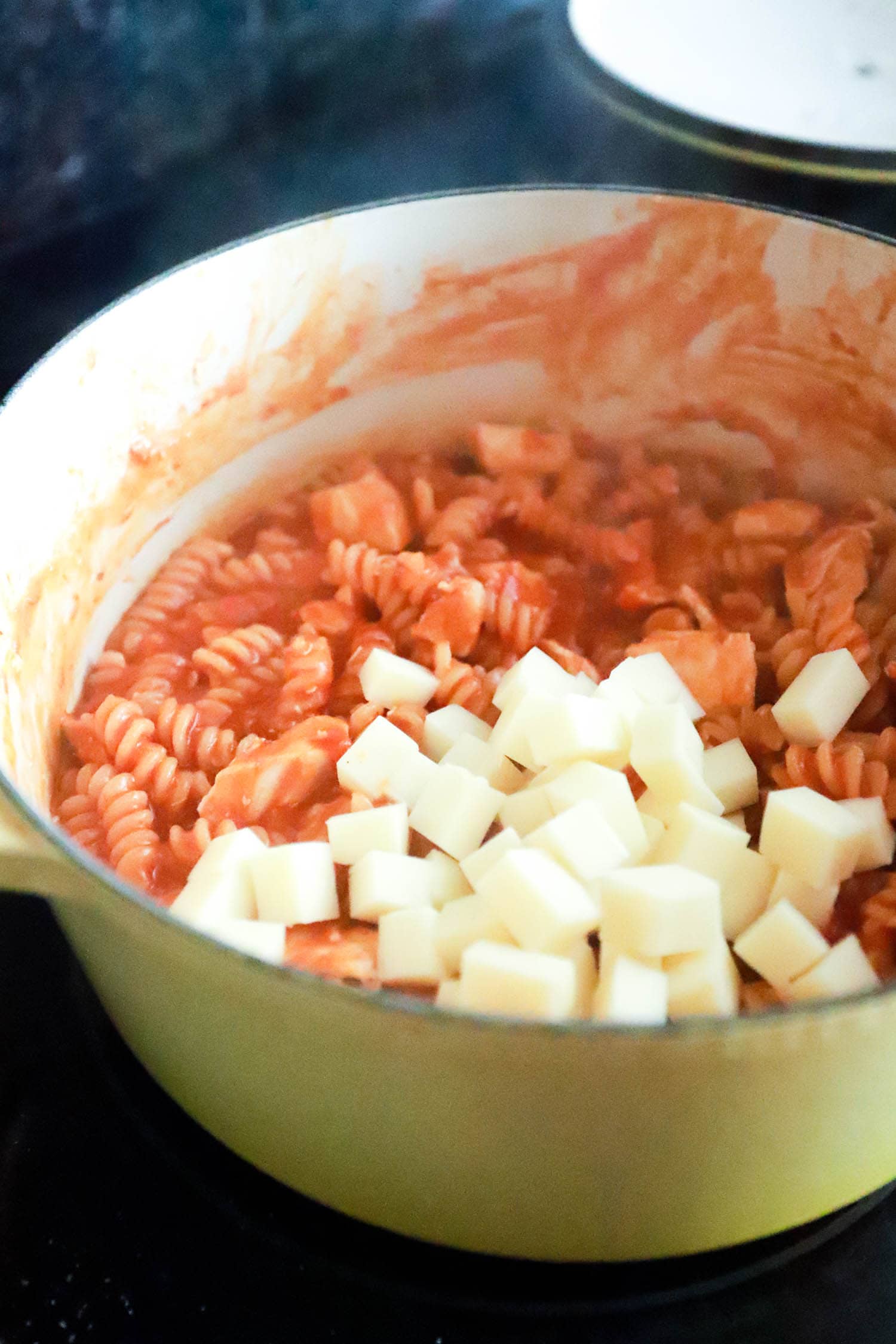 It's easy - your job is to straight up taste pasta until it's cooked to your liking. During this time, add pinches of salt and/or pepper to flavor everything really well! Pasta can usually take a lot of salt, especially of your marinara isn't particularly salty.
When the pasta is cooked, add in the cubed mozzarella. Save a handful or so for the top of the dish. LOOK how creamy the pasta got just from being cooked right in its own starches and stirred a few times. It's kind of the same idea as risotto but in 15 minutes.
NOW, at this point you have a choice. You can stir in the rest of the mozz and parmesan cheese, eat this dish, call it a day.
OR you can put the rest of the cheese on top, broil the pot for 3 minutes or so, and get some crispy browned cheese bits on top of your one pot chicken parmesan pasta.
Obviously we know which route I took.
I mean. Friends. It's so, so simple. Five ingredients that are universally beloved. Half an hour of your time, and this creamy, ooey-gooey, cheesy result that is so worth your time and effort.
Plus this technically makes 8 servings, so it's the perfect pasta for yummy leftovers! Which means this is a meal prep dish.
To serve, a regular greens salad is perfect, or if you'd like a more "I worked for this" feel you could broil some asparagus when you're doing the final broil of the chicken parmesan pasta.
Or you forgo veggies all together and just eat a bowl of this happiness. No matter how you roll, this is a really, really good dish to start our year with.
I hope you love this!
One Pot Chicken Parmesan Pasta
Super yummy one pot chicken parm pasta with just 5 ingredients (fine, six with salt)? Sign. Me. Up.
Ingredients
1

pound

boneless skinless chicken breasts

cubed

1

pound

short cut pasta such as fusilli or bowties

½

teaspoon

kosher salt

plus more if needed

3

cups

marinara

homemade or storebought

8

ounces

block mozzarella cheese

cubed

¼

cup

grated parmesan cheese
Instructions
Preheat a large Dutch oven to medium-high heat with a drizzle of oil. Add the chicken in one layer and brown on both sides with a sprinkle of salt. You may need to do this in batches to not crowd the pan. Don't worry if the chicken isn't all the way cooked through, it'll finish cooking with the pasta.

Preheat the broiler. To the browned chicken, add the pasta, salt, marinara, and 4 cups of water. Stir well to lift any bits from the bottom of the pan, and reduce the heat to low.

Cover the pot and let the pasta simmer for 15 minutes total, stirring every 5 minutes to prevent sticking. The liquid should be bubbling but not boiling very aggressively. Turn the heat down if needed.

After 15 minutes, taste the pasta for doneness. The dish should be saucy but not soupy. If the pasta isn't done, add ½ cup more water, stir, and cover/cook for 2 minutes, repeating as needed until the pasta is cooked through. Add more salt during this time to taste.

When the pasta is cooked through, turn the heat off the stove. Stir ⅔ of the mozzarella cubes into the pasta.

Add the parmesan cheese and the rest of the mozzarella to the top of the chicken parmesan pasta. Broil the dish, uncovered, for about 3 minutes until the cheese is just starting to brown. Devour.
Notes
I love regular block mozzarella for this recipe. Fresh mozzarella works well too, but can blend in a bit more with the pasta and honestly isn't worth the cost when it's being cooked this much.
This pasta can be a little sticky on the bottom of the pot! I don't have a way around this with the starch in the pasta, but stirring every 5 minutes really well helps. There were a few bits stuck on the bottom of my pot, but they came off with less than 10 minutes of soaking in water.
If you don't have a big pot that can go into the oven you can skip the final broiling step; just stir in all of both cheeses and eat!
Favorite Side Dishes: I love this with a greens salad, broiled asparagus, or no-knead bread. Always with the bread, mainly.