For the countdown to Christmas, a super easy no bake chocolate pie recipe! This pie has the best chocolate mousse ever as a filling, a par-baked pie crust, and keeps perfectly in the fridge for several days. I love all kinds of chocolate pies at the holidays (this chocolate chess pie is another huge hit!), and this one is a huge favorite!
Welp. Christmas time is here.
I'm sure everyone in the world is thinking and talking about and writing the same "what a strange holiday" lines, and it's true, everything is strange. It seems like lots of people are kind of used to the strange at this point; we know nothing will be like it is normally but that doesn't stop us from wanting it, at least not for me.
The endless back and forth of hard decisions with no clear answer, hurt feelings, fake news, and on and on and on is getting to us as a culture, and some of the best "answers" I've heard for how Christmas will go down this year is somewhere along the lines of "the same but way less."
This no bake chocolate pie recipe is 100% "the same but way less." It's a really, really good recipe for chocolate pie, and it's really, really easy. There's nothing to do besides bake a pre-made pie crust, whip some cream, add chocolate, and chill while it chills.
I couldn't help myself.
This pie is from Epicurious, changed just a tiny bit to make things simpler. I wanted a really yummy chocolate mousse inside of a pie crust, nothing fancy, no eggs or other squirly raw items, very low effort, very delicious flavor.
This pie is completely all of the things. The hard work of whipping the cream is done by the mixer, then we stir the filling together, ploop it into a baked pie crust, let it hang out in the fridge for several hours. The result is a firm-but-soft mousse, super rich from the chocolate and cream, flaky pie crust, and no joke I made this once and we still had leftovers after a week and they were JUST AS GOOD as the first day this pie was made.
One week pie leftovers are all we need to end this ridiculous year, you know?
No Bake Chocolate Pie Recipe
So, pie! We start with some chopped chocolate, vanilla, and salt. You can use any kind of chocolate you want: non-fancy baking chocolate, fancy bars, chocolate chips, anything that melts.
Heat some cream (we use some to melt the chocolate and whip some for the mousse) in a little pan just to a simmer, then pour it over the chopped chocolate.
Let the cream warm the chocolate, then stir. It'll take a few minutes, but eventually the cream and chocolate will melt together to form a lovely ganache.
(This could definitely be used as a super rich brownie icing and would NOT be gross. It firms up as it chills and just, YES.)
Like so.
Now, let the melted chocolate mixture sit while you whip the rest of the cream with some sugar. Whip the cream until stiff peaks form. Pro tip for how to whip heavy cream: Stick your mixing bowl in the fridge or freezer for 20 minutes and keep everything you're working with super cold. It'll whip a little easier!
For whipped cream, we want it to be stiff/firm (omg) but not separating at all - cream separates if it's overwhipped and turns to butter, so....don't do that. Just keep an eye on it and wait for it to stand up on its own but still look like whipped cream.
When the cream is whipped, we'll add it slowly to the still-warm chocolate mixture. Add about a third of the whipped cream to the melted chocolate, stirring gently until just combined (just fold it in, David).
Now, add the chocolate-with-whipped-cream mixture to the rest of the whipped cream, and fold together again until just combined. The idea is to stir as little as possible so the whipped cream doesn't deflate.
Ploop the filling (technical term) into a baked and cooled pie crust. Toss it in the fridge for 6 hours or overnight uncovered is just fine.
Got some extra chopped chocolate? Toss it on top! Here's a pie.
The easiest chocolate pie recipe ever, full of deep chocolate flavor but no stress because it's super simple and does really well when made a day in advance. The texture, the structure, everything is just really divine here.
No bake chocolate mousse pie, thank you for being here for us.
I hope you get some time off this week, I hope some pie is involved in your life, and I hope the rest of your year is ... well, I hope it's fine, let's be honest.
Enjoy!
Print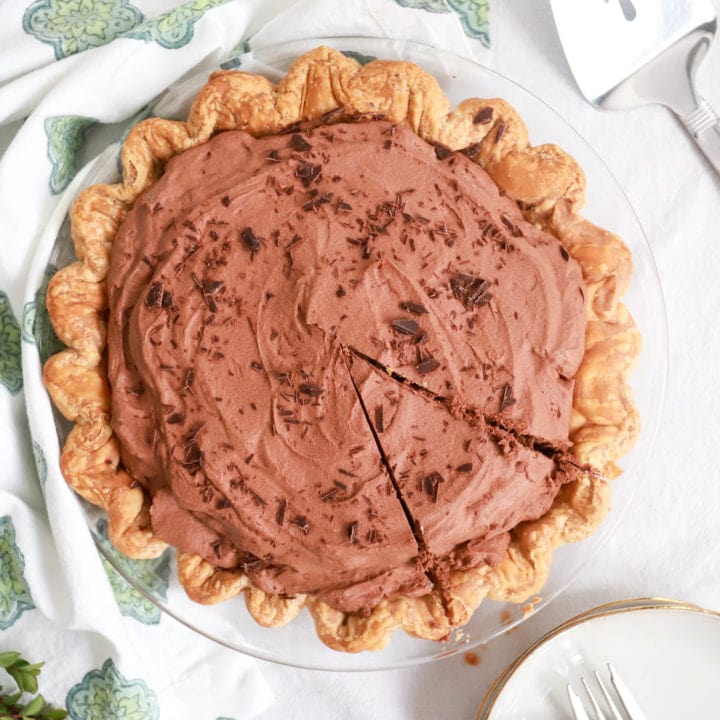 No Bake Chocolate Mousse Pie
---
Total Time:

4 hours, mostly chilling
Description
Super easy no bake chocolate pie with rich egg-free chocolate mousse filling, flaky pie crust, and lots of love.
---
1

pie crust, baked to package directions and cooled

8 ounces

chopped baking chocolate

2 cups

heavy cream

1 teaspoon

vanilla extract

½ teaspoon

kosher salt

¼ cup

granulated sugar
---
Instructions
If not already baked, bake the pie crust to package directions and let cool while you make the chocolate mousse filling.
Combine the chopped chocolate, vanilla, and salt in a heatproof bowl.
In a small saucepan, bring ¾ cup of the heavy cream to a boil. Pour the cream over the chocolate, salt, and vanilla.
Stir gently for several minutes until the chocolate melts and combines with the heavy cream. It will be lumpy and weird at first but keep stirring until the mixture becomes smooth, glossy, and evenly combined. Let the chocolate mixture sit to cool slightly while you whip the cream, stirring every once in awhile so it doesn't harden.
While the chocolate ganache is resting, whip the cream with the sugar (with a whisk or whisk attachment on a mixer) until stiff peaks form. Don't overbeat – once the cream separates you're making butter and need to restart.
When the chocolate mixture has just barely cooled and the cream is whipped, very gently combine about a cup of the whipped cream with the chocolate mixture. Then, combine the chocolate/cream mixture with the rest of the whipped cream (in whichever is the larger bowl), again working very gently until the mixture is combined but still very fluffy.
Scoop the chocolate mousse into the prepared pie crust. Refrigerate for at least 3 hours until set. This is a fabulous dish to make the night before serving to save time and dishes on the day of an event!
Equipment
Notes
To bake an empty pie crust, usually you'll need to fill it with pie weights, dried beans, or similar. The internet can best tell you how to do this, but I line the (frozen, raw) pie crust with foil, fill it with sugar, then bake as directed. Reuse the sugar in baking, put it back in the bag, whatever!
When making whipped cream or anything light/airy (such as angel food cake), the ingredients will whip much easier if all of the ingredients and utensils are very cold. I usually put the bowl I'm going to use and the whisk or mixer attachment in the freezer for 30 minutes or so before whipping the cream for this recipe.
Use any kind of chocolate you like here! I like a 60% dark chocolate bar, but all kinds of baking bars or even fancy chocolate bars are wonderful in this recipe.
Recipe adapted from Epicurious.
Keywords: chocolate mousse pie, chocolate mousse pie recipe, best chocolate mousse recipe, easy chocolate pie, easy chocolate pie recipe, easy french silk pie, easy chocolate cream pie recipe, no bake chocolate pie, no bake chocolate mousse pie, no bake chocolate pie recipe