We've talked before about how I can't spell Moroccan to save my life, right? Two r's every single time and I just can't remember the right way to save my effing life.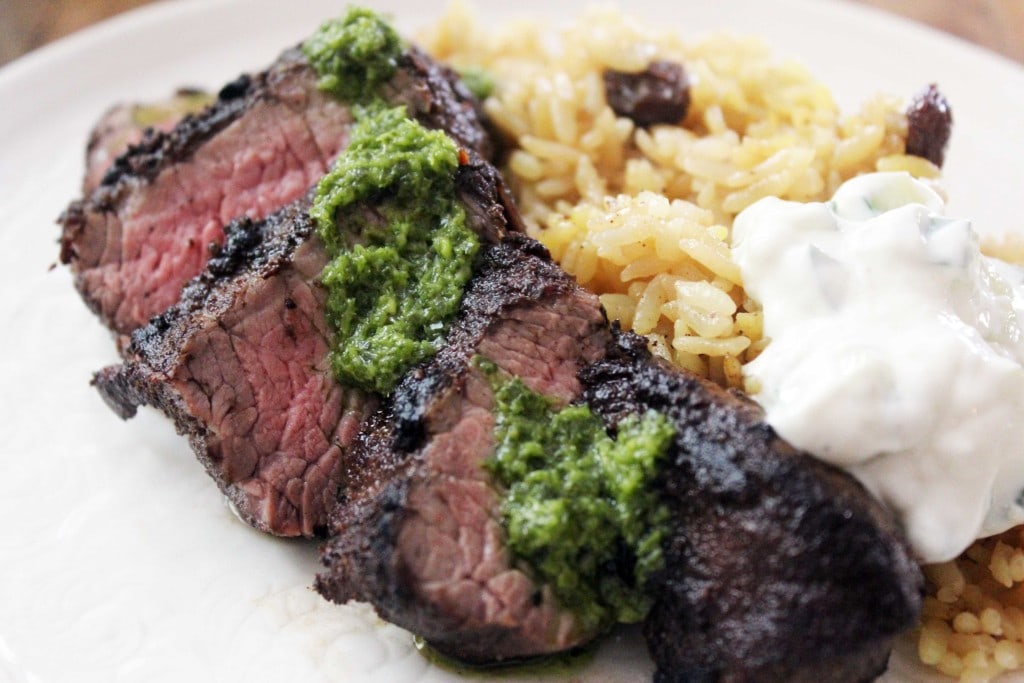 Anyway. It is what it is.
Here's dinner! There's a lot going on here, but you can honestly make this dinner in less than an hour depending on how quickly you can get rice to cook. The components of the meal are really simple and all together are just GOOD. So, you should make them.
That's all.
For the chimichurri you'll need parsley, garlic, olive oil, salt, crushed red pepper, and white vinegar. You can add other herbs like mint or cilantro, but I love this plain version too! Just add everything to a food processor and blend until the chimichurri is super smooth, then taste it! It should be a little salty and a little tangy and a little grassy from the herbs all at once, so adjust the seasonings to your preference.
Then, for the rice you'll need raisins and turmeric in addition to rice. I use a rice cooker to cook mine, but cook the rice any way you like while you prep the rest of the meal.
For the steak you'll need beef of some kind - this is a mock tenderloin which I adore, but any kind of thick steak that you can crust in spices and slice is fine. To season you'll need salt, olive oil, cinnamon, cumin, cayenne pepper, allspice, and ginger. Then we make the yogurt sauce with cucumber, garlic, Greek yogurt, and sugar. Lots of ingredients, but I promise we use them all quickly and simply!
Start the steak by sprinkling all of the spices over the steak. It feels like a lot, but when we slice the steak we'll need all of that flavor.
Then, drizzle the steak with olive oil and rub the spices and oil into the meat. Let it sit while you prepare the rest of the meal (rice, chimichurri, and yogurt sauce).
For the yogurt sauce, combine all the ingredients in a bowl or jar. Taste the sauce, and add more salt or sugar if you'd like. Confession: you know how people are all obsessed with Greek yogurt because it's fat free and so great for you? Ahem. There is a full-fat version that I've used here (I rarely use it, but WHOA) and it is absolutely amazing. Ridiculously rich and just goes great with the spicy steak and tangy chimichurri. If there ever was a time for full-fat yogurt this is definitely it, but that's just me.
Now, when you're ready to cook the steak preheat a skillet or grill pan to medium-high heat with some more olive oil. Or butter! Butter is cool for cooking steaks. We want the pan to be really hot, so let it heat up for a good 5-10 minutes depending on your stove. The oil should be shimmering but not smoking. Add the steak to the hot skillet and cook it on all sides for about 4 minutes per side until the steak reaches your desired temperature. For this round cut I created 4 "sides," so the steak got 10-15 minutes of cooking time. If you'd like to test the temperature, 130F internal temperature is medium-rare.
When the steak is super browned on the outside and done to your liking, let it rest for 10-15 minutes, then slice it up.
When the rice is cooked, give it a nice fluff and a sprinkle of salt.
Assemble plates all pretty-like with the 4 components. Note that there are cucumbers AND parsley on this plate, so it's basically a balanced meal. Heavy on meat and carbs but....that's what prenatal vitamins are for?
This is DELICIOUS, my friends, veg or no veg. The crust on the steak is ridiculously flavorful, and the sauces and rice tie everything together gloriously.
Make this tonight! Or tomorrow. Or Saturday. Just make it.
Moroccan Spiced Steak + Chimichurri + Yogurt Sauce
Ingredients
FOR THE RICE

1

cup

white rice

2

tablespoons

raisins

1

teaspoon

turmeric

FOR THE CHIMICHURRI

1

bunch parsley and stems

or a mix of herbs if you'd prefer!

1

clove

garlic

½

teaspoon

crushed red pepper

2

tablespoons

white vinegar

½

teaspoon

salt

plus more if needed

2

tablespoons

water

¼

cup

olive oil

plus more if needed

FOR THE YOGURT SAUCE

½

cup

Greek yogurt

use a kind with some fat in it if you can

½

Kirby or pickling cucumber

finely chopped

1

clove

garlic

minced or grated

1

pinch

salt

1

teaspoon

sugar

FOR THE STEAK

1

piece

mock tenderloin

about 1 pound, or other steak you enjoy

1

tablespoon

kosher salt

1

teaspoon

ground cinnamon

1

teaspoon

cumin

½

teaspoon

cayenne pepper

½

teaspoon

ground ginger

¼

teaspoon

allspice

olive oil
Instructions
For the rice, cook the rice with the turmeric and raisins to the package directions in water. Fluff with a fork and set aside.

For the chimichurri, combine all ingredients in a blender or food processor and blend until very smooth. If the chimichurri is too thick, add more olive oil and water 1 splash at a time to thin just slightly. Taste, adjust seasonings, and chill until ready to use.

For the yogurt sauce, combine all ingredients in a bowl or jar. Chill until ready to use.

For the steak, sprinkle the spices all over and liberally drizzle with olive oil. Use your fingers to rub the spices into the steak, and let sit for 20 minutes or a few hours if you'd like to do this part in advance.

When ready to cook, preheat a skillet to medium-high heat with some more olive oil. Sear the steak on all sides for about 5 minutes until the steak is charred and the inside is cooked as you desire. Let the steak rest for 10-20 minutes before slicing.

Serve the steak, chimichurri, rice, and yogurt sauce together and DIG IN.
Nutrition