It's the weekend, Monday is a holiday, the sun is SHINING, the birds are CHIRPING....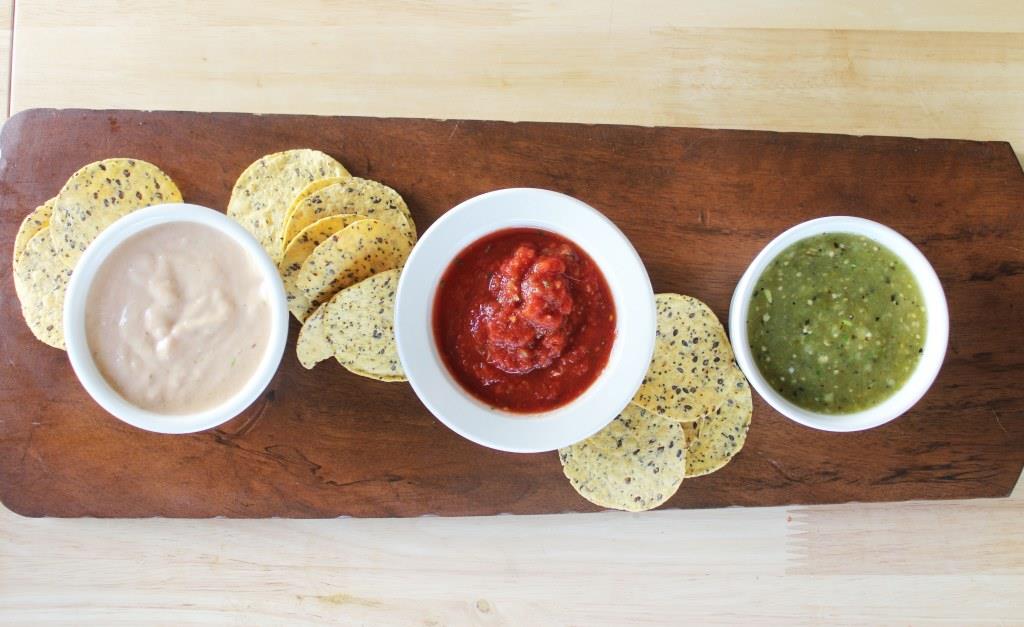 Ok maybe not really all of that, but definitely the Friday and holiday thing, because Cinco de Mayo is DEFINITELY holiday. The fact that it occurs on a Monday is just cruel and unusual, so I vote that we start celebrating tonight.
I have a batch of this chicken all up IN the crock pot right now and it's smelling amazing, and you might want to get on that too.
If you're more the "I'll bring chips" kind, though, I've got the THANG for you. A trio of dips, made with mostly the same ingredients and all three can be done in way less than an hour if you don't get distracted and start watching TV. No? Just me? Whatever.
So we're making three dips: red salsa, roasted salsa verde, and refried bean hummus. They all are perfect with all the Mexican foods, and especially great for this weekend. The original posts are linked back there, and the recipes are separate below in case you just want to make one or two of these, but you REALLY should make them all at the same time because so many of the ingredients are the same and they go so nicely together! So, the recipes are separate below but the pictures here have the steps for all three all at the same time. The beauty of these dips is that there is hardly any chopping - you just throw everything in the food processor and go to town. For all of the dips you'll need olive oil, onion, garlic, lime, and jalapeno. Then for the salsa you add tomatoes, hummus pinto beans, and honey and tomatillos for the green salsa. You can also add cilantro to ANY of these - I do about half the time depending on whether or not I own cilantro at that point.
Then, seasonings! It's easy: salt, cumin, chili powder, and cayenne pepper go into all three of these in some capacity. They're also the same flavors used for tacos, burritos, red rice....you get the gist.
We'll start by prepping the veggies that need a little cooking. Peel and rinse the tomatillos, first.
Then, place the tomatillos on a baking sheet with some of the garlic, jalapenos, and onion. We reserve 1 pepper, 1 clove of garlic, and a chunk of onion for the red salsa.
Everything else goes under the broiler for 7 or so minutes, then gets flipped, then we repeat until everything is juicy and charred. Watch the veggies so they char but don't burn too much, then remove them from the oven to cool.
While the veggies cool, add the tomatoes and the rest of the salsa ingredients to a food processor or blender, and whir it up! Taste, adjust salt and spice levels, and put it in a pretty dish or jar.
Now, since the flavors are all so similar here I just rinse out the bowl of the food processor and move on to the next dip. Salsa verde is next! Same thing: whir, taste, bowl, rinse.
Then, the remaining ingredients are used to make the refried bean hummus. Yum.
Guys, the end, really. I love me some grainy chips with these three dips, and a corona is just the icing on the savory cake, amirite?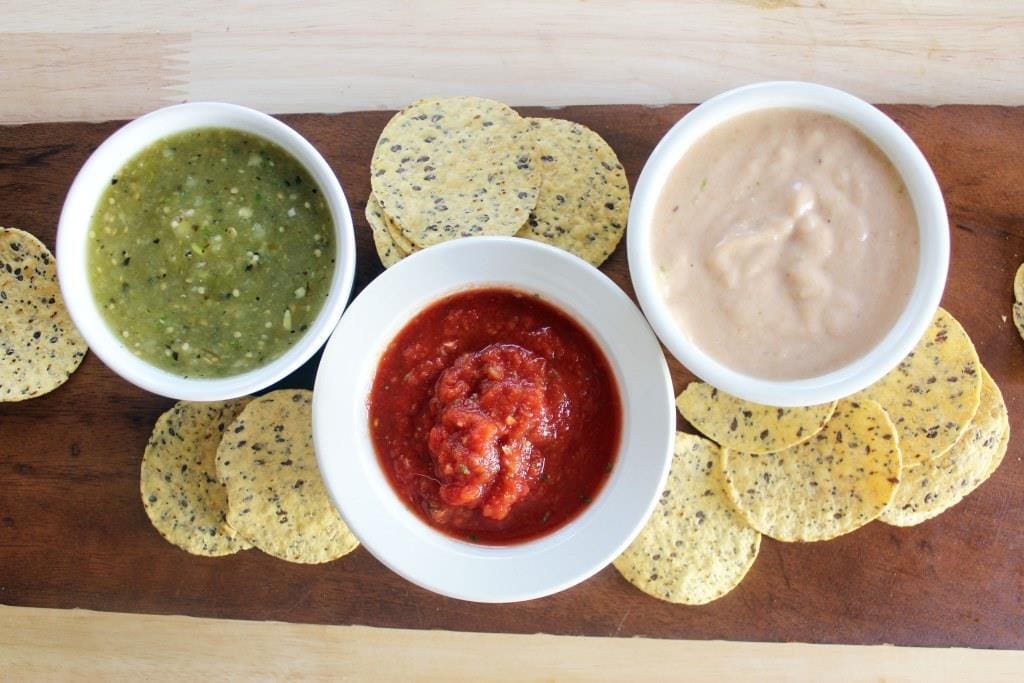 Salsa.
Salsa verde.
Refried Bean Hummus. All vegan, all delicious, all easy peasy to make.
Weekend. Go. (ole)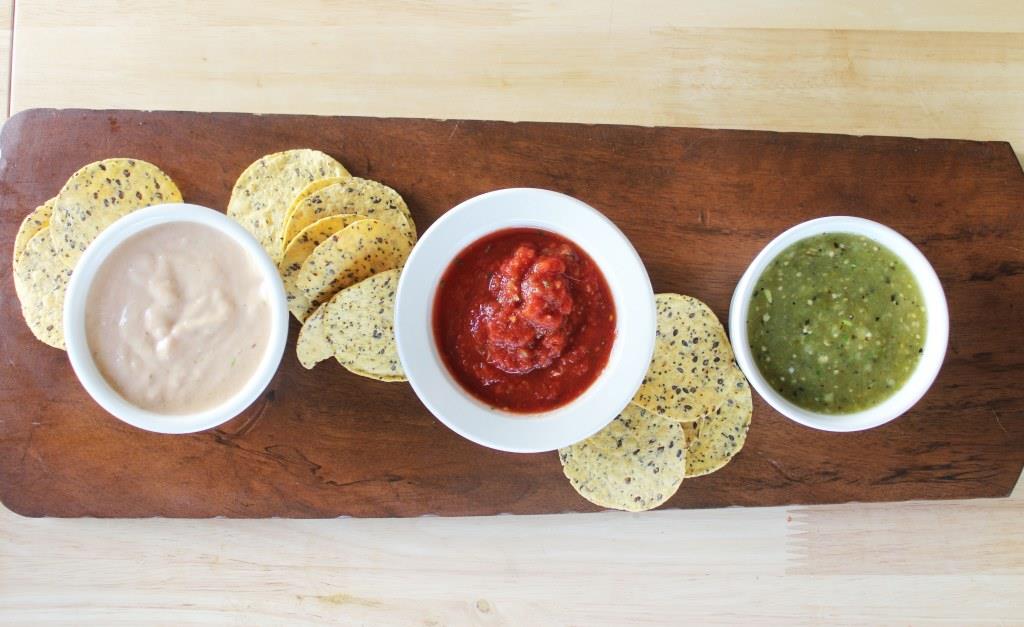 Mexican Dip Trio
Ingredients
FOR THE SALSA
28

ounces

canned diced tomatoes

juice of 1 lime

1

clove

garlic

1

chunk onion

about ¼ small onion

1

jalapeno

seeded if you don't like things too spicy

½

teaspoon

chili powder

½

teaspoon

cumin

salt

to taste

cayenne pepper

to taste

1

tablespoon

olive oil

cilantro

if desired
FOR THE SALSA VERDE
7-8

fresh tomatillos

husks removed and rinsed

1

serrano or jalapeno pepper

stem removed

1

clove

garlic

peeled

½

small onion

¼

cup

fresh cilantro leaves

1

teaspoon

honey

1

tablespoon

olive oil

1

teaspoon

lime juice

salt

to taste

FOR THE REFRIED BEAN HUMMUS

28

ounces

canned pinto beans

lightly drained

1

jalapeno

halved and seeded to avoid too much spice if desired

1

clove

garlic

unpeeled

1

small onion

peeled and halved

1

lime

zested

⅓

cup

olive oil

½

teaspoon

cumin

salt

to taste

tortilla chips

for serving
Instructions
For the red salsa, combine all the ingredients in a food processor or blender, then taste and adjust seasonings to your liking. If using cilantro, start with about 1 tablespoon fresh leaves and add from there to your taste.

For the hummus and salsa verde, preheat the broiler to high and place the tomatillos, remaining onion, garlic, and jalapenos on a baking sheet lined with parchment paper. Broil on both sides until charred and juicy. Add the salsa verde ingredients with any accumulated juices to the food processor, then pulse, taste, and set aside. Add the refried bean hummus ingredients to the empty food processor, pulse, taste, and set aside.

Enjoy one or three dips all together. Enjoy!
Notes
I make these all together, but of course you could make them one at a time!
For all three of these dips, 1 medium onion is fine: ½ for the hummus, 1 small chunk for the red salsa, and the rest (a little more than ¼) for the salsa verde.
Nutrition