Meal prep chicken grain bowls with all of your favorite toppings! We're going super easy for meal prep with one dressing for the chicken marinade and salad, a few chopped veggies, and lots and lots of time saved during the week now that your meal prep lunches are made!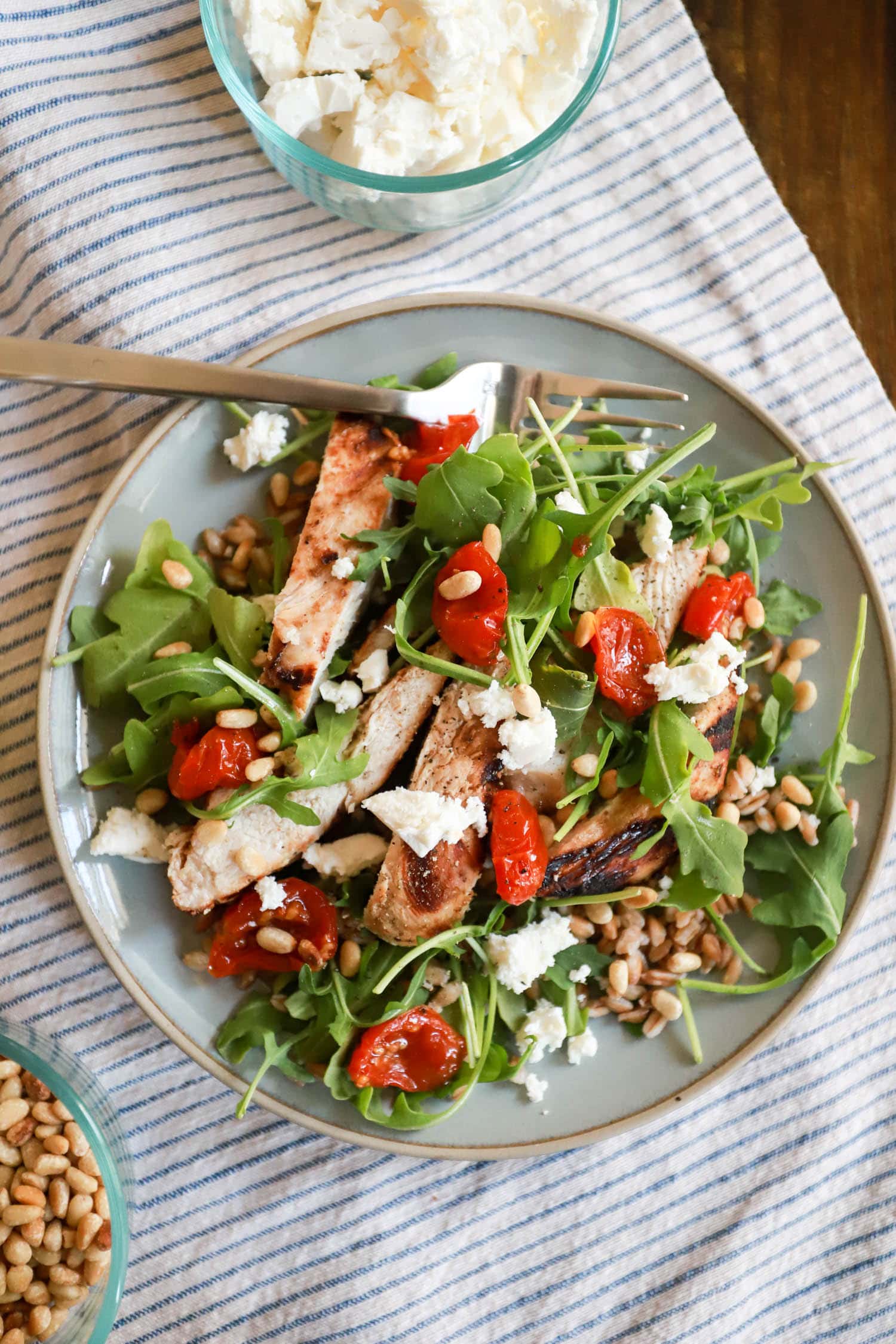 Mmmmmmm meal prep ideas for lunch, aka something I think about almost every week. It's been one of the hardest things about quarantine for me; very few opportunities to leave the house for lunch and very little desire to have leftovers since we cook 7 dinners per week now too.
So, after about 6 months (seriously) of whining about this at the beginning of the pandemic, we decided to try to make one make ahead lunch thing every week. Sometimes it's "I boiled some eggs, that counts," and other times it's Mediterranean Tuna Salad + some washed lettuce, also totally counts.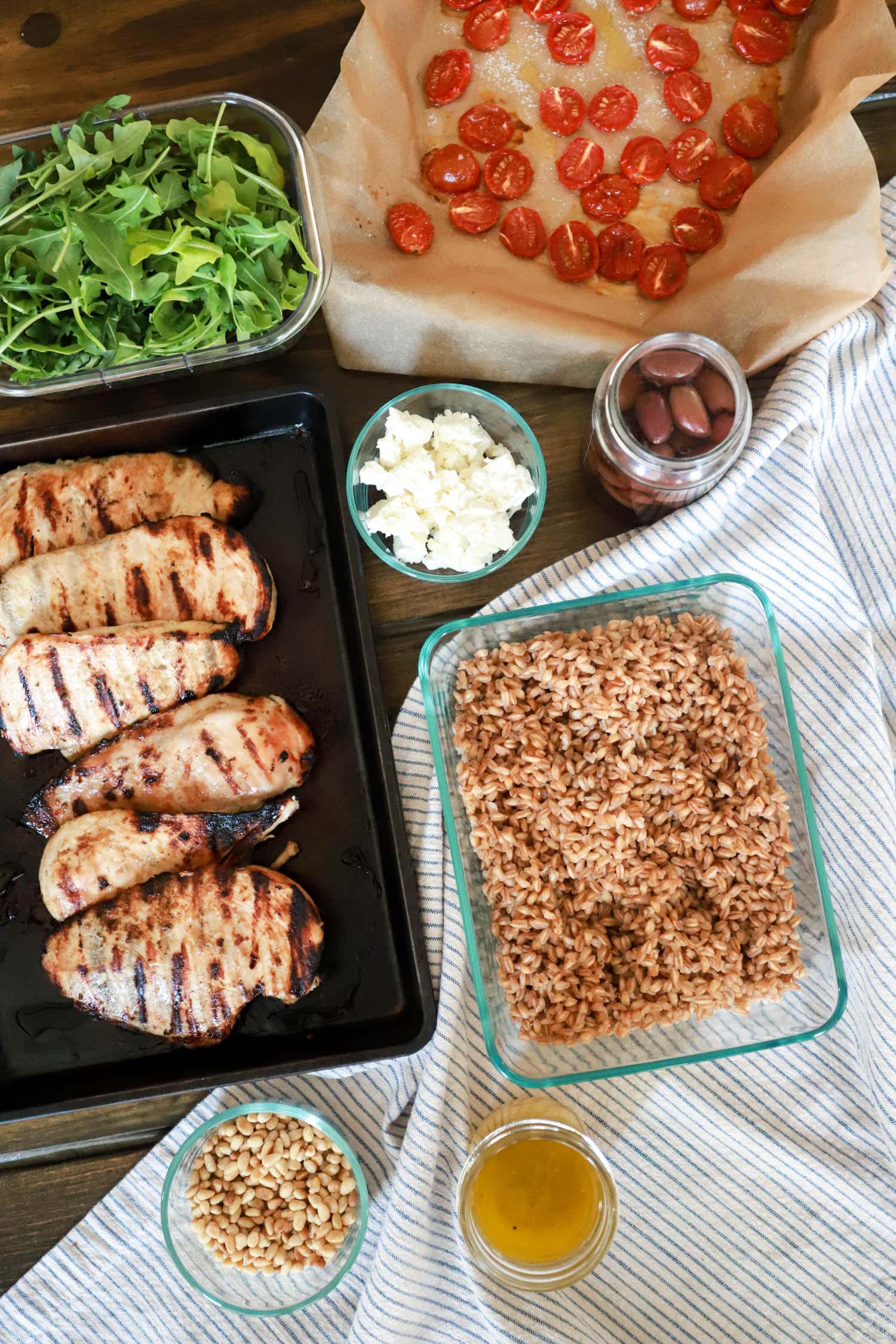 SOMETIMES, though, I have my entire act together all at once and make something a little more involved, like these meal prep chicken grain bowls. These were inspired by Jessica's slow roasted tomato salad, something we've made a ton over the last year - especially last summer with grilled chicken on top.
I wanted those flavors: lemony dressing, slow roasted tomatoes, feta cheese, but with the oomph of grilled chicken, leafy greens, and all tucked up together for meal prep.
This is one of those meal prep ideas for lunch that I get excited about, basically.
SO. There are tons of notes below, but the basic suggestion is this: make the dressing, use anything else you like. If you're vegetarian, you can use the dressing as a marinade and bake some tofu like I do here. You can use any greens or grains you like, any salad toppings you have on hand.
What Does Farro Taste Like?
If you've never had farro, it's a lot like bulgar, to me. Sort of like a thicker piece of oatmeal meets a big brown rice grain. The flavor is mild, like rice, and I cook it in water with about half a teaspoon of salt. Every package is a little different, so I just follow the instructions on the package for how to cook farro.

I love farro for these grain bowl lunches because it's chewy, never mushy, holds up well, and is really really yummy tossed in this sweet and tangy lemon vinaigrette. I buy the 10-minute farro from Trader Joe's and keep a little bag on hand at all times.

Is Farro Gluten Free?
Nope. It's a wheat product, whomp whomp. BUT, you can 100% substitute any gluten free product you like - quinoa or brown rice or even a gluten free wild rice blend would be great in these grain bowls.
The main components to these meal prep grain bowls are: the dressing, the grains, the chicken, the tomatoes. Anything else is totally optional and you can prep as few or as many ingredients as you'd like.
I can get this entire meal prepped in about an hour if I start with the longest cooking stuff (tomatoes) and get everything else done while the tomatoes are working. When everything is done, let it cool completely before you pack it up.
Here's My Meal Prep Timeline:
Start the slow-roasted tomatoes.
Make the dressing.
Pour half the dressing on the chicken to marinate.
Boil your grain of choice. I love the 10 minute farro from Trader Joe's. After cooking, allow the farro to cool and toss with ½ teaspoon salt and 1 tablespoon olive oil.
Chop veggies, toast nuts in a dry skillet, and prepare any other salad ingredients.
Cook chicken however you'd like – grill, broil, or pan-searing all work great. Right before cooking, sprinkle with salt and pepper.
Remove tomatoes from the oven (this might happen earlier in this list; set a timer!).
Let everything cool, then package in lunches or keep components separately to build your grain bowl when you're ready to eat.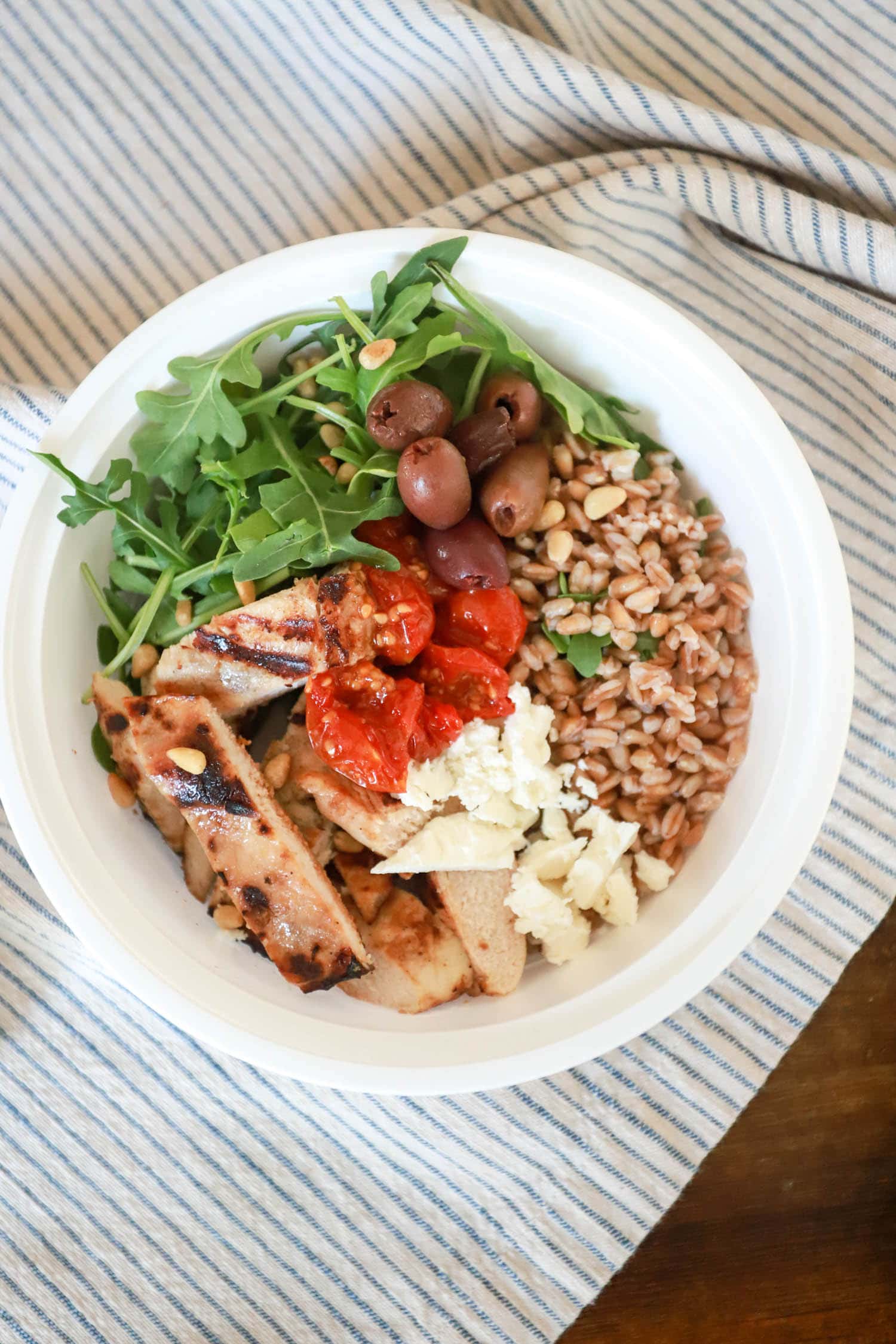 Now, you can prep the prep and make the dressing way in advance, roast the tomatoes at any time, or prep a bunch of salad veggies at a different time and then use them in this meal prep.
I package this meal prep chicken situation based on what we're doing. If Jay is going into the office I make whole lunches with little containers of dressing. If we're both going to be home all week I store all of the components separately and we build our grain bowls on regular dishes at lunchtime.
More Grain Bowls and Rice Bowls
Also, pro tip, we save any sturdy takeout containers and use them for lunches so that no one has to take heavy glass stuff out of the house. We also use them as giveaway containers when we are sending home leftovers with friends or making these grain bowls as a gift - they're great for new parents!
The lemon garlic vinaigrette is so, so good here. The sweet/tart/garlic combo is one of my favorites and having the dressing cooked on the chicken and raw on the farro salad is such a treat.
I'm telling you, having all of this stuff prepped for the week reallllly gets us off on the right foot. It doesn't happen all of the time, but when it does I'm always glad to have this for lunch. It's like Panera at home, well done us. Enjoy these!
Meal Prep Chicken Grain Bowls
Lemony dressing that doubles as a chicken marinade, chewy farro, grilled chicken that is delicious all week for lunches. Your at home lunch situation just got a million times better!
Ingredients
Lemon Vinaigrette and Chicken Marinade
1 ½

lemons

juiced

3

tablespoons

rice vinegar

unseasoned

2

tablespoons

honey

4

cloves

garlic

minced

1

teaspoon

kosher salt + a few grinds of pepper

½

cup

olive oil
Slow Roasted Tomatoes
1

pint

cherry tomatoes

halved

½

teaspoon

kosher salt

½

teaspoon

sugar

1

tablespoon

olive oil
Farro Grain Bowls
2 ½

pounds

thin-cut chicken breasts or chicken tenders

3

cups

cooked farro or grain of choice

cooled

8

cups

salad greens

toppings: ¼-1/2 cup of any you like: chopped bell peppers

chopped cucumbers, torn fresh herbs, crumbled feta or goat cheese, olives, toasted pine nuts, sliced pickled onion.
Instructions
Dressing: Combine all of the ingredients in a glass jar or bowl and shake or whisk to combine. Taste, and add a bit more salt and pepper to your preference.

Tomatoes: Preheat the oven to 300F. Arrange the tomatoes on a baking sheet. Drizzle with the olive oil and sprinkle with the salt and sugar. Roast the tomatoes for 1 hour or until slightly shriveled. Let cool, then assemble into meal prep bowls.

Chicken: marinate the chicken in half of the dressing for 15-30 minutes. Grill or pan sear for about 4 minutes on each side until just cooked through. Let rest and slice.

Bowls: Once each ingredient is prepped and cooled, store ingredients separately to build bowls at mealtime OR assemble individual bowls and store in the fridge for quick grab-and-go meal prep lunches. Store the dressing separately and drizzle on the grain bowls right before eating.
Notes
Vinegar: I like rice vinegar here for the mild flavor, but red wine vinegar or apple cider vinegar work great as well!
Salt: If you have table salt or fine sea salt instead of kosher salt, halve the amount of salt listed, then taste for seasoning and add more to your preference.
Tomatoes: I love to use these stirred into pasta or smeared on bread for snacking. They keep great in the fridge too!
The ingredients listed here are mostly suggestions. Feel free to use any grain you like, add more chopped veggies, omit the olives, add sundried tomatoes or any other ingredients you love. Making these bowls differently each time is part of the fun!
I find that these bowls are the most delicious with the dressing, chicken, farro, tomatoes, greens, and two or three other toppings/add-ins.
Prep the prep: The salad dressing here keeps great in the fridge for a week or more; feel free to double this and keep using it on other salads or drizzled over roasted veggies.