One of our favorite vegan mushrooms, these vegan marinated mushrooms are SO YUMMY and the perfect vegan appetizer to add to a party spread! They have just a few pantry ingredients and are done in 30 minutes, but last for weeks in the fridge!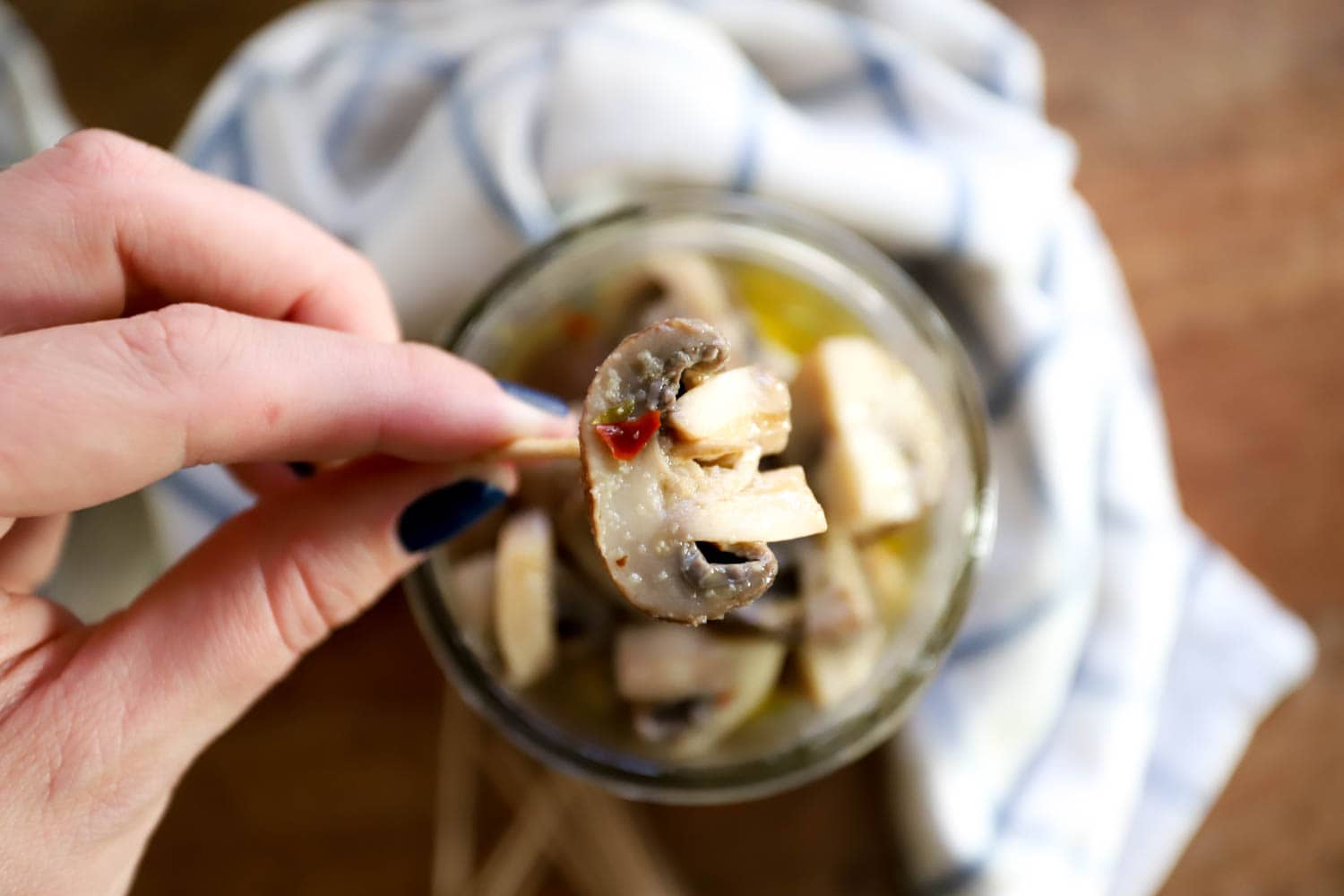 I. Love. Mushrooms. Like, a lot a lot.
These mushrooms in particular will always and forever remind me of Christmas, even though my family never had them. I think this is a total throwback recipe, 80's or 90's or something - did you eat these as a kid? My next door neighbors in Japan made these for almost every holiday, and I LOVED them. I think they used Italian dressing and canned mushrooms, no shame in that game, and the chewy mushroom in the tangy vinaigrette was just my favorite thing ever.
I'm all about anything tangy or pickled, and I think these are such a great addition to a holiday party. They're so light and bright and a perfect complement to the heavier dishes that we have this time of year. I like having them as part of an appetizer spread with some pimento cheese or buffalo chicken dip; they're vegan and gluten free so everyone can enjoy them.
Ingredients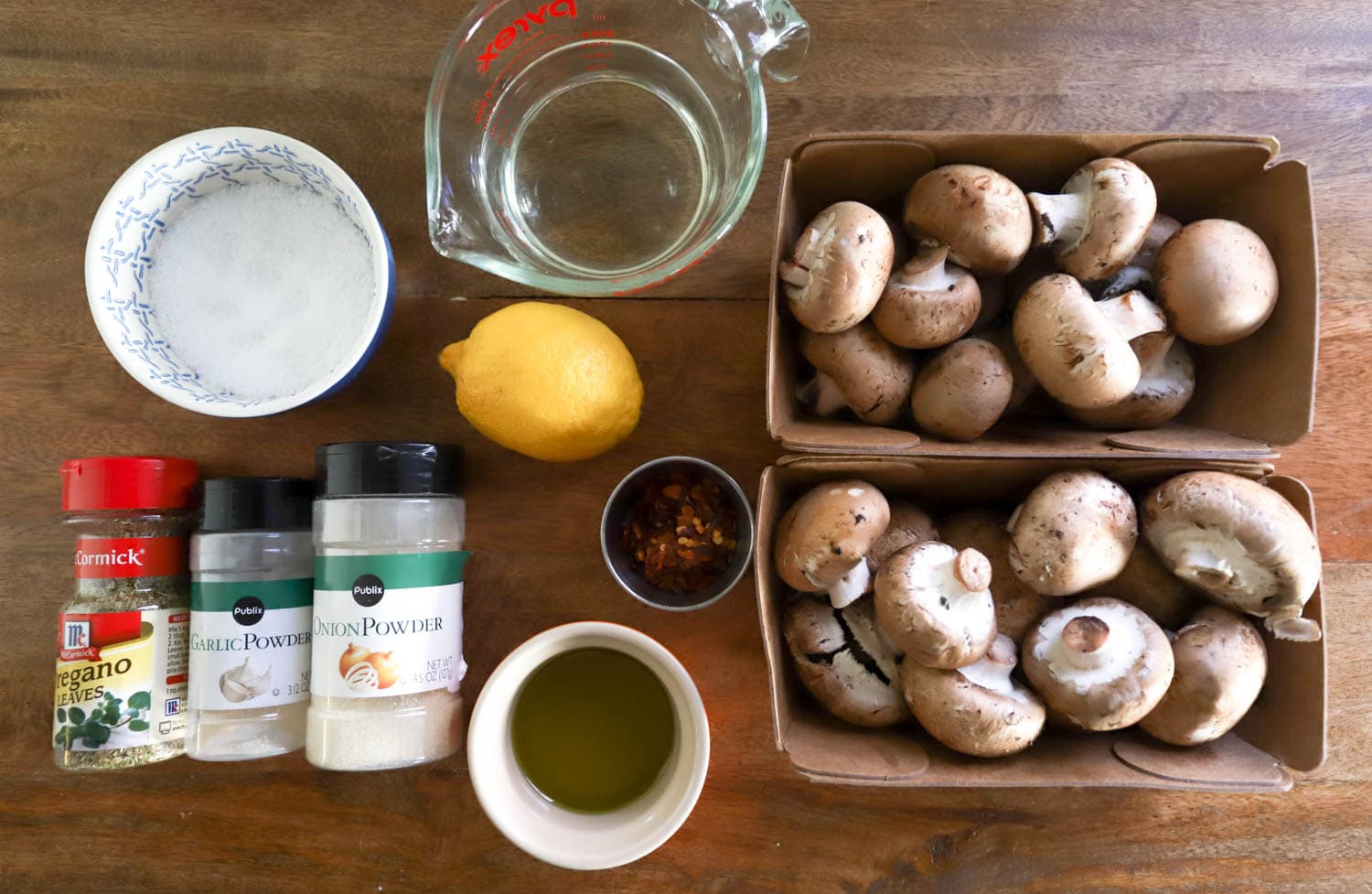 You need mushrooms, duh. They get boiled first in water and white vinegar. Then the marinade is lemon juice, olive oil, crushed red pepper, salt, garlic powder, onion powder, and oregano. So simple and flavorful!
When I was researching recipes for this I saw a bunch of methods that used fresh garlic and herbs and involved a lot more steps. I think those things would be delicious too, but these were phenomenal with just pantry items.
For the mushrooms, you can use white mushrooms, cremini (what I have in these pictures), or even a fancy blend of some sort. Any mushrooms you like are delicious here.
Step By Step Instructions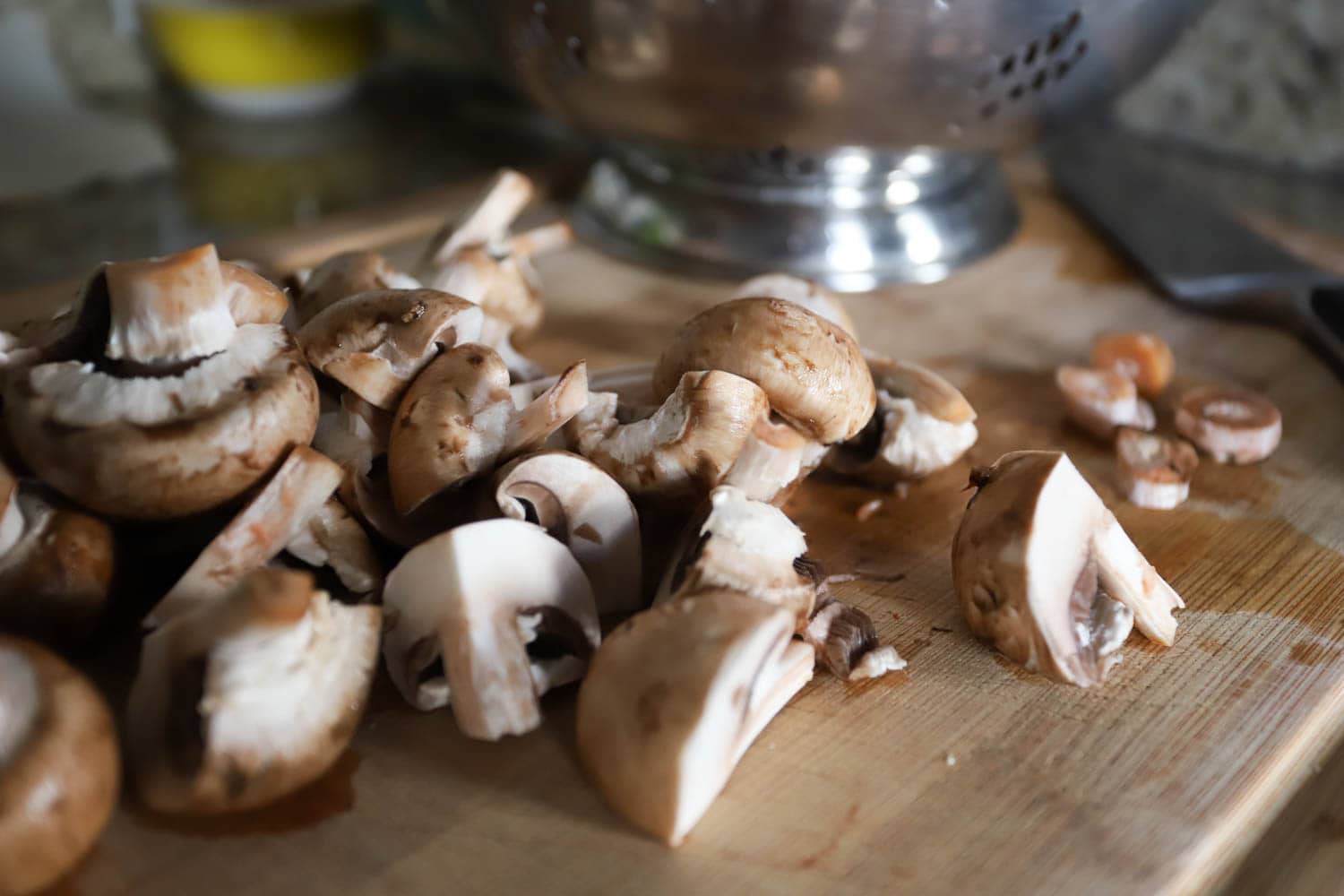 First, bring the water and vinegar to a boil and cut the mushrooms into bite-sized pieces. I leave smaller mushrooms whole and cut the rest into halves or quarters so they are all about the same size.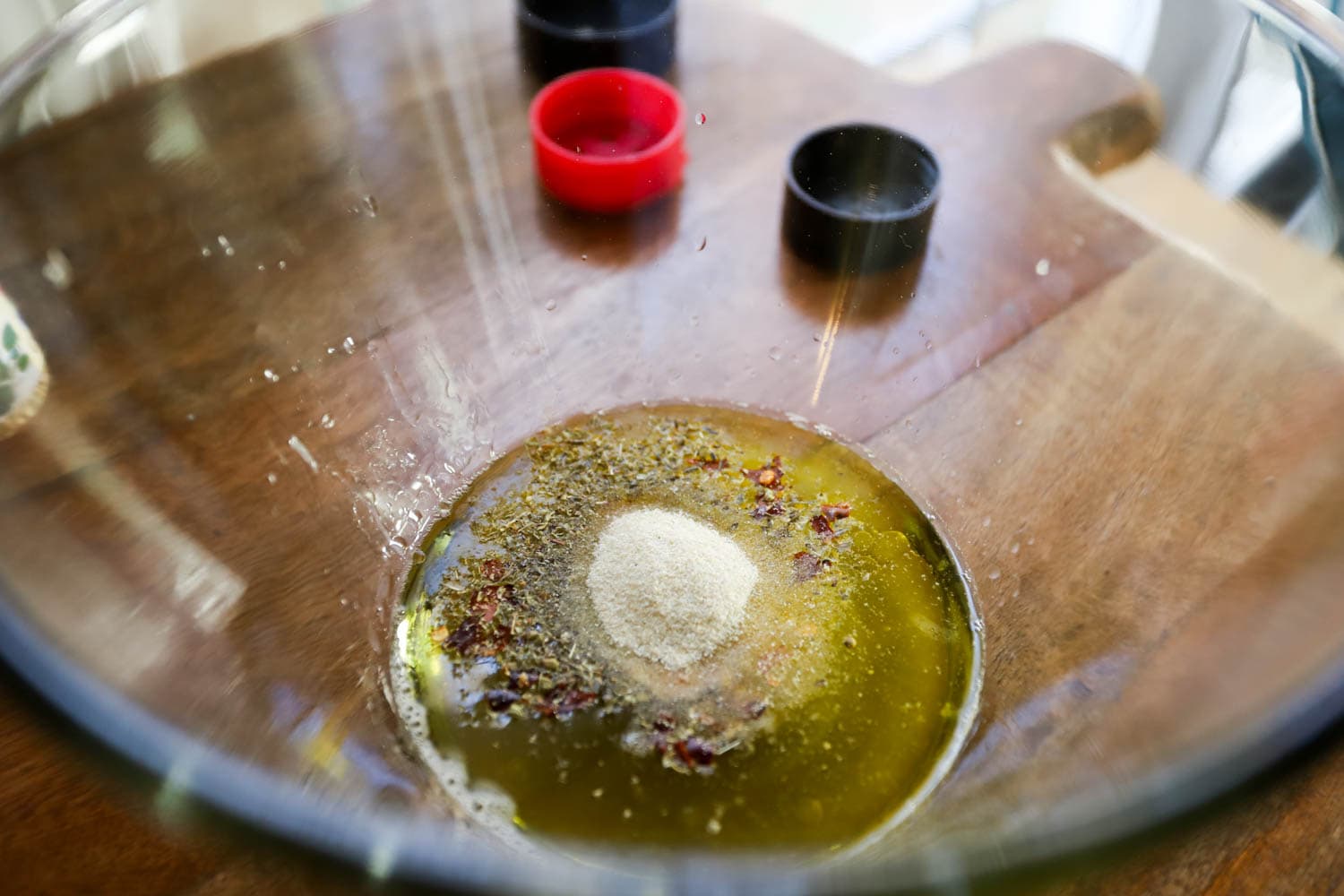 When the water and vinegar boil, add the mushrooms and let them boil for 3 minutes, then drain them and let them sit while you make the vinaigrette. Whisk everything together in a bowl, and make extra - this is a great salad dressing!
When the marinade is done, add the warm mushrooms to the bowl and stir to combine.
That's it! These are delicious right away, served warm or at room temperature, or you can keep them in the fridge for a few days until you'd like to serve them. It all works.
I'm all about these on salads, for snacking, and as part of an appetizer table at a party. The flavor is just SO good, and I wouldn't hate getting these as a gift in a pretty jar either - but maybe a jar of mushrooms as a gift is a little much for some people.
Variations
This marinade is great as a salad dressing, but the pickling/marinating method can also be used for other veggies! Okra, carrots, and green beans also work really well boiled for 3 minutes and then marinated in this mixture.
Serving Suggestions
I like these over any side salad or main dish salad, and I also like them served on a big cheese board as the tangy element!
These pickled mushrooms would go great with these snacks, too: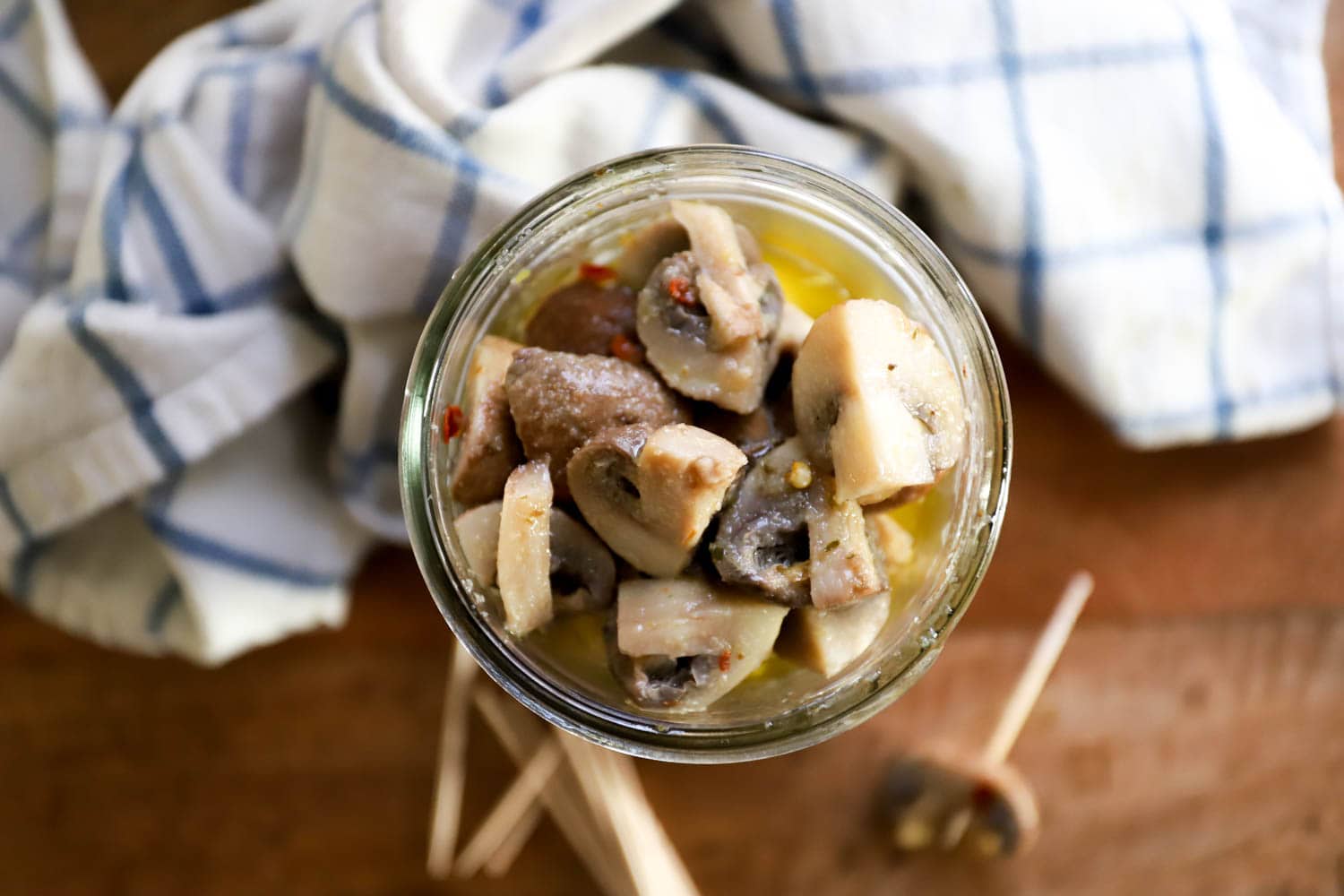 Try these in the coming weeks. They are a great addition to almost any meal (can't think of where they'd be bad) and are so simple to make. Enjoy!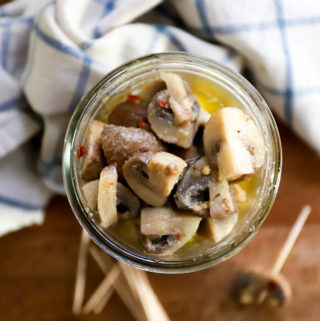 Vegan Marinated Mushrooms
20 minutes to delicious, tangy marinated mushrooms! Vegan appetizer that everyone loves, yep yep!
Ingredients
20

ounces

cremini or white button mushrooms

halved or quartered to bite-sized

3

cups

water

1

cup

vinegar

1

teaspoon

onion powder

1

teaspoon

garlic powder

1

teaspoon

dried oregano

1

teaspoon

salt

½

teaspoon

crushed red pepper

⅓

cup

olive oil

½

lemon

juiced
Instructions
In a medium pot, bring the water and vinegar to a boil. Boil the mushrooms for 3 minutes, then drain and set aside while you make the marinade.

In a large bowl, whisk together the remaining ingredients to make the marinade. Add the mushrooms, and stir to combine. Taste, and add a few more pinches of salt if you'd like.

These can be served right away or kept in the fridge for several days. Enjoy!
Notes
You can feel free to use white mushrooms, cremini, or even a blend of fancy mushrooms if you have them!
These will keep in the fridge for several weeks, same as a pickle would.
More Yummy Appetizer Recipes