Monday, go eff yourself.
Amirite?
Jay is having his first day back at work today, and he's READY. He's been working from home for 2 weeks, and the week before that was working at being a bump on a log and not screaming from pain too much. We're beginning week 4 post-op, and he's READY to be out of the house 1. without me and 2. for more than 2 hours at a time.
He's also graduated to using a cane most of the time instead of a walker, which does wonders for his self esteem and sex appeal.
Not that walkers aren't sexy.
Anyway, lunch. With calories and flavor and just YES. These are great for dinner too, of course, and there's just something about a croissant instead of bread, right? These actually came from Starbucks on Saturday in a fit of genius when I knew I wanted to make a marinated chicken sandwich but bread just never fits chicken breasts quite right, you know? But croissants fit perfectly. And so it was written.
In addition to the all-important croissants, for these sandwiches you need thin chicken breasts, cheese for melting, and lettuce. For the chicken marinade we use red wine vinegar, garlic powder, oregano, and honey. And, for the chipotle mayo we use jarred chipotles (in the plastic dish on the right), sriracha, and mayo. You can of course skip the sriracha, but it adds a really different flavor that goes great with the chipotle, so I say go for both. Or skip the mayo all together if you're not into delicious sauces that complete a sandwich.
First, we'll get the chicken marinating. In a nice flat dish, add the vinegar, oregano, garlic powder, honey, and a pinch of salt.
Whisk that all together, and add the chicken. Use tongs to flip it over every few minutes as you make the rest of the sandwich.
Grab one of the chipotle peppers and mince it super finely. If you aren't into spicy stuff you can just use a little bit of the juice from the can or half of a pepper.
For the mayo, combine the mayo, sriracha, and chipotle in a little dish.
Stir the mixture together, and taste it! If it's too spicy, add some more mayo. If it's not spicy enough, play around with a little more sriracha and/or chipotle until it tastes right to you!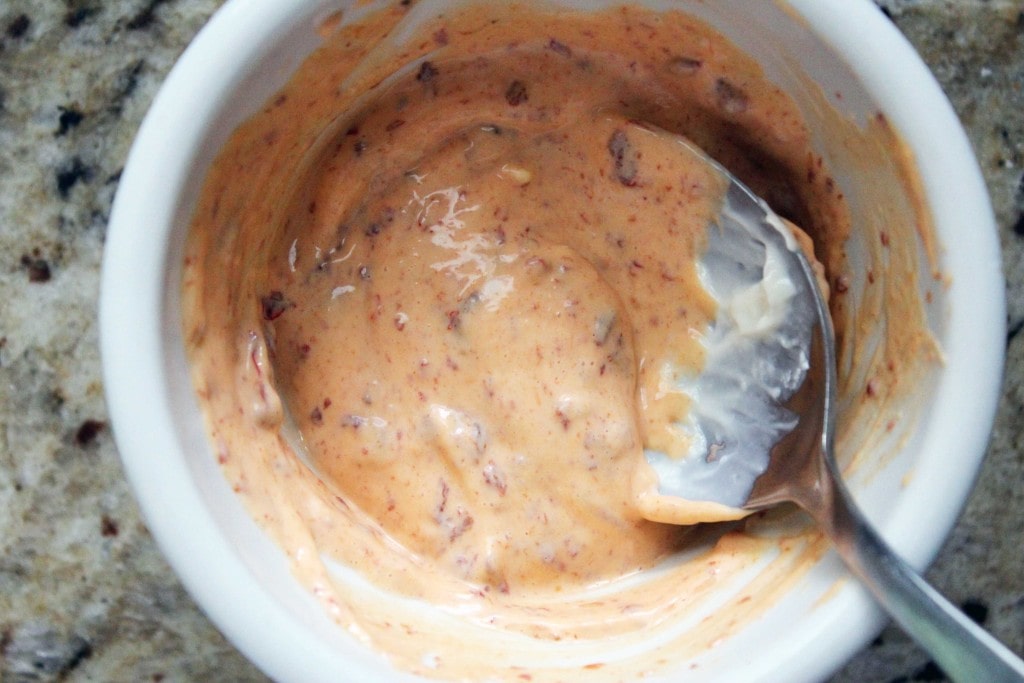 Now, when the chicken has been marinating for about 15 minutes, add a little pat of butter to a skillet and turn the heat to medium-high.
Cook the chicken for about 4 minutes on each side until the meat is cooked through and the outsides are nice and browned.
Now, we build our sandwiches! Cut the croissants in half and place them face up on a baking sheet. Then, turn the broiler to high.
To the bottom of the croissants, add the chicken and the cheese. Note that I'm still on my American cheese kick. It's a strong and strange craving.
Broil the croissants for just a few minutes to toast the tops and melt the cheese - keep and eye on them so they don't burn! Then, add some of the chipotle mayo to the tops of the sandwiches.
Get some lettuce in there, and we're good to go.
Holy shit, guys, this is such great fake-out restaurant style food. I'm a huge sucker for really good marinated chicken, and adding buttery bread to it with a mayo spread just feels fancy, right?
Do it. Find something to celebrate tonight, whether it's using a cane or Monday or the start of school or just MAKING IT TO DINNER TIME, and go for it. You've earned it.
Marinated Grilled Chicken Croissants + Chipotle Mayo
Ingredients
FOR THE CHICKEN

¼

cup

red wine vinegar

½

teaspoon

salt

1

teaspoon

garlic powder

1

teaspoon

dried oregano

1

tablespoon

honey

2

thin-cut chicken breasts

or one boneless skinless chicken breasts cut into 2 thinner pieces

1

tablespoon

butter

FOR THE MAYO

¼

cup

mayonnaise

1

teaspoon

sriracha

plus more to taste

1

chipotle in adobo sauce

finely minced

FOR THE SANDWICHES

2

croissants

halved

2

deli slices cheese

any kind you like

leaf lettuce
Instructions
For the chicken, combine the vinegar, sat, garlic powder, oregano, and honey in a small flat dish. Add the chicken and let marinate for 15-30 minutes.

Preheat a large skillet to medium-high heat with the butter. When the skillet is hot, pan-grill the chicken for 3-4 minutes on each side until browned and cooked through.

For the mayo, combine the mayo, sriracha, and chipotle in a small dish. Add more of any of the ingredients to your preference, then set aside until ready to use.

To assemble, place the 4 croissant halves face up on a baking sheet, and preheat the broiler to high. On 2 of the pieces, place the cooked chicken and top with the cheese. Broil the croissants until the cheese has melted and the croissant is lightly toasted.

Spread the croissant tops with the chipotle mayo, then add lettuce leaves, close the sandwiches, and serve!
Nutrition