Guyz.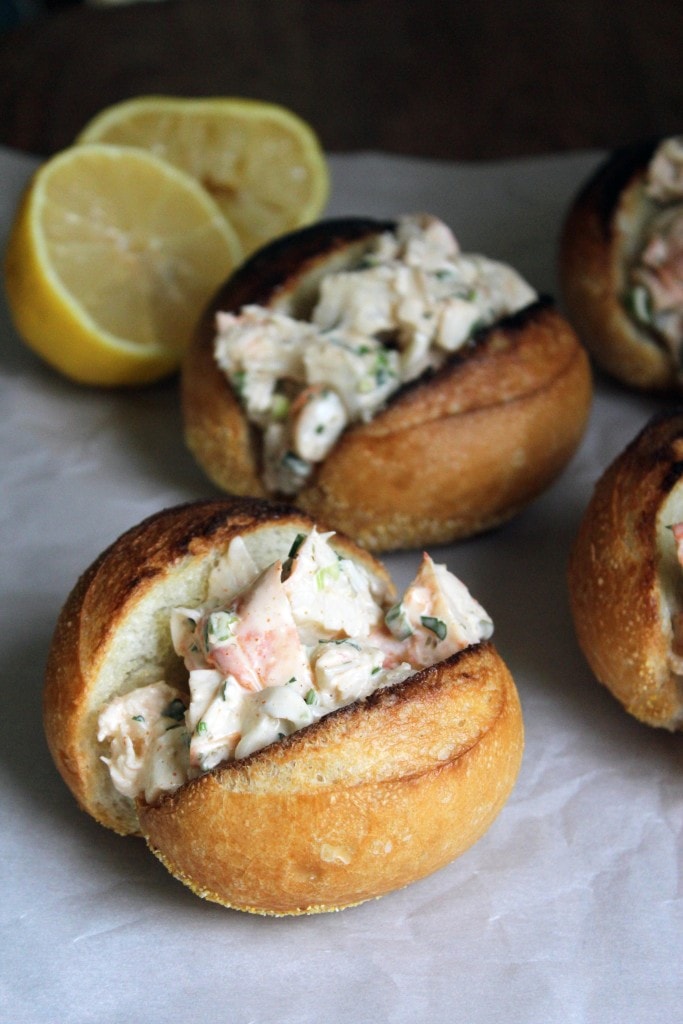 Isn't there some kind of big golf tournament this weekend?
Just kidding.
You know that I live for some thematic food moments, so when we were talking about what to make for the game on Sunday I was all set to come up with some cutesy little something or others to serve. Seattle....seagull bites? New England...Updated Fish and Chips? Patriotic....flag cake?
It didn't work quite as well as you'd expect. Or maybe it's exactly what you'd expect. Instead, we realized that BOTH of the regions being recognized on Sunday are alllll about some sexy seafood, so that's the theme. Superbowl Seafood. Super Bowl? I don't know. But we have two new seafood recipes coming this week, starting with this one: lobster rolls! Mini lobster rolls, to be exact, in case you're making these for an event that will include lots of other little appetizers. They're super duper easy, duh delicious, and if you can find lobster on sale even better!
A note about the lobster: I used two tails for this recipe, but you could do 1 whole lobster if you're into that kind of thing, and obviously increase the volume of the recipe if you need to for a crowd. I really am not ready to have a live lobster in my house just yet, so the tails worked great. They were $10 each which is insane, so start Googling now and find a good sale in your area!
Besides the lobster, you need mayo, capers, parsley, lemon, a green onion, Old Bay, cayenne pepper, butter, and rolls. These are kind of crusty, and I know traditionally lobster rolls are pretty soft, but since I'm in SC and not New England hopefully it'll be OK and no one will kill me.
Let's do the lobster first! Bring a pot of water to a boil, and boil the lobster tails for 6 minutes, or until they're just cooked through.
While the lobster is working, prep the other ingredients. Cut the lemon in half, chop the capers, scallion, and parsley.
Lobster is done! Drain it for a few minutes so you can handle it.
While the lobster cools, make the dressing. Combine the mayo, spices, and green stuff in a bowl with a squish of lemon juice - ¼ lemon or so.
Then stir it up and let it sit while you get everything else ready!
For the bread, split the rolls and melt the butter, then drizzle or brush the melted butter over top.
Broil the bread for just a few minutes until it's toasty. Less time than this. I suck at broiling bread, Jay will tell you.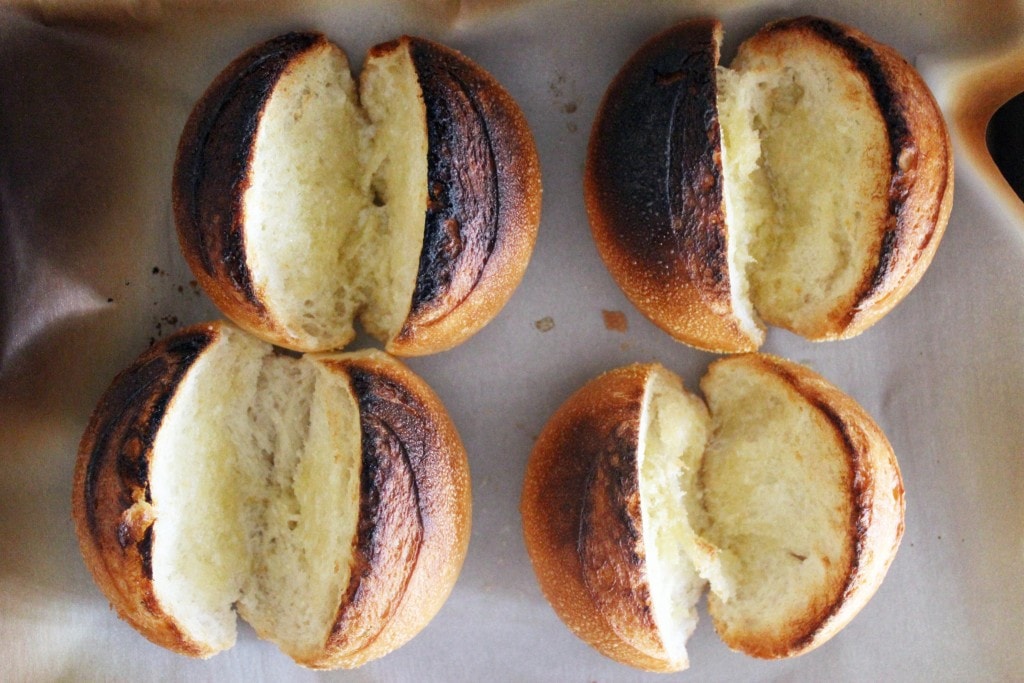 Now, when everything is prepped the lobster should be cool enough for you to touch. I'm sure there's some kind of fancy way to get lobster out of the shell, but I just kind of hacked at it and pulled it apart with my fingers to separate the meat from the shell, then I cut the meat into big chunks.
Now, we assemble! Mix the lobster into the dressing you made and taste: add more lemon juice if you think it needs it. I used about ¼ of the lemon and then squished a little bit right on top of the rolls before I served them.
Heap the salad in the rolls, and you're ready to eat!
I love lobster rolls, and this is a really fun, light version with lots of flavor. Fun for the game if you're into an oceanic theme!
Lobster Rolls
Lobster rolls come together easily using meat from a few tails, a hint of mayo, and tons of lemon for brightness. YUM.
Ingredients
2

lobster tails or 1 whole lobster

¼

cup

mayonnaise

2

tablespoons

chopped fresh parsley

1

tablespoon

drained capers

chopped

½

lemon

1

scallion

minced

½

teaspoon

Old Bay

½

teaspoon

cayenne pepper

optional

4

dinner rolls

2

tablespoons

melted butter
Instructions
Bring a pot of salted water to a boil. Add the lobster tails and boil for 5-7 minutes until the meat is just cooked through. Set aside to cool. When you can handle the lobster, remove the meat from the shell and chop into chunks.

Meanwhile, split the rolls and drizzle with the melted butter. Broil for 2 minutes or until the rolls are golden but not burnt.

Combine the mayo, parsley, capers, scallion, Old Bay, and cayenne pepper. Stir to combine, then stir in the lobster chunks. Taste, and add as much lemon juice as you'd like, or some extra salt if needed.

Heap the lobster salad in the toasted rolls and serve.

Enjoy!
Nutrition