Lentil Quinoa Bowl with kale walnut pesto! These are my absolute favorite ingredients for a meal prep quinoa power bowl. The ingredients can all be made in advance and the kale and walnut pesto keeps perfectly in the fridge for at least a week, and even longer in the freezer. Enjoy these fun vegetarian Buddha bowls!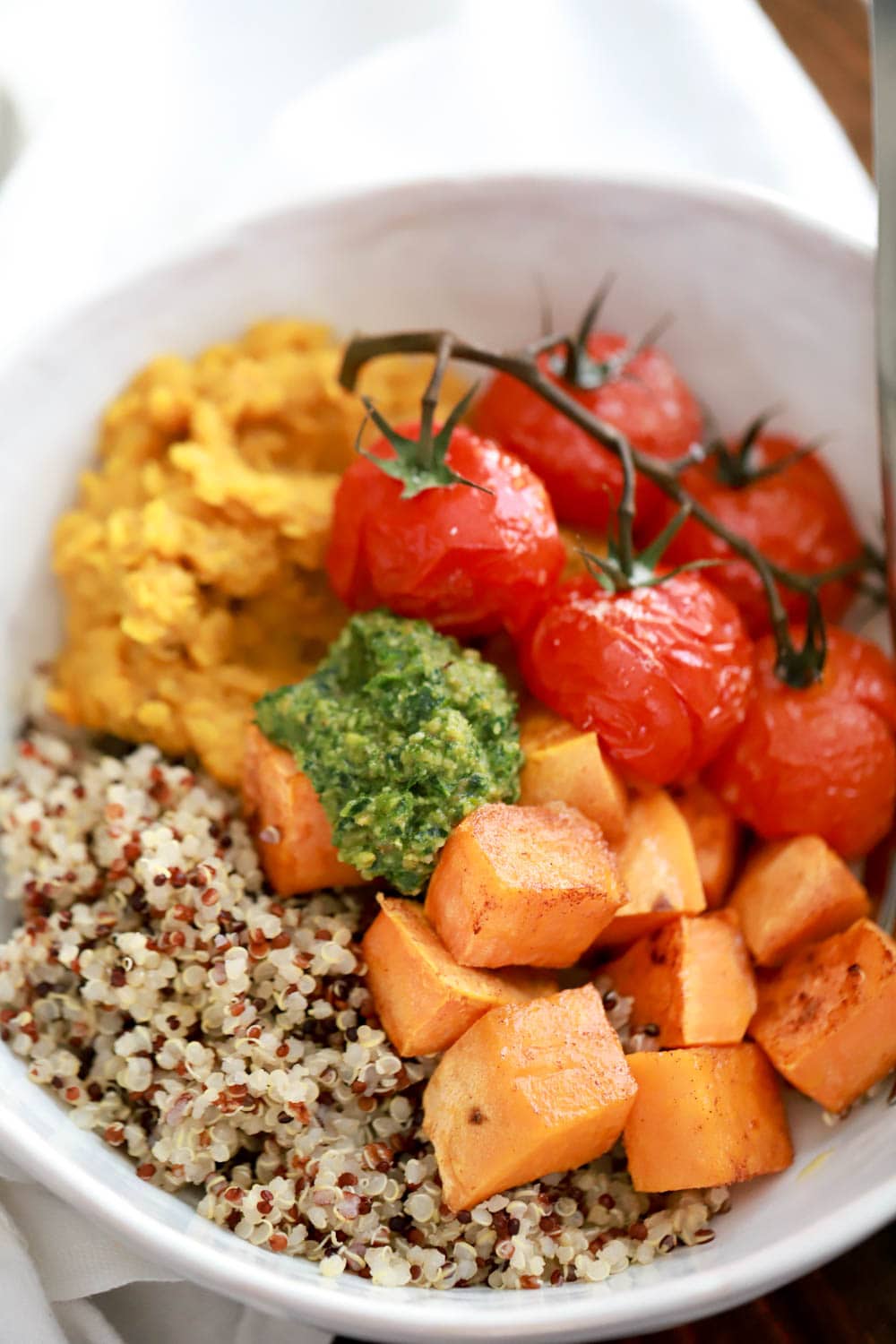 I am SO, so pleased that this is going to be your dinner this week (go with it). This lentil quinoa bowl is one of the best things to come out of my kitchen in recent months (and there are....a lot of contenders), is gluten free, vegetarian, and ridiculously yummy in a way that makes you not really that concerned about the health factor.
But the health factor is THERE with these lentil quinoa bowls. We're talking quinoa, turmeric lentils, roasted sweet potatoes AND tomatoes, and walnut pesto that we've made several times this summer for these bowls, pasta, and lots of other yummy things!
(PS this is not unlike the lentil quinoa bowl from Panera!)
The walnut kale pesto is not to be skipped, is my point.
Buddha Bowl Ingredients
When I make any grain bowl recipes like this, I try to balance starch/protein/veggies with at least one lovely sauce and/or condiment. The sky's the limit, though on what ingredients you can use! Finishing with fresh herbs, cheese, lemon wedges, or hot sauce always make a bowl feel pulled together with out extra effort - just use whatever you have in your fridge.
I make these bowls OFTEN as part of a Sunday meal prep sitch. Sometimes I make all of the components and package them for lunches, or we'll eat them once and have leftovers, OR I'll make part of the meal, say, the pesto and quinoa, then make the roasted veggies and lentils on the night we're going to eat.
If you make these lentil quinoa bowls all at once, start with the item that takes the longest (roasting the veggies), then get the lentils and quinoa simmering (second longest), then blitz up the pesto while the other THREE things are cooking simultaneously. Multi-tasking! Look at me go.
So we simmer some quinoa (or whatever grain/non-grain/whatever) to package directions with some salt because we want our food to taste good. We cook some lentils with tomato paste, salt, turmeric, and curry powder. These lentils alone are LIFE, let me tell you. They get gobbled up every time I make them and stand really well on their own paired with some greens!
PS, if you want to make two meal prep quinoa power bowl situations at once, double the quinoa and use it in vegetarian quinoa cobb salad!
I roast tomatoes and sweet potatoes together and spice them separately: cumin and cinnamon for the sweet potatoes, a teensy bit of sugar for the tomatoes, salt for everything.
The veggies take about 40 minutes to roast, so if you're in a hurry pick something lighter like green beans, asparagus, or zucchini. They'll all roast in closer to 20 minutes.
Walnut kale pesto, don't forget about me! This is often the ingredient that I'll have already made that serves as the inspiration for this meal: I have the pesto, what else can I quickly cook to make it a meal is the thought process.
Then we build our lentil quinoa bowl!
Scoops of lentils and quinoa.
Roasted veggies and heaping spoonfuls of the pesto right on top. Add any other toppings you like, but I find the bowls exactly like this are PERFECT for me. The tomatoes burst slightly to make a teensy bit of sauce, and the walnut kale pesto brightens up the entire dish with lemony kale flavor.
I love this. Creating different bowls each week to minimize kitchen waste is something I always enjoy, but this particular combination of ingredients and flavors is REALLY good to me. And the title says fall but...these are all-the-time ingredients for us.
This works for: meal prep, leftovers, under-an-hour dinners, lunches. Hell, throw an egg on it and get your veggies in for breakfast!
Fall Lentil Bowls with Walnut Pesto
Grain bowl, buddha bowl, glow bowl, WHATEVER, these bowls feature quinoa, turmeric lentils, walnut kale pesto, and roasted fall-spiced veggies for tons of flavor and nutrition. These grain bowls are excellent for meal prep!
Ingredients
WALNUT PESTO

1

cup

chopped toasted walnuts

3

cups

torn kale leaves

½

cup

grated parmesan cheese

1

garlic clove

peeled

½

lemon

juiced

1

teaspoon

kosher salt

½

cup

olive oil

ROASTED VEGETABLES/QUINOA

1

large sweet potato

peeled and cut into 1-inch cubes

2

tablespoons

olive oil

¼

teaspoon

cumin

¼

teaspoon

cinnamon

16

ounces

small tomatoes

cocktail, cheery, Campari etc

¼

teaspoon

sugar

1

cup

quinoa

cooked to package directions with a sprinkle of salt

TURMERIC LENTILS

1

cup

split red lentils

or use any kind you like

2 ½

cups

water

more or less depending on the package directions

1

tablespoon

tomato paste

1

teaspoon

kosher salt

1

teaspoon

ground turmeric

½

teaspoon

yellow curry powder
Instructions
Make the pesto. Add all ingredients to a food processor and combine on high for 1-2 minutes until a smooth paste forms. Taste, and add more salt to your preference or a bit of olive oil if the pesto seems dry. It will be thick, nearly the consistency of grainy peanut butter.

Roast the veggies. Preheat the oven to 400F. Arrange the sweet potatoes and tomatoes on one large or two small baking sheets. Drizzle all over with olive oil. Sprinkle the sweet potatoes with ½ teaspoon of salt, the cumin, and cinnamon. Sprinkle the tomatoes with ¼ teaspoon EACH salt and sugar. Roast for 35-45 minutes until the potatoes are tender and caramelized at the edges.

Cook the lentils with the water, tomato paste, and spices. Simmer as directed until just tender. Taste, and add more salt if needed.

Arrange the bowls with scoops of quinoa and lentils followed by some sweet potatoes, tomatoes, and a scoop of walnut kale pesto.

Flaky salt, crushed red pepper, or cracked black pepper would be showing off, and is always encouraged.
Notes
I usually make these components separately then assemble them right before I'm ready to eat. However, to make this in one hour, follow these steps:
1.

     

Start the oven for the roasted veggies. Prep the veggies and arrange them on a baking sheet. When the oven is hot, bake per directions, set a timer.
2.

     

When the veggies are in, start the quinoa and lentils at the same time; they both will simmer for about 15 minutes (Unless your package directions vary a lot from mine. If so, start the thing that cooks the LONGEST first! Use timers!)
3.

     

While the veggies, lentils, and quinoa are cooking at the same time, whip up the pesto.
4.

     

Look at you go, you organized kitchen master.
Do not fret about this meal! It is DELICIOUS as written, but the options for simplifying it or changing it up are endless.
Some ideas:
·

       
Sub the quinoa with farro, leftover rice, or any other grain you like.
·

       
Roast any veggies you have, enjoy, or can use in other dishes throughout the week.
·

       
Use jarred pesto or any other sauce you like: hummus, tahini sauce, or even vinaigrette.
·

       
If you don't have turmeric or curry powder for the lentils, cook them in some chicken or veggie broth instead of water for extra flavor.
This bowl is gluten free as written. Be sure to check labels on spices and other ingredients just in case!
Make ahead: The pesto can be made several days in advance and kept in the fridge, or frozen for several months. All other components can be made ahead and reheated in the microwave. I adore this in particular for a Sunday dinner + double batch for lunches all week.