Crispy Korean chicken with a super delicious sweet soy sauce! These easy rice bowls are the perfect kid-friendly weeknight meal.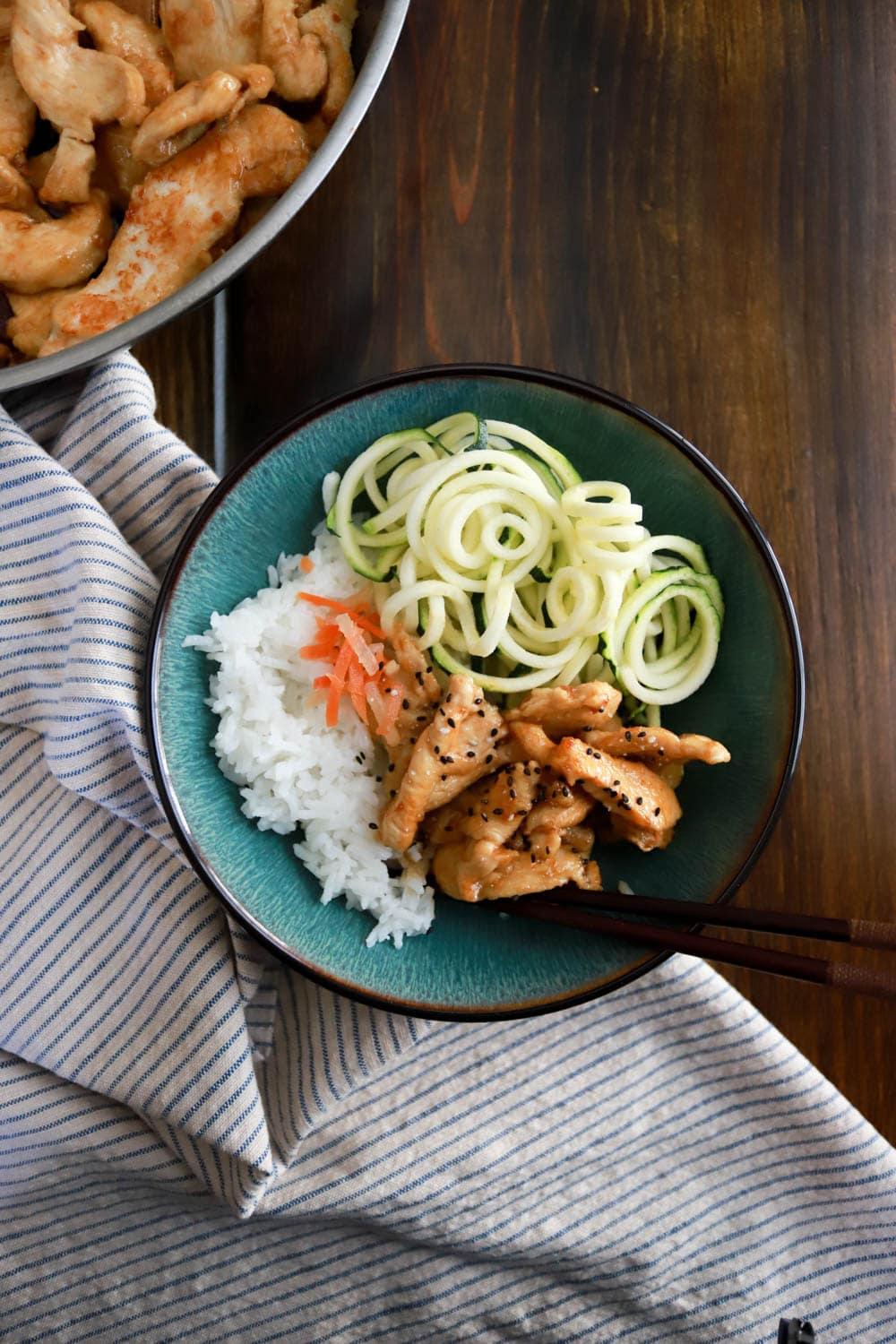 Today! Another (not planned this way) bowl inspired by one of my favorite bloggers - this time Jessica @ How Sweet Eats. I got her new cookbook around Christmastime last year, and have loved so many recipes that I've tried so far. The one that I've made over and over and over and OVER again is the Korean Beef Bowls. They are SO good, but since we tend to not eat a ton of beef I wanted to try a chicken version instead.
If anything, the chicken version is better than the original. That's because of the cooking method. The chicken gets sliced before cooking, then tossed in flour and verrrrry gently fried quickly in some not-too-hot oil. The chicken gets golden brown, we toss it with a super simple Korean-inspired sauce. Done!
This Korean chicken was met at my house with RAVE reviews; we have literally never had any leftovers for this. We start with a quick Korean sauce that I just whisk with a fork - no blender necessary.
The sauce has brown sugar, soy sauce, sesame oil, minced garlic and ginger, and some red pepper flakes. YUM. Sometimes I use a microplane grater for the ginger and garlic, sometimes I just mince them really finely. Both ways work great!
Next, thinly slice some chicken breast pieces and toss them with a little bit of flour. They'll be a little bit gummy, but the flour will crisp a bit when we cook the chicken.
Heat a large skillet to medium heat (not smoking) with some olive oil; enough to coat the bottom of the pan. When the oil is not, add the chicken in one layer with plenty of space between each piece. I did this in two batches in a 10-inch skillet.
The chicken should sizzle gently in the oil. Cook it for about three minutes, and flip it when it's just slightly golden. If the chicken sticks, let it cook for another minute to release naturally from the pan.
When the chicken has cooked 2-3 minutes on each side, remove it to a plate to rest. Cook the rest of the chicken in the same way, in several batches if you need to. Then, turn the heat OFF the skillet and add the Korean sauce to the hot pan.
Stir the sauce (it will still bubble even though the heat is off) into any chicken drippings, scraping the skillet as you stir. Add the chicken back to the sauce just to warm it through, and serve! Because the chicken is sliced so thinly it should have cooked all the way through in those few minutes we cooked it.
I serve this with rice, zoodles, and some Asian-style pickles that I keep in my fridge. The zoodles are great raw because they contrast with the sweet/salty chicken sauce, but we love them cooked as well.
Like I said, no leftovers.
This chicken is SO tender since it's sliced and cooked gently; the flour coating absorbs the sauce so well and the rice and zoodles create the perfect bowl.
Dinner. Is. Served.
Enjoy!
Weeknight Korean Rice Bowls
Weeknight Korean Rice Bowls are simple to make and have tons of flavor in just half an hour. 
Ingredients
2

boneless

skinless chicken breasts, about 1 pound

2

tablespoons

all-purpose flour

see gf note

4

tablespoons

brown sugar

4

tablespoons

soy sauce

2

tablespoons

sesame oil

4

cloves

garlic

minced

½

teaspoon

fresh ginger

grated or minced

crushed red pepper flakes

to taste

olive oil for frying

cooked jasmine rice and spiralized zucchini

for serving
Instructions
Prep the sauce. Whisk together the brown sugar, soy sauce, sesame oil, garlic, ginger, and a few pinches of crushed red pepper flake. Set aside until ready to use. 

Heat a large skillet over medium heat with enough olive oil to coat the bottom of the pan. Very thinly slice the chicken against the grain and toss in a bowl with the flour. The chicken may stick together a bit - that's ok!

When the oil is hot, fry the chicken in one layer (I do this in two or three batches) for about three minutes on each side until just barely golden. Remove the chicken to a plate and turn the heat OFF. 

To the hot skillet, add the Korean sauce and stir to deglaze the pan. Add the chicken to the sauce and stir to coat and warm through. 

Serve the chicken over rice with zoodles and any Asian pickles, if you'd like. Enjoy!
Notes
I cook 1 cup of jasmine rice (3 cups or so total, once cooked) for this meal and it gives us about three bowls. 
1 large zucchini is perfect to spiralize and split for two people who like veggies.
This would work great with tofu or pork as well!
The sauce for this recipe is doubled from The Pretty Dish by Jessica Merchant.
For gluten free, swap the flour for cornstarch to crisp the chicken. It works perfectly!