Delicious, easy homemade creamy jalapeno ranch just like at Chuy's! This copycat recipe dip is a little spicy and full of zippy flavors from lime juice and cilantro. Make a batch when you meal prep and use it all week for dipping veggies or drizzling over tacos! I especially love this with red rice and Mexican ground beef.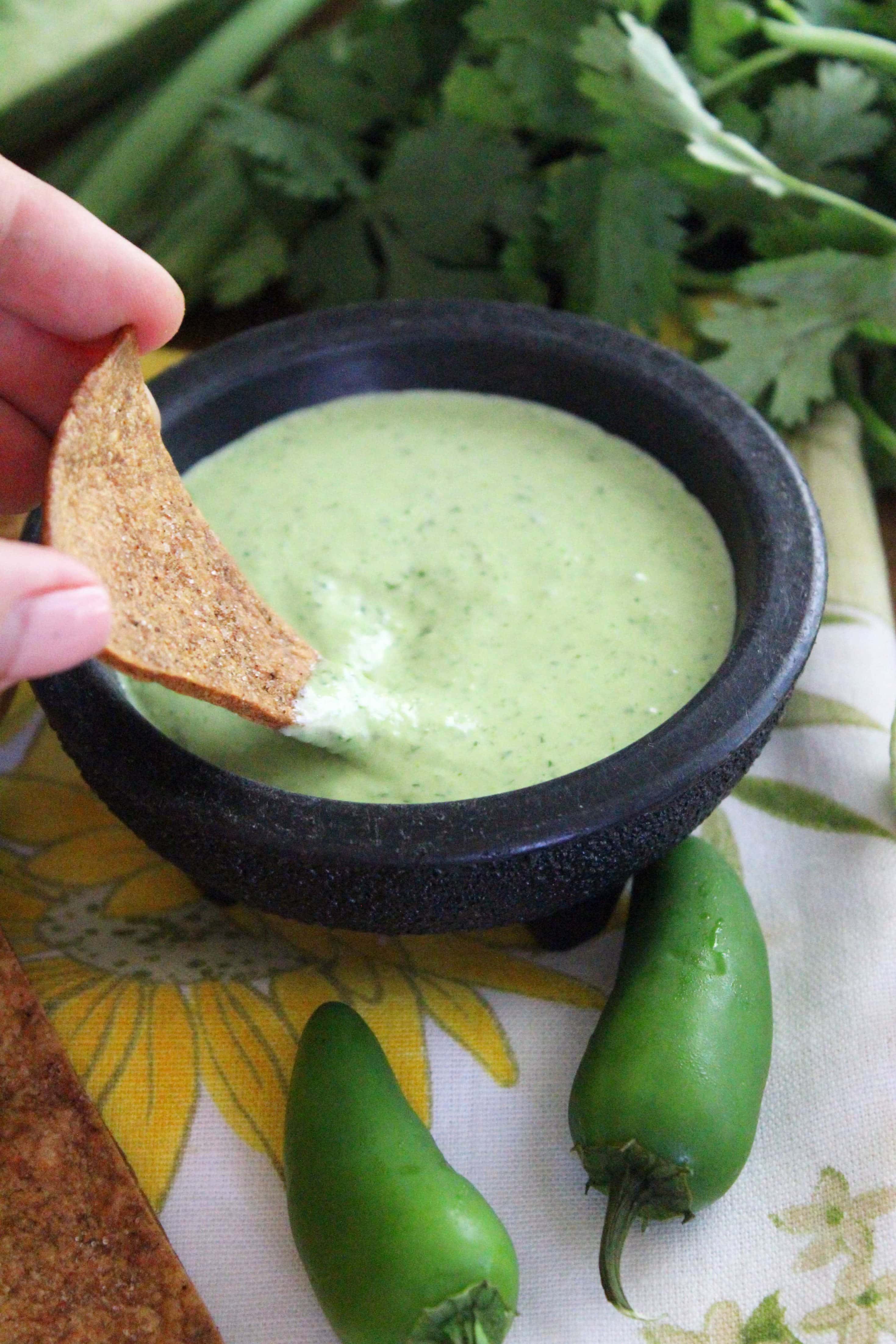 FINALLY YOU GUYS YES. I love this so much.
Ok so what's your stance on chain restaurants? I'm forever in search of good, reliable chains ESPECIALLY for work trips when I'm like...I just need to know what I'm eating right now please and thank you.
Like Chuy's! The Tex-Mex joint that is really consistent and delicious and everything always tastes the same as last time but it's FRESH and reliable if you need to eat in one while travelling for work.
If you've never been to a Chuy's, just know that as soon as you sit down you will be graced with thin, crispy, salty chips, fresh salsa, and THIS: Creamy Jalapeno Dip from Chuy's that is just the best thing ever. It's creamy, spicy, herby, tangy, very all good stuff all the time.
Chuy's Creamy Jalapeno Dip Recipe Notes
This is a salad dressing, a dip for chips + salsa or can be served over a burrito or as an addition to any other part of your meal. I've also drizzled this homemade version on tacos and shredded beef bowls, and letmetellyou, get ON that.
The homemade version of Creamy Jalapeno is so simple to make, and just miiiiight be better than the in-restaurant version. It's done in 5 minutes in the blender and keeps really well for at least a week in the fridge.
This dip is, like the name implies, pretty close to a regular homemade ranch with jalapeno and cilantro to infuse that Mexican flavor. I've seen different versions, some that include a dry ranch dressing packet (don't knock it, love those things), but this version has fresh cilantro and fresh parsley which are completely delicious.
Chuy's Creamy Jalapeno Dip FAQ
Does Chuy's Sell Their Jalapeno Ranch?
Yes! I buy it every once in awhile in 1-cup containers when we get takeout, but honestly this version is way better - more verdant tasting from extra fresh herbs.
How Long is Chuy's Jalapeno dip good for?
I like this dip best in the first 4 days I make it, but it's fine in the fridge for a week or more.
Vegan Chuy's Creamy Jalapeno
Yes! Sub in vegan versions of the dairy items, and the recipe will be vegan/dairy free and gluten free. If you don't have all three dairy items in vegan form, just use the same QUANTITY of liquid and non liquid (half a cup of each) so the consistency will be right.
Ingredients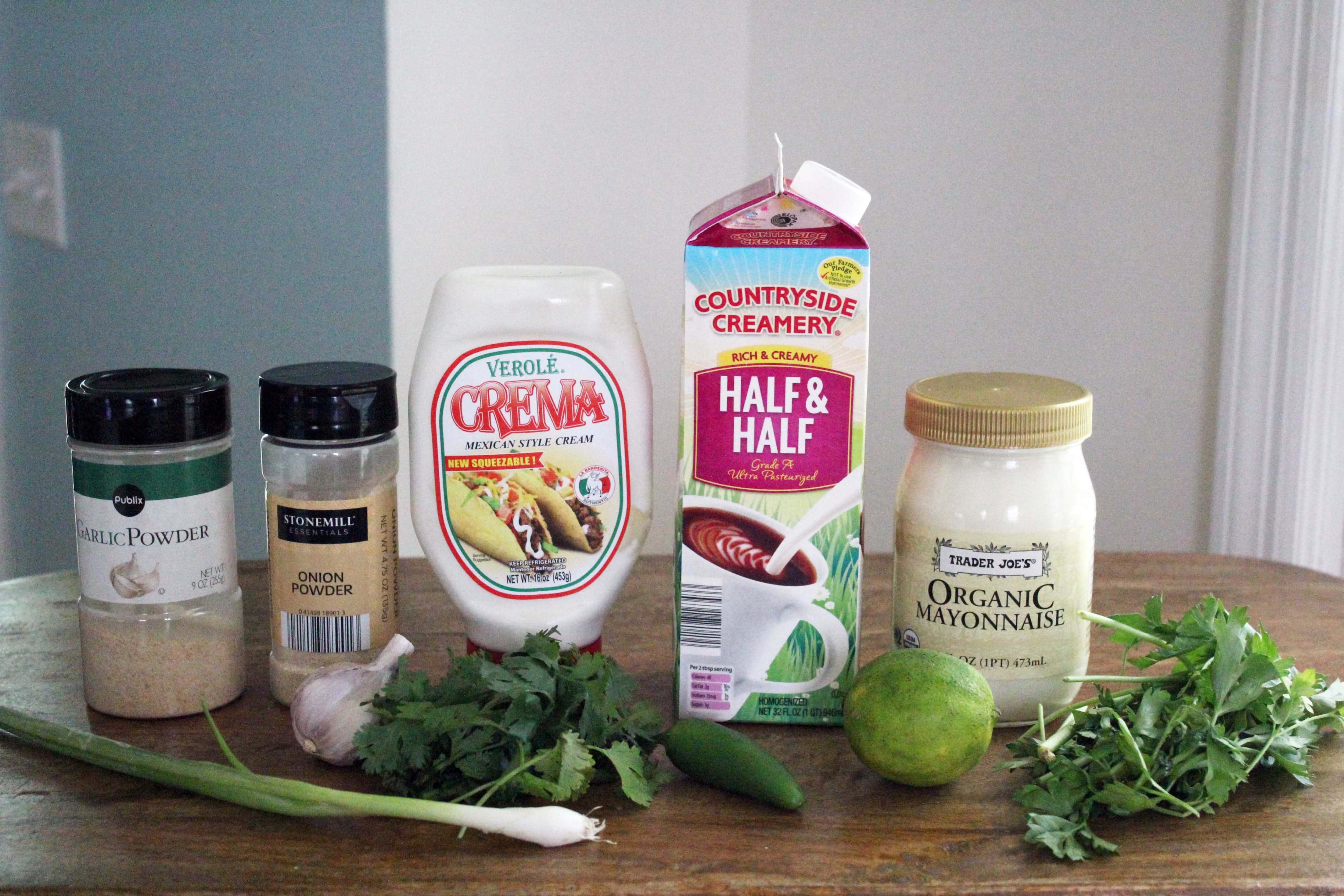 For this version of jalapeno ranch, here's what we use: the base is mayo, sour cream (or crema because I had it), half and half, and fresh lime juice. Then flavor comes from garlic powder, onion powder, a green onion, garlic, fresh cilantro, fresh parsley, and a fresh jalapeno.
Ingredient Notes:
Note that I doubled up on the onion + garlic flavor with a fresh and dried version of each. If you don't have all of those ingredients you could use one of each; something that tastes like onion and something that tastes like garlic. No worries!
Make this vegan with vegan dairy products. If you don't have all three items, use the same AMOUNT total of dairy, and use half vegan mayo and half plant based milk for a similar texture to the dip.
Control the spice level by using half a fresh jalapeno and/or scraping out the seeds before blending everything together, OR using two jalapenos if you want a spicier dip.
Step By Step Instructions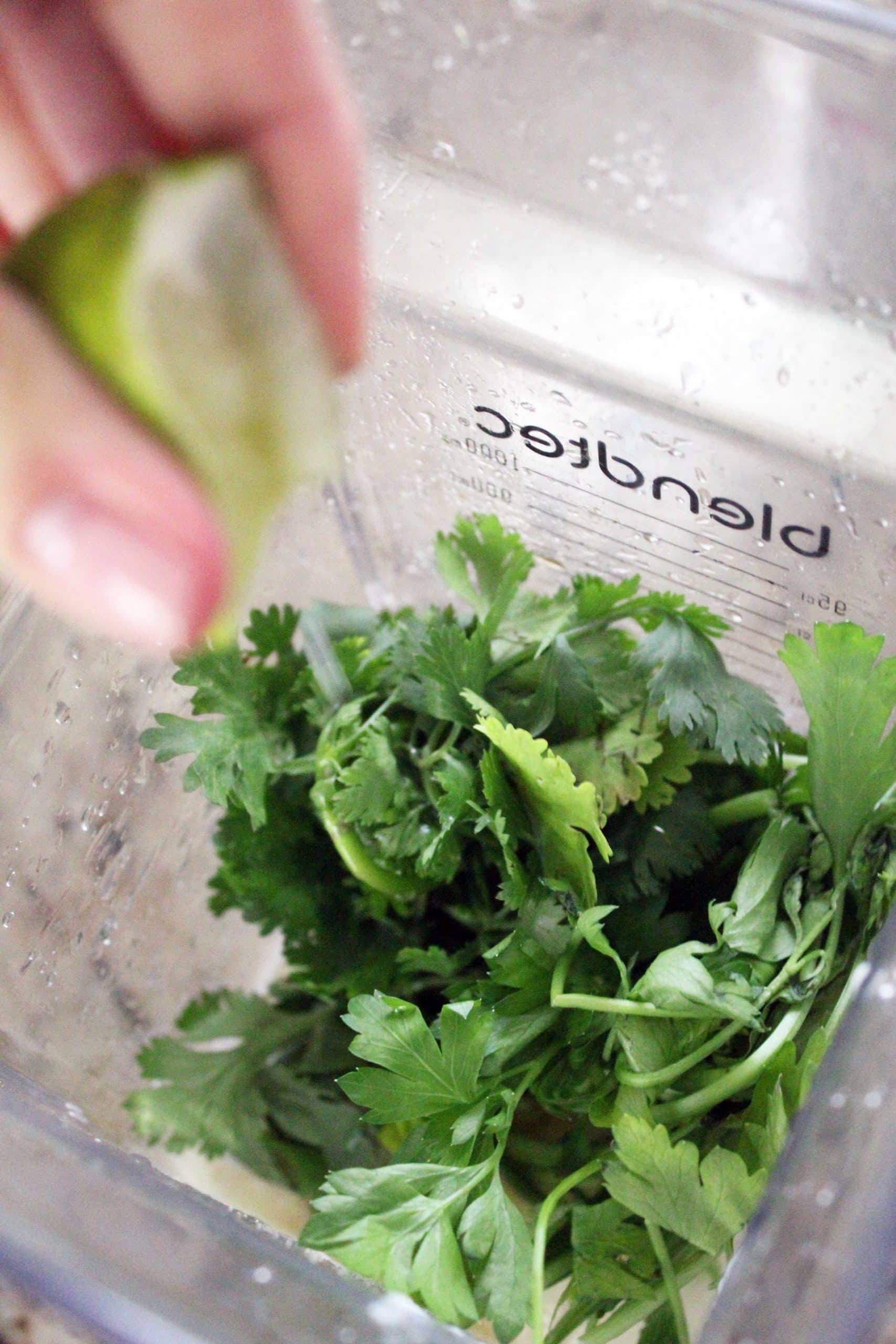 So for "prep," you just need to whack the lime into wedges, peel the garlic, and cut the jalapeno and scallion into chunks small enough for the blender or food processor to grab onto. No rhyme or reason to it.
I left all the seeds in the jalapeno because we're into spice, but you could take out the seeds in half or the whole thing if you want a milder dip.
Everything goes into the blender.
Blend. Green!
Now, just taste and adjust. I like a super creamy flavor, but you could do more lime juice for brightness, or extra salt if you think it tastes bland.
Jalapeno Ranch Dip Uses
I made oven chips from extra tortillas for this, and we've served it on salads, with grilled chicken, on MOTHER EFFING BLT'S.
It's been on everything in our house lately and I don't have anything bad to say about any of the things we've tried this with.
I especially like this as part of a Sunday meal prep because it comes together so quickly but adds so much flavor to whatever you serve it with.
What To Serve with Jalapeno Ranch Dip
I hope you love this as much as we do! It is one of the simplest ways to add TONS of flavor to your meal, and a great restaurant copycat recipe is just so much fun to have in your back pocket.
Enjoy this jalapeno ranch dip!
Chuy's Jalapeno Ranch Dip
Just like the cult favorite from Chuy's, this creamy jalapeno ranch dip is perfect for chips, salads, or drizzled on tacos!
Ingredients
½

cup

half and half

¼

cup

mayonnaise

¼

cup

sour cream or Mexican crema

juice of ½ lime

½

cup

fresh cilantro

leaves and stems

½

cup

fresh parsley

leaves and stems

1

clove

garlic

peeled

1

scallion

cut into large pieces

1

jalapeno

cut into chunks (seeds removed if you don't like too much spice)

1

teaspoon

onions powder

1

teaspoon

garlic powder

½

teaspoon

salt

plus more if needed
Instructions
Place all ingredients in a blender or food processor. Puree until smooth. Taste, and add more salt or lime juice if you'd like.

Serve as a dip, salad dressing, or anyway you like. Enjoy!
Notes
Make Ahead: I often make this as part of Sunday meal prep and enjoy it all week on salads or with chips for dipping! Vegan Chuy's Creamy Jalapeno: Make this vegan by subbing vegan mayo, half and half, and sour cream. If you don't have all three, a combo of any plant-based milk and vegan works great. This recipe is gluten free as written.