....and so much more!
HAPPY NEW YEAR, truly. I know this is the teensiest bit cliche to start the year with something so trendily healthy, but it's also delicious so I'm sorry I'm not sorry. I am a thousand percent behind bowls of any kind for meals. Grain bowls, Mexican rice bowls, poke bowls, all of the bowls. I MAINLY like them because it's a lot of healthy stuff piled on a crap-ton of carbs, but that's on me. You don't technically have to use 8 cups of a starch before you get to the veggies, or you can and you know I'm not here to judge.
The flavor combination in this bowl is somewhere in the middle of Italian and Middle Eastern, and let me just tell you how well that works. The sweet potatoes and tomatoes are roasted until caramely and soft, spinach is wilted with anchovy and garlic, and the whole thing is topped with a tahini drizzle, feta, and lemon juice. The flavors are unreal together, and the great thing about bowls like this is what you can customize them to what you have on hand, what you enjoy, etc.
I start these by roasting the veggies since that takes the longest. Then while the veggies are roasting I cook a grain (bulgar in these pictures, but use whatever you have, even rice!), and while THAT is simmering I saute the spinach, which is the fastest thing, then shake up the dressing and gather any raw toppings I'm using.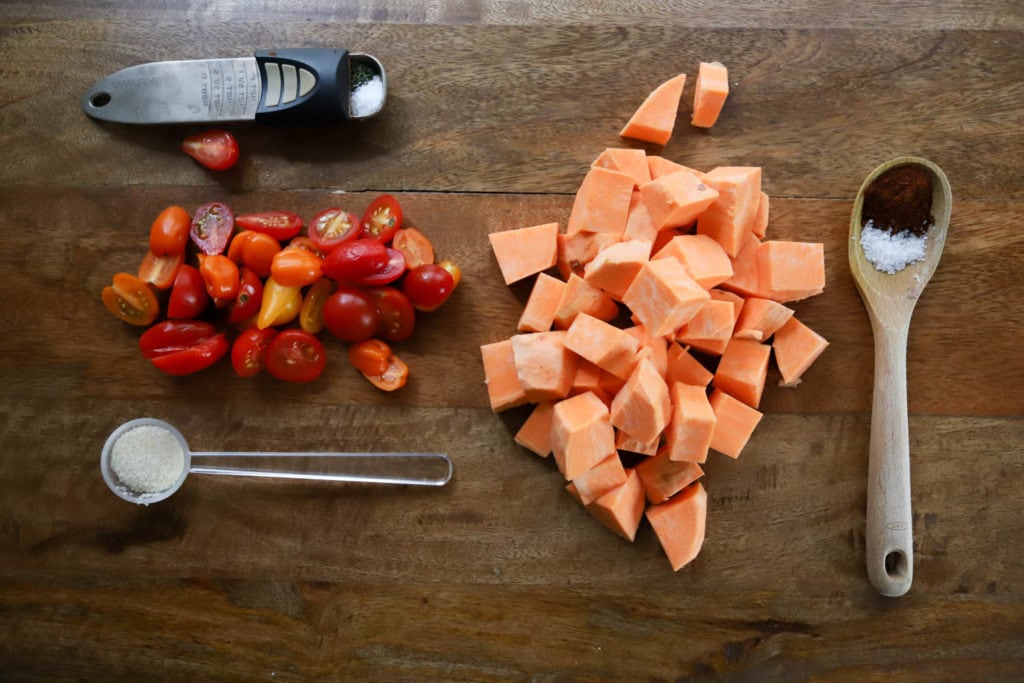 Here is sweet potato seasoned with chili powder and salt, and cherry tomatoes with salt, dill, and sugar. YUM. Since I was cooking for two, I just used one baking sheet with 2 pieces of parchment paper: the tomatoes were done a few minutes before the sweet potato chunks and I didn't want them to burn. Roast the sweet potatoes for about 20 minutes, then take them out of the oven and let the sweet potatoes keep going for 10 minutes more or until they are super sugary and soft all the way through.
Bulgar: cooked to package directions, cooled just slightly and ready for bowl building. I add a few pinches of salt to the cooking water to give it a bit of flavor on its own, and you can also cook your grains in any kind of stock you like.
Now, on to the spinach. I love love LOVE anchovy flavor and garlic; it's such a great natural salt flavor and doesn't taste fishy at all when it's cooked. Start one anchovy filet or about a teaspoon of anchovy paste in a skillet with some olive oil and garlic.
Let the anchovy and garlic cook together for 2 minutes or so until the anchovy breaks apart and the garlic is soft, then stir in the spinach. Once I add the spinach I turn the heat OFF and wilt the spinach in the hot pan without adding any more heat.
When the spinach is wilted I take it out of the skillet so it doesn't overcook; I really like barely-cooked spinach.
So! Here we go. Roasted veggies, cooked bulgar, sauteed spinach, tahini dressing, sesame seeds, lemon wedges, sliced green onion, feta, and avocado. AGAIN, you can skip a few of these ingredients to simplify your dish, you really only need some roasted heartier veggies, a grain, the greens, and dressing to make the bowls, and then just throw on anything else that you happen to have on hand.
Build. Bowl.
The end!
These are so good and I can't say enough how delicious the garlic, spices, and tahini are together. The avocado adds a great creaminess, and the sharpness from the green onions + crunch from sesame seeds makes the whole thing feel fresh and bright.
Fresh and bright, like your new year. Get to it!
Grain Bowls with Garlicky Spinach, Roasted Sweet Potatoes, and Tahini Drizzle
Ingredients
Roasted Cherry Tomatoes
1

cup

cherry tomatoes

halved

½

teaspoon

salt

½

teaspoon

dried dill

1

teaspoon

sugar
Roasted Sweet Potato
1

large sweet potato

peeled and cut into chunks

1

teaspoon

chili powder

½

teaspoon

salt
Sauteed Spinach
1

anchovy filet

in olive oil or jarred

4

cloves

minced garlic

5

ounces

fresh baby spinach
Lemon Tahini Dressing
⅓

cup

prepared tahini

½

lemon

juiced

¼

cup

water

½

teaspoon

salt
Bowl
1

cup

bulgar

cooked to package directions and cooled slightly

Sliced avocado

about ¼ avocado per person

Crumbled feta cheese

Sliced scallions

Toasted sesame seeds

Olive oil

lemon wedges, salt
Instructions
Roast the veggies: Preheat the oven to 375F. Arrange the tomatoes, salt, dill, and sugar on one side of a baking sheet. Arrange the sweet potato cubes, salt, and chili powder on the other half (or bake on two separate sheets, of course). Drizzle everything with olive oil. Roast for 25 minutes, then remove the tomatoes from the pan. Flip the sweet potatoes, and roast for ten minutes more. Remove from the oven to rest while you prepare the rest of the ingredients.

Make the dressing: Combine the tahini, lemon juice, water, and salt in a jar or small dish. Shake or stir until smooth. Taste, and add more salt or lemon juice to your preference.

Sauté the spinach: Heat a drizzle of olive oil in a skillet over medium heat. Add the anchovy filet (skip if vegetarian, but I PROMISE it doesn't taste fishy when cooked) and the garlic and stir for one minute. When the garlic is fragrant, add the spinach and toss for one or two minutes until the spinach is barely wilted. Taste, and add more salt if you'd like.

Build the bowls: Layer the bulger with portions of sweet potato, tomatoes, spinach, and avocado. Drizzle with a bit of tahini dressing. Top everything with crumbled feta, sliced scallions, and sesame seeds. Sprinkle with lemon juice and extra salt, if desired.

GO. TO. TOWN.
Notes
Other Ideas:
The tahini sauce is wonderful in this bowl, and great as a salad dressing or over chicken or fish. But, use any drizzle you like! Salad dressing, a miso sauce, the opportunities are endless.
Go nuts with the base for this dish! Farro, any type of rice, lentils, even pasta works great.
Veggie ideas for roasting: Cauliflower, broccoli, carrots, eggplant, bell peppers.
I love any/all cheeses on this! Grated parm, shredded cheddar, even crumbled goat cheese is delicious.
The spinach can be swapped for kale or collards, OR subbed with a raw veggie like shredded cabbage or lettuce to save some cooking time.
Topping ideas: roasted chopped nuts of all sorts, chopped pickled jalapeno, diced tomato, torn fresh herbs, diced cucumber.