This gluten free chocolate cake is a BLENDER CAKE that has just a few ingredients and comes together in under an hour! It's totally foolproof and doesn't taste like it's trying to be healthy at all. Instead, think "is it a brownie, is it a cookie, do I care because it's covered in chocolate ganache frosting?"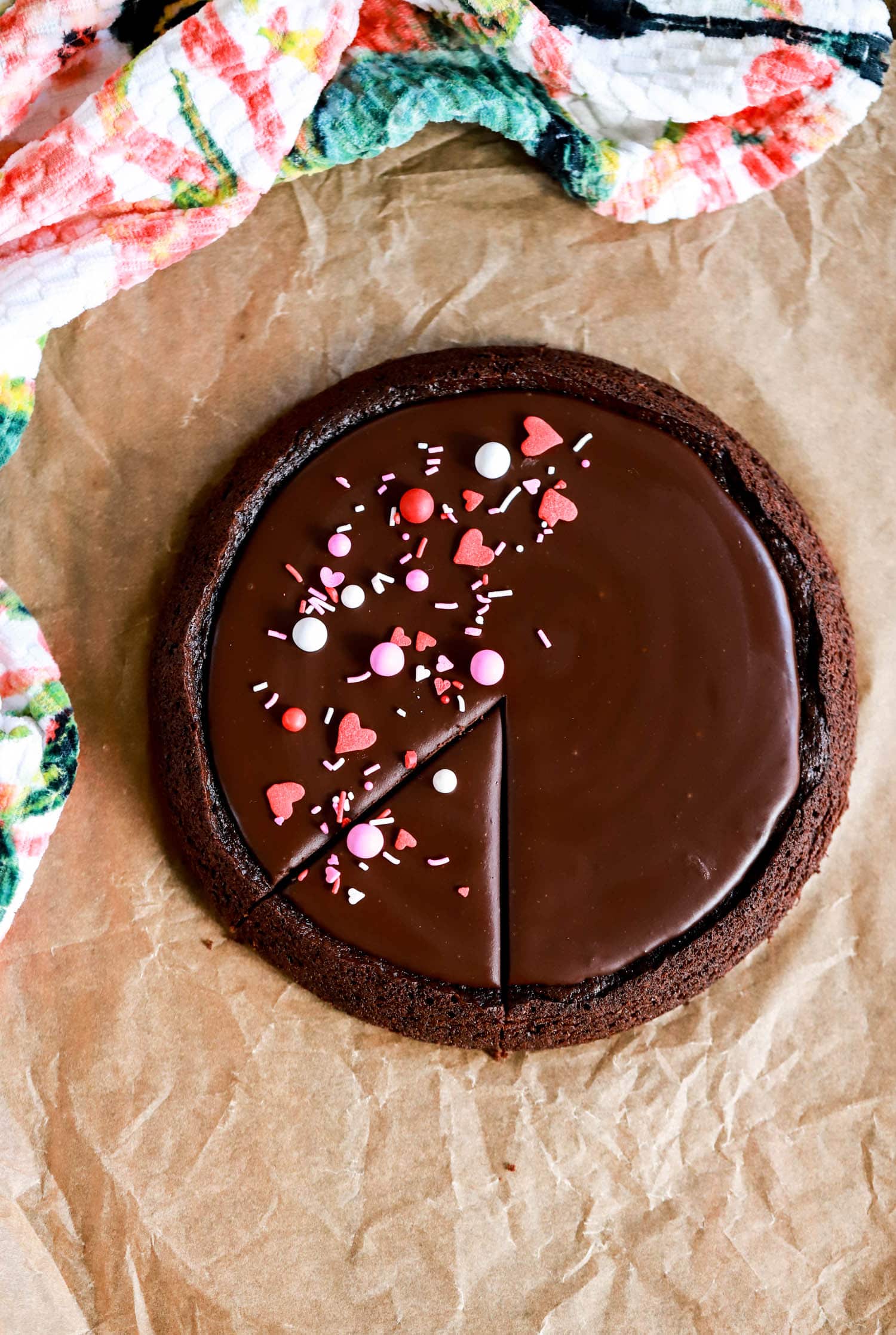 It's here, it's here! ....Valentine's Day? To be clear, we celebrate very minimally on V-day, maybe make a big fancy meal, although we technically celebrate our dating anniversary on Valentine's Day - TEN YEARS, where did the time go.
Oh, I know, the time went into the pandemic vortex like the rest of my soul.
Dating anniversary or not, we don't do gifts or anything like that for Valentine's Day. BUT, we are in the second year of a morphing pandemic and I'm looking for all kinds of reasons to celebrate.
Enter: gluten free chocolate cake! This cake came to me from The Kitchen McCabe and as soon as I saw it I thought 1. amazing 2. I will never be able to replicate that. Kayley's pictures and style and just general care for her food is amazing, and I'm more....where are the heart sprinkles.
So. I knew I wanted to try the cake, and I knew I wanted it to be a chocolate cake without layers. I ended up making one larger layer in a springform pan with parchment paper so that there's no sticking no mess, no cutting in the pan.
(ps, if you get excited about kitchen gear like I do, the same springform pan can be used to make this very, very good cheesecake with sour cream!)
The benefit of this cake (there are about a million) is that since it's a gluten free cake recipe it kind of puffs up in the oven and then sinks back down into itself. With most cake recipes this would be no good, but in this case the cake crater makes a Bowl For Icing, and did you even know you needed your cake to make a bowl for icing?
Did it for you, Sweet Pea.
Gluten Free Chocolate Cake
So this cake. It has very basic cake ingredients + some cooked quinoa, which I PROMISE you will never know is there.
I thought about calling this a chocolate quinoa cake but honestly that makes me think of granola bars which...this just isn't. The quinoa serves a structural purpose but there is no way to tell it's there.
The quinoa disintegrates to nothing thanks to the blender, and, yeah, I'd probably use a pretty good blender in this case. I have a Blendtec that I got on sale at Bed Bath and Beyond 5 years ago. I use it at least once a week, usually more, and it's showing no signs of stopping.
The beauty of making this cake in a blender is that it comes together super quickly. To start, I like to preheat the oven, measure ingredients, and prep the springform pan with parchment between the two pieces THEN cooking spray. This isn't totally necessary, but it makes it easier to get the cake out of the pan and I just keep the cake on the parchment paper for serving.
To clarify: to prep the pan take the base out of the springform pan. Put the parchment on top of the base, then wrap the ring around the parchment paper and the base. When you look at the prepped pan the edges of the parchment will be sticking OUT of the edges of the pan (see the picture below).
What Can Be Used Instead Of A Springform Pan?
Any other cake pan you like! A round 8 or 9 inch cake pan works great, and I bet even a pie pan would work fine.

I like the springform pan because it's so easy to get the cake out and we want to use the caved in top to our advantage, but you can use another round baking dish and carefully take the cake out of the pan before adding the chocolate ganache frosting, OR leave the cake in the pan to cool completely, frost it from there, and serve out of the cake pan like you would a pie or tart.
Blender Cake
Ingredients! Grab (and measure, fine) some cooked quinoa, eggs, melted butter, milk, vanilla, sugar, cocoa powder, salt, baking powder, and baking soda. You'll also need heavy cream and chocolate chips for the chocolate ganache frosting, which I make while the cake is cooling.
Ingredients in blender.
And, a note about the quinoa here. I often reserve a cup of cooked quinoa after we have grain bowls for dinner, then make the cake a day or two later. THERE'S some cook-once-eat-twice meal prep for ya, you know? Just be sure that the quinoa is plain, not cooked in chicken stock or full of fresh herbs. Right? Right.
Put the cake ingredients in the blender liquids first (butter, milk, eggs), then quinoa, then everything else. I don't add anything in stages, but having the liquids at the bottom gives the blender a little room to groove at the beginning.
Puree the cake batter until you can't see an more bits of quinoa.
Dump the batter into the prepared pan, and bake! 350F for 18-20 minutes until a toothpick or tester comes out clean.
The cake will be puffy at first and then deflate as it cools. This is normal + useful for this particular cake. Let the cake cool for at least 5 minutes in the pan, or leave it in the pan while you make the ganache.
Chocolate Ganache Frosting
This frosting might be my favorite way to ice a cake from now on. It is so easy, rich, gooey, fudgy, just all the best chocolate words mushed together. To make the ganache, measure chocolate chips and put them in a mixing bowl, then heat some cream just to a simmer in a small pot.
When the cream is simmering, pour it over the chocolate chips and let them sit for 1 minute, then stir to completely combine the chocolate and cream. This takes a minute and will look weird at first, but eventually the ganache will come together and your toddler will say "can I lick it?" 11 times in a row until you turn on the TV.
~follow me for more parenting tips!~
NOW. We have slightly cooled cake. No worries if it's still a little warm. We have ganache. Also warm. Let the ganache sit for about 5 minutes to cool just slightly - we want it liquid but not completely runny.
Pour the ganache into the accidentally on purpose handy dandy gluten free cake crater you've made, like so:
If the ganache starts to spread too quickly, which can happen, pour in a little, stop, stick the cake in the fridge for 10 minutes, and add more. The idea is for all of the chocolate ganache frosting to be in the center of the cake, but of course if it runs over the edges literally nothing happens besides frosting in another place.
When the cake is frosted, stick it in the fridge to chill for 2-4 hours (overnight works!), and be as patient as you can waiting for the ganache to firm up.
Worth. The. Wait.
When I look at this I'm still not entirely sure how this is a gluten free chocolate cake made with quinoa. It is so, so good, so decadent, and feels really fancy and special.
Sprinkles are optional but not, you know?
Gluten Free Chocolate Cake (with quinoa!)
Gluten free chocolate cake! This BLENDER CAKE (yep) is made with quinoa and tastes just like a gooey brownie with decadent chocolate ganache frosting.
Ingredients
Blender Cake
2

eggs

½

cup

melted butter

¼

cup

milk

1

teaspoon

vanilla

1

cup

cooked quinoa

¾

cup

sugar

½

cup

cocoa powder

½

teaspoon

kosher salt

¾

teaspoon

baking powder

½

teaspoon

baking soda
Chocolate Ganache Frosting
1

cup

chocolate chips

¾

cups

heavy cream
Instructions
Prep: Preheat the oven to 350F and prepare a springform pan with parchment paper fitted between the base and the ring (see picture). Spray with cooking spray.

Cake: Add the cake ingredients in order (liquids first) to a high speed blender. Blend until very smooth and you can hardly see any quinoa bits.

Bake: Bake the cake for 18-20 minutes until a toothpick or tester comes out clean. Remove from the oven to cool for at least 5 minutes in the pan, or leave in the pan to cool completely if not using a springform.

Chocolate Ganache Frosting: While the cake is cooling, place the chocolate chips in a small mixing bowl and bring the heavy cream to a simmer over medium heat in a small pot. When the cream simmers, pour it over the chocolate chips and let it sit for 1 minute.

Stir the cream and chocolate chips together until smooth and glossy, then let the chocolate ganache cool for about 5 minutes until smooth and pourable but thick. Pour into the center of the cake until it spreads right to the very edges.

Chill: Place the cooled cake in the fridge for 2-4 hours until completely cool and the ganache is firm. Slice carefully and serve. OMG.
Notes
I use leftover quinoa for this often! Just be sure to use plain quinoa, not cooked in chicken stock or similar.
Use any kind of milk you like for this recipe.
If you don't use kosher salt, table salt or sea salt work great - use ¼ teaspoon instead as the weight and saltiness are slightly different.
If the ganache spreads too quickly and you don't want it to run over the edges of the cake (just an appearance thing), stop pouring and let the cake chill for 10 minutes, then pour on more ganache, repeating this as necessary until you use it all.
This recipe is adapted from The Kitchen McCabe.