I am not gluten free. But! A lot of people are, and all of the kinds of people in this world should be allowed to eat cake. Yummy cake. Intentional cake. Cake with chocolate chips on top of it that are slightly melted like icing.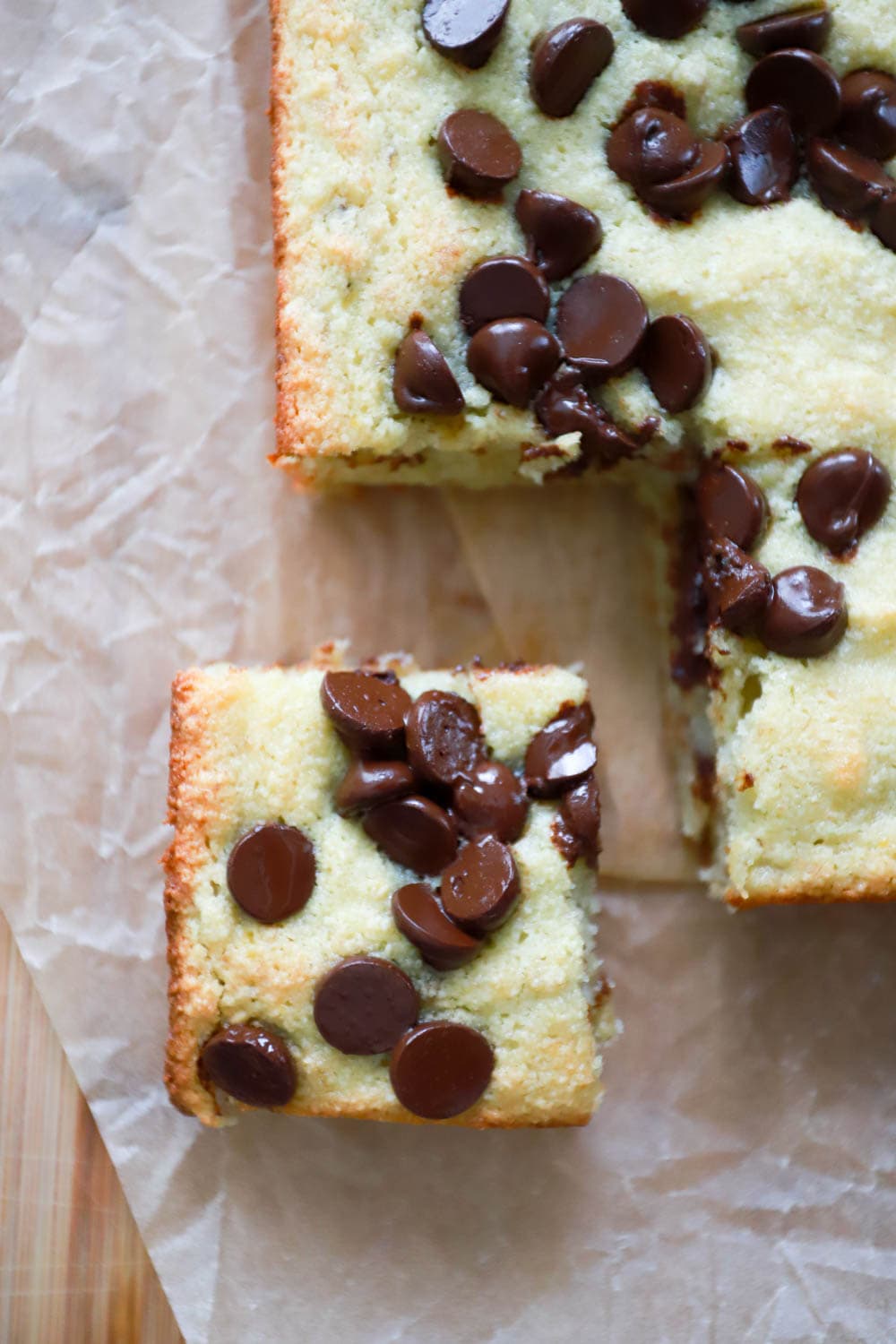 This recipe came to me via Instagram; someone that I hadn't heard of before posted the recipe and it included almond flour which I HAPPENED to have a bag of in my freezer, among other gluten free ingredients that need a home.
The thing about blogging is that people give me 10 bags of gluten free flours that they bought before realizing that, gf or not, they don't actually bake so...want some coconut flour, Linds?
I don't waste food, so if anyone has a neat recipe using coconut flour I'm all ears.
SO ANYWAY, I had a bag of almond flour. And some bananas that were.....needing to be in a cake... and this recipe drifted down my feed. And I made it, it worked PERFECTLY, and was really delicious in a snack-cake kind of way.
The cake itself comes together in maybe 5 minutes, 10 if it takes you awhile to mash bananas. Then it bakes for 30 and if we call them "bars" then it's a breakfast food! The almond flour adds tons of protein, the banana means not a ton of added sugar, and away we go.
Besides bananas we have a bit of salt, sugar, baking powder, eggs, almond flour, and chocolate chips. Start by mashing the bananas into the sugar with a fork.
Add the rest of the ingredients and stir.
Chocolate chips on top are optional, but are they really optional? You decide.
The result here is almost light, somehow? And very moist, yes that is how we describe good cakes. Kiiiiind of like banana bread, but lighter from the eggs. I folded up some parchment paper to lift the cake right out of the pan, but I've made this gluten free banana cake with just cooking spray and it comes out just as easily.
I love that this is stirred together just like pancake batter or similar - no whisking or getting out the mixer, just stirring together a few simple ingredients that work SO well together.
We've made this a few times this summer, and it's been gobbled up each time by several different groups of people, all with some sort of "this doesn't taste gf" variation of praise.
I'm sure it goes without saying that my little taste tester was EXTRA excited to help me with this one, yesterday's lipstick still intact, thank you very much.
Try this soon! It's delicious, easy, and definitely on the "not awful for us" spectrum of desserts to keep lying around.
Gluten Free 7-Ingredient Banana Cake
Delicious cake that is done start to finish in under 45 minutes, this banana cake is part banana bread, part cake, a million times delicious.
Ingredients
3

very ripe bananas

⅔

cup

sugar

3

large eggs

3

cups

almond flour

I used Bob's Red Mill

2

teaspoons

baking powder

½

teaspoon

kosher salt

½

cup

chocolate chips

optional but not really because happiness should not be optional
Instructions
Preheat the oven to 350F and grease a 9x13 cake pan, or line with parchment paper.

Combine the sugar and bananas in a large bowl with a fork, mashing until smooth.

Add the rest of the ingredients EXCEPT for the chocolate chips to the bowl. Stir until totally combined. The batter will be a bit grainy from the flour.

Spread the batter into the prepared pan and top with the chocolate chips. Bake for 30 minutes until just set in the center and golden at the edges.

Let cool in the pan, or lift out after 10 minutes if you used parchment paper. Slice, serve, high five healthy choices.
Notes
Your therapist said this is fine for breakfast. It's made with almonds, for crying out loud.