Simple, elevated New Year's Eve (or anytime!) appetizer bites that are perfect to prep in advance and so simple thanks to the use of frozen phyllo cups! Tender, beefy caramelized onions, gooey cheese, and crispy pastry cups make this the PERFECT party appetizer!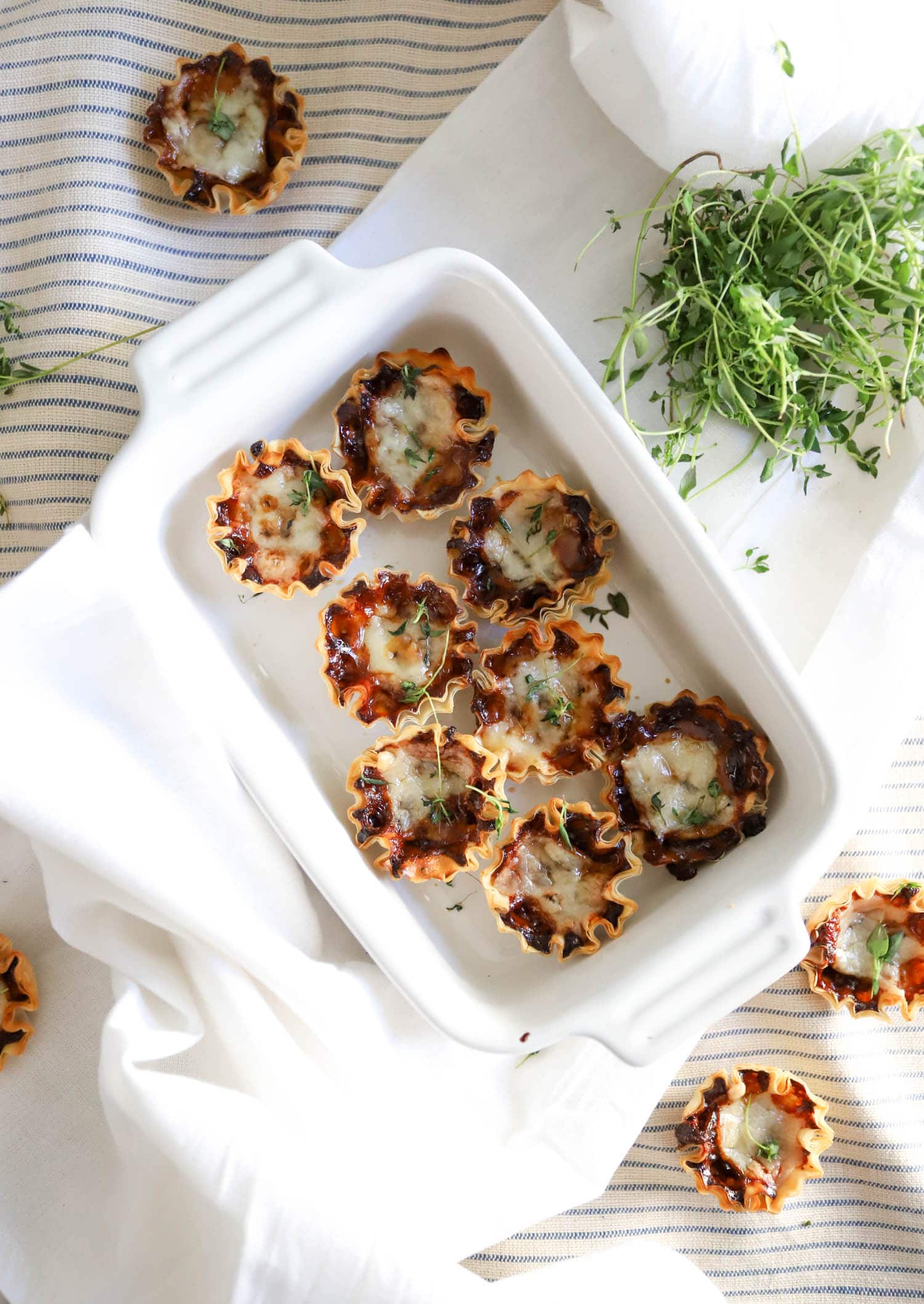 (Random thought: Omg Baby It's Cold Outside and also the controversy about that song. Currently not ok and also historically fine because that's how people used to be/talk/sing, I think. I've noticed that people have a really hard time with two emotions coexisting, probably will be a theme of mine for the rest of my life, talking about that more.)
So, Fancy Appetizers. How do we feel about them? Back when we were catering we made SO MANY bite-sided things that we got completely burned out on the assembly of them. We now do parties with lots of dips and spreads, easy things that can be made in advance and served at room temperature, like pimento cheese.
BUT, I also love bite-sized appetizers for parties. I still make them, but I do usually save them for smaller gatherings that don't require 120 of anything.
This is the perfect small batch appetizer with a great combo of prep-ahead, bake last minute.
The layers for French Onion Soup Bites go like this:
Frozen phyllo cups, a very smart thing to keep in your freezer.
Caramelized onions in beef broth, aka tastes exactly like French onion soup.
Little square of Swiss or Gruyere cheese, baked over top for an ooey-gooey, soup-adjacent bite that is seriously just SO good.
Tastes like Trader Joe's French onion soup and Panera French onion soup all at once and just HELL YES to all of that, you know?
Recipe Notes and FAQ
I call these French Onion Fillo Bites, and get off me about how to spell it. There are three (maybe more) spellings used interchangeably on the internet and the box of pastry cups I used say Fillo, but in my head it is spelled Phyllo, so riddle me that. French Onion Puff Pastry Bites solves this issue.
These are super simple and involve a wildly delicious caramelized onion filling topped with sharp cheese. That is stuffed into premade pastry cups (that I love using this time of year) and baked, and everything gets ooey gooey and just makes the most delicious one-bite snack.
I love these for parties or as a starter to a fancier meal, and honestly keeping some of the onion mixture around to spread on crostini wouldn't be a terrible idea at all.
How do you deepen the flavor of French Onion Soup?
For me, the addition of some dried spices and Worcestershire sauce when the onions are caramelizing make this and any French onion soup taste way more savory.
Can I use Mozzarella instead of Gruyere?
Yes! Any sliced cheese that will melt nicely works great here. Provolone, Swiss, and Mozzarella are all lovely choices.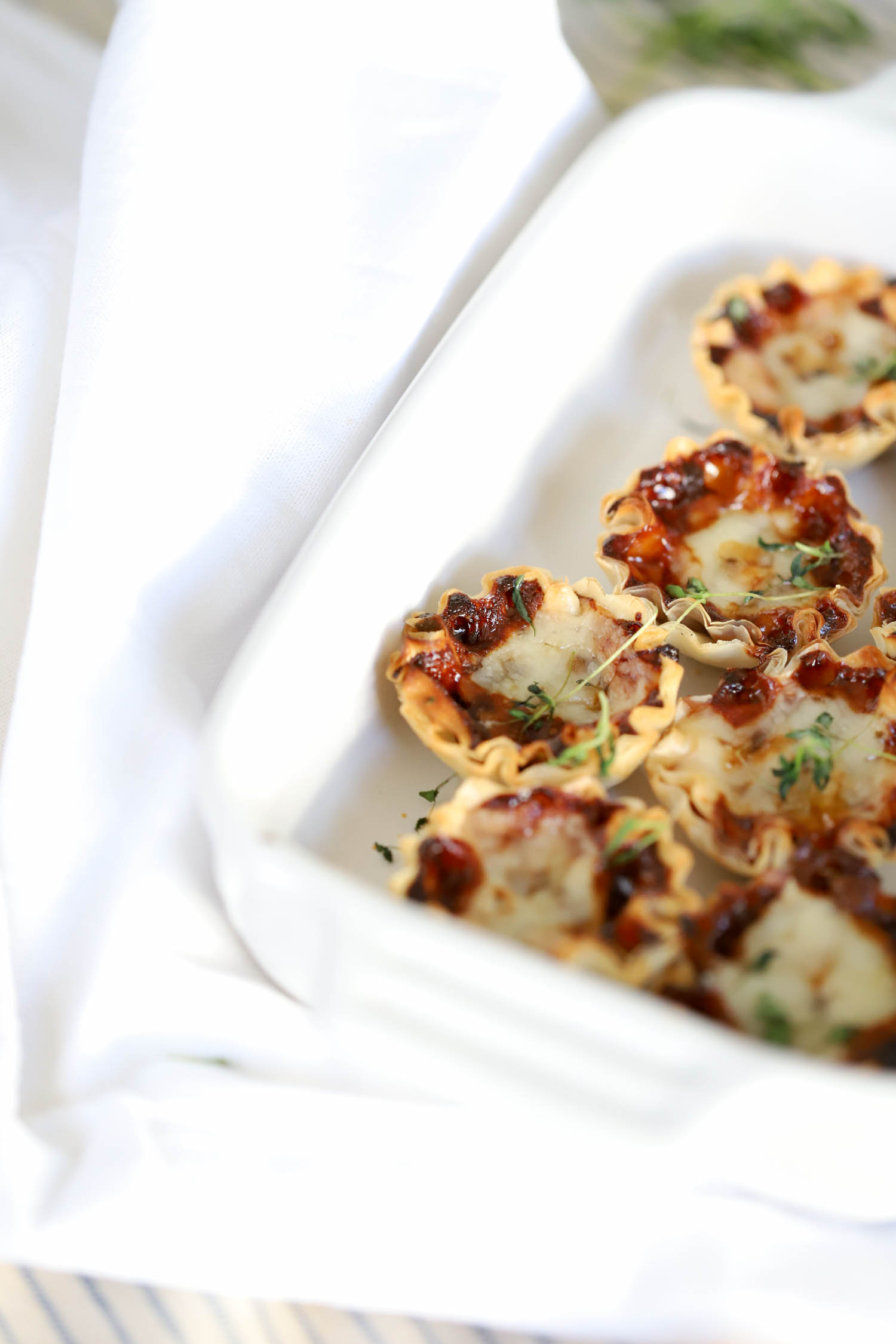 Meal Prep and Make Ahead Tips
The best part is that the French onion filling is the most time consuming piece of this recipe but can be made several days in advance and kept in the fridge. Then, the day you'd like to make these, the pastry cups can be filled and topped earlier in the day, then baked right before serving.
I always keep phyllo cups in my freezer for appetizers like this - I find them at Trader Joe's or in the freezer dessert section of regular grocery stores.
I have also taken these fully cooked to a party, served them at room temperature, and they were absolutely delicious.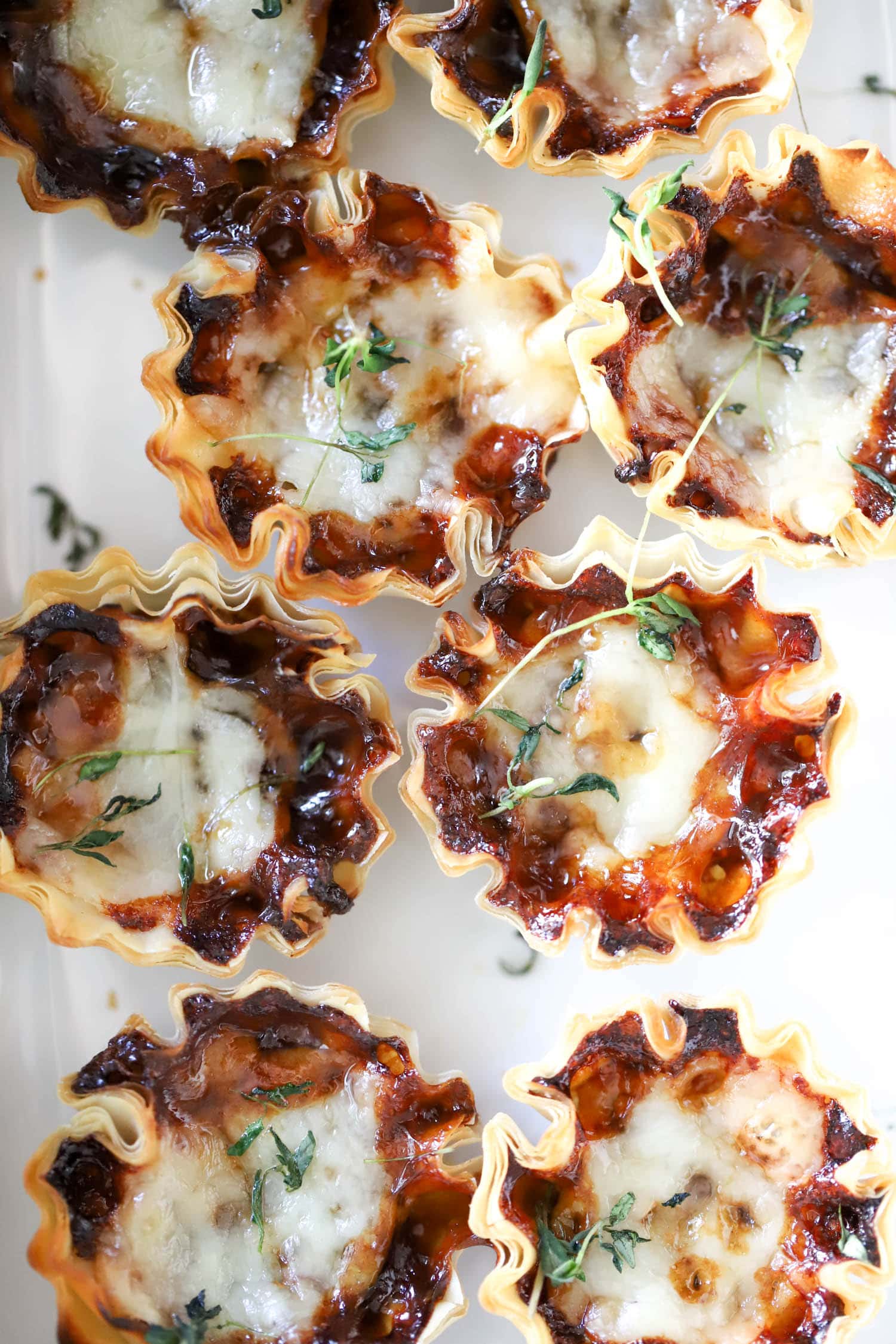 Caramelized Onion Ingredients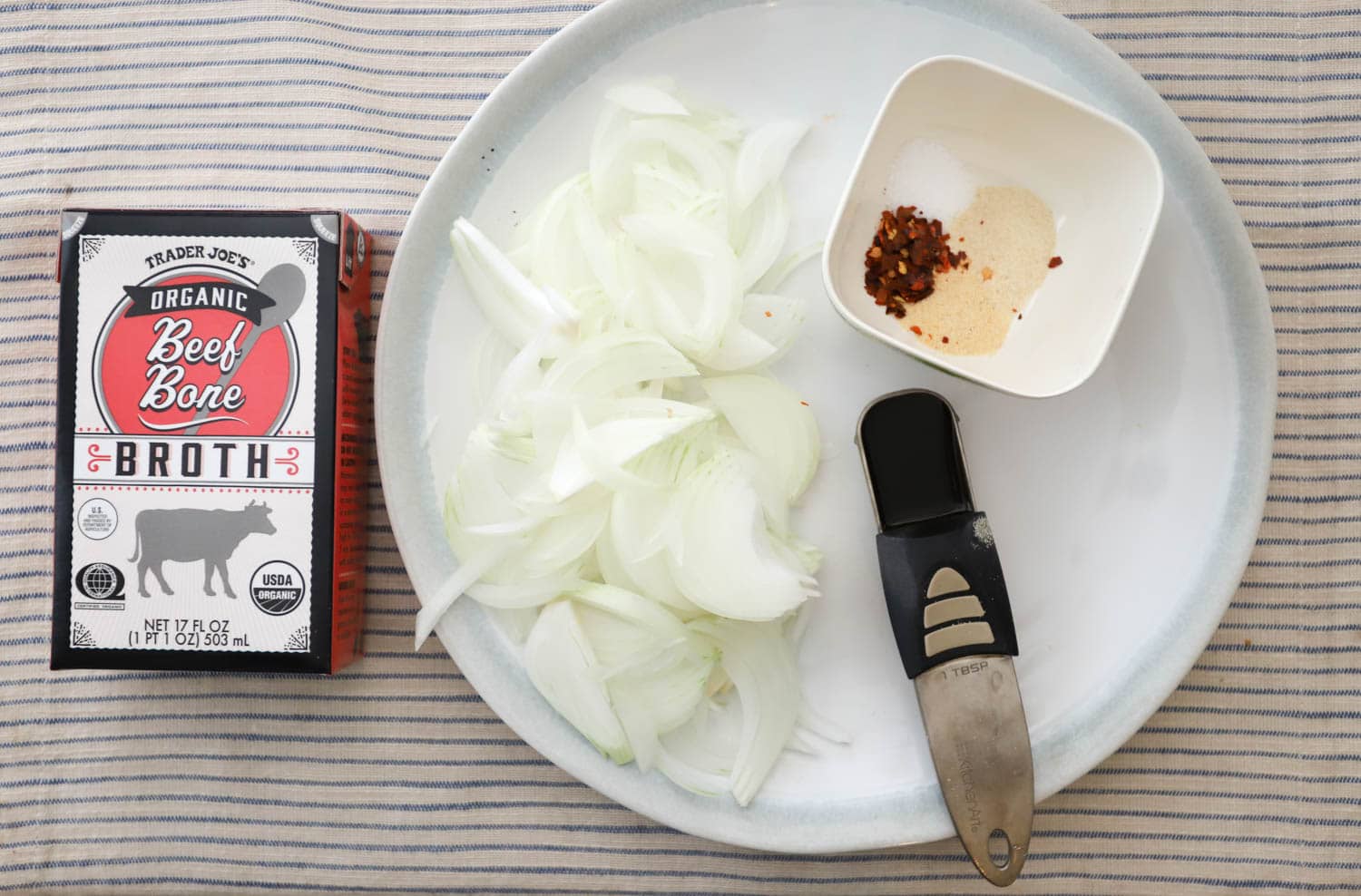 Start with making the onion filling. This takes about an hour, but can be made well in advance and is super easy even though it takes some time. Sliced onion and beef broth, onion powder, garlic powder, crushed red pepper, salt, and Worcestershire sauce. The base of French onion soup!
Step By Step Instructions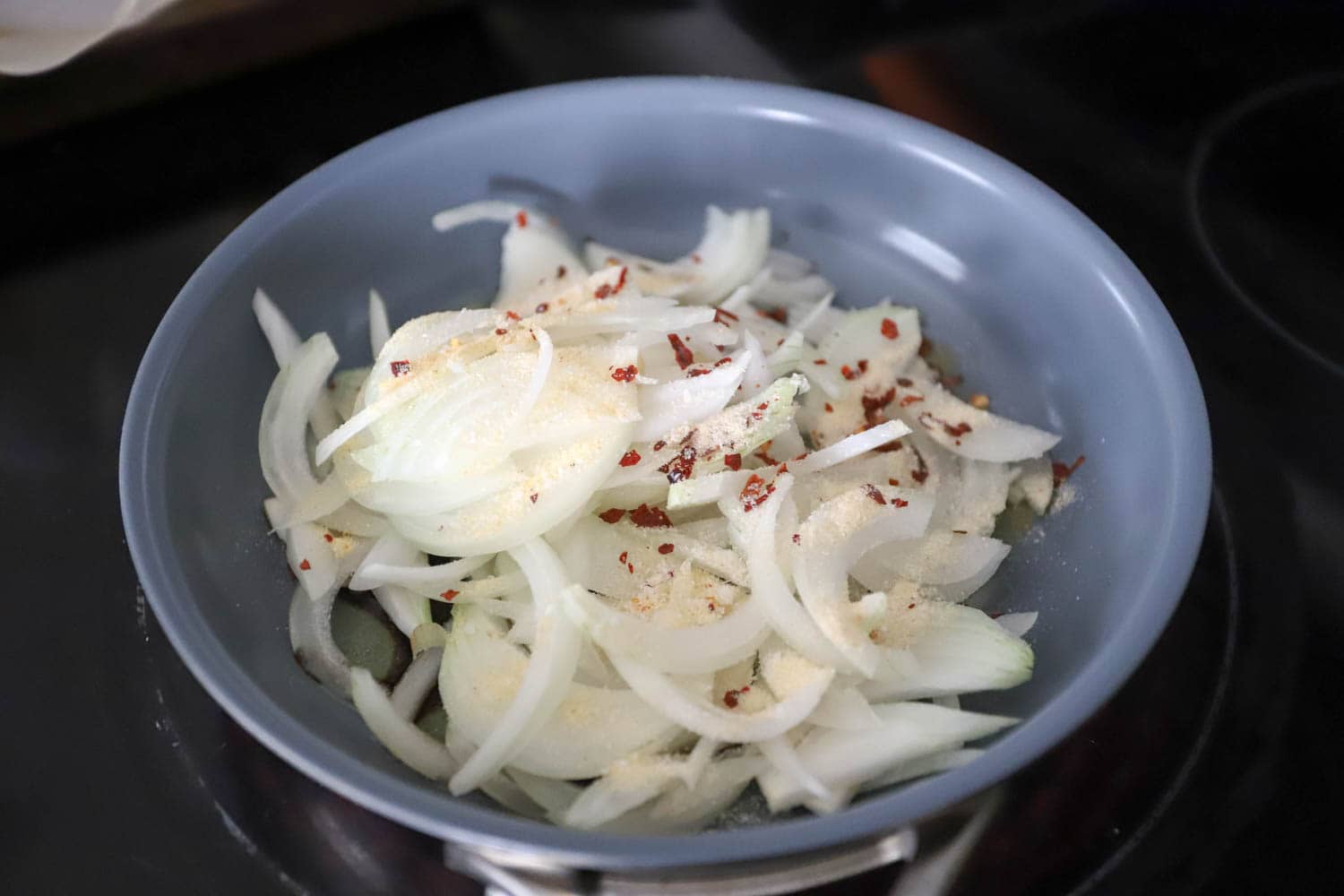 First, place all of the filling ingredients (including the beef broth!) in a skillet with a drizzle of olive oil over medium heat.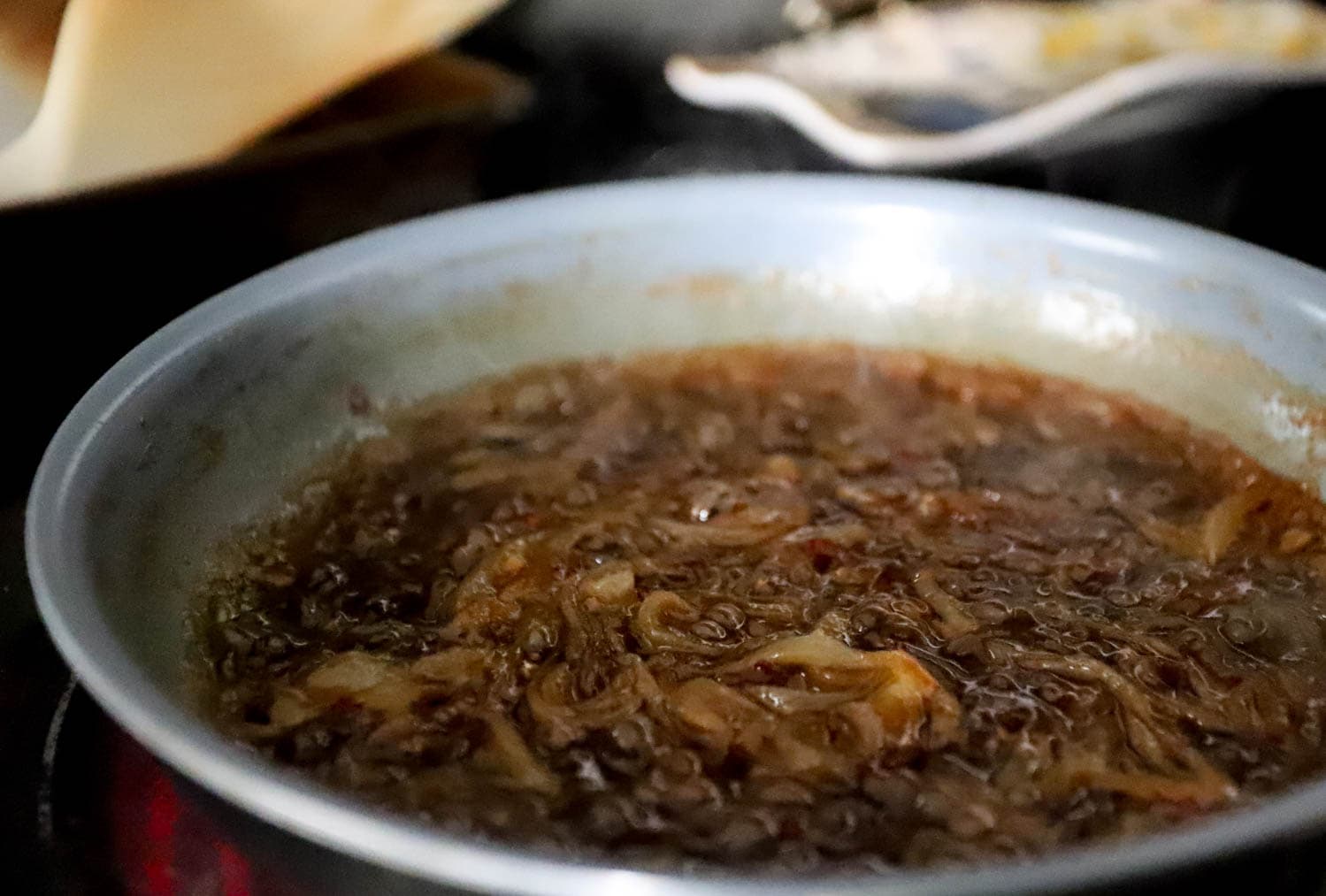 Cook the onion mixture downdowndown, letting it bubble and reduce as it cooks. This'll take about 45 minutes, and the idea is that as the beef broth evaporates the onion will cook down and become super flavorful and golden brown, like a quick version of caramelized onions.
During this time, stir the onion mixture every 5 minutes or so to prevent the onions from sticking.
When the onions are super soft and there isn't much liquid left in the skillet, turn the heat off the onions and let them cool slightly.
Assembly and Other Ingredients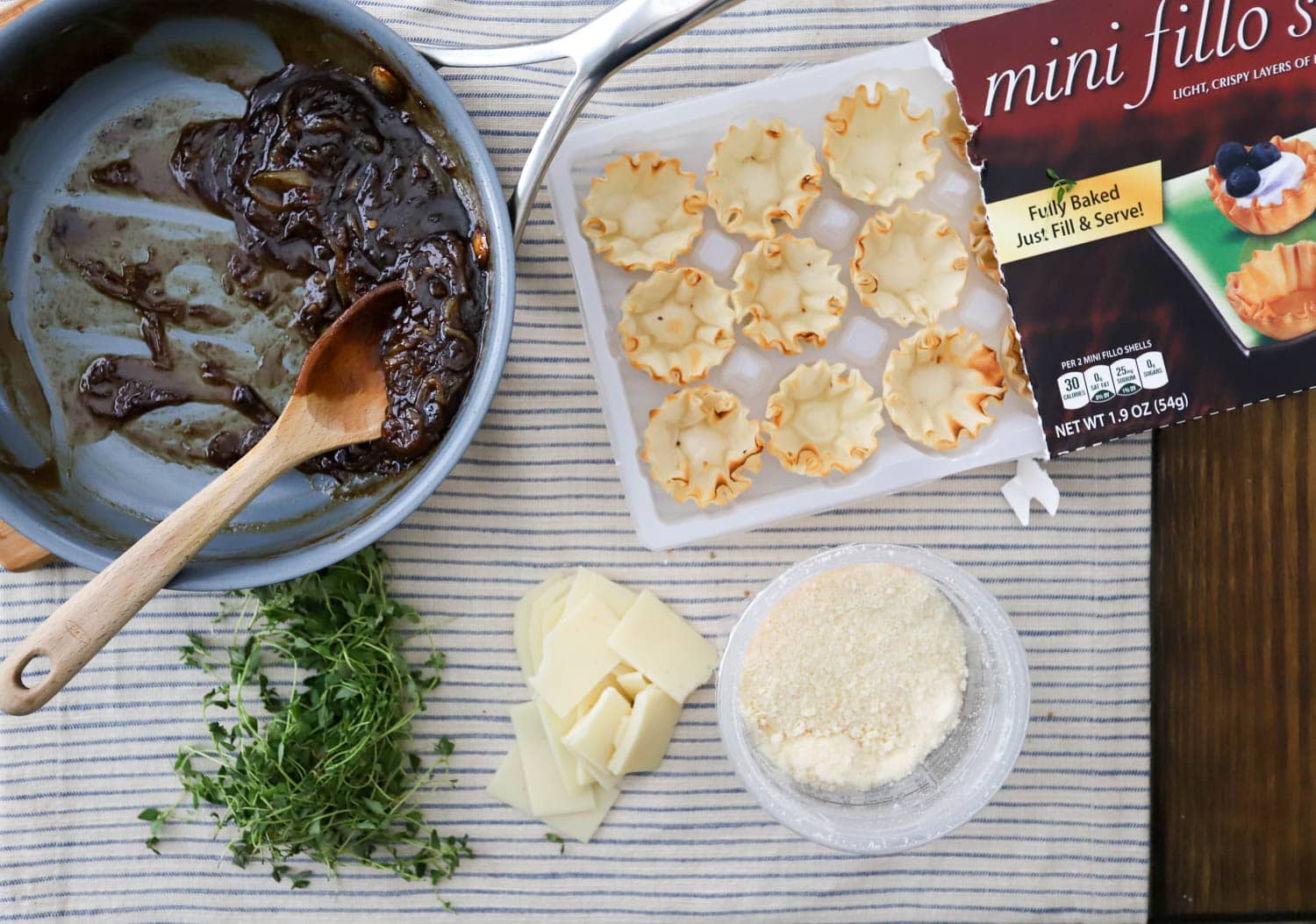 When you'd like to assemble the fillo bites, grab the rest of your ingredients. Frozen fillo cups, parmesan cheese, gruyere or other melting white cheese (this is two deli slices of Roth's Grand Cru cut into 8 pieces each), fresh thyme, and the onion mixture.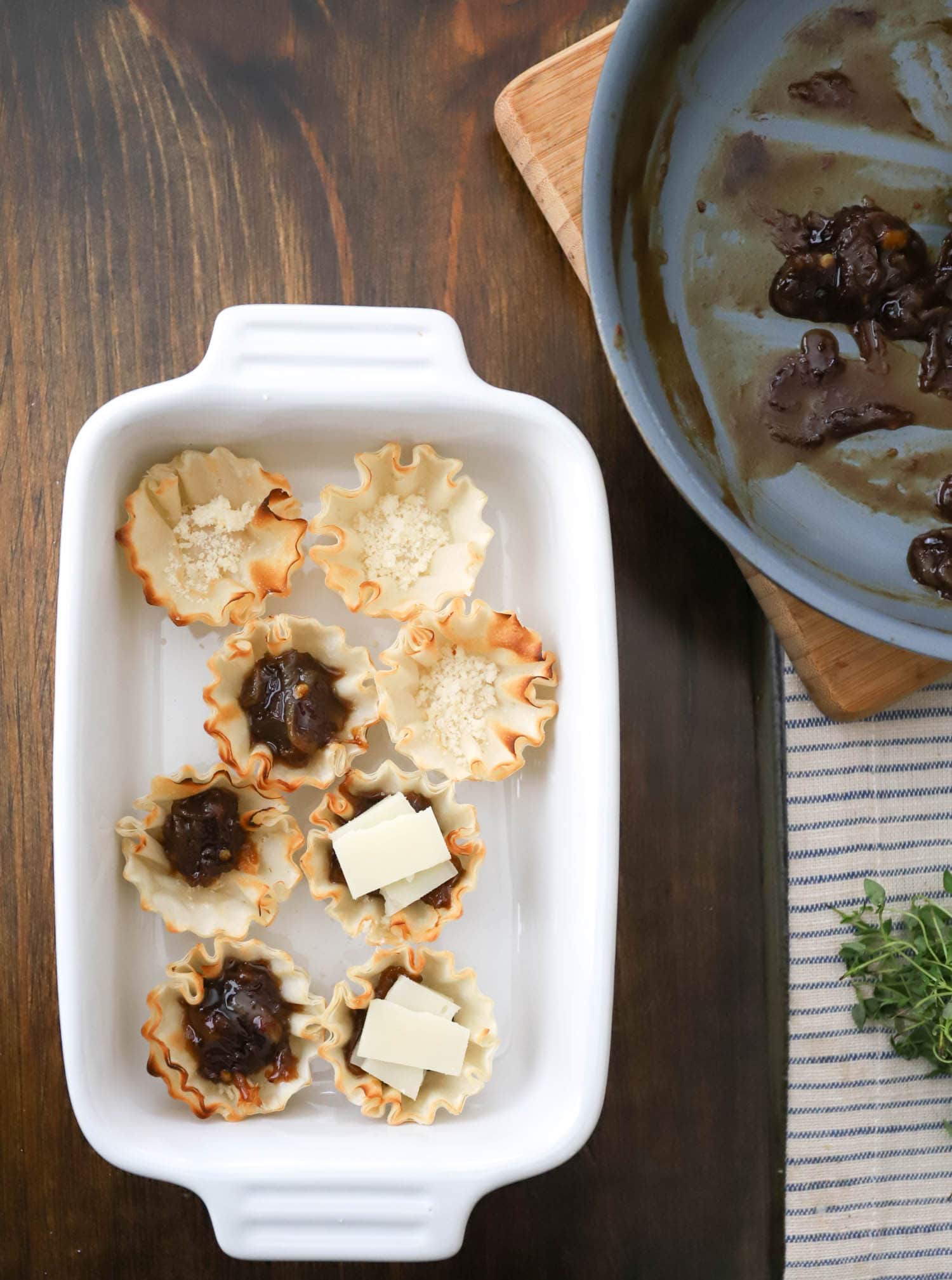 Turn the oven to 375F, and arrange the fillo cups on a baking sheet or in a small dish before filling them.
In each one, layer a bit of parmesan, then a teaspoon or so of the onion mixture, then two small slices of melting cheese. Use all of the ingredients without overfilling the phyllo cups - leave a tiny bit of space at the top of each one.
Bake the cups for 20 minutes or so, just to melt the cheese and heat everything else through. Top with fresh thyme, and DONE.
Serving
I like to prepare the ingredients for this and bake the cups right before a party starts, or if I'm going someplace where I know the host well enough I'll bake the cups at the actual party (if it's not at my house). These are wonderful room temperature, and really delicious hot from the oven, so serve them however works best for you.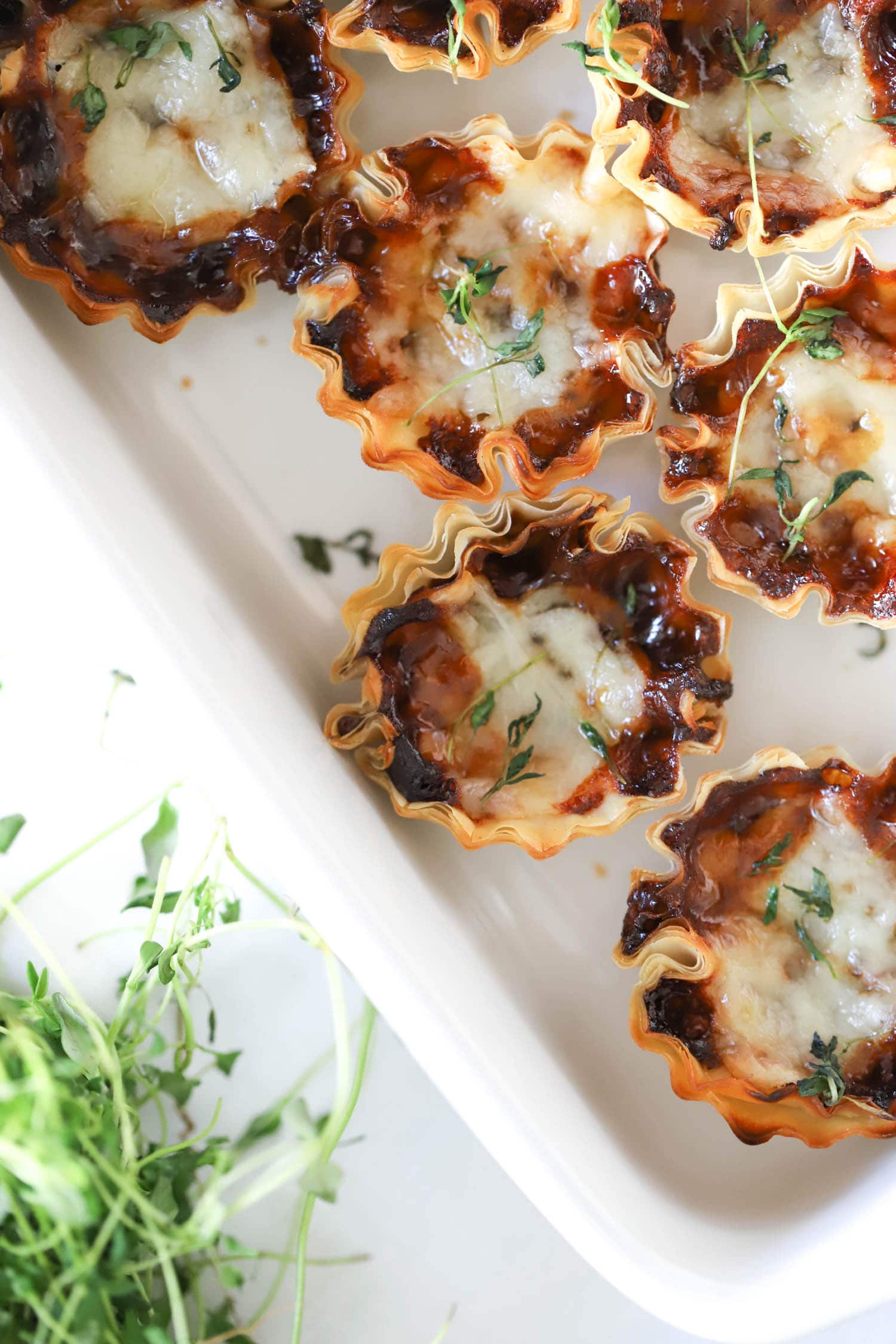 Flavors include nostalgia: Panera or wherever else you got your middle and high school overly salty French onion fix growing up, soup packets made into dip, that sort of thing.
I'm all about old flavors turned into something a leeeeetle bit more sophisticated, and these do just that without a ton of effort. They ARE pretty spicy from the crushed red pepper, so leave it out or just use a few pinches if you aren't into lots of heat.
Happy party season!
Print
French Onion Soup Bites (Phyllo Cups)
---
Total Time:

1 hour 20 minutes

Yield:

Makes

15

bites

1

x
Description
The best appetizer ever, these little bites taste like French Onion Soup and can be made in advance!
---
1

large onion, thinly sliced

2

cups

beef stock

½ teaspoon

onion powder

½ teaspoon

garlic powder

½ teaspoon

salt

½ teaspoon

crushed red pepper

1 tablespoon

Worcestershire sauce

2

deli slices gruyere or other sharp white cheese (or

1 ounce

cheese very thinly sliced, the deli slices just make things easier)

2 tablespoons

grated Parmesan cheese

1

package frozen fillo cups (

15

or so)
Fresh thyme leaves, optional
---
Instructions
In a small skillet, add the onion, beef stock, spices (except for the fresh thyme), and Worcestershire with a drizzle of olive oil.
Cook the onion mixture over medium heat, stirring occasionally, until the onion is very soft and most of the liquid has evaporated. This will take about 45 minutes, more or less depending on your stove and the skillet you use. A nonstick skillet works great for this!
Cut the cheese slices into 8 pieces each – enough to yield two small squares per fillo cup.
When the filling ingredients are prepped, preheat the oven to 375F and fill the filo cups. Place a small amount of parmesan cheese in each cup, followed by about a teaspoon of the onion mixture (use it all up!). Top each cup with two small pieces of melting cheese.
Bake the cups for 20 minutes until the cheese is bubbly. Top with fresh thyme leaves and serve hot. For potluck events, I bake these right before I leave and serve them at room temperature, or assemble them and bake them at the host's house if appropriate.
Equipment
Notes
Make this vegetarian by using vegetable stock and vegan Worcestershire sauce. The end result is still delicious!
Make Ahead: prep the onion filling up to 4 days in advance and keep it in the fridge to save time when you make the phyllo cups.
Prep Time:

1 hour

Cook Time:

20 minutes

Category:

Appetizer

Method:

Bake

Cuisine:

American
Keywords: french onion soup bites, phyllo cups, phyllo cups appetizer
More Easy Appetizer Recipes