It is time.
To hear about our favorite bits of the cruise, the parts that didn't involve gluttonous behaviors or cray cray table convos.
Port days!
We figured out that we basically used the boat as a cheaper flight+hotel option, which was fine by me because I liked the cruise part of the trip better than Jay. BUT, we both like seeing new places and doing touristy things, so we agreed that the days off the boat in the Bahamas were definitely our fav parts.
Our first stop was in Nassau. Home of Atlantis! On this day we didn't have a specific plan, we just wanted to wander around and see the town and go from there.
SO, that's exactly what we did. We shoved through the taxi-offerers and decided to walk towards Atlantis to see what we could see. We knew that the only part of the hotel we could access was the casino, which didn't interest us, so the journey was of more interest to us. From the boats Atlantis doesn't look that far away and Jay had on good shoes and I had on flats, so we went for it. It was a GORGEOUS day and the walk is a decent one.
You walk through some older parts of town with lots of closed businesses, which is sad, but then you walk over a freeway (with a pedestrian lane, it's a thing) to Paradise Island, and view is gorgeous!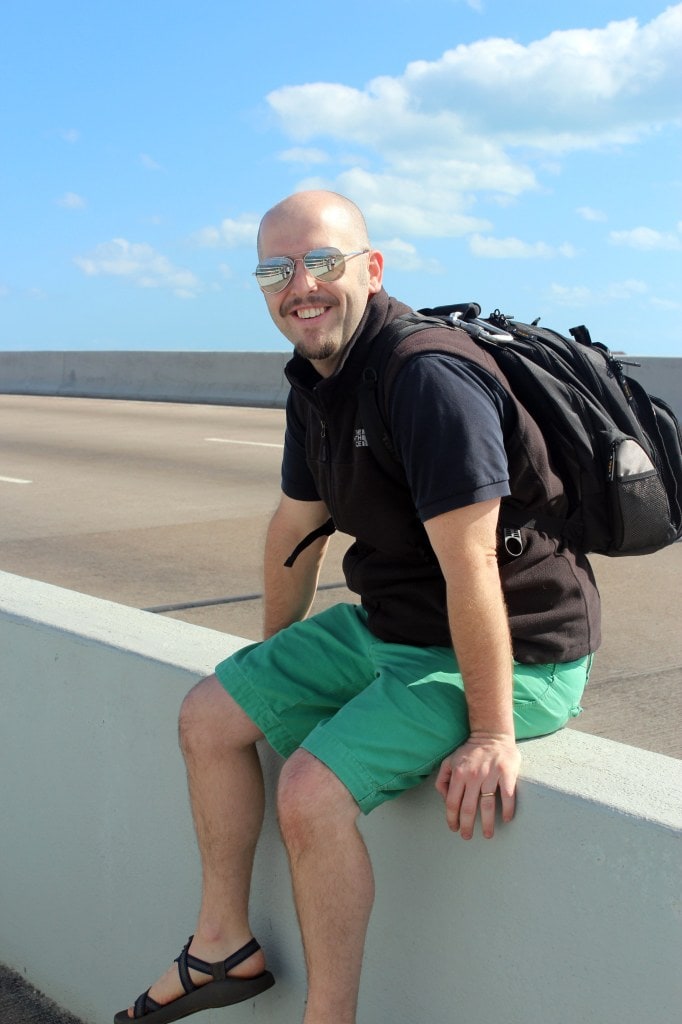 Over the bridge we walked a little bit more and found Viola's Bar and Grill, which is outside of a smaller, non-Atlantis-looking hotel.
It looked local even though it was associated with a resort, so we went for it!
We tried local beer and ate fried conch and had Wi-Fi for the only part of our trip, which was funsies because ALL THE INTERNETS. The bartender (hi! you were nice!) also gave us a tip for the rest of our day, to head to the other side of the island to Fish Fry, which is a place that locals go. YES YES YES.
I should probably mention at this point that it took us a little over an hour to walk to Atlantis, and I knew that a blister was developing on my foot. I had on great flats but...not great for walking miles and miles and miles. On our way back across the island Jay all of a sudden said "oh honeyyyyy," and I thought there was a bee or something but - no. There was my foot, drenched in my own blood. I was minimizing the pain, apparently.
We also saw this very clever ad, which I think is great. People in America are touchy about stuff like this, and I think it does our citizens a disservice, but that's probably another conversation.
So there we were, 30 minutes away from the boat and further from where we wanted to go, and I just...kept walking. Jay wanted to get a cab but it REALLY didn't hurt that bad so besides the embarrassment of the super offputting bloody heel, I wanted to keep walking. So we did! We went to Fish Fry, which is basically a collection of little shack-restaurants that all have basically the same menu. It was strange, but cool. We ate raw conch salad, which is likened to ceviche which I think is like pico de gallo with seafood mixed in. It was really good, light and fresh and sexy.
On the way back to the boat (yep, still walking!) we hit up the straw market, got a strawberry daquiri, and saw beach parties and all sorts of fun beachy life. The pedometer app on my phone kept going off, and by the end of the day we'd walked 15,000 steps with cray blisters, which we likened to more than 8 miles. We skipped dinner that night and I slept for 11 straight hours. Phew.
The NEXT day we were in Freeport, which was a lot different than Nassau.
On Nassau you can walk everywhere, but in Freeport the boats dock in an industrial park which is 6 or so miles from ANYTHING. After the day before we couldn't start the day with a 6 mile walk to nothing, so we hung around the port for awhile to make a plan. Freeport has a wildlife reserve that is supposed to be amazing and we really wanted to go to that, but it turned out to be 30 miles away and the best we could do for a cab there was $40 each, which just seemed like a lot for a ride somewhere. Instead, we got a $5 cab to a resorty area in the middle of the island, and by cab I mean van with no AC or working speedometer, NO JOKE. Our driver, Corrine, gave us some local history as she drove, which was actually really cool.
When we got to the resorts we rented a moped so we could get the eff away from tourists. I had seen a recommendation for Garden of the Groves online, so we rode about 5 miles down the road to the gardens, which has wildlife, a chapel, and a cafe. It was really gorgeous, and fun to walk through. Since we were there in "winter," loosely speaking, the plants weren't all at their best, but it was still gorgeous.
We walked through the labyrinth, which is supposed to be one of those calming meditative rituals where you know the beginning and end will always be the same, and I really liked it. It's nice to find quiet and meditation wherever you go.
We had lunch at Garden of the Groves too, which advertised free Wi-Fi but none was to be found, which was kind of a bummer because it forced us to continue to talk to each other. Kidding. We loved that there were no menus, just these big boards that a waitress brought to us when we sat down.
And nature friends! Jay fed these guys carrot shreds and I commented on how ugly they were.
Jay had a conch burger and I had a mahi sandwich, and the food was just great. Out of a small shack like all the food we ate on the islands, really fresh, and made with lots of pride and love. I'd go back.
On the way back to the boat (we were still pretty far away at this point) we stopped at a beach we saw on a map that had public access but wasn't near any hotels. We saw some chairs that happened to be attached to a restaurant and got some fruity drinks and just sat in the sunshine and read, and that was probably the highlight of our entire trip.
The beach was of course gorgeous, and it seemed like everyone there lived nearby. Kids and dogs were playing, grownups drinking and laughing - I was dying to know what kind of jobs let them live there and ask if they were hiring.
Renting the moped was our best decision, and one that allowed us to explore Freeport on our own terms. There are a lot of peddlers on the islands that want to overcharge for excursions and rides and, while that's all well and good, we really like doing more local stuff, even if the plan isn't always perfect and we end up with bloody heels.
Overall, I loved the islands and would deffffffinitely go back, if not on a cruise. Maybe I'll strike it rich and we can go to Atlantis once a year until we die.
Maybe.