I'm 32 today. It's extraordinarily anticlimactic because when there are toddlers you realize how little you matter in the world besides staying alive to feed people and tidy up after them, but somehow that feels very important.
My theme for 32 is heightened anxiety over untimely death, it's very soothing.
I think it's because my life is so good, honestly. I'm terrified of not being here for it, and then I realize that consuming my thoughts with things like that is really a waste of the being here time, and around and around we go. I don't let it consume me, necessarily, but I'm often tearful at just how lucky even the most mundane moments of my life are. Beck begins nearly every sentence with a whine, Jay and I both work too hard at the wrong times, bills come out of nowhere, school debt (and all of the other debt) is relentless, I'm not anywhere close to comfortable with the state of our government, but somehow it works, it works well, and I'm grateful for it.
I also notice as I grow and change that I feel more ready to handle things. I'm not fearful to stand up for myself when people treat me like crap, much to those people's chagrin. I don't let Beck walk all over me, and I don't cringe at the thought of trying REALLY hard to keep the TV off around her for days at a time because I know it's important. It doesn't bother me to be a mean mom compared to other moms, or uncool in the work department. I believe really strongly in the work I do and try hard to find a balance between it, family, and hobbies. I try to eat more veggies and drink less and sleep more and better because I know it's worth it, and I don't beat myself up when I fail, because I actually don't believe that making the non-best choice is a failure at all.
Also I'm incredibly pleased that American Idol is back and fully intend to watch every episode as soon as I have time to do so.
My life is boring and great and nondescript and fun, is why I don't want to miss any of it. Also, there's cake!
I am clearly not a baker or a cake decorator, but I do like baking a few times per year and am always seeking out go-to recipes for things that we love and can use over and over again. This is that! Jay and I love coconut cake at restaurants (his family is suuuuuper into bakery coconut cakes, which is not a bad thing), so I searched high and low for a good recipe that seemed like it was trustworthy. Emeril's recipe didn't involve a ton of random ingredients, and my family has been making 7-minute frosting since I was 7 minutes old (ha), and it's Emeril, so I went with it.
Real thoughts: It was good, not great. Actually, it was great, but not what I expected. The cake itself was slightly dense in a good way, like wedding or pound cake. The flavor was great, and the only alterations I made to the recipe were to omit the coconut extract but add in a layer of coconut simple syrup before frosting to keep the cake moist. Jay and I both agree that this particular cake would have been better suited to a buttercream frosting, so that's my recommendation. The 7-minute frosting is SO light and fluffy that it just gets eaten up by the butter-based cake, and a more sturdy frosting would last longer on the counter if you don't eat the cake all in one day AND stand up better to the more dense cake.
I made the cake in three pans for elevation and extra room for coconut syrup, but you can of course make two layers like the instructions call for.
The icing here needs to be made right at the last minute, but other than that the cake and simple syrup can be made a day or two in advance then assembled at the last minute with the frosting.
To ice, I brushed each layer with the coconut syrup before icing, using the coconut shreds between the layers as well. So it went cake, simple syrup, icing, repeat, ending with frosting all over the cake.
I used these coconut chips to top the cake and the salt factor was wonderful against the super-sweet cake.
So here's a cake for us to have this birthday, and a wish for myself that this year includes lots of friend and family time, slow and steady professional growth, and more time in the sun because IT'S SPRING.
~blows out candles~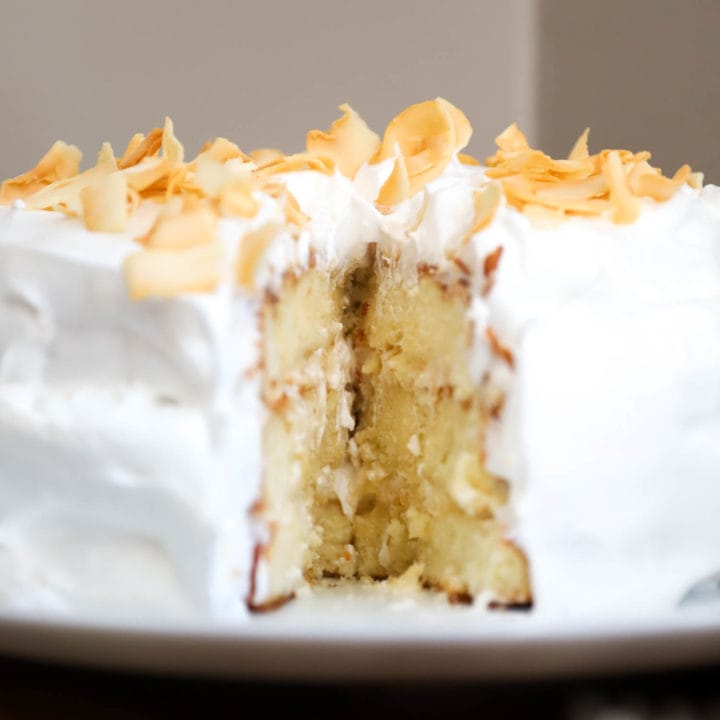 Emeril's Coconut Cake with 7-Minute Frosting
Ingredients
Cake
1

cup

2 sticks unsalted butter, softened

2

cups

sugar

3

large eggs

at room temperature

3

cups

sifted cake flour

1

tablespoon

baking powder

1

cup

unsweetened coconut milk

½

teaspoon

almond extract

1

teaspoon

vanilla extract

2

cups

natural coconut flakes

sweetened or unsweetened, toasted (optional)
Coconut Simple Syrup
½

cup

water

½

cup

sugar

½

cup

sweetened shredded coconut
Icing
1

cup

sugar

2

tablespoons

light corn syrup

½

teaspoon

cream of tartar

pinch

of salt

⅓

cup

water

3

large egg whites

at room temperature
Instructions
Preheat the oven to 350°F. Grease 2 or 3 (9-inch) round cake pans with butter or nonstick cooking spray. Line the bottom with parchment paper and grease. Lightly flour the pans; set aside.

In a large bowl using an electric mixer on medium speed, cream the butter and sugar together until light and fluffy. Add the eggs, one at a time, beating well after each before adding the next one.

Sift the flour one more time, adding the baking powder. Add it in thirds to the batter, alternating with the coconut milk and beating well after each addition. Beat in the extracts.

Divide the batter evenly between the cake pans, and gently tap the bottoms against the countertop to get rid of any air bubbles. Bake until a cake tester inserted in the center comes out clean, about 30 minutes (start testing at 21 minutes for 3 pans). Remove from the oven and let the cakes cool in the pans at least 10 minutes, then invert the pans onto greased wire racks. Remove and discard the parchment paper, then turn the cakes over and let them cool completely before frosting.

Set one layer on a cake plate and cover evenly with a thin layer of the simple syrup followed by 3⁄4 to 1 cup of the frosting. Set the other layer on top and cover with the rest of the simple syrup and coconut shreds (from the syrup), then use the remaining frosting to ice the top and side of the cake. Cover the top and side of the cake evenly with the coconut flakes. This cake does not require refrigeration.

For the coconut simple syrup: Combine the water, sugar, and coconut in a small skillet over medium heat. Stir to dissolve the sugar and bring to a boil, then turn the heat off. Let cool completely before using, may be stored in an airtight container for several days. If you don't like the texture of shredded coconut, you can strain the syrup before using, but we like the coconut flakes between the layers of the cake.

For the icing: Whisk the sugar, corn syrup, cream of tartar, salt, and water together in a small, heavy-bottomed saucepan. Bring to a boil over medium heat (do not stir it) and cook, undisturbed, until it reaches 240°F on a candy thermometer, about 2 minutes; stirring can cause the sugar to crystallize.

Meanwhile, in a medium bowl using an electric mixer on high speed, beat the egg whites until foamy.

Once the sugar syrup reaches 240°F, immediately and carefully pour it into the egg whites, with the mixer running on high speed, away from the beaters to prevent splattering and possible burns. Continue to beat until the frosting is glossy and fluffy, about 5 minutes. Beat in the coconut extract. Use immediately.
Notes
Adapted from http://emerils.com/129308/triple-coconut-cake-seven-minute-coconut-frosting