I made us bello-burgers!
Because it's the weekend, and because we had cheeseburger quinoa yesterday, and because I love you.
You've had a portobello burger, right? A big ol' mushroom grilled on a bun, pretending to be meat?
I can actually say that I don't think I've ever had one, besides this. I love mushrooms, but somehow it hadn't happened for me yet.
So, I found these lovely portobellos at Aldi, my favorite discount grocery store. Local? NO. Affordable? YES. So....I go there. Jay hates mushrooms, but I wanted to use these in their pure, unadulterated form so...
Portobello Burgers! It's what was for dinner.
These are embarrassingly easy, can be made inside or outside, and are totally vegan if you don't use cheese (and check your Worcestershire sauce, sometimes those aren't vegan). You need portobello mushrooms, burger buns, sliced cheese of your choice (smoked gouda for us - DELICIOUS), steak seasoning, and Worcestershire sauce. That's it!
Grab some burger toppings, too - anything you like!
Now, these definitely don't need a long time to marinate - just 15 minutes or so while you preheat a grill or grill pan. To prep the burgers, use a spoon (grapefruit spoons work nicely) to scrape out some of the gills from the inside of the burgers.
Then, drizzle some Worcestershire sauce and sprinkle the mushrooms with steak seasoning. That's it! You can flip them one or two times if you'd like, but the key is to have the seasonings on the inside of the mushrooms so they really absorb.
For the buns, I like to drizzle or spritz them with some olive oil and add a sprinkle of salt and pepper to give them a lot of flavor. You can skip this step, though!
Now, when the grill is nice and not, grill the burgers until they're nice and dark and soft - 7 minutes or so on each side.
When the mushrooms are just about done, add any cheese you'd like to use and allow it to melt.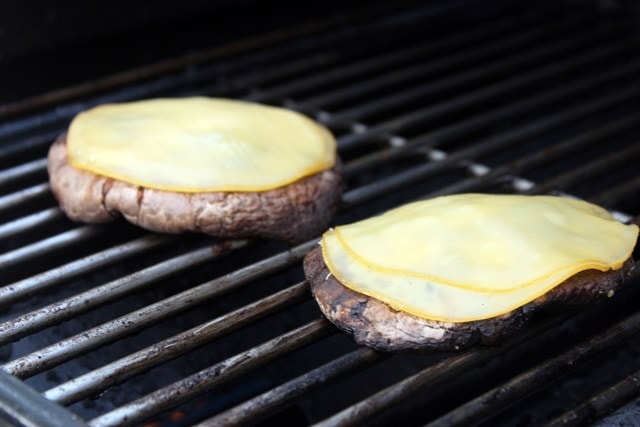 Grill the buns for a minute or two as well - just until they're a bit crispy!
Now, it's time to assemble the burgers with any toppings you'd like.
And....eat.
That's it! These are really delicious and even faster than regular burgers - no waiting around and no mixing of raw meat!

Enjoy these, they're a fun twist on a regular burger and I promise you won't miss the meat. The seasonings and the steaky burger texture are just....YES. Fabulous weekend food.
Portobello Burgers
Ingredients
2

portobello mushroom caps

gills scraped out

2

hamburger buns

1

tablespoon

Worcestershire sauce

Steak seasoning

Sliced cheese

optional, your choice

Your choice burger toppings
Instructions
Divide the Worcestershire evenly on the insides of the mushroom caps. Sprinkle with the steak seasoning. Allow to marinate while you preheat a grill pan or outdoor grill.

Prep the buns by dividing them in half, then spritzing or brushing them with a bit of olive oil and sprinkling them with salt and pepper.

Grill the portobellos until soft and well marked, about 7 minutes per side. Before serving, add a slice or two of cheese and allow to melt. In the last 3 minutes of grilling, toast the insides of the buns until lightly golden.

Serve the burgers on the toasted buns with your choice of toppings. Enjoy!
Nutrition
Submitted to Weekend Potluck for the world to love too.