We, like, totally need a new appetizer for New Year's Eve. Or Christmas parties that are still happening this weekend? I've heard it's a thing.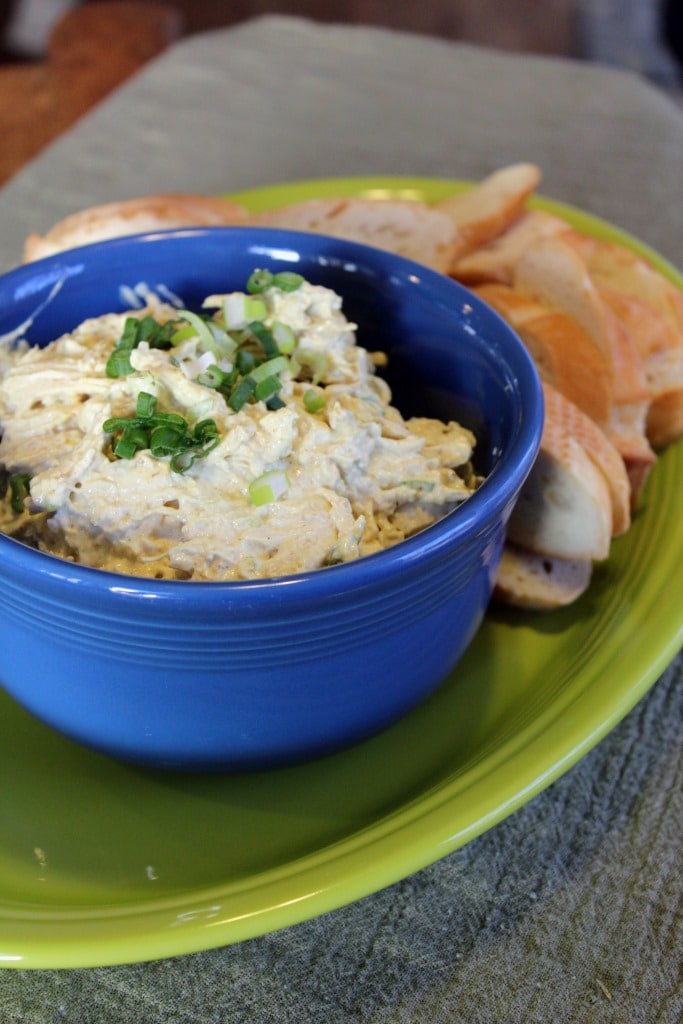 I made this last week for Christmas - on Christmas Eve my family bounces around from various church services and we eat appetizers and watch Elf and talk too loudly, and this just WENT with that kind of a night. It is probably one of the most simple things I've ever made, but the flavor is seriously delicious.
Let's waste no time. I give you....Curry Chicken Dip.
Besides chicken (2 breasts for a 3-4 cup batch), you need curry powder, heavy cream, a brick of cream cheese, a clove of garlic, and a scallion. Boom. Done. Let the cream cheese soften out of the fridge for a little while.
Let's start the chicken first! Heat up a skillet (this was a maiden voyage with my first ever cast iron skillet. wee!) with a drizzle of olive oil, then add the chicken and sprinkle liberally with salt and curry powder.
After 5 minutes or so, when you can see white cooked chicken creeping up the sides, flip the chicken and season the other side. I cut into the chicken to see if it was done because I'm a terrible cook. Whatevs. When cooked through, turn off the skillet and let the chicken cool.
While the chicken cools, prep the other ingredients. Mince the garlic, and slice the scallion. Tough stuff.
Use two forks to shred the chicken. I did this in the skillet and then stirred the chicken into its own drippings, which smell SO dang good, but you can move the chicken to a plate or bowl. No worries.
Now, let's stir. Add the shredded chicken, garlic, scallion, cream cheese, and more curry powder to a bowl, and stir! I use a fork to stir because I think it helps break up the cream cheese a little easier. If the cream cheese is super firm, nuke the whole mixture for 10 seconds at a time until you can stir.
Now, taste. This is where you may or may not add salt and heavy cream. If the mixture is super thick, add heavy cream 1 tablespoon at a time to achieve a spreadable consistency. I used 1 tablespoon and added a sprinkle of salt and I was done!
Serve this as you like. With crackers, veggies, bread, whatever! It's thick enough that you could omg put it on a sandwich like in the 80s when curried chicken salad was totally a thing.
When my dad and Jay tried this, several hours apart, they both said "um, I thought it was going to be spicy."
To which I silently replied by grabbing sriracha from the fridge, slamming it on the counter, and huffing about because those two are NEVER HAPPY unless their food makes them sweat. And because I take suggestions about food REALLY well.
At least they have something in common? Idiots and ingrates I'm surrounded by.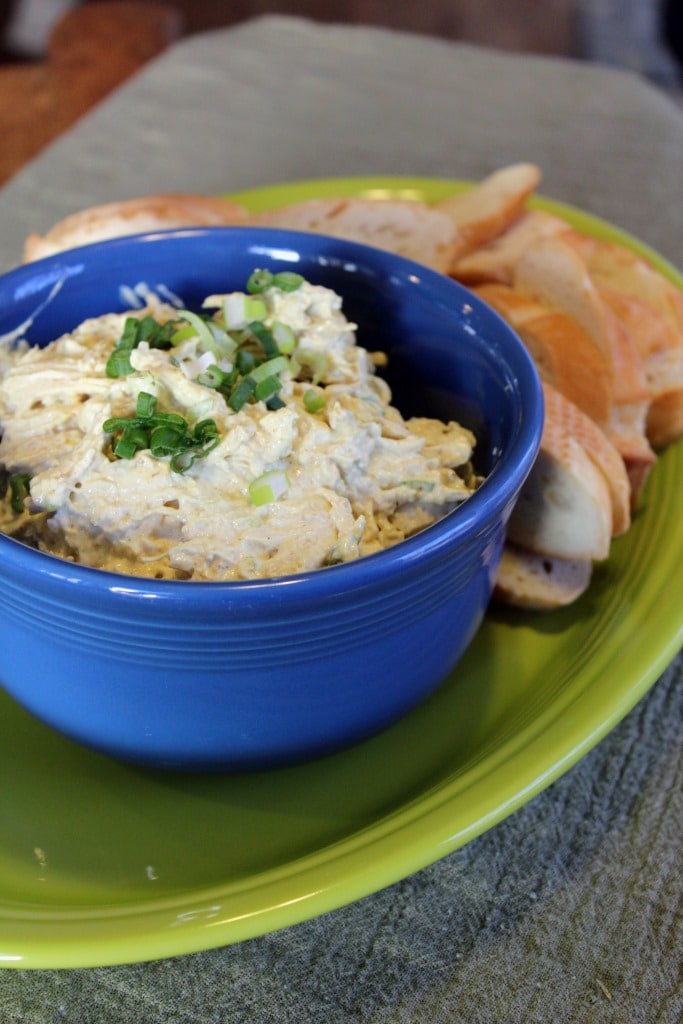 Not really. What I meant was if you like things spicy maybe add some sriracha or other hot sauce? Enjoy this, friends! It's delicious, incredibly flavorful, and perfect for a quick party snack.
Curry Chicken Dip
Ingredients
2

boneless skinless chicken breasts

1

tablespoon

olive oil

1

tablespoon

curry powder

divided

8

ounces

cream cheese

softened

1

scallion

thinly sliced

1

clove

garlic

minced

salt

to taste

1 - 2

tablespoons

heavy cream

if needed

crackers

bread, or crudite, for serving
Instructions
Preheat a skillet to medium-high heat with the olive oil. Add the chicken, and sprinkle with salt and some of the curry powder. Flip after 5 minutes, and finish cooking through. Let cool, and shred with two forks.

In a bowl, add the chicken, cream cheese, garlic, scallion, and remaining curry powder. Stir using a fork to combine. Taste, and add heavy cream 1 tablespoon at a time to thin if needed, and add salt to your preference.

Serve as desired. Enjoy!
Nutrition
Shared with
weekend potluck.
Head over to join the fun!