In which we make another old favorite with precious little effort.
These are the days where that needs to happen, though. The days where you're just RACING from one thing to another but also you want to take care of yourself and your people and eating out just really isn't that great for you or your wallet and ALSO YOU'RE SO DAMN TIRED so slow cooker stuff is just the best thing ever, ya know?
I've said it before and I'll say it again: I don't brown shit before I put it in the slow cooker. I know that makes some of you really anxious, and if you've got the time and dish-doing energy then please feel free to brown your pork before you stick in in to cook. I think that slow cooker meals should be as absolutely easy as possible, and I for one notice zero difference when I brown vs. when I don't. Sorry I'm not sorry.
That being said, let's make pork! You start it 8 hours before you want to eat it. You can do night before for tailgating or lunch (if you want it warm just let it sit on the warm setting until you'd like to eat it), or first thing in the morning for dinner. Whenevs. I use pork shoulder, also called pork butt or boston butt, but any cheap cut of pork with some good fat will work just fine. Bone-in or boneless - not lying about "anything goes." Besides the pork, you need some stock or water, salt, chili powder, paprika, onion powder, and garlic powder. Basically what I put on everything in the world that I want to taste good.
You put the pork and the other ingredients in the crock pot. You cover it, turn it to low, wander off for 8-10 hours.
Then you come back and it's like this!
Then you take the pork out of the crock pot and put the liquid in a dish so that the fat can separate from the yummy broth. When the fat rises to the top, remove as much of it as you can with a spoon or a weird fat separator thing that I don't own.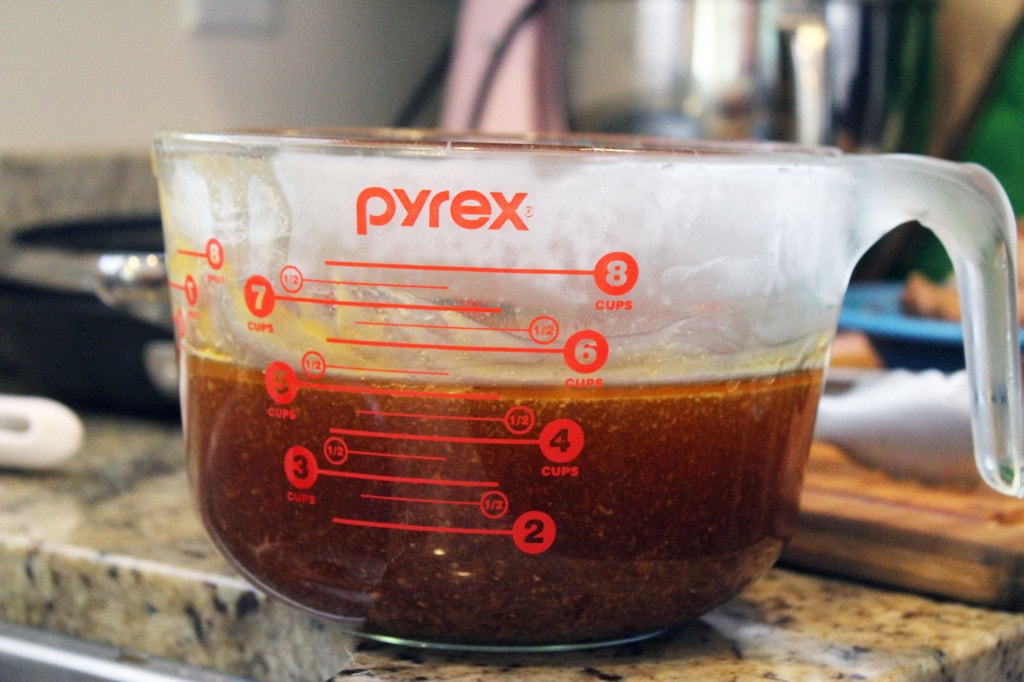 Then you shred the pork. I use my fingers, but you could use forks. Any major pieces of fat get tossed to the dogs, in the trash, wherever you put bits of fat.
Then you put it back in the crock pot and drizzle it with some of the drippings (not the fat, skim that off).
Then you make sandwiches. Or eat this with your fav veggies! Or slaw! Or any way you like pulled pork!
I've got this doused in my fav curry mustard BBQ sauce, but the beauty of this dish is that the pork is really flavorful from the spices, but it's not flavored LIKE anything, if that makes sense, so you can kind of use it in anything. Sandwiches, pasta, in soups, chilis - seriously. Go for it.
Enjoy!
Crock Pot Pulled Pork
Ingredients
3-4

pounds

pork butt

boston butt, or pork shoulder

2

teaspoons

kosher salt

2

teaspoons

chili powder

2

teaspoons

garlic powder

2

teaspoons

onion powder

2

tablespoons

paprika

1

cup

chicken or vegetable stock or water
Instructions
Place all ingredients in a slow cooker. Cover, and turn to low for 8 hours or high for 4 hours. Cook until the pork is falling apart.

Remove the meat from the slow cooker, and pour the drippings into a dish. Skim off the fat. Shred the pork with fingers or tongs, removing bits of fat as you go. Return the pork to the slow cooker to keep warm, and drizzle with some of the drippings.

Serve as desired.
Nutrition