Well, this is dumb.
It's another zero-effort, super fast shrimp dish. Like this hibachi recipe that you crazies just can't get enough of.
So, maybe not such a bad thing?
Also, this shrimp isn't necessarily Asian-tasting. Also, this shrimp is super lightly fried without the effort of actually frying anything.
ALSO. 4 ingredients. Seriously.
The 4 ingredients are as follows:
Duh. So silly easy. You're going to LOVE THIS. For the shrimp, you can use fresh or frozen - it's totally up to you. They need to be peeled and deveined. ¼ pound/person is usually a normal quantity, but these are GOOD, so you might want more. Just a thought.
Flour is flour. You'll need a varying amount based on how much shrimp you're making and how wet your shrimp is. More on that later.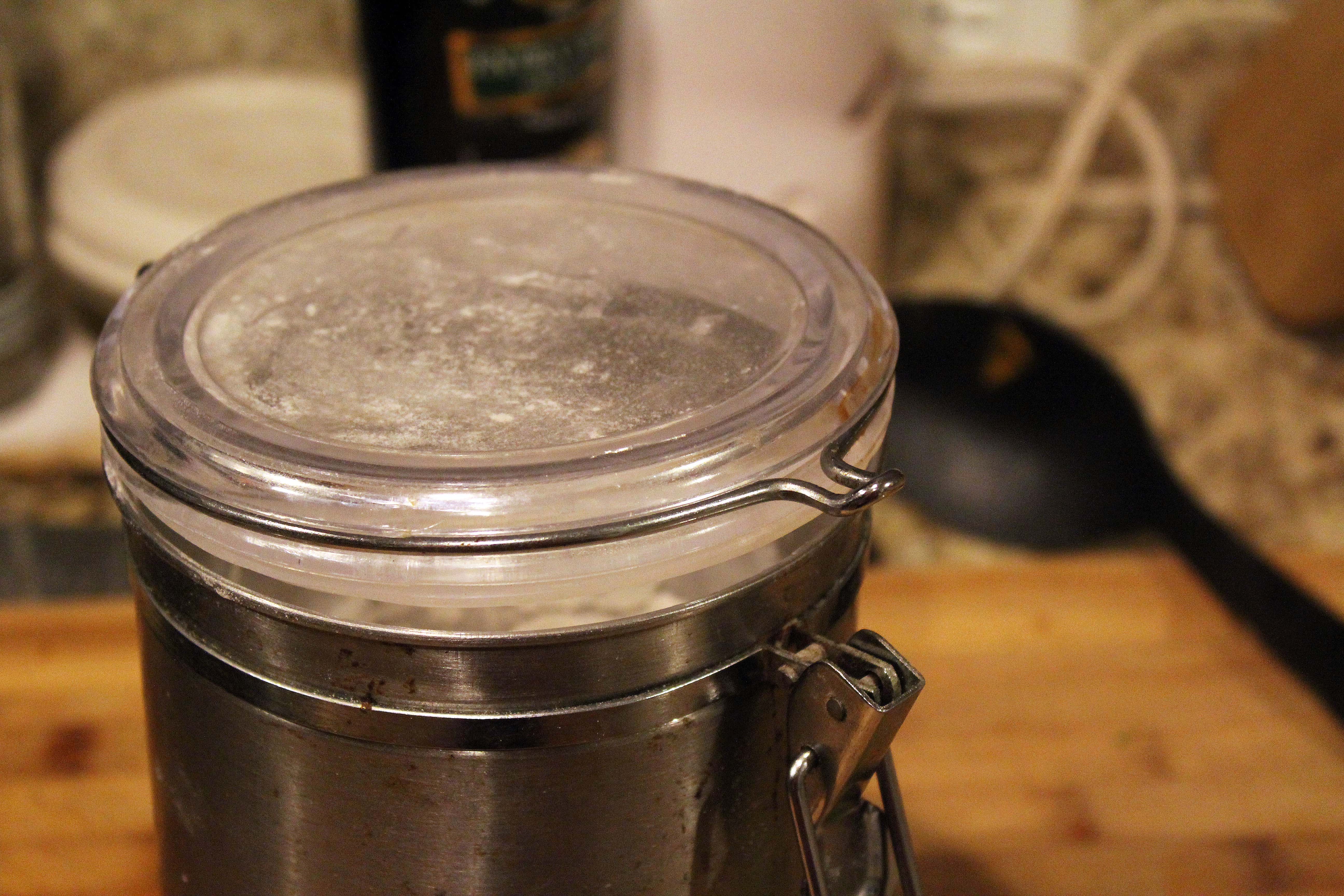 Oil. Not olive oil. We want something that can get super hot without smoking, like canola or vegetable. We'll need enough to lightly coat the bottom of a large skillet with ¼ inch or so of oil. Again - how much you need will depend on how much shrimp you're making and the size of your pan.
Salt. Duh. You have that. I like coarse salt because it gives nice bursts of flavor when you bite into it, but regular salt is totally fine to.
So, for the shrimp. We want to let the oil heat up for at least 10 minutes to get super duper hot. So, add the oil to the skillet you're using and turn the heat to medium-high. Then, add the shrimp to a large bowl with a sprinkle of flour - 1 tablespoon per person or so to start.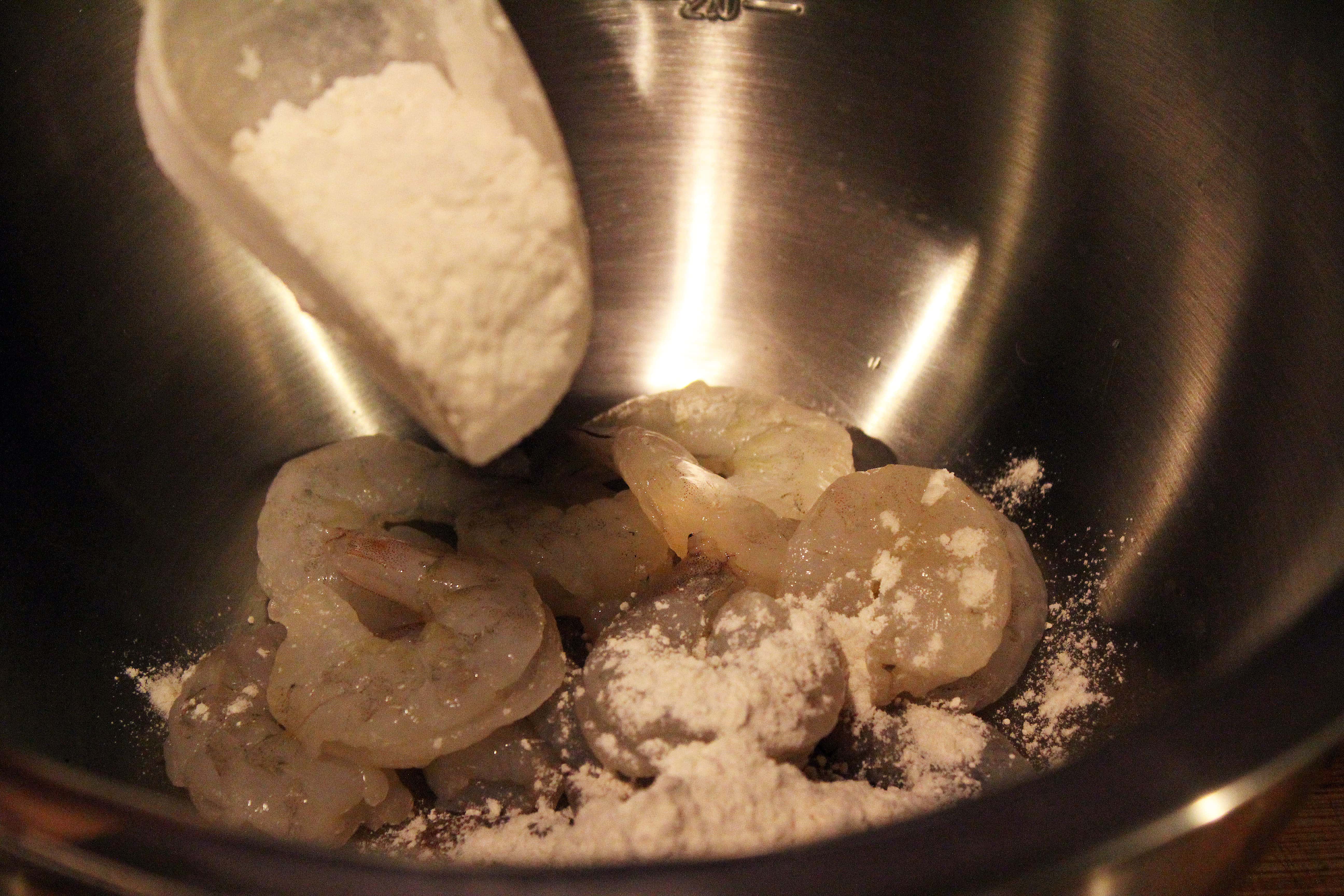 Stir the flour and shrimp together with a sprinkle of salt to coat everything. If the shrimp absorbs the flour and the coating turns gummy, add a bit more. We want a thick layer of flour on each shrimp that is dry on the outside.
Once the oil is very hot, add one shrimp to the pan. If it sizzles in the oil, we're ready! If not, remove the sad shrimp and wait a few more minutes. When the oil is very hot, add the shrimp in one layer to the pan. If you're making a lot of shrimp you may need to do this in 2 or 3 batches, but it goes really quickly!
Let the shrimp sit on their own for 3 - 4 minutes until they start to turn pink at the edges.
When the shrimp are crispy on the first side and turning pink, flip them over to crisp the other side. The flour should turn nice and golden. When the shrimp are crispy all over and opaque in the middle, they're done!
I serve these with sriracha, some kind of green veggie or this slaw, and this yummy scallion rice, which I'll show you next. I've also used them on this salad....or they're GREAT as an appetizer. The flour crisps really nicely with the salt, and they just WORK. Seriously.
You'll love 'em, promise. Try these ASAP!
This is so yummy that I included it in this week's Weekend Potluck. It's this cute thing where blogs from EVERYWHERE can submit recipes to share with others – it's so fun to check out new things!
It's run by: