this recipe is sponsored by microplane. they're offering a discount code to readers (see below!) and there will be a giveaway on Instagram later this week. be sure to follow along and enter!
Here's our new super duper easy one-pot dinner for fall!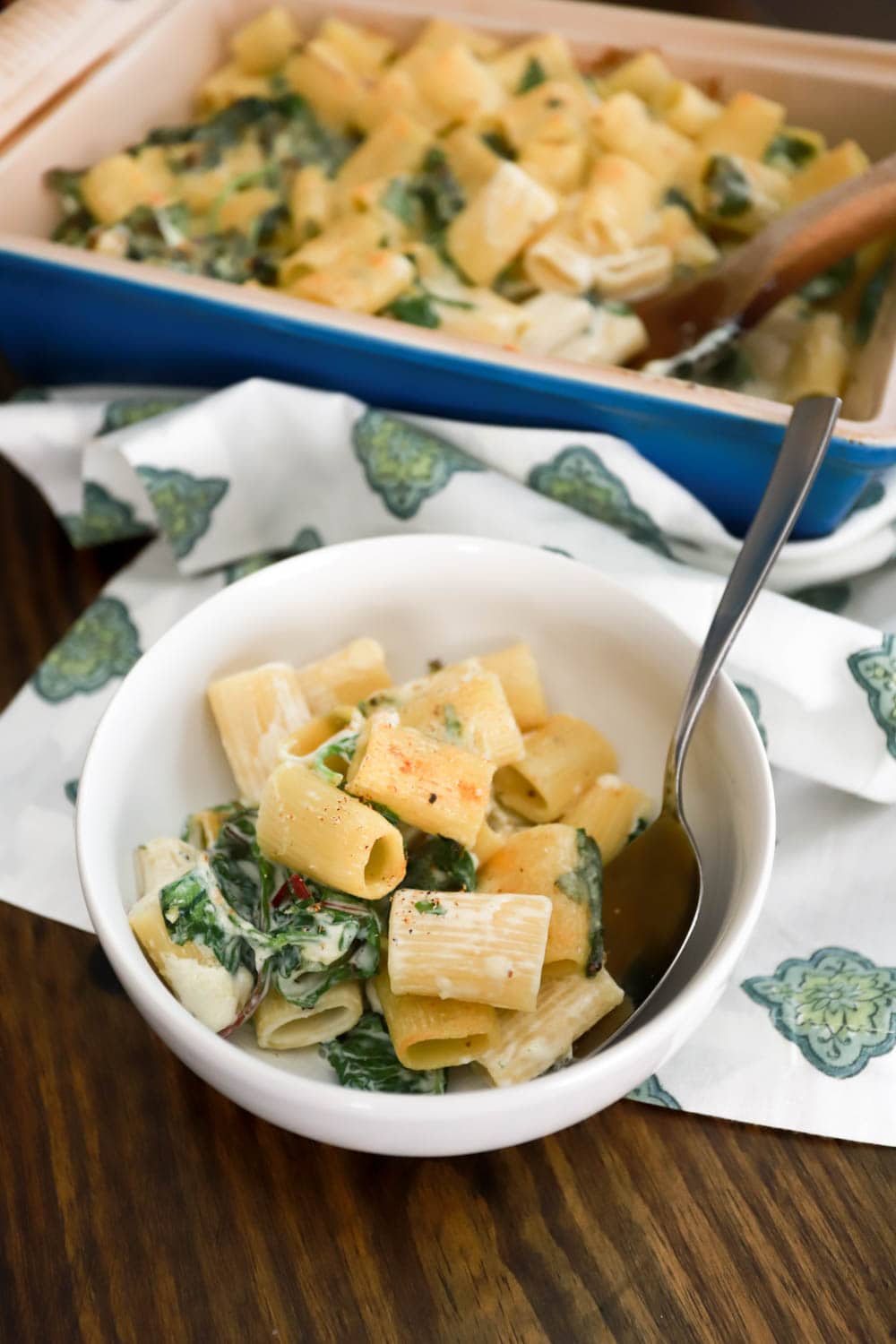 I have been SO excited to share this with you. Creamed Spinach Mac and Cheese. It's one of those really nice unicorn dishes that everyone likes, that has veggies in it, that is comforting but not so heavy that we can't eat it on a Tuesday, checks a lot of boxes.
Let's break it down: We are boiling some noodles, and we aren't messing around with a roux/white sauce. We're stirring some dairy stuff together super quickly because we're hungry. Fresh nutmeg grated with Microplane's Spice Mill adds tons of flavor with zero effort, and garlic + handfuls of greens round the whole thing out. The resulting creamy mac is practically perfect in every way.
I designed this intentionally to be perfect for a make-ahead side dish or an "eat right now" no-baking kind of one-pot dinner mac and cheese. If you'd like to eat this right now, boil the noodles all the way to al dente and eat as soon as the ingredients are stirred together.
For later, boil the noodles to slightly under al dente, make the whole dish and bake it for 20 minutes or so; just add a little extra half and half to keep things nice and creamy - no dry mac and cheese, please.
To meet in the middle, make the entire thing then broil it for just a minute with some extra cheese on top. Any way works!
The key here is the nutmeg. It's what makes creamed spinach ~taste~ like creamed spinach, and it's really wonderful. I use the Microplane spice mill to grate in fresh nutmeg, bonus points for storing the nutmeg directly in the spice mill so it acts as storage + mill in one!
The "method," if you can even call it that, is so simple here. Boil some pasta, to al dente or slightly under depending on if you're going to eat this right now or bake it later. Reserve some of the pasta cooking water right before you drain the noodles.
Dump the pasta back in to the pot you used to boil it, then add spinach (this was a a spinach super blend and was yummy!), cream cheese, gruyere cheese, half and half, salt, pepper, garlic, and freshly grated nutmeg.
Stir everything together, and taste! At this point you can absolutely eat this immediately, just pour in enough starchy cooking water to make things saucy, and add more salt if you'd like.
OR, transfer the mixture to a baking dish (I love the Le Creuset baker and use it all the time!) and top it with some more cheese.
Bake the mac until it's hot and bubbly, broil if needed for brown crispy cheese.
I.Mean.
The thing about the fresh nutmeg vs ground in a jar is this: it somehow tastes more savory to me; better for amping up dishes like this one with deep green and strong cheese flavor.
OH AND ALSO!! If you head to the Microplane website you can get 10% off this spice mill, a Veggie Wedgie, or an apple corer! Just in time for fall baking, school prepping, and Thanksgiving planning!
This creamed spinach mac and cheese works for dinner, lunch, side dish, kid food, all of the things. It's on my Thanksgiving menu this year for sure!
Creamed Spinach Mac and Cheese
Two steakhouse side dish favorites meet, fall in love, baby makes three, and this mac and cheese is born for the most perfect vegetarian dinner or side dish!
Ingredients
1

pound

short-cut pasta

5

ounces

spinach or other greens

1

clove

garlic

finely minced

4-5

grinds fresh nutmeg

ground with a spice mill

8

ounces

cream cheese

softened

8

ounces

gruyere cheese

grated

1 ½

cups

half and half

plus more as needed

1

teaspoon

kosher salt

½

teaspoon

ground black pepper
Instructions
Cook the pasta in salted water to al dente. Drain, reserving some of the cooking liquid.

Return the pasta to the pot over low heat, and add the rest of the ingredients to the noodles. Stir to combine, adding splashes of the cooking water until the spinach wilts slightly and the sauce comes together.

Taste, and add more salt and pepper to your preference. Serve immediately or transfer to a baking dish and bake when ready to eat (see notes). Enjoy!
Notes
This can be eaten right away, or made in advance and baked like a traditional mac and cheese for about 20 minutes at 375F until hot and bubbly. If baking, add a bit more cooking water and half and half; the mixture should be slightly soupy when transferring to a baking dish.
this recipe is sponsored by Microplane, recipe/thoughts/opinions by me.