This copycat Cracker Barrel hashbrown casserole copycat recipe is the perfect cheesy, tangy, make-ahead hashbrown casserole from the popular chain restaurant! This can be made in advance and baked in the morning for brunch, or eaten as a side dish all week long! Pro Tip: This is really really really good with Cajun Glazed Bacon on the side!
Oh, hey.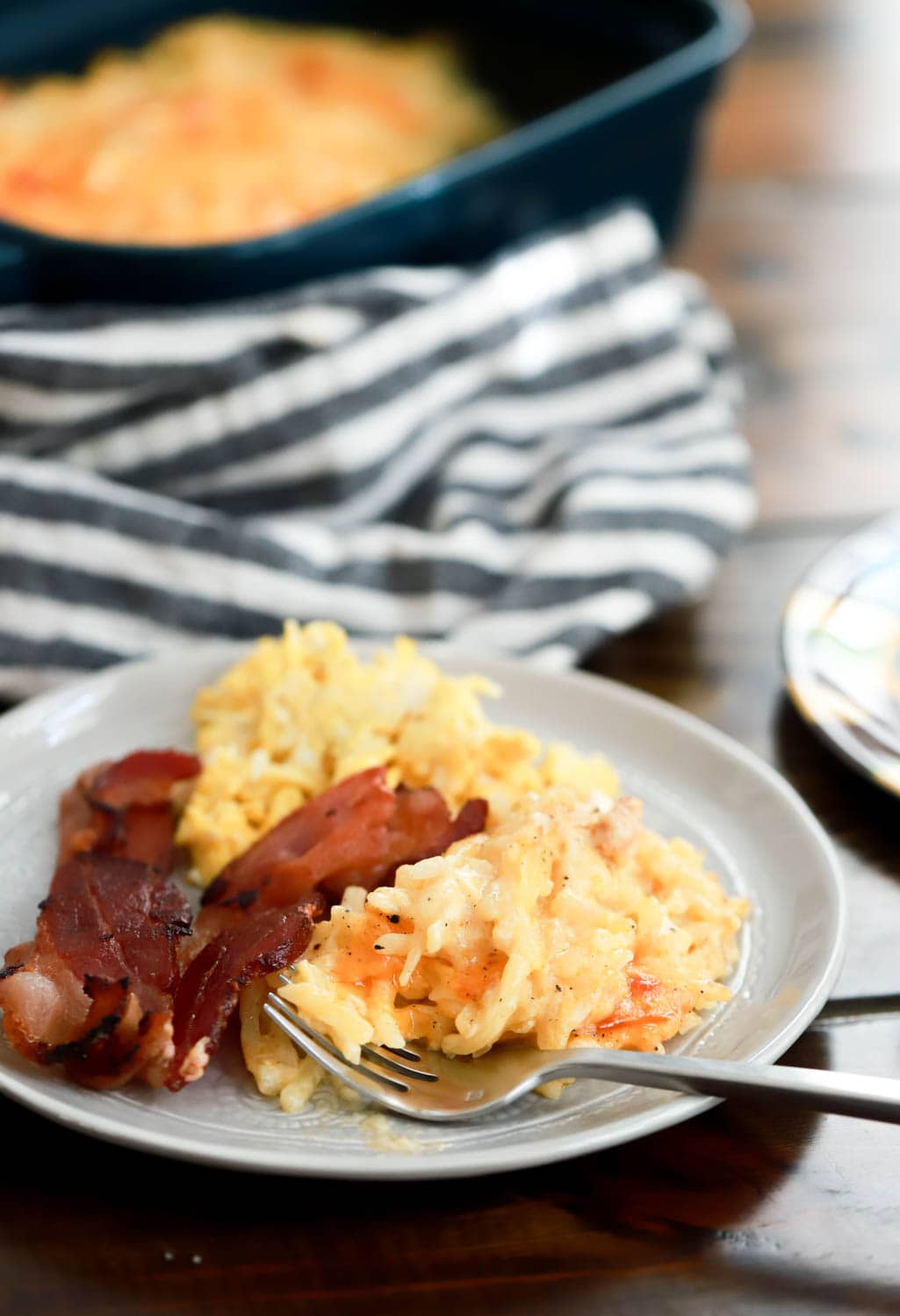 How are you doing on restaurant food? Back in restaurants? Outside? Inside? More takeout than you've ever imagined?
I know people love to hate on chain restaurants, but I've said it before and I'll say it again: I love 'em. To that end, Cracker Barrel is yummy and Cracker Barrel hashbrown casserole is the only side dish worth getting, honestly.
(unless you are feeding a toddler on a road trip and the carrots work really well as a near-baby food substitute, trust)
I stand by it.
We have SO MANY good restaurants where we live that, I'll be honest, Cracker Barrel trips are usually reserved for car trips.
But that doesn't mean we can't make copycat hashbrown casserole at home.
So that's exactly what we're doing.
Recipe Notes
This is copycat top secret Cracker Barrel hashbrown casserole. It has just a few REALLY easy ingredients, has hardly any prep work (you have to chop an onion, you can do it), can be made in advance, IS EASILY GLUTEN FREE (check labels obviously), and really is just all around a very delicious brunch recipe.
I have tried BOATLOADS of versions of this recipe, and, to me, this is the closest thing I've come to the real Cracker Barrel hashbrown casserole recipe.
Ingredients
Get some ingredients! Frozen hashbrowns, cream of chicken soup, butter, chopped onion, salt and pep, grated cheddar (do it yourself or use bagged, your call!), and sour cream. YUM, you know?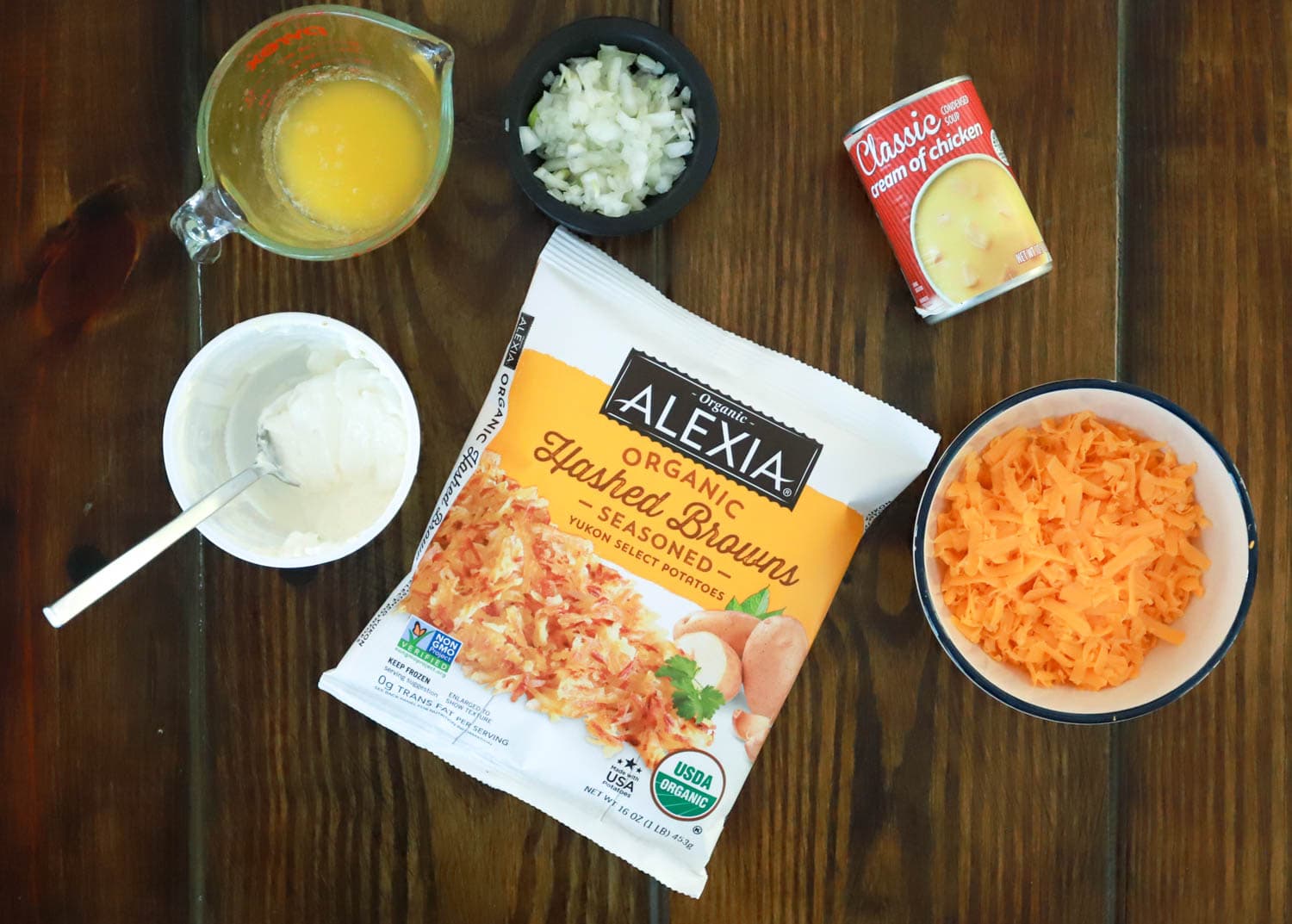 Ingredient Notes
I love all frozen hashbrowns, but I particularly like any that are labeled as seasoned; they have just a little bit of extra flavor and are so delicious! For size/shape, I usually use frozen shredded hashbrowns, but any frozen hashbrowns work great!
Gluten Free: Check labels, but there are GREAT canned soups that are gluten free. I particularly like the Pacific Brand for GF canned soups.
If you prefer to make this vegetarian, use cream of cheese or cream of mushroom soup instead of the chicken soup. Both are delicious!
The butter and sour cream serve to add creaminess to the dish - don't skip them, and use full-fat sour cream unless there's a specific medical reason not to.
Step By Step Instructions
Melt the butter is a really complicated prep step for this hashbrown casserole recipe. I microwave butter for 15 seconds at a time until it's melted - time usually depends on if the butter is straight out of the fridge or has been softening on the counter.
Add it to a big bowl with the rest of the ingredients!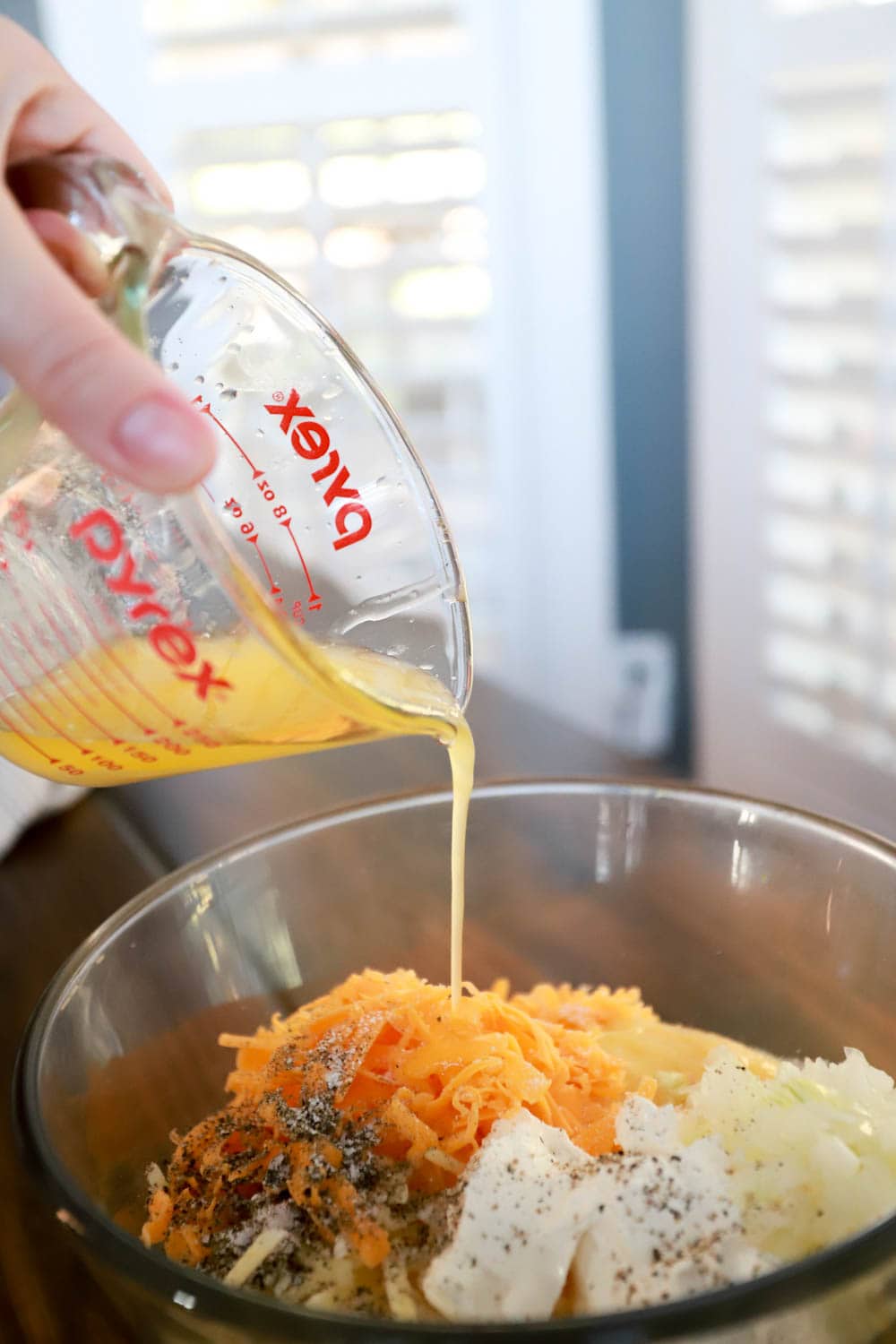 I like lots of black pepper in this recipe for flavor. Add several grinds of black pepper to the mixture, then stir everything together.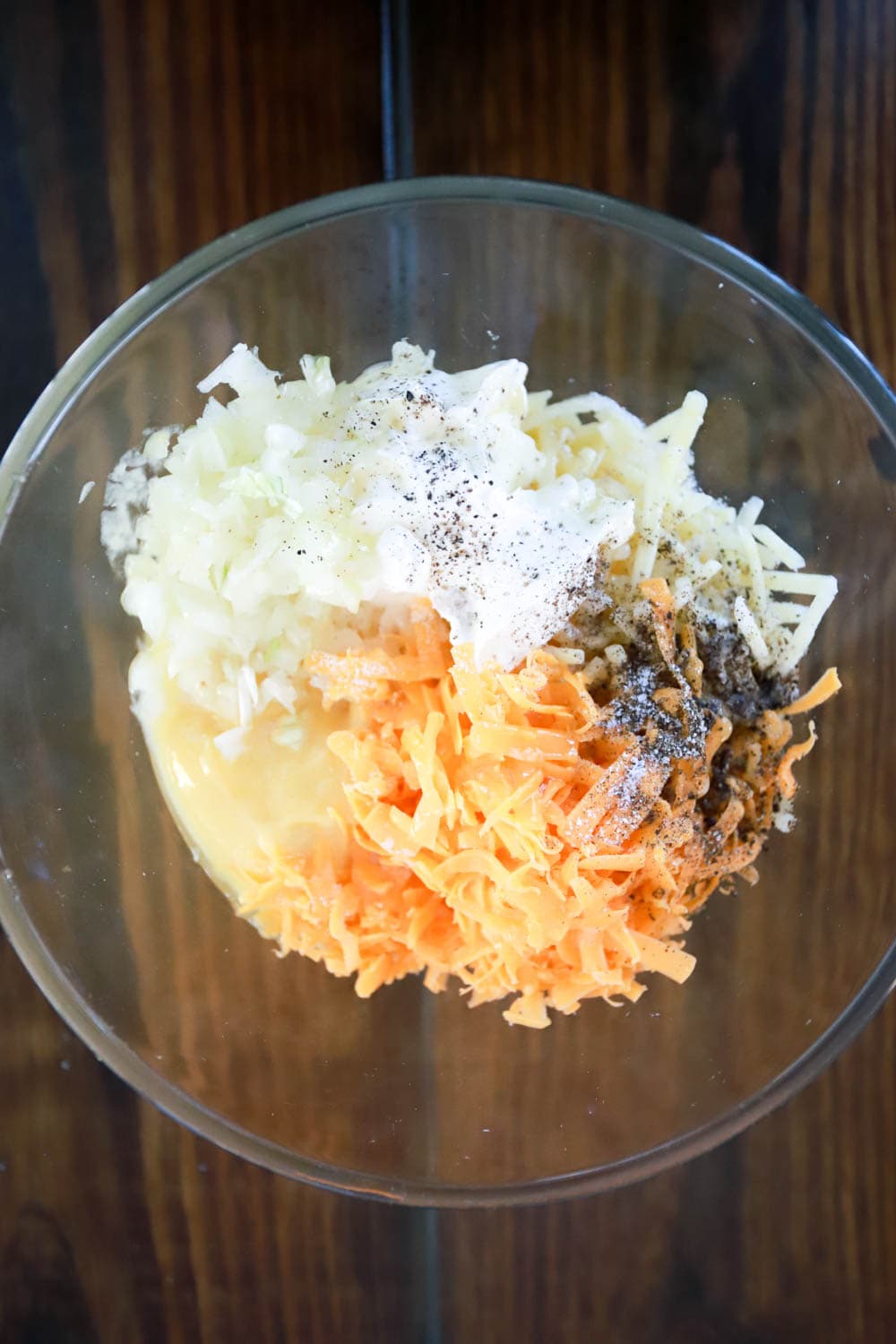 Spread into a baking dish. Mine is similar to this one, but an 8x8 square would work well here too. Anything that's 3-4 quarts or so will work great.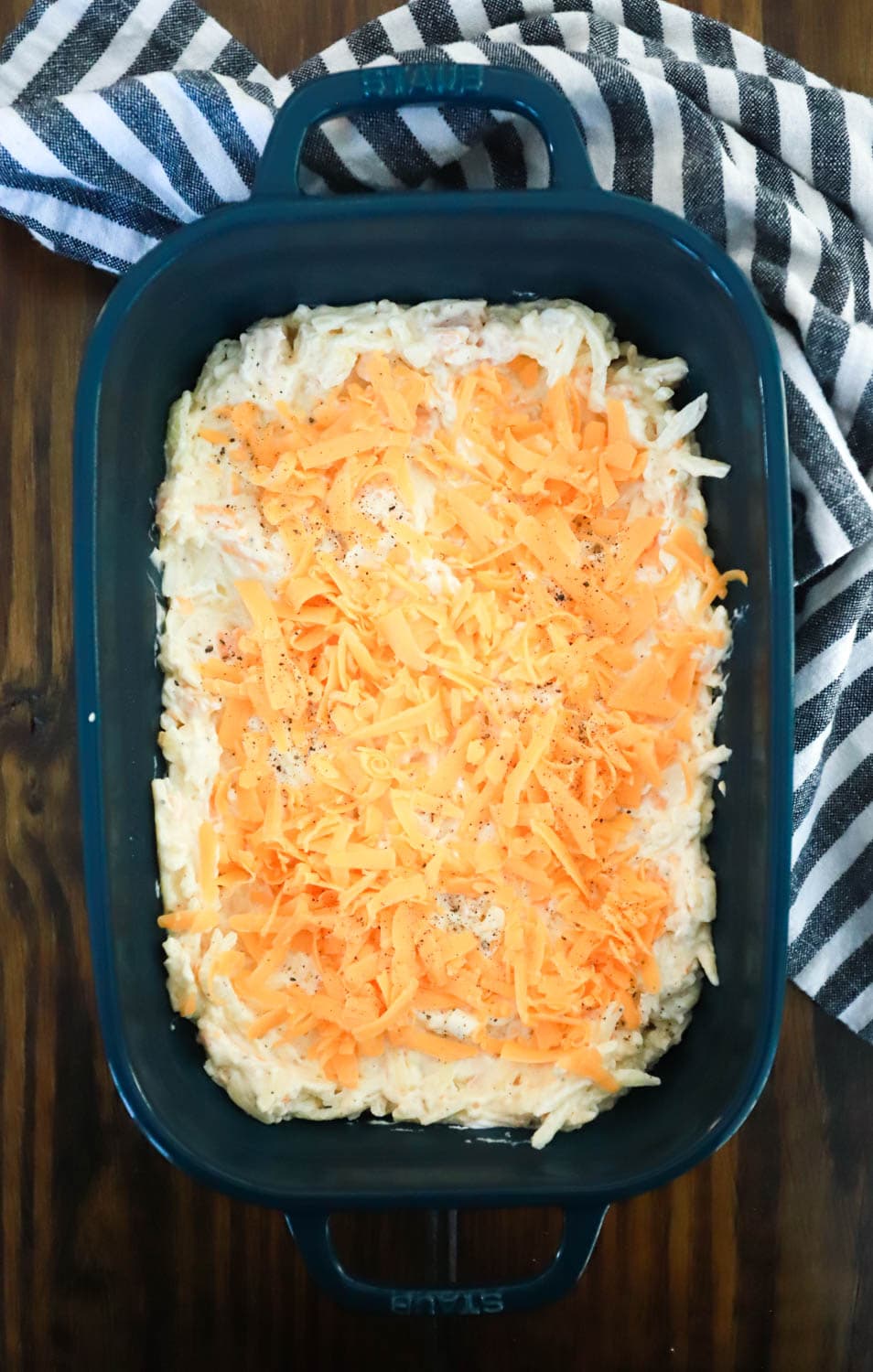 Top with some more cheese if you saved any, then the casserole goes into the oven to bake.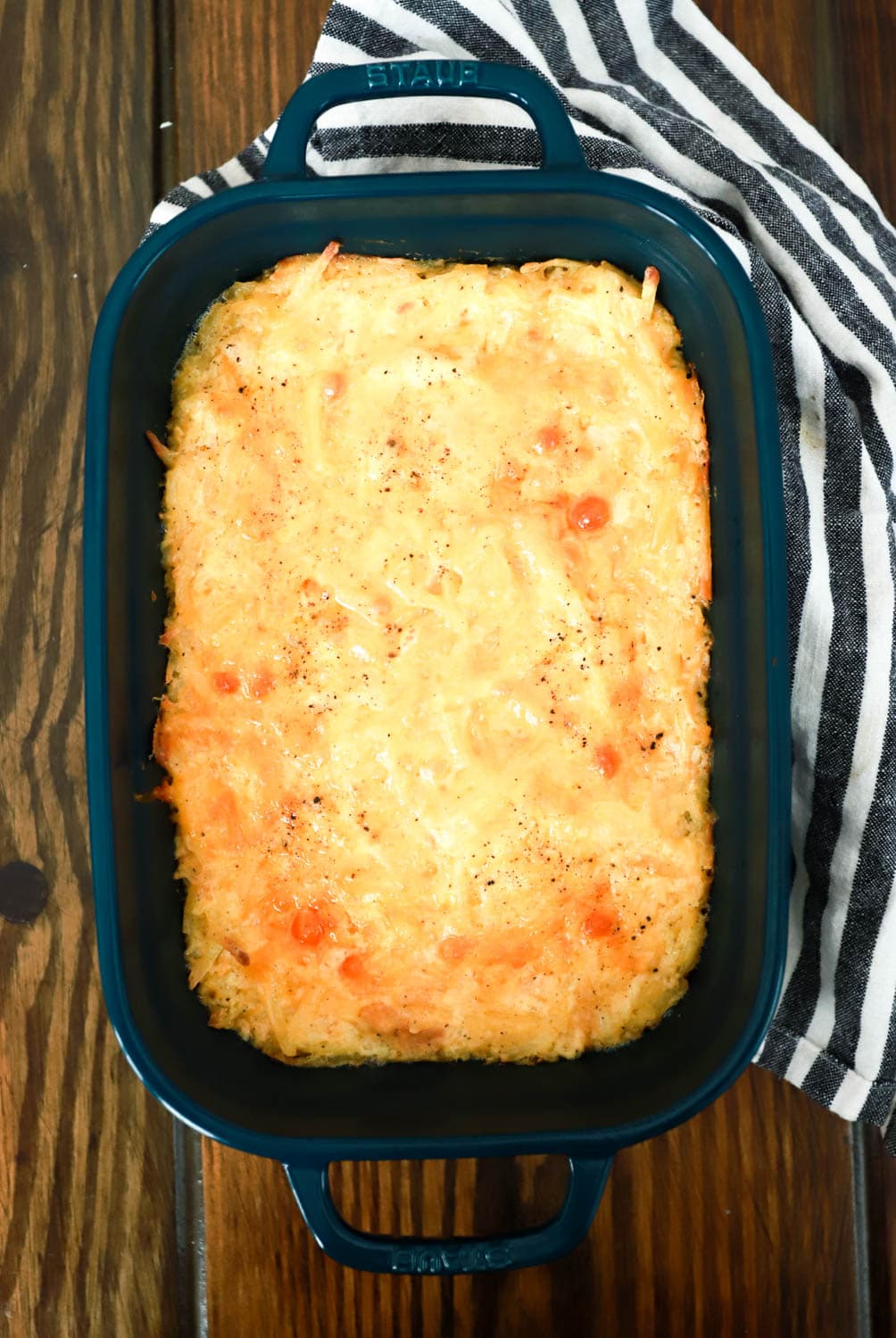 Let it rest for at least 10 minutes before serving. The casserole is baked for just about an hour, maybe a little less, until the whole thing is hot and bubbly and the cheese is slightly browned.
And, done. I can't TELL YOU how delicious this is. It's creamy, cheesy, savory, and just all around absolutely delicious.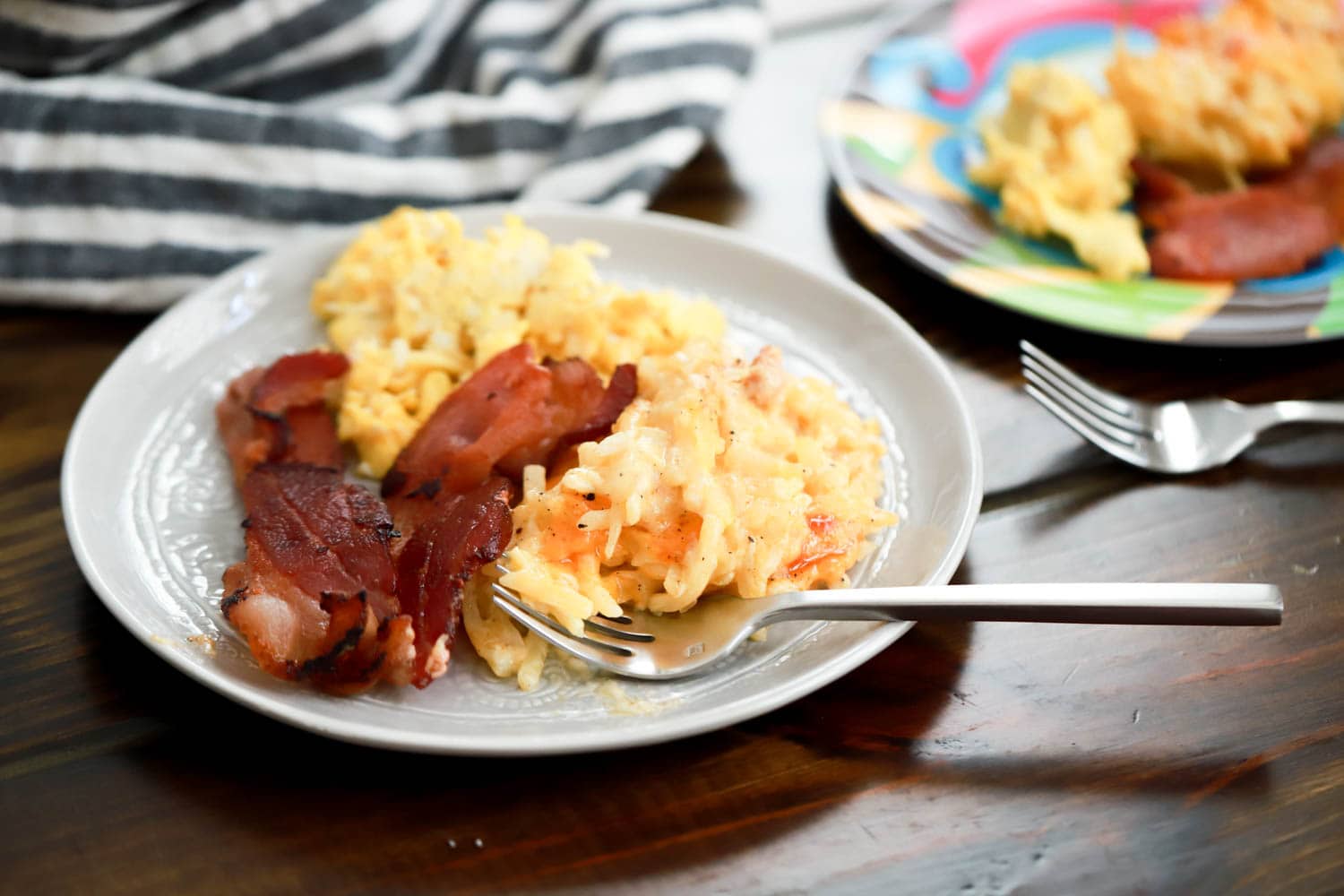 Hashbrown Casserole FAQ and Make Ahead Notes
Can I grate a potato instead of using frozen hashbrowns?
Would not do this. It would WORK, but not be the same. Hashbrowns aren't just grated potato, they've got some oil and sometimes spices and other stuff that keeps them separate-but-equal (but in a good way), and a grated potato wouldn't have the same effect.
Can I make Cracker Barrel Hashbrown Casserole in advance?
One million times yes! Honestly it can go either way. You can make this in advance and NOT bake it, then bake it for an hour before you'd like to eat, or you can bake it and reheat it (covered with foil, until warmed through) and it'll still be delicious.
Can You Freeze Cracker Barrel Hashbrown Casserole?
For me, yes! I prefer to make the casserole and keep it unbaked in the freezer, then bake until hot and bubbly. Leftovers can be frozen as well, just thaw and reheat either in the microwave or oven. Note that if you freeze the unbaked casserole, the potatoes may change to a gray color, but the taste won't be affected.
Does Cracker Barrel Hashbrown Casserole Have Eggs?
Nope! No eggs in this (or almost any other) version.
Serving Suggestions
I love this for breakfast, with bacon and eggs and fruit. HOWEVER, hashbrown casserole is not particular about when it is served.
This entire recipe is suuuuper forgiving, so easy to throw together, and the resulting creamy, cheesy, tangy casserole is just so yummy. I love it so much.
And, not to be outdone, this Cajun glazed bacon is one of our favorite "omg when I come visit can you make THE BACON" recipes. If you haven't made it, HIGHLY recommend a batch with this casserole. Enjoy this!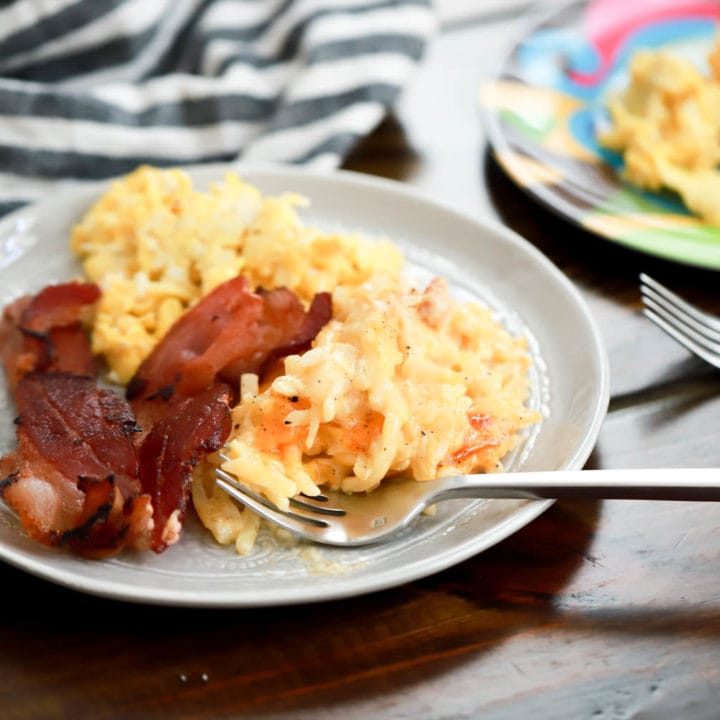 Copycat Cracker Barrel Hashbrown Casserole
This Cracker Barrel hashbrown casserole copycate recipe is the BEST. With just 8 ingredients, everything gets stirred together, baked, and the result is a ridiculously creamy, cheesy, TANGY frozen hashbrown recipe that simply can't be beat.
Ingredients
1

pound

frozen hashbrowns

thawed or not, doesn't matter

1

can cream of chicken soup

sub cream of mushroom or celery for vegetarian

½

stick butter

melted

¼

onion

finely chopped

½

teaspoon

EACH salt and pepper

4

ounces

sharp cheddar cheese

grated

⅔

cup

sour cream
Instructions
Preheat the oven to 350F.

Combine all ingredients except for a bit of the cheese in a large bowl.

Spray a medium baking dish with cooking spray and spread the mixture into the dish. Top with any remaining cheese.

Bake the casserole uncovered for 45-60 minutes until bubbly and lightly browned on top. Let rest for 10 minutes before serving if you can stand it. Enjoy!
Notes
Make Ahead: This can be made in advance and kept in the fridge for a few days, then just bake and let rest right before you'd like to eat. Also delicious reheated as leftovers!
To make this Cracker Barrel Hashbrown Casserole Vegetarian, swap out the cream of chicken soup for cream of mushroom or cream of cheese soup. Both are delicious!
Make this gluten free by using a gluten free brand of cream of chicken soup and checking all other ingredient labels. Pacific Brand is my favorite easy option for GF creamy soups.
This is very VERY good with a side of Cajun Glazed Bacon. They can bake in the oven at the same time!
Don't stress about the baking dish size. This can be in a 9x13 in a thin layer, in a large loaf pan, or anything in between that fits all of the hashbrown casserole. Just be sure it's hot and bubbly all the way through before you take it out of the oven!
More Easy Casserole Recipes