It sounds gross but it's not!
This is a new dish for me, and one that I only know about because of Jay. This was his request for "something new for Thanksgiving," and I'm doubling it as his Birthday Blog Dish, which isn't a real thing but should totally be a real thing. Jay's birthday is on or around Thanksgiving (13 days before Beck's interestingly), but he's not into desserts much (we don't eat them that often, and he's more into calories elsewhere), so it's not terribly practical for me to throw a huge cake around here once a year. Because I'd end up eating it all.
But! This he's totally on board with. A family friend that we've had several holidays with makes a version of oyster dressing which, best I can tell, is something of a New Orleans invention. It's not supposed to be fishy necessarily, but super savory and umami-ish from the salty oysters and bacon. Like any stuffing it can be made well in advance, but it does need oven space right before the meal - should that factor into any of your meal planning.
You need cornbread, chicken stock, butter, fresh sage, oysters, chopped bacon, onion, and celery. Maybe some salt and pepper. This is a regular "batch" of cornbread - something that will yield approximately 1 8x8 pan.
First, heat a large cast iron skillet (8-10 inches) to medium-high heat with the bacon. Note that I bake the stuffing in the skillet, so pick one about the same size as the cornbread. If you don't have a cast iron skillet, you can bake the stuffing in any baking dish you have. Crisp the bacon in the pan for about 5 minutes until the edges are becoming crispy. Then, add the onion and celery to the pan.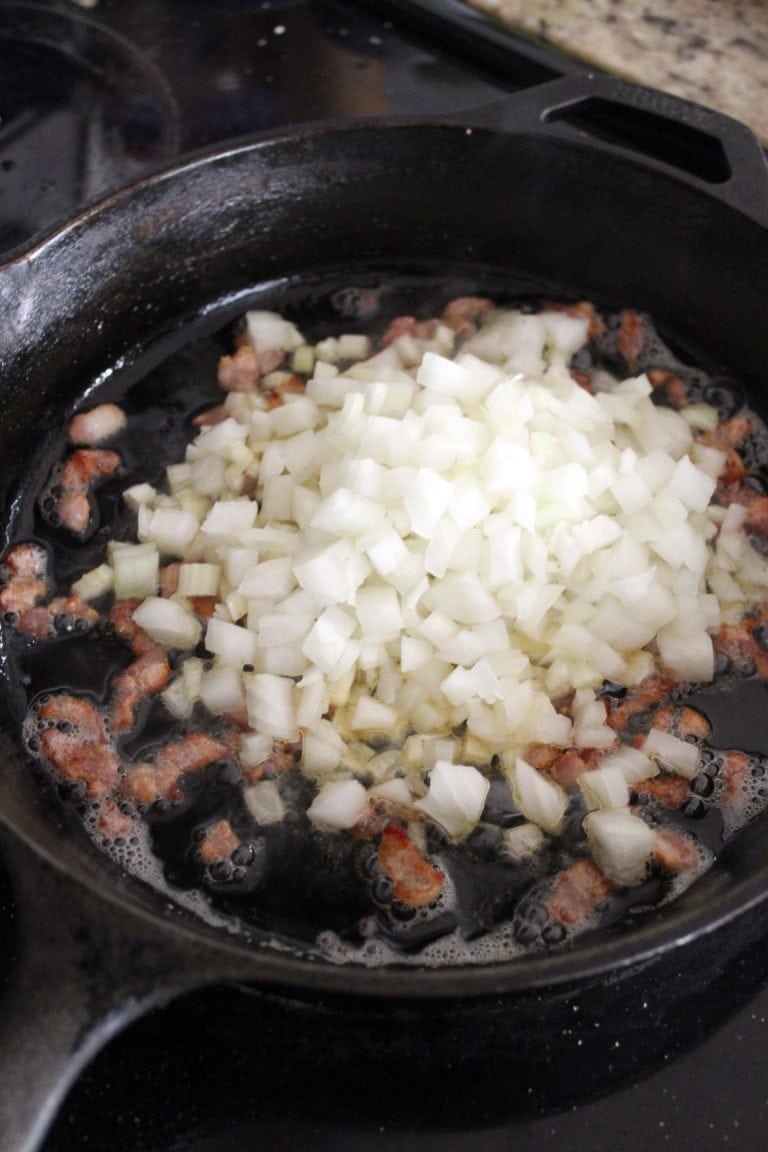 While the veggies and bacon are cooking, drain and chop the oysters into big pieces. Melt the butter in a small dish, and cut the cornbread into large cubes.
When the bacon and vegetables are cooked, turn the heat off the skillet and turn the oven to 350F.
In a bowl, mix together the cornbread cubes, raw oyster pieces, sage, butter, veggies, bacon, and chicken stock.
This mixture is a teensy bit stinky, but the fishy smell goes away in the oven, so don't despair. Stir gently so that you end up with some cornbread pieces left and the whole thing doesn't turn to mush.
When the stuffing is combined, press it back into the skillet you used to crisp the bacon (or a baking dish, your call!).
This bakes at 350F covered for 30 minutes, then uncovered for another 30 until the top is golden and crusty.
I can't describe to you the flavors here, other than it is GOOD.
The butter and stock flavor the cornbread and help it crisp at the edges while it cooks (another benefit of the cast iron skillet), and every once in awhile bites are infused with bits of bacon and oyster. I MEAN COME ON. We all need a little more thankfulness right now, amirite? Be thankful for this.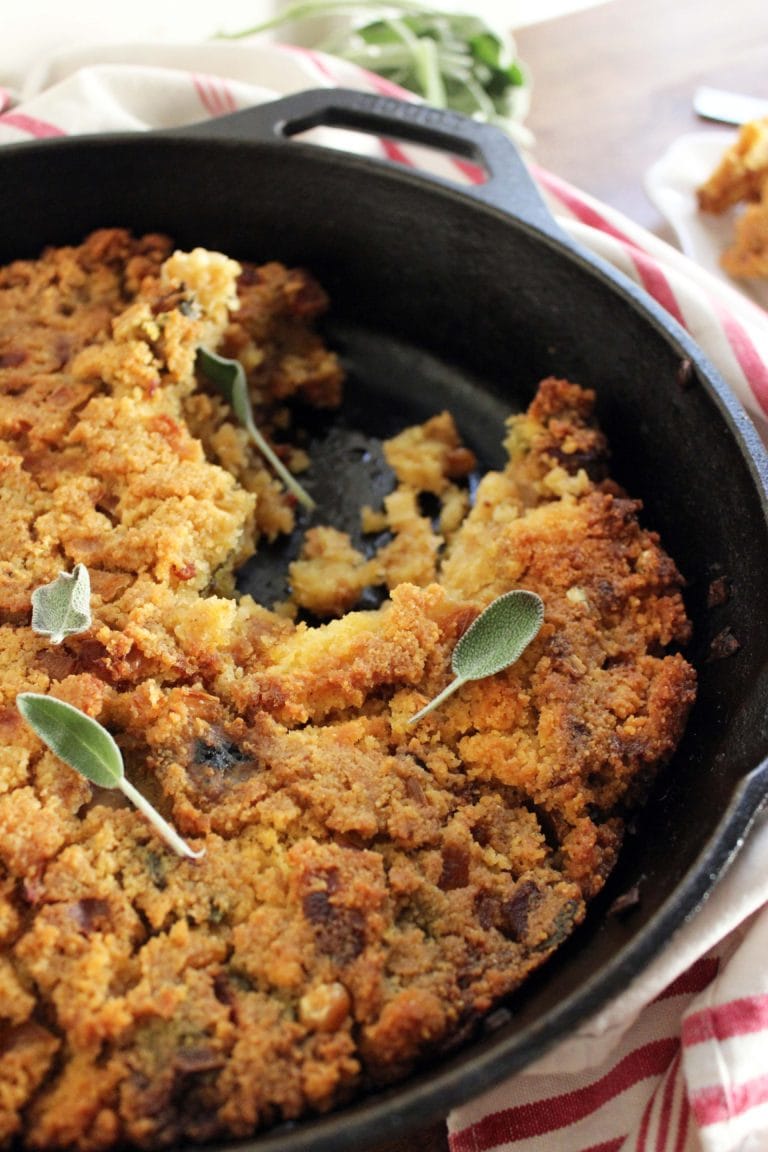 In make-ahead land, I'd say you can make this 2 days in advance, then bake on the day of your big meal, but I wouldn't go earlier than that because of the raw oyster factor. That being said, you can make the cornbread NOW and let it sit out through the weekend - the drier the better for any kind of stuffing or dressing recipe.
Enjoy!
Cornbread Oyster Dressing
Ingredients
2

slices

bacon

chopped

½

medium onion

finely diced

2

ribs celery

finely diced

1

batch cornbread

dried overnight, cubed

1

cup

chicken stock

½

stick melted butter

8

fresh chopped sage leaves

8

fresh raw oysters

chopped

½

teaspoon

salt
Instructions
Preheat the oven to 350F. In a medium cast iron skillet over medium-high heat, crisp the bacon until the fat has rendered and the bacon bits are crispy. Add the onion and celery and cook for 3 minutes more, stirring, to soften the veggies. Turn the heat off the skillet.

In a large bowl, combine the bacon mixture, cornbread cubes, stock, melted butter, sage leaves, raw oysters, and salt. Stir gently to not break up the cornbread too much.

Press the mixture back into the cast iron skillet (see note). Bake covered for 30 minutes, then uncovered for 30 minutes until the top of the dressing is golden brown.

Serve warm. Enjoy!
Notes
1. 1 "batch" cornbread = roughly something that will make an 8x8 inch pan
2. I suggest cooking the bacon and veggies in a cast iron skillet (8-inches or so), then baking the cornbread in the same skillet. If you don't have cast iron, just use a regular greased baking dish.
3. Shucked fresh oysters can be found in the seafood or deli department of most large grocery stores.
Nutrition